AMD Ryzen 7 4800U got benchmarked as part of a prototype laptop and turns out, the onboard GPU can almost go toe-to-toe with Nvidia's MX250
There is no doubt that AMD has been killing it with its Ryzen lineup of chips. The 7nm based Zen 2 architecture has allowed AMD to push some serious performance from its desktop processors and now with the Zen 2 based mobile processors on the verge of making it into users' hands, things are getting very exciting. A glimmer of this excitement comes from a Weibo user who posted some very interesting benchmark numbers from a prototype laptop running the AMD Ryzen 7 4800U processor. Apparently APU comes very close to the performance of Nvidia's MX250.
The prototype laptop running the Ryzen 7 4800U was benchmarked against and Intel machine with a Core i5-10210U, which is a 4 core-8 thread processor with a base clock of 1.6GHz. the intel machine is also equipped with an Nvidia MX 250 discrete GPU. At first, it looks exceptionally good for the Ryzen chip, with its Time Spy & Fire Strike numbers exceeding those of the Intel-based MX250 toting laptop. However, in gaming tests, the MX250 comes out ahead. Light titles like CS:Go saw both the laptops push out respectable frame rates while data for League of Legends isn't provided (the original post only says "more than 90fps), we see that for more demanding titles like Shadow of the Tomb Raider and Assassin's Creed: Odyssey, neither of the laptops are capable of delivering playable frame rates.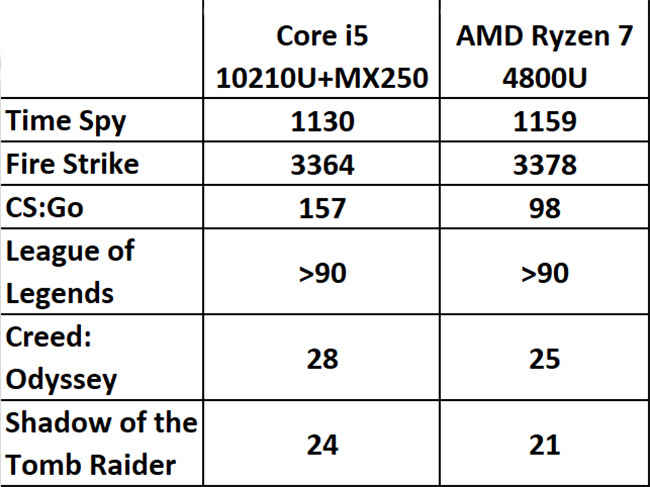 These performance metrics are very impressive when we consider the fact that this is an on-board GPU, delivering almost 100 fps for CS:Go. We know that all games were tested at 1080p, but the original post does not disclose any exact graphics settings. Additionally, the AMD machine is said to be a prototype, so the performance of the final, production unit may vary.
While this may not be of great appeal to gamers, it should definitely be of interest to content creators. As applications start relying on GPU power in addition to CPU and RAM, discrete GPUs have always been favoured for creative workloads. However, at this performance level, light edit and render tasks shouldn't be a bother for this prototype. AMD's VEGA graphics traditionally have always had an edge over Intel's integrated counterparts, but its nice to see it finally edge into the MX-series space.
Needless to say, this is going to be a very exciting year for those looking to buy a laptop. We've got Intel's 10th generation multi-threaded H-series processors with their higher base and boost clocks. Nvidia has announced new Super-series GPUs and is expected to also unveil the MX330 and MX350 series chips. AMD has already announced its 7nm based Ryzen 4000 series CPUs for laptops, and it wont be long before the market is flooded with laptops carrying those components.