Getting an AMD-powered laptop can be quite the hassle given that not all retailers stock them and manufacturers are a little slow to bring the same into the Indian market. All of that is set to change today with the launch of the AMD Ryzen 4000 Mobile processor lineup. Announced at CES 2020, the AMD Ryzen 4000 Mobile processor lineup, codenamed "Renoir", consists of eight SKUs of varying configurations that have up to 8 cores / 16 threads and have their TDP ranging from 15W to 45W. While AMD has been steadily gaining market share in the desktop and mobile segment, the revenue from these two segments are vastly different. The mobile segment is much larger than the desktop segment and if the performance charts are to be believed, then Intel will have to seriously reconsider their mobile CPU strategy.
The Ryzen 2000 and Ryzen 3000 mobile processors have been in the market for quite some time but the number of laptops being powered by these SKUs are a small fraction compared to the Intel-powered laptops. As of writing this article there are 64 AMD Ryzen powered laptops on Flipkart compared to 734 laptops powered by Intel Core i-series processors. This is not considering Pentium, Athlon, Atom and Celeron processors. On Amazon, there are 44 AMD powered laptops and over 2000 Intel powered laptops. This isn't a proper representation of the market since product filters aren't proper on either ecommerce site and there are multiple listings for the same SKU but you should notice the obvious disparity. AMD wants to change this and the Ryzen 4000 series mobile processors are how it hopes to do so. Let's take a look at the SKUs.
AMD Ryzen 4000 Mobile processors list
The launch line up consists of 8 SKUs of which 1 will be coming out a little later. There are two H-series processors for gaming and content creation use cases, five U-series processors for ultrathin form factors and one HS-series processor which packs in a little extra punch over the H-series processors while consuming less power. The HS SKU is the one which is slated for a delayed launch.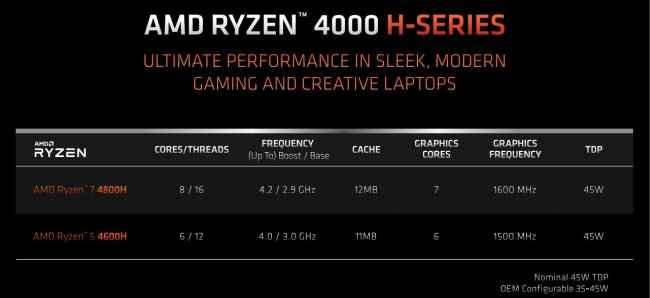 Under the H-series, there is the Ryzen 7 4800H and the Ryzen 5 4600H. The Ryzen 7 4800H comes with an 8 Core / 16 Thread configuration with 7 CUs (@1600 MHz) for graphics and the Ryzen 5 4600H features a 6 Core / 12 Thread configuration with 6 CUs (@1500 MHz) for graphics. Both processors have a nominal TDP of 45W but OEMs can configure the same from 35-45W.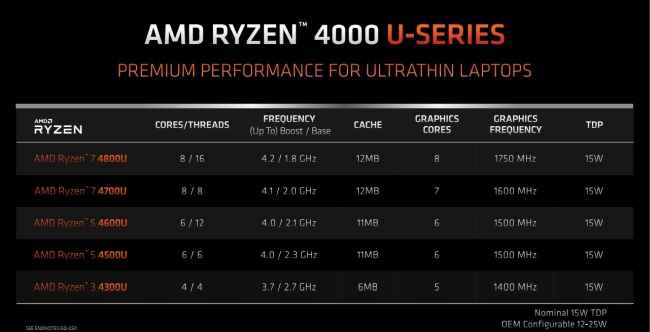 In the U-series, AMD has 2x Ryzen 7, 2x Ryzen 5 and 1x Ryzen 3 processors. The entire lineup has a nominal TDP of 15W but OEMs can configure their platforms between 12-25W. The base clock of U-series processors are much lower than their H-series counterparts but the IGP appears to be more powerful with more CUs and higher clock speeds. Some of the AMD SKUs do not have multi-threading so buyers should pay attention to the core configuration before making a purchase. If you've seen the Ryzen 2000 and Ryzen 3000 mobile lineups then the IGP configuration might have caught your attention. These new Ryzen 4000 mobile processors have fewer CUs for graphics but they are clocked higher. You can thank the 7nm process for allowing higher clocks. At the same time, adding more CUs would have bumped up the TDP and made these processors unsuitable for a lot of the ultralight configurations. So one might wonder what kind of gaming performance can one expect from this new configuration? AMD claims to have that covered.
Gaming on AMD Ryzen 4000 Mobile processors
AMD compared some of the top esports titles running on the new Ryzen 7 4800U and compared the same when run on an Intel Core i7-1065G7 processor. These included titles such as CS:GO, League of Legends, Rocket League, Overwatch, GTA V, Dota 2 and Fortnite. All titles were shown to perform better on the Ryzen mobile processor. It should be noted that the Intel Core i7 - 1065G7 is 15W SKU with 4 cores and 8 threads.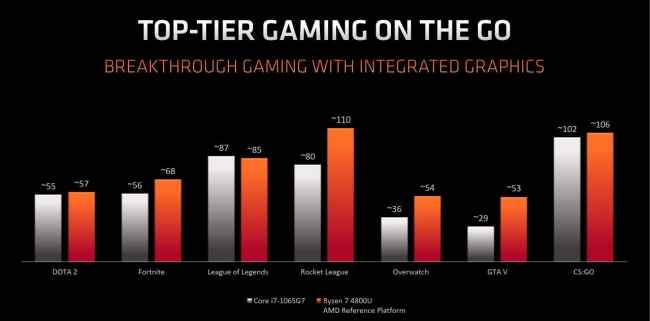 It would have been interesting to see how the Ryzen processor performed against the Core i7-10710U which is also a 15W SKU but has 6 cores / 12 threads and a higher clocked IGP.