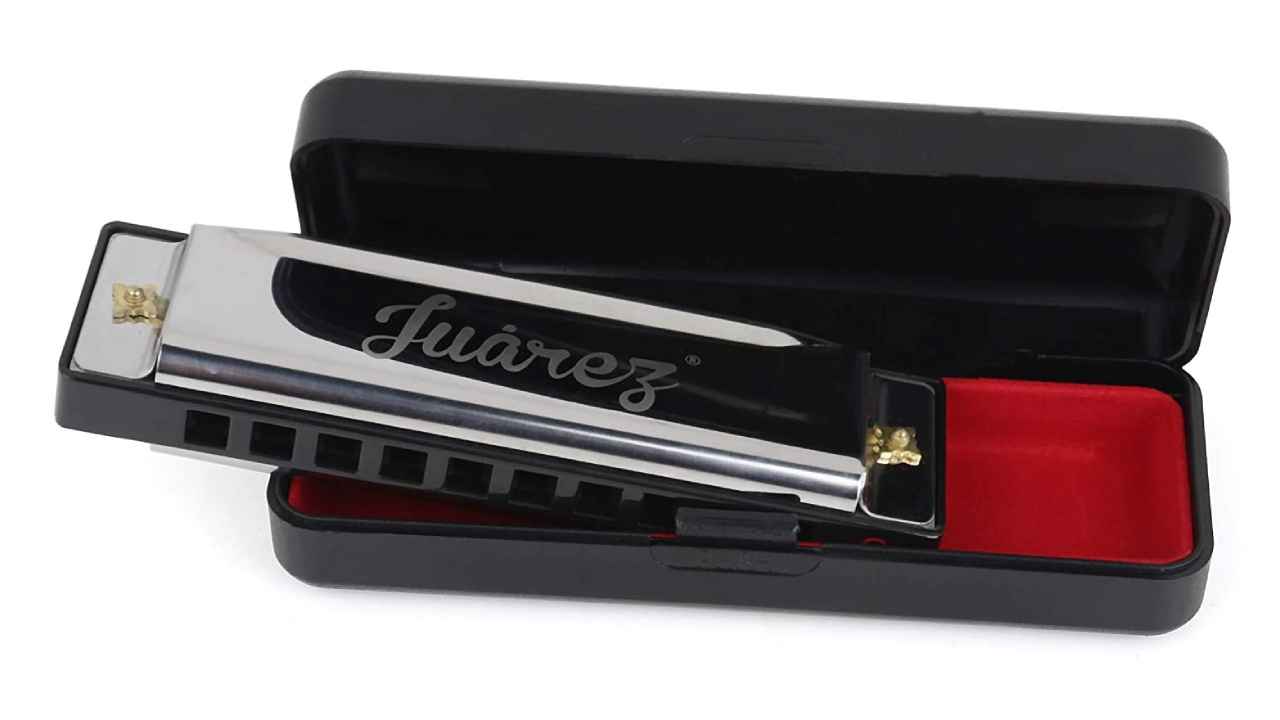 Only a seasoned musician knows that inspiration can strike anytime and anywhere. To ensure the music gets captured, you must make sure that it gets expressed as soon as possible. But most of the musical instruments are not portable, owing to their size and dimensions, except harmonicas. These musical instruments are pocket-sized and can be used anytime and anywhere. If you are looking around for the ideal harmonica for yourself, you must make sure that it is a diatonic variant and has a comfortable grip. Following are a few good options of diatonic harmonicas on Amazon that are ideal for beginners:
Juarez JRZ10HM Diatonic Blues Harmonica
The Juarez JRZ10HM Diatonic Blues Harmonica has a chromed, nickel-plated, metal cover that doesn't only help in making the instrument sturdy but also comfortable and aesthetic. With moisture-resistant ABS plastic combs, this harmonica has been designed for producing bright and clear sound. The C note of this harmonica, that is, its central pitch, is sweet, accurate and pure, making sure you can express yourself in the most vivid way possible. Coming with a black flip-top cover, the Juarez JRZ10HM Diatonic Blues Harmonica is very convenient to carry and store. Apart from these, some of its other features are a phosphor-bronze reed board and non-toxic materials.
ARCTIC AR-HA10 Diatonic Blues Harmonica
The ARCTIC AR-HA10 Diatonic Blues Harmonica comes in a stainless-steel cover that helps in giving the instrument phenomenal tonal output. Moreover, since stainless steel has corrosion-resistant properties, it makes the harmonica durable and enhances its longevity. It is ideal for beginners who are just starting, but in the hands of professionals, it can be used to perform numerous genres, ranging from country to pop music. Moreover, since it is a key C harmonica with ten holes, you can switch between 19 notes. Being pocket-friendly and lightweight, the ARCTIC AR-HA10 Diatonic Blues Harmonica can be a great travel companion!
KETOSTICS JDR MOUTH HARMONICA
The KETOSTICS JDR MOUTH HARMONICA features an electroplated reed plate that ensures the reed gap is optimal for sound creation. It has a comfortable grip, and since it is easy to use, you can also use this harmonica for over-blowing and bending, giving budding performers a whole new experience. Crafted with decent workmanship, the KETOSTICS JDR MOUTH HARMONICA has an aesthetic and refined design. It can gel with violins, flutes, and even guitars, making it a versatile musical instrument. Offering a high reed response with stunning dynamics, the harmonica makes sure the sound produced by it is of crystal-clear quality.
East Top Blues Diatonic Harmonica
The East Top Blues Diatonic Harmonica is a ten-hole professional musical instrument that can be used for jazz, folk, and rock music. Featuring a precision-made plastic comb with a phosphor-bronze reed, this harmonica can effortlessly achieve a higher pitch and richer sound. Moreover, since its reed plate has been electroplated, the East Top Blues Diatonic Harmonica is also corrosion-resistant. This means it could go on for years without the risk of any rust! Since it has a comfortable grip and is easy to use, it could be a great start for beginners. It can easily fit into your pocket, thanks to its small, compact, and lightweight design.