The month of October will see another slew of updates and events for Call of Duty: Mobile. However, this month is pretty special for the game as it marks the 1st anniversary of Call of Duty: Mobile. However, the developers are still tight-lipped about its plans for the month and say that the information about the anniversary season will trickle in via the game's social media pages and will concrete details will start to go out by next week.
However, one clue that we got is that the in-game Credit Store will see a new weapon being available. But the developers have hand-picked a bunch of Epic Weapon Blueprints and it will be up to the players to vote for the one they want to see available on the store. The winning entry will then be available for half the Credit Cost of Epic Weapon Blueprints (10,000 Credits). To recall, unlike CP, Credits in Call of Duty: Mobile are freely earned by completing missions or by ranking up the Battle Pass Tiers. Players can vote for their favourite weapon here.
Beyond this, it doesn't look like the 1st week of October will see too much in terms of updates or anything else. However, there are still a few things players can look forward to.
October 2 to October 14: Technogeek Event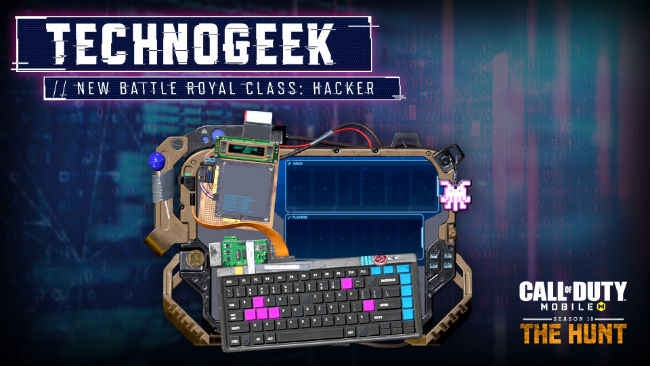 The Technogeek event gives players the chance to earn the new Hacker class in Battle Royale. The new class is aimed at disrupting enemies' special abilities and gadgets, making it very potentially, the most annoying class to be up against. However, the class' ability takes a little time to deploy and the range is limited. Besides the new class, the event also gives players the chance to unlock a few weapon skins as well as the Special Ops 3 - Iridescent character.
Ending on October 8: King of the Hill Playlist, Rapid Fire Mode, Hardcore Mode Collection Playlist, Attack of the Undead Mode, Pine 24/7, Battle Royale Warfare mode
October 8 will see the end of a bunch of game modes. So players are advised to make hay while the sun shines and play their favourite game modes as much as they want till that date. After that, one can assume that the developers will start preparing for the launch of the next Seasonal update. For a change, the developers did not release a test server for this update as they wanted to keep things a surprise for players. However, there are a few things that might make an appearance in Season 11. You can find out more about that here.