Want to modernise your banking loan application?
Build an application that analyses credit risk with #IBMCloud Pak for Data on #RedHat #OpenShift
Click here to know more
Advertisements
Instagram for iOS has received an update which includes a slew of much welcome UI changes along with a new filter, Willow. The update comes hot on the heels of Twitter integrating filters into its Android app. The twitter update to the iOS app is still in the works, but it's safe to conclude that the hipster photography wars are officially on.
The changes to the Instagram app come only to the shooting and editing sections of the app. For starters, the camera interface has received a complete graphical overhaul. Now as you wait for the camera to start-up, you look at not the typical aperture blade image, but a camera shutter instead. The shutter button has also been completely redesigned, switching out the old iOS style button for a custom circular design.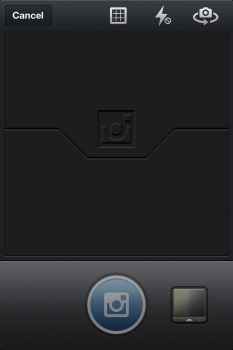 Instagram has also conveniently included an option to add the grid overlay while shooting, in case you're just too obsessed with the rule of thirds. The other area of the app to receive an overhaul is the editing tablet. The icons for each effect have become more square and quite frankly, seem brighter than the older ones. What's also changed is the alignment. All editing options now rest on the bottom of the screen instead of being split between the top and bottom. The interface look far less cluttered and rather neat if you ask us.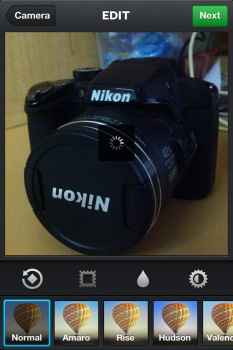 And last but not the least, is the addition of the Willow filter to the already existing 18 filters. Willow is a black-and-white filter that lends the images a low-contrast look. Inkwell is the only other black and white filter, but comes with a strong contrast range, so Willow brings a nice balance to the equation.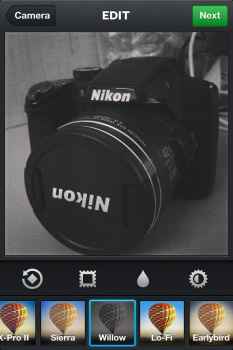 The update to the app is quite welcome, seeing how it adds a certain "freshness" to an age-old app. It's also quite evident that it has been done in light of Twitter's announcement of integrating the Aviary service into its iOS and Android apps. While the update to Twitter is already live in the Google Play Store, the iOS version is yet to trickle into the App Store. Clearly, the war for your instant hipster shots is raging in full swing, give Instagram's banishment of the "publish to Twitter" option. Instagram blocks Twitter, Twitter comes out with its own in-app filters, following which Instagram pushes out a mostly revamped app. There's a trend here people!
Also read,