Highlights:
Facebook introduces option to let Android users keep their location tracking in check.
No changes have been made to iOS version of the app.
Facebook will send alerts to Android users once the feature is rolled out to them.
Giving more control to people over their privacy, Facebook has introduced a new feature in the Android version of the app that will give users more choice over how the social media giant collects and stores their location information. The feature works just like the iOS app that lets Apple users control when they want their location to be tracked. The company has said that it is neither making any changes to the choices that have been previously made nor collecting any new information as a result of this update.
"Today we're introducing a new background location control on Facebook for Android so people can choose if they want us to collect location information when they're not using the app. For example, when people choose to use Nearby Friends, a feature that lets friends share their locations with each other, they give Facebook permission to access their location even when they're not using the app," Paul McDonald, Engineering Director, Location Infrastructure, announced in a blogpost.
The executive hints that the move will address the concerns of Android users who had been asking whether Facebook gets their location even when they're not using the app. Android only offers a single on/off switch for Location Services that lets users decide whether to share the precise location with Facebook and other apps. But iOS offers an additional option, so users can share their precise location always, only when the app is in use, or never.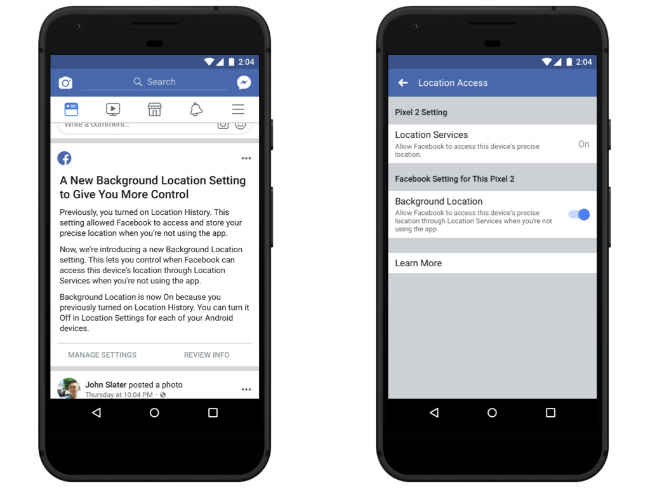 Until now the Android app had only two options: either to enable the location tracking or disable it. The update will bring the iOS-like third option to let Android users enable location only while the app is in use. Facebook says that for those who choose to keep the Location History setting "on", the new background location setting is automatically turned "on". For those who have turned Location History "off" – or never turned it on in the first place – the new background location setting is "off".
Facebook says that it is alerting everyone using the Facebook app on an Android device about the update. The notice will let them know about the new control, and ask them to "take a moment" to check that their settings are right for them. "For people who use Facebook for iOS, nothing is changing, but we will send a similar alert to everyone who chose to turn on Location History in the past," the executive added.
Facebook tracks users' location to let them plan events, see relevant ads, mark themselves safe in a crisis and share their favorite places. It also helps Facebook recognise if a user's account has been compromised. For example, if a user generally logs in to the account from a browser in New Delhi, but suddenly there is a login from a browser at any other location, Facebook's systems recognise this behaviour and send an alert to the user to cross-check their activity.
Related Read: