Airtel is one of the largest telecom providers in India and offers a host of monthly subscription plans. It also has its own streaming service as well – Airtel Xstream which offers you a DTH connection as well as access to streaming services like Netflix, Prime Video, etc. on a single device. The telecom operator offers both prepaid and postpaid connections, ranging from budget-friendly options to feature-rich high-end plans. To port Jio mobile number to Airtel, you can avail the Mobile Number Portability (MNP) facility that Airtel provides.
Airtel offers an MNP facility that allows users to switch their service provider without having to change their mobile number. Users have the option to switch their connection from Jio to Airtel via the airtel official website, mobile app, or they can also choose to physically go to an Airtel store and request for MNP facility. To avail of the facility, you will need a valid address and identity proof like a passport, driving licence, voter ID card, ration card, or a photo credit card.
What documents do you need to carry for completing the porting process?
You will need Address proof – Aadhar Card/Pan Card/Voter ID/Driving Licence.
A Passport-sized photograph.
Users also have to complete a biometric verification at the time of verifying the documents to complete the document verification process.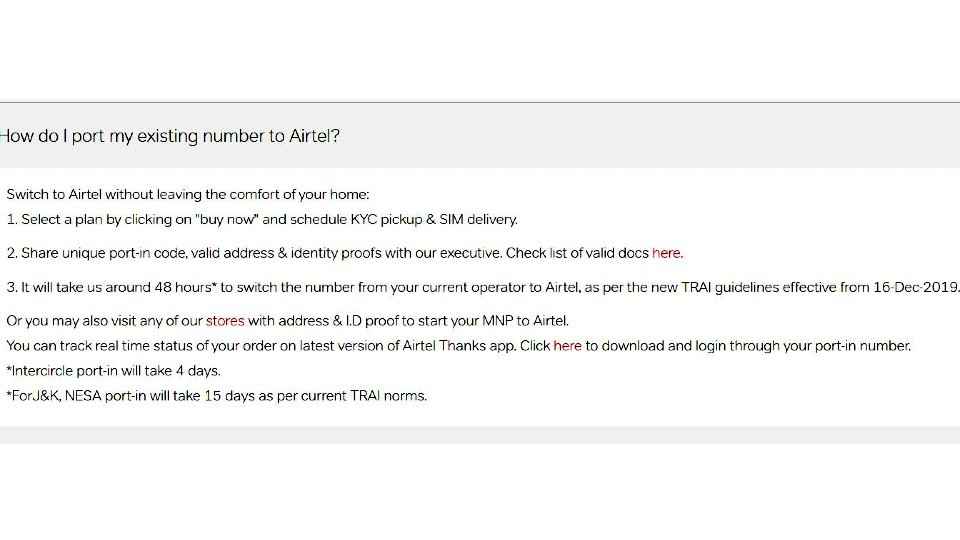 The MNP process takes up to 48 hours for Intra circle port-in, while it takes up to four days in case of inter circle port-in. For customers in Jammu and Kashmir circle, the porting process can take up to 15 days. Here is a step-by-step guide on how to how to MNP Jio sim to Airtel prepaid or a postpaid mobile connection.
How to port your mobile number from Jio to Airtel postpaid connection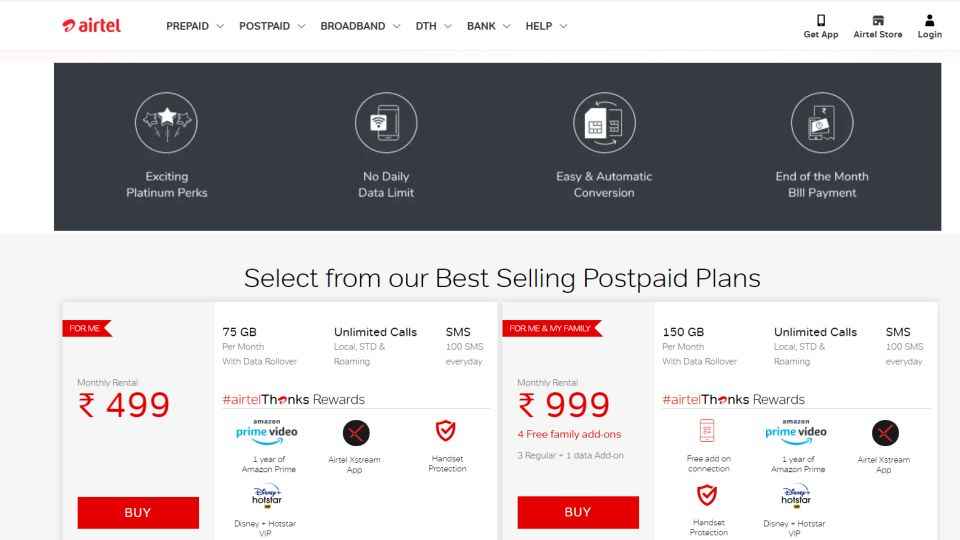 Airtel offers two post-paid plans for customers who are looking for Jio to Airtel number porting. The first is a Rs. 499 plan that includes 75 GB of data per month, unlimited calling, 100 SMS per day, and additional benefits like a 1-year free subscription of Airtel Xstream, Amazon Prime Video, and Disney+ Hotstar VIP. The second is the Rs. 999 'For me and my family' plan that will get you 150 GB data per month, unlimited calls, 100 SMS per day, and a free add-on connection, as well as subscription to Airtel Xstream, Amazon Prime Video, and Disney+ Hotstar VIP.
Steps to switch from Jio to Airtel mobile postpaid connection.
First, click on Buy on either of the two plans mentioned here.
Next click on 'switch to Airtel' (with the same number).
Enter your complete name, mobile number, city, and address.
Next click on the Submit button.
Once you click on Submit, you will receive an SMS confirming your request and that Airtel will reach out to you shortly.
On the next page, Airtel will remind you to keep your address and ID proof handy at the time of SIM delivery and you will also expect a call from the delivery executive shortly.
How to port your mobile number from Jio to Airtel prepaid connection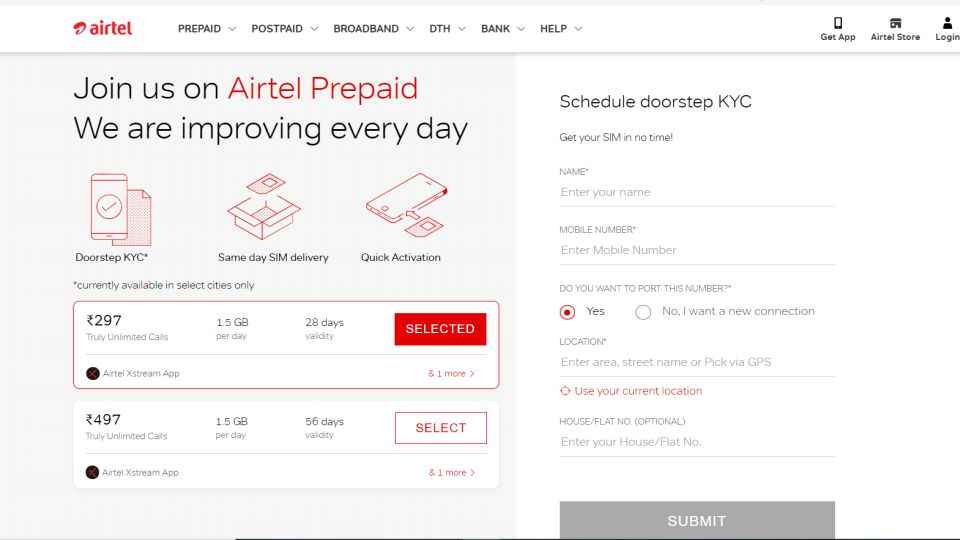 If you wish to port your Jio connection to an Airtel prepaid mobile connection you can check the website for the available plans. Currently, Airtel offers two plans on its website with which you can port your mobile number if you are looking for a prepaid connection. One is a Rs. 297 plan which gets you 1.5GB data per day, with a validity of 28 days, unlimited calling, and 100 SMS per day. Subscribers will also get access to Airtel Xstream and Wynk Music subscriptions with the plan.
The second is the Rs. 497 plan that has a validity of 56 days, 1.5GB of data per day, a 100 SMS per day, and offers unlimited calling, along with free Airtel Xstream and Wynk Music subscriptions. The telecom provider also offers its subscriber's doorstep KYC service, as well as same-day delivery of new SIM, and swift activation as well.
Follow our step-by-step guide to port Jio to Airtel.
First, visit the official Airtel website.
On the left side of the page, you will see the available plans.
Select the one that suits your requirements.
Next, you will see a form on the right that asks for your personal details including your name, mobile number, and has an option for if you want to port or get a new connection.
Select mobile number Porting.
Then enter your complete address and click on Submit.
Airtel will ask you to keep your address and ID proof handy at the time of delivery of your SIM card. Users can also track the new SIM through the Airtel Thanks app. You will need to download the app from Google Play or App Store and sign in with your port-in number to live-track your new SIM. The app will also allow you to activate the new SIM card.