Are you missing calls on your Jio network when your smartphone is switched Off? Do you want to enable missed call service alerts on your mobile number so you know who tried to contact you when your smartphone was switched off or out of the coverage area?
Reliance Jio's missed call alert service sends a message about the incoming calls to your Jio number when it is switched off or out of coverage area. In this post, we will show you how you can activate Jio missed call alert service on your Jio phone number.
What is Jio Missed Call service?
Reliance Jio Missed Call Alert service notifies users via a message about calls they received when their phone is unavailable or out of network coverage area. The service is available to consumers even when they are on international or national roaming.
For example, when someone calls your phone when it is switched off or the phone is out of network coverage, then you will not receive any call or message.
In such a case, Reliance Jio Missed Call Alert is sent to you when your phone is again switched on or back in the network area that someone was trying to call you. The message will read something like: "Dear Customer, you have a missed call from +91XXXXXXXXXX at 01:00 pm on 20-April-2021. Thank you, Team Jio".
This is a very important feature that allows subscribers to get alerts about important calls when they are unavailable or don't have network coverage.
Is the Missed Call Alert free for JIO subscribers?
The most important part is that Jio Missed Call Alert is that it is completely free of cost for Jio subscribers. The telecom provider doesn't charge anything from its subscribers for this helpful feature. Keep in mind that there are no USSD codes to enable this feature on your SIM.
How to enable Jio missed call service on your device?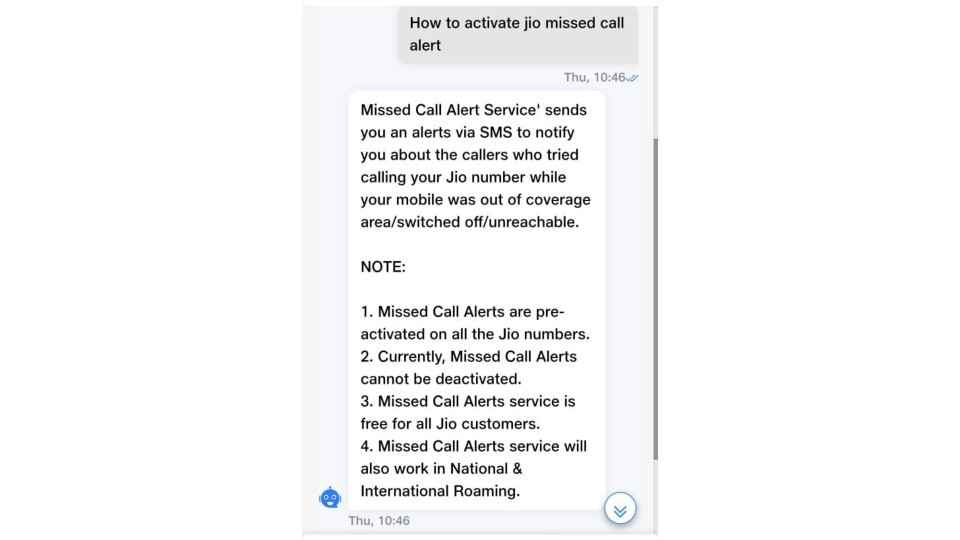 There is no specific USSD code to activate Jio Missed Call Alert on your smartphone. This feature comes pre-activated in your Reliance Jio Sim when you purchase at no extra cost.
In case you are not receiving any alerts on your Jio sim then follow the below-mentioned steps.
Check if this feature is working on your phone or not to verify it.
Switch off your phone which has a Jio Sim, and call the same Jio number from another mobile phone. You will hear the message that the Jio number is unreachable or switched off.
Now switch on your Jio phone again, and you will get an alert saying "Dear Customer, you have a missed call from +91………….", this shows that your Jio Missed Call Alert is working in your Jio Sim.
However, if you don't get any message, then the missed call alert service could be disabled on your Jio number.
You can resolve the issue by following the below-mentioned steps.
First, check that your Jio sim is recharged and active. If not, then this may be the reason behind not receiving missed call service alert.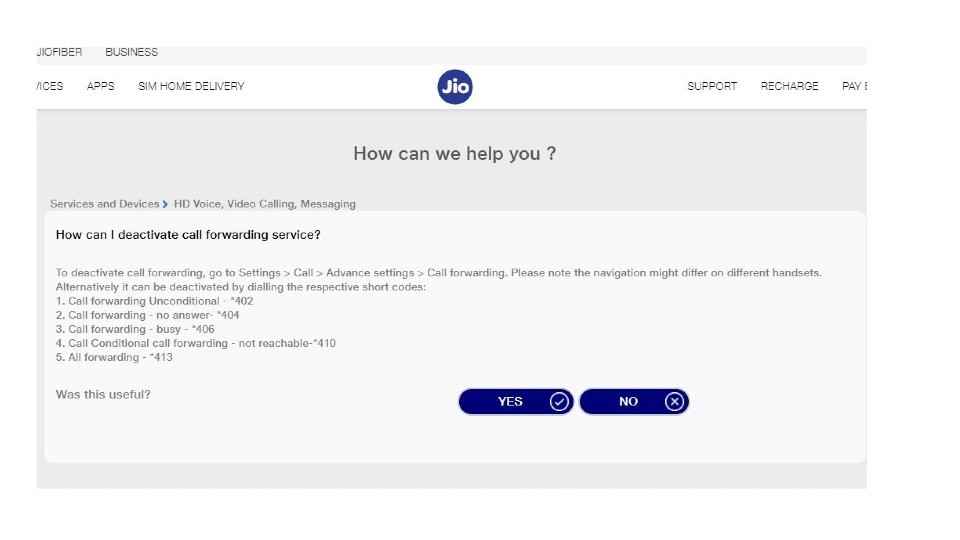 If the SIM has a balance and is active, then the next step would be to check whether Call forwarding is active in your Jio Sim or not. If call forwarding is active on your Jio Sim, then you will not receive any missed call alert. To get the missed call alert you will have to cancel the call forwarding feature on your device. Dial *413 from your Jio Sim to cancel the service. Doing this will solve your issue of Jio Missed Call Alert.
In case both of the steps don't work for you, then the only option left is to contact the Jio Customer Care number. For this dial 198 from your Jio Sim and tell the customer care that you are not receiving missed call alerts on your phone. They will resolve your issues and activate the Jio Missed Call Alert service on your Sim.
Does the Missed call alert service work on international roaming?
Yes, the Jio free missed call alert service works on national as well as international roaming for Jio consumers.
Can you deactivate the missed call alert service on your Jio SIM?
Jio missed call Alert service is provided free of cost by the telecom provider. You cannot deactivate the service on your SIM. This is an important service so we recommend keeping the service activated on your SIM so you don't miss any important calls.