Mobile Number Portability (MNP) facility allows telecom service users to move from one service operator to another. If you have been using the same mobile number despite facing multiple problems, like poor data and voice calling facility, MNP offers an easy solution to port your current mobile number to a new service provider. If a subscriber is not satisfied with the services of his current operator, then they can port their mobile number to another service provider as per their preference.
Under this facility, users can transfer their mobile number into any other network without changing the mobile number. In the case of the BSNL network, if you are unhappy with network coverage or any of the services then you can easily port BSNL mobile number to Jio.
Reliance Jio is one of India's biggest telecom operators and offers nationwide 4G VoLTE connectivity. The operator offers extremely competitive prepaid and postpaid plans to attract customers. Users also get benefits like Disney+ Hotstar VIP access and complimentary subscription to Jio apps. The telecom providers offer port to prepaid and postpaid services via online and offline channels.
Before you start BSNL to Jio number port, you must be eligible as per the below-mentioned criteria for porting service.
What is the eligibility for Mobile Number Portability (MNP) service?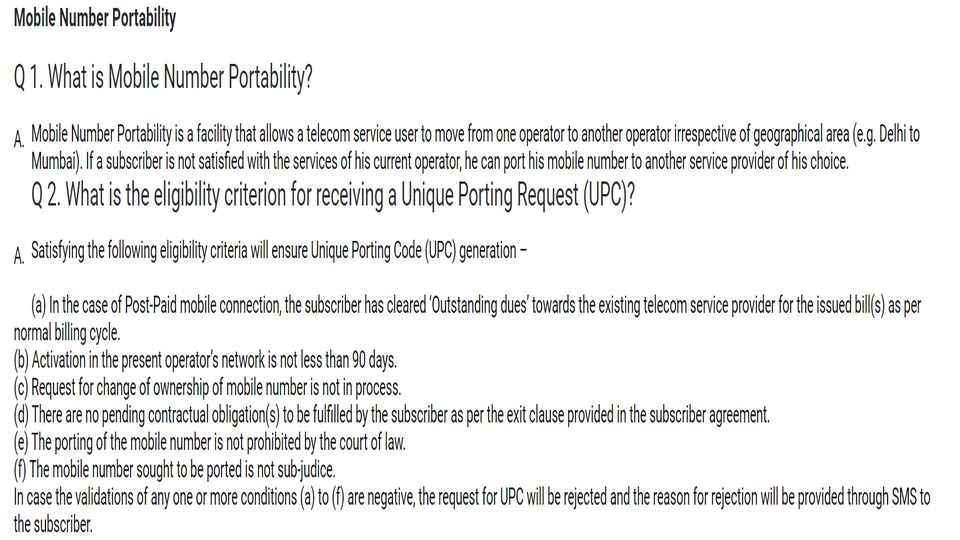 1. You have to use the current network operator for more than 90 days.
2. Any request for a change of ownership of a mobile number should not be under process.
3. You must not have any pending contractual obligation(s) to be fulfilled by the subscriber as per the exit clause provided in the subscriber agreement.
4. In the case of a postpaid mobile connection, the consumer must clear any 'Outstanding dues' towards the existing telecom service provider.
5. The consumer must be ready to forgo any previous balance in case of a prepaid connection.
What is the complete process for BSNL to Jio number porting?
Porting your existing BSNL number to a Jio connection is very easy.
1. First, you will need to send an SMS from your BSNL Mobile Number with the text "SMS <10-digit Mobile Number>" to 1900.
2. Next, you will receive an SMS with the Unique Porting Code. The validity of the Unique Porting Code will also be mentioned in the message, so you will need to complete the Porting Process before the validity date expires.
3. After receiving the Unique Porting Code, you will have to visit your nearest Jio Store or Jio Retailer with the Porting Code.
4. Make sure to carry all your required documents including your Aadhaar Card, original & photocopy of proof of identity and proof of address to complete the KYC formalities and submit your MNP application.
5. You can submit your MNP application after providing the Unique Porting Code and the required KYC documents to the nearest Jio Store or Jio Retailer.
How long does it take to port a number from BSNL to Jio?
1. Port-in requests in the same telecom circle can take around 3 business days to complete.
2. Port in requests from other telecom circles can take around 5 business days to complete.
3. In case you have a postpaid connection, make sure that you clear all your due payments to BSNL before porting.
4. If any pending payments are due, then BSNL will decline your request to port from BSNL to Jio.
5. Your BSNL SIM will continue working normally till the porting process is completed.
What documents do you require for the MNP process?
1. You will need a passport size photo.
2. A valid address proof or any Government issued ID proof like Aadhar card, voter ID, passport number, driving licence.
3. You will need the porting code to complete the process.
How to activate your Jio SIM after porting from BSNL to Jio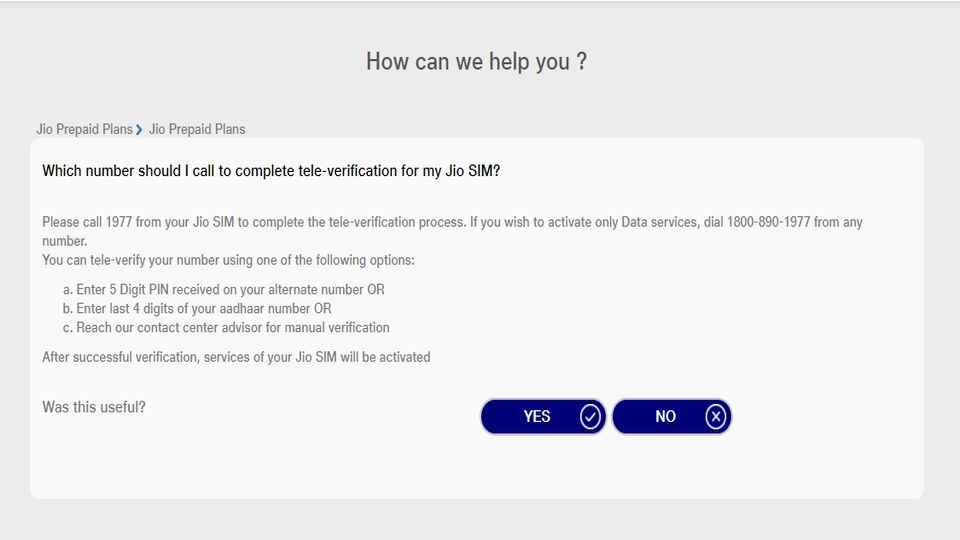 To activate your Jio SIM Card after porting from BSNL you have to follow the steps given below:
1. First, you need to call 1977 from your new Jio SIM to complete the tele-verification process.
2. Then you have to enter the five-digit pin received on your alternate mobile number or the last 4 digits of your Aadhaar / voter ID/passport number for the tele-verification.
3. Post tele-verification, your Jio SIM will be activated within two hours. The whole process is very simple, and we hope that the above guide will make the porting from your BSNL mobile number to Jio easy.
Jio also offers home delivery of your new SIM card. The Jio executive will call to fix an appointment for the delivery of the new SIM. Consumers will have to keep their address and identity proof ready along with the five-digit UPC code when receiving the new SIM. Make sure to clear all your pending dues with your current operator in case of a postpaid connection. In case of a prepaid connection, your account balance will be forfeited.