As news breaks about the freshly announced, often-leaked Google Pixel 4, here's something that will leave you even more disappointed. You will be missing out on some cutting-edge software that's debuting on the Google Pixel 4. The hardware, not so much. The Indian market is strewn with high-end smartphone hardware, available at never-before-seen prices. Yet, Google's software in the Pixel 4 would have been an interesting rival to all that. Curious about what you'll be missing out on? Keep reading.
Let's tick off the hardware at first. The Pixel 4, like every other Android flagship is powered by the Qualcomm Snapdragon 855 SoC. That's coupled with Pixel's Neural Core chip which powers on-device machine-learning tasks. There's 6GB of RAM and 64 or 128GB storage. No expandable storage. Google is offering two sizes as last time. The Pixel 4 comes with a 5.7-inch FHD+ OLED display while the Pixel 4 XL comes with a larger 6.3-inch QHD+ OLED panel. Both are HDR certified and has a variable refresh rate of up to 90Hz. A new addition is the Soli radar chip on top of the display. According to Google, that allows the "fastest secure face unlock", because of which the fingerprint sensor has been given the axe. The Soli chip can also be used to perform hands-free gestures to control the phone. It's also the reason why the Pixel 4 is not launching in India. More details about that here.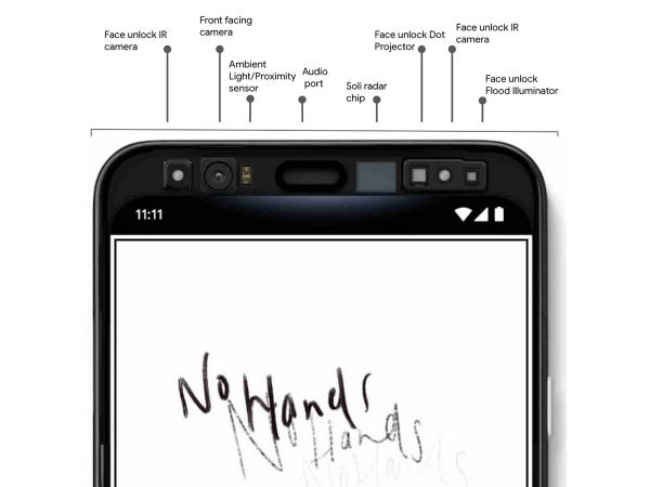 What the Soli Radar chip consists of
All this while, the Pixel phones stubbornly stuck to a single camera lens at the back. The Pixel 4 gets an additional 16MP f/2.4 aperture camera that assists in the Super-Res zoom feature. The previous 12.2MP primary camera have been retained and both are optically and electronically stabilised.
Interestingly, the Pixel 4 phones sport smaller batteries than last time, but Google is hoping Android 10's power management will even out the shortfall in capacity. Now the hardware in the Google Pixel 4 is something that most flagships offer this year. The OnePlus 7T Pro, the Redmi K20 Pro and the few more even surpasses the Pixel 4 in terms of sheer firepower. But while the Pixel 4 toes the line of 2019 flagship hardware, it pushes the limits of what the phone can do.
Google called upon Mark Levoy at it's hardware event in New York, Professor Emeritus at Stanford University and a distinguished Google engineer and researcher, to explain how the Pixel 4 is different (and better) than every other smartphone. The Pixel name itself has become associated with a software-assisted camera that can do wonders. That software has now been further improved.
For one, you can now see the effects of Google's HDR+ algorithm in real-time while you're taking the photo. Then, Google is using machine-learning algorithms to improve white-balance and let you play around with tone-mapping. The Pixel 4 camera app will show two sliders on the view-finder which you can fiddle around with to adjust the highlights and shadows. This, as Prof. Levoy explained, will let you take those tricky sunset silhouette portraits.
Nightsight, the low-light enhancing feature Google introduced last year can now be used to do astrophotography. You heard that right. Nightsight will let you expose for 4 minutes to get a clear picture of a starry night, right down to the milky way. The same feature can also be used to take light-trails.
That's just the camera.
The Pixel 4 automatically transcribes your voice recordings in real-time. Google Assistant replies instantly to your queries with no lags thanks to on-device AI crunching. Then there's Android 10 with its own set of AI-enabled features on the Pixel 4. Live captions, which adds subtitles to just about any video you're watching on your phone. Google Assistant can transcribe calls for you to 'read', and make reservations on your behalf. It even calls 911 when needed. Smart replies will be present in any messaging app on your phone, while Google Translate will work offline and fast enough to let you hold a two-way conversation. The Pixel 4 is also the first of its kind that can control the refresh rate of the display. While there are other phones with displays with 90Hz and above refresh rate, they all suffer from the problem of high power intake by the panel. The Pixel 4 gets around it by activating 90Hz refresh rate only when it's needed.
Finally, the Pixel 4 will be the first smartphone to support Google Stadia, the new game-streaming service that will be available from November 19th. Imagine playing high-end PC games on your phone. Yes, that's what you'll be missing out on.