The Thunderbolt port has been the fastest and most versatile port for the past ten years when it comes to laptops. Originally introduced and exclusively found on the 2011 MacBook Pro, the Thunderbolt port's purpose was always to be a high-bandwidth port which would also be the singular point of connection for multiple peripherals. Ten years later, the Thunderbolt port has become a key pillar of Intel's offering in modern-day laptops and we had the chance to sit down with Jason Ziller, Client Connectivity Division, Intel Corporation to get more insight into Thunderbolt and its latest iteration, Thunderbolt 4.
In the beginning, Thunderbolt, as we've mentioned, was exclusive to the MacBook Pro. This is because when Intel Labs was looking to take Thunderbolt mainstream, they needed a connector that would allow for power, data and a video signal to traverse over the same cable. After experimenting with some designs, including the use of an optical cable embedded into a traditional USB port. However, after hitting critical roadblocks, Intel and Apple sort of formed a partnership to develop the existing mini Display Port into a Thunderbolt port. It wasn't until 2015, when Thunderbolt 3 was announced, that we saw this port become widespread on Windows machines.
The Allure of Thunderbolt
Thunderbolt 4 is the latest version of Intel's connectivity standard and promises some incredible things. It is a singular port that is capable of transfer speeds of up to 40Gb/s, with a minimum bandwidth requirement of 32Gb/s over PCIe. The port also supports dual 4K displays and now, also comes with Thunderbolt Alternate Mode for USB Hubs. Previously, Thunderbolt 3 only had support for daisy-chaining (Serial connection), which meant that if you had a monitor connected to your laptop over Thunderbolt 3, you could then further connect a Thunderbolt-compatible accessory to the monitor using another Thunderbolt 3 cable. Thunderbolt 4 continues to support this now well-adopted feature, but the Alternate Mode (parallel connection) allows you to maximise your port's capabilities without having to spend on extra Thunderbolt cables, which don't come cheap. Essentially, over this singular port, you could connect external displays, while charging (or fast charging) your laptop, or connect multiple peripherals to leverage that whopping 40Gb/s bandwidth.
Just to be clear, Thunderbolt 3 also supported docks, but Jason clarifies that "with Thunderbolt 3, you would have a docking station but you could only have one downstream Thunderbolt port, while other ports would be USB, or DisplayPort, or HDMI or something else. So with Thunderbolt 4, we have docks now that have three downstream Thunderbolt ports." He further goes on to say that each of these three Thunderbolt ports could further be expanded into USB-A ports (with the use of hubs) or video ports, 10gig ethernet even.
Thunderbolt 4 vs. USB4
Given that Thunderbolt 4 and Thunderbolt 3 share the same overall bandwidth, we asked Jason what made Thunderbolt 4 stand out from USB4. He goes on to clarify that while both standards boast of a 40Gb/s peak bandwidth, for Thunderbolt 4 it's a minimum requirement while for USB4, the minimum spec is actually 20Gb/s. For video, the minimum spec on USB-4 is also very low, with PCIe also being optional. This creates potential inequality amongst USB4 ports between different machines, so Thunderbolt 4 "now requires, the full two 4k displays (two dp1.4 streams) and also the full four PCIe Gen 3 lanes." Another critical difference between Thunderbolt 4 and USB4 is the fact that Intel certifies all Thunderbolt accessories, while USB4-compatible accessories don't go through any such process.
Parameter
Thunderbolt 4
USB4
Minimum speed
40Gb/s
20Gb/s (40Gb/s recommended)
External Monitor support
2x4K display or 1x8K display
1 display (no min resolution)
Minimum data requirements
PCIe 32Gb/s
USB 3.2 10Gb/s
USB 3.2 10Gb/s
PC Charging port
minimum 1
none
Support for accessories with additional TB ports
up to 4
none
Networking support
Yes
No
Proliferation of Thunderbolt 4
One of the biggest problems with Thunderbolt 3 was that the port was limited to high-end windows laptops or Macs only. We asked Ziller how the brand hopes to make the port more mainstream, aiding in its mass adoption. "We're doing two big things in order to do that. One is to integrate [Thunderbolt 4] into Intel CPUs. And the other is to open the technology spec to the industry, right and so we really delivered on both of those. We integrated starting with Thunderbolt 3 in the Tiger, sorry, in the Ice Lake processors. And then last year, Thunderbolt four was integrated into the Tiger Lake processors. On the spec, you know, we contributed the protocol to the USB group. And it became the basis for the USB four specification," expounded Ziller. While the Thunderbolt 4 controller has now been integrated into Tiger Lake CPUs, there's another critical step taken by Intel to ensure more machines ship with Thunderbolt 4, and that's Intel Evo. Intel Evo is a branding from Intel that entails a set of guidelines for thin and light laptops, one of which mandates the use of Thunderbolt 4 ports, which must also support fast charging. The HP Spectre x360 (Review) is one such laptop to be Intel Evo certified in India.
Thunderbolt beyond Laptops
Towards the end of our conversation, we asked Ziller why Thunderbolt so far had been limited to laptops, with very few OEMs offering the port on their desktop motherboards. "Well, the value proposition for Thunderbolt is much stronger on a laptop, because you want the thinner connector, you want to have fewer connectors. You want to expand outside of the notebook and connect to a dock or monitor that's going to connect to all your devices, you want to be able to charge all these different things, which makes a stronger value for notebooks. So with desktops, I think, particularly when we were selling discrete host controllers, it's added cost and everything. So I think because the value proposition wasn't as strong because if you have a tower desktop, there are lots of ports, you have lots of room for lots of ports. You can plug in PCI adding cards, so you have expansion capabilities. So there wasn't as big a need for a small thin connector that does it all," said Ziller. He further added that this has changed in today's landscape, with more Thunderbolt-compatible accessories being available and being adopted quickly, so now there is a value proposition on the desktop side of things as well, which explains why there's now a large number of Z590 motherboards with support for Thunderbolt 4.
Buying a Thunderbolt 4 cable
I'm not going to lie. Thunderbolt 4 cables are expensive, and in India, they can sometimes be hard to find. Add to that the fact that they basically look like USB-C cables, it's easy to spend your money on the wrong cable and live to regret it. Finding a Thunderbolt 4 cable is actually rather simple. Just look for a lightning symbol with the number 4 etched above it.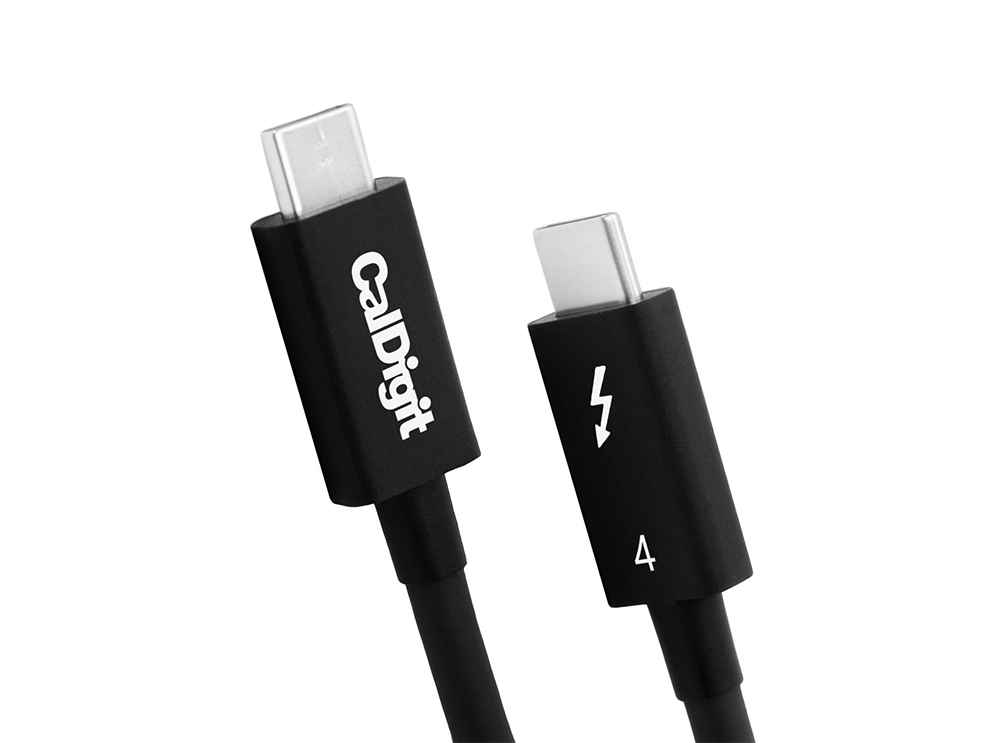 Thunderbolt 4 offers an incredible new set of possibilities with its wide-ranging compatibility and its peak speeds. Besides the concept of a "universal cable," those with impeccable aesthetics could use this port as a single connection point for almost all their accessories, whether it's a laptop or a desktop. Thunderbolt 4 allowed laptop manufacturers to push the slimness of their laptops into never-before-imagined realms, for example, the Dell XPS 13 (Review), which is so thin you'd think it would snap in half if you put any pressure on it.