One month ago, on this very day, Prime Minister Narendra Modi declared that the currency notes of 500 and 1000 denominations would no longer be legal tender post midnight on that day. Since the demonetisation announcement, a lot has happened and it wouldn't be wrong to say that almost every single citizen of this country has been affected by this decision. While some have been in full support of the demonetisation, some have expressed their doubts and some have gone as far as to call it an outright mistake. But there is no denying that technology has played a key role in this entire month - be it through digital payments, mobile wallets, locating an ATM with cash or helping people express their opinion about this decision.
But has it all been beneficial? If yes, how much? Let us have a look at some of the most significant tech milestones and statistics from the past month.
Mobile wallets and Digital payments
Without cash in the people's hands, the only way to go immediately was electronic payments. Now, those two words encompass a wide array of payment methods like debit or credit cards, mobile wallets, online transfers and more. Needless to say, in most cases, retail stores have mostly been using cards. In fact, as revealed by RBI there are nearly 75 crore electronic cards in the country out of which 72 crores are debit cards. These are mostly used by the general populace to withdraw money from ATMs. The most common way these are used for digital payments is at PoS terminals at retail stores. Now, these retail stores obtain these PoS machines from their banks, which normally charges them an MDR (Merchant Discount Rate) which in the end gets charged to the customer. But to encourage card payments during this period, banks have waived off such charges associated with card payments.
When it comes to mobile wallets, the effects were almost immediate. According to Paytm, the company registered a 200% hike in a number of app downloads and 250% surge in the number of overall transactions and transaction value within hours of the announcement on November 9. The number of Saved Cards also grew by 30% during that time, pointing at a strong set of repeat customers the platform has now acquired. The company had noted 1000% growth in money added to the wallet and 400% growth in the transaction value of offline payments at the same time. All of this culminated to the over 435% increase in Paytm's overall traffic within hours on Nov 8. One wouldn't be too wrong in saying that while there are a lot of options and alternatives when it comes to mobile wallets, Paytm does seem to be the popular choice, which could be due to their prolonged presence in the market coupled with their aggressive marketing across all platforms.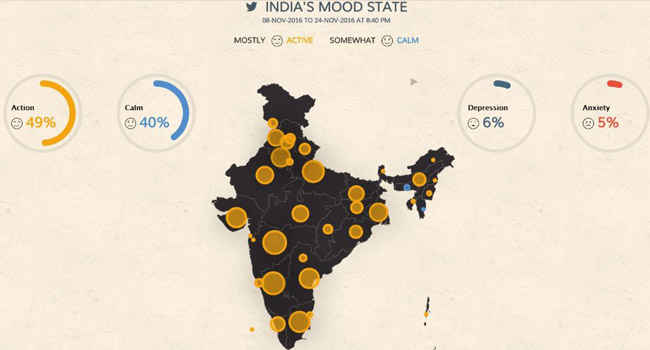 This is a representation of online conversations regarding demonetisation
But on the other hands, these numbers and accomplishments are to be taken with a bit of salt. According to recent numbers released by RBI, it does appear that mobile wallets have been bloating the numbers before announcing them. For example, according to Paytm, they are registering about 32.5 lakh transactions worth ₹60 crores daily. However, according to RBI in the initial days of December, 8 mobile wallets and payment services had approximately 25 lakh transactions worth ₹60 crore made across them. Also, while these platforms do claim to be secure at multiple levels, it is true that online transactions, even more so on the mobile, do come with their own share of risk and you should be extremely careful about which network you are on when you are using, say, your bank's mobile app. Needless to say, download these apps only from official sources like the Google Play Store or the App Store. At the same time, it's encouraging to see that apps and service providers are taking steps to secure their apps. At the time of writing this PayTM just announced an app password feature on their mobile app that lets you set a secure Pin, Password, Pattern or Fingerprint to use the app.
Cash still here, but will it persist?
On the other hand, the demand for cash has also surged with the little available in the market. According to RBI, during a period of 10th November 2016 to 5th December 2016, RBI has supplied the general public has supplied to the public banknotes of various denominations worth ₹ 3.81 trillion. So there is obviously a large section of the economy that still needs cash. Banks have since reported to RBI that such exchange/deposits effected from November 10, 2016, upto November 27, 2016, amounted to ₹ 8,44,982 crore (exchange amounted to ₹ 33,948 crore and deposits amounted to ₹ 8,11,033 crore). They have also reported that the public has withdrawn, during this period, ₹ 2,16,617 crore from their accounts either over the counter or through ATMs. And all of this is happening offline.
So is the increased usage of payment wallets a panicked reaction that is going to subside once the market has enough cash again? Not anytime soon if the trends are to be believed. While Paytm's results are already quite clear, rival Mobikwik is not be left too far behind as according to reports, their own transaction volumes rose 7,500%, and their mobile app's lite alternative saw 20 lakh downloads in just two days of its launch. In fact, you can yourself see how many advertisements from digital payment providers have recently popped up on billboards, websites and even on the radio. According to a report by Assocham and market research firm RNCOS, the demonetisation move coupled with the flagship Digital India initiative will push the e-wallet industry to a 90% growth in the next 6 years.
The UPI answer?
A key solution in this situation could have been UPI, the payment method introduced by the NPCI in April 2016. Since then, over 30 banks have implemented UPI functionalities and quite a few third party apps, like PhonePe from Flipkart, have come into the market to let people avail UPI. But due to lack of awareness and a general confusion due to multiple platforms that could be used, there still seems to be no clear indication of UPI being significantly used for digital transactions.
Offline Payments
So it does seem that the onus lies on digital wallets. But the immediate question that arises from there is - how will the offline India, the part that has no access to the internet or maybe even a smartphone, get themselves out of this? The answer once again lies within technology. Take Tonetag for example. They have a sound based model of payments between smartphones which they recently expanded to feature phones as well. All a user needs to do is to call a toll-free number and register their card details for the first time, and when they are at a Tonetag enabled vendor, they need to call the toll free number. The merchant will then play a specific tone from his Tonetag enabled phone which will be processed by the IVR servers behind the call, which in turn will process the payment - all without internet from the customer's side. Paytm has also implemented an offline payment method via a phone call that works on your existing Paytm wallet.
The Tech Market
While tech might be providing solutions to the demonetisation-hit citizens of the country, the industry itself has some areas that have been hit adversely. According to a report from International Data Corporation (IDC), the consumer devices market, especially the PC and mobile devices market, is being negatively hit in Q4 2016. According to Jaipal Singh, Market Analyst, Client Devices, IDC India "Considering the poor sales due to the current cash crunch in the country, earlier estimates for Mobile phone has been revised downwards by 4.5 percent. CY Q3 2016 smartphone and feature phone shipments were 32.3 Million and 39.9 Million units respectively. CY Q4 2016 feature phone shipments are likely to decline sharply by 24.6 percent and smartphones are expected to see 17.5 percent decline sequentially."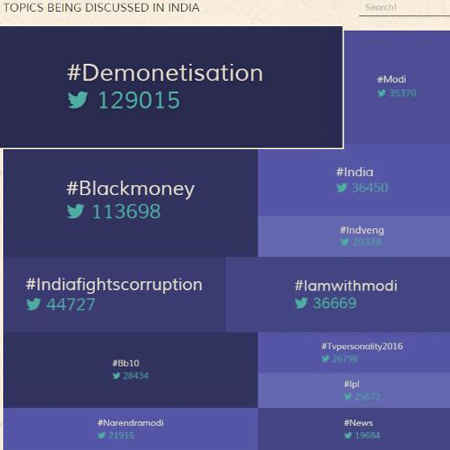 Twitter trends related to demonetisation
On the e-commerce front, there were some initial but significant setbacks as major retailers saw a drop in cash-on-delivery orders up to 30%, with the immediate effect being mass returns of COD orders. But most e-commerce sites have welcomed the move as it pushes people to transact online which is better operationally.
Out of the Box
There are startups that are offering interesting services in the light of demonetisation. DoneThing, a Gurgaon-based, on-demand personal assistance service, allows people to request an executive to stand in an ATM or bank line in their stead. When their turn comes, customers are accordingly apprised about it, who have to be present and deposit the cash themselves.
A few websites and apps are also offering a feature to locate ATMs near you that have cash. CashNoCash from Quikr is a popular option and even Walnut offers a similar feature in the app. However, there is no certainty regarding how these services maintain accuracy, apart from the option of the info being crowdsourced. Does that make them reliable enough? Afraid not!
Even Paytm is adding to its already feature packed app. Take Nearby, a feature on the app that lets you see all Paytm accepting merchants around you, even the ones where you can submit your KYC documents to upgrade your Paytm wallet.
In Conclusion
There is no doubt that the effects of technology on demonetisation and vice versa have been quite significant for the duration of the past one month. From new problems to innovative solutions, tech has been involved in all of it and it is far from over. In fact, some of the significant innovations and features mentioned earlier in the article have emerged in the last few days. So, contrary to the initial estimates by the authorities, even one month into demonetisation it is still too early to say which way the long term results will flow. But without any doubt, this is the fintech revolution that would have taken a few more years to arrive in India without demonetisation. What do we make of it? That depends on us.
Image Courtesy: MaxusKaleidoscope