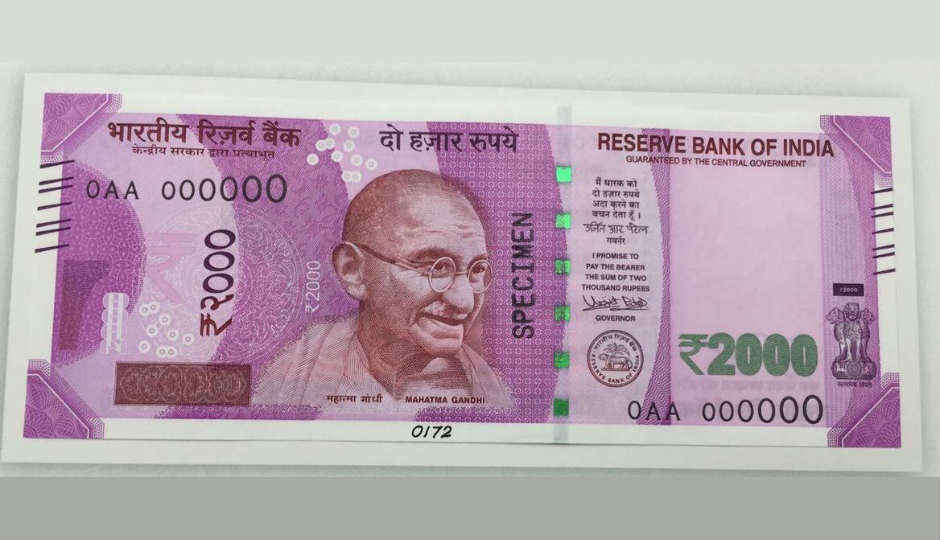 There may be some tech involved in the upcoming Rs. 500 and Rs. 2000 notes to be introduced by the Reserve Bank of India or at least that's what the rumours all said. Prime Minister Narendra Modi, today, in an address to the nation, announced that existing Rs. 500 and Rs. 1000 rupee notes will be nothing more than "worthless piece of paper". These notes are no longer legal tender, as of now.
We'll leave the economic and financial sides of that story to the experts, focusing instead on the tech that concerns us more closely. Rumours say there's some interesting technology involved, and while we haven't confirmed the same right now, here's what they say.
1.) Apparently, the new notes will have nano-GPS chips installed on them, for tracking. These chips will reportedly allow satellites to track the currency, even at 120 metres below ground level.
2.) Further, rumours say that the nano-GPS chips work without any power source, which is quite interesting if true.
3.) Moreover, the satellites will reportedly track large amounts of money stored at any place, automatically, and pass on the information to the Income Tax department.
4.) The department can then track such currency and recover it, if it's found to be illegal.
5.) Removing the nano-GPS will reportedly render the currency unusable in the first place.
While this does seem like an effective way to track, block and recover black money, there isn't any confirmation if it is true. In fact, the so called nano-GPS technology seems more like RFID technology. What if this theory is true?
Well, RFID tags work as signal reflectors. This means when a satellite sends a signal to the tag, it simply reflects this signal, thereby revealing the precise coordinates of the currency. This, in turn, allows tracking of said currency.
Here's why this may not be true:
Turns out, this will most likely remain a simple rumour only. The RBI tweeted about the issuance of the new Rs. 2000 note on Tuesday. With it is a list of salient features of the note, which doesn't involve the above mentioned technology.
RBI issues ₹2000 note in new series pic.twitter.com/7Ob2j1t6Ab — ReserveBankOfIndia (@RBI) November 8, 2016
The salient features of the note, mentioned by the RBI in its press release, are,
On the back
1. See through register with denominational numeral 2000
2. Latent image with denominational numeral 2000
3. Denominational numeral २००० in Devnagari
4. Portrait of Mahatma Gandhi at the centre
5. Micro letters 'RBI' and '2000' on the left side of the banknote
6. Windowed security thread with inscriptions 'भारत', RBI and 2000 on banknotes with colour shift. Colour of the thread changes from green to blue when the note is tilted
7. Guarantee Clause, Governor's signature with Promise Clause and RBI emblem towards right
8. Denominational numeral with Rupee Symbol, ₹2000 in colour changing ink (green to blue) on bottom right
9. Ashoka Pillar emblem on the right
10. Mahatma Gandhi portrait and electrotype (2000) watermarks
11. Number panel with numerals growing from small to big on the top left side and bottom right side
For visually impaired
1. Intaglio or raised printing of Mahatma Gandhi portrait, Ashoka Pillar emblem, bleed lines and identity mark
2. Horizontal rectangle with ₹2000 in raised print on the right
3. Seven angular bleed lines on left and right side in raised print
On the back
1. Year of printing of the note on the left
2. Swachh Bharat logo with slogan
3. Language panel towards the centre
4. Motif of Mangalayan
5. Denominational numeral २००० in Devnagari
6. Dimension of the banknote will be 66 mm × 166 mm
It is worth noting that while the list of features do not include the above mentioned GPS or RFID chips, there is no official denial either. We're working to find more information on the same, but it seems unlikely that the RBI would leave such an important feature out of its press release. After all, even the motif of Mangalyaan has been included.
Other Popular Deals
Samsung A7 2016 Edition Golden

Rs. 18990 *

Buy Now

OnePlus 6 (Mirror Black, 6GB...

Rs. 34999

Buy Now

Redmi Y2 (Gold, 3GB RAM, 32GB...

Rs. 7999

Buy Now
*Includes Cashback
​