The Mi Smart Band 5 was launched a few days before the Mi Watch Revolve, and is part of Xiaomi's overall strategy of furthering its presence in the wearble fitness segment. While we were left rather impressed by the Revolve, its time to see what the smaller, more budget friendly Mi Smart Band 5 can do. Here's everything that the band gets righ, and the few areas where it falters.
Mi Smart Band 5 Build and Design
The Mi Smart Band 5 feature a 1.1 inch AMOLED colour display with a resolution of 126x294. The display boasts of 450 nits of brightness and in my use over a period of a few days, screen legibility was not an issue at all. The band itself is a single unit, which means no longer having to pull the display assembly out of the silicone shell to charge the band. Instead, you get a charger that magnetically attaches to the watch in order to charge it. Frankly, this is a far superior charging solution as it ensures the shell of the watch doesn't loosen up over time as you take out and re-insert the display. The clasp on the band is fairly easy to work with and manages to hold the band in position reliably. Hopefully, your wrist is a circumference that aligns with the holed punched inito the strap, given that it is not replaceable. Construction, design and build wise, the Mi Smart Band 5 does nail all the basics.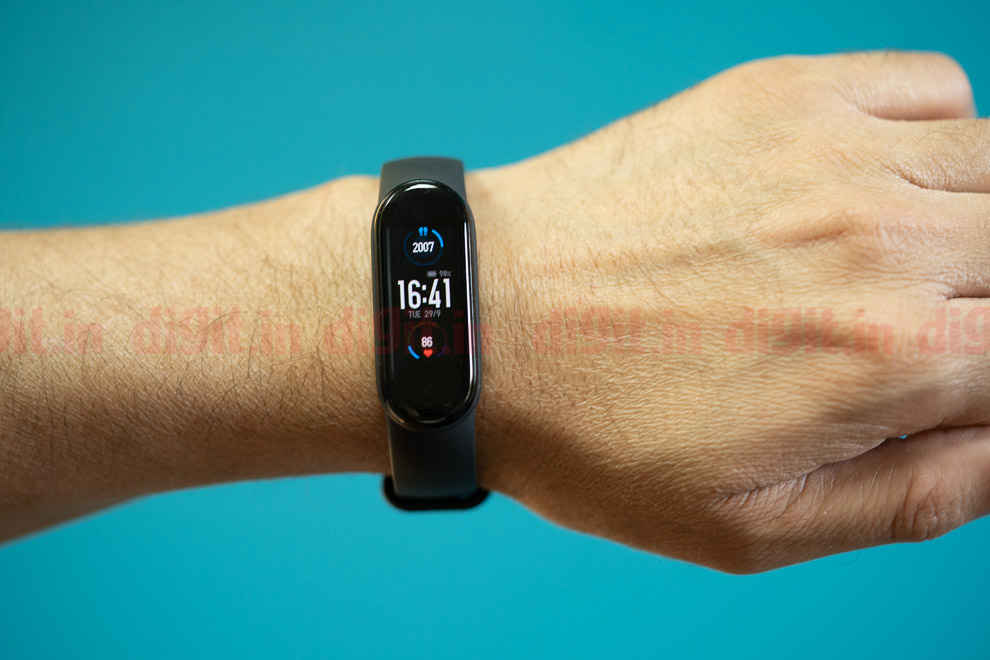 Mi Smart Band 5 Fitness Tracking
The Mi Smart Band 5 features the ability to track 11 exercises, which now also includes indoor yoga and also the ability to track your stress levels throughout the day. Stress tracking has really been becoming more and more popular, and is great to have to get a good idea of your mental state throughout the day. In addition to the 11 activities, you also get the usual step tracking, sleep tracking and all day heart-rate tracking, and we'll discuss a few of those for sure.
Mi Smart Band 5 Stress Tracking
Now this one was a little bit on the mixed side. On two particularly stressful days, the Mi Smart Band 5 managed to report stress levels that was in line with how I was feeling. However, on a third day, the Mi Smart Band 5 reported me as completely calm and relaxed, when it was in-fact, th complete opposite. Once the weekend rolled around, stress levels naturally dropped, once again, correctly pixked up by the Mi Smart Band 5. The advantage of knowing your daily stress levels is that it helps in better adjusting your lifestyle. You may think its an average day at work, but your body might be feeling otherwise. Its kind of amazing the kind of horrible things we have come to treat as normal. Being able to see your stress levels on a day-to-day basis will definitely help you make better life choices, ones that help you move towards lower stress levels. I think that the one stress level reading that was wildly inaccurate, was only an outlier.
Mi Smart Band 5 Heart Rate Tracking
The Mi Smart Band 5 features an all-day heart rate tracker which is quickly become standard even at this price point. In my use of the band for roughly a week, the band reported fairly consistent heart rates when compared to the data collected by my far more expensive Garmin Instinct.
Mi Smart Band 5 Step Tracking
When you're going for a fitness band, your goal may not be to train for the next big marathon. Fitness bands are ideal for people who want to be aware of how unfit they are, and how little or much they are doing to correct it. Since most of us take to walks as a means of getting some workout done, there is no need to spend on more professional fitness trackers or smartwatches. Just get a Mi Smart Band 5. In my testing, the step reporting by the Mi Smart Band 5 was within the margin of error in comparison to my Garmin Instinct. On a 5Km walk, the Garmin nailed th distance, but the Mi Smart Band 5 came up a little short in its reporting, clocking a total of 4.8Km walked. The step count was also on the ever-so-slightly lower side, which is a good thing. As far as errors in reporting metrics go, under is always better than over because then you're not over-estimating your achievements.
Mi Smart Band 5 Sleep Tracking
The Mi Smart Band 5 is also capable of tracking sleep, but in my experience, I was not able to get reliable results from the band. On multiple occasions, it recorded me as having slept only two hours (or so) and on some nights, it didn't register my sleep at all. This is very similar to the behaviour exhibited by the Mi Watch Revolve that we reviewed recently and I'm hoping that this is more of a software issue than a hardware one. I will update this review at a later date once there's an update to the band.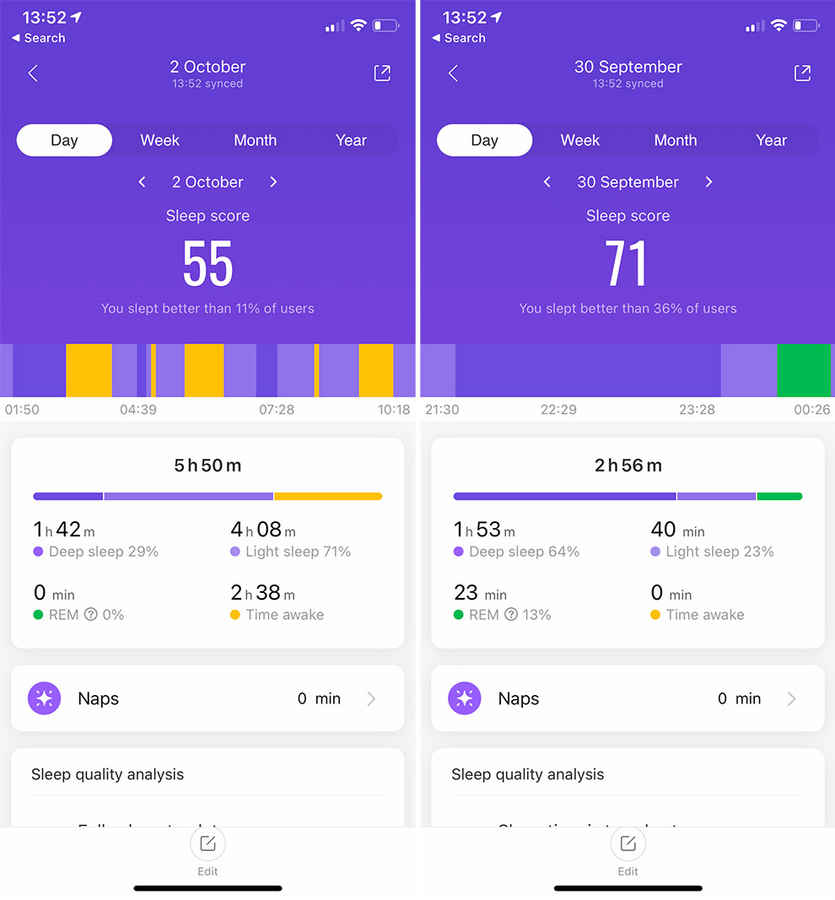 Mi Smart Band 5 Battery Life
The Mi Smart Band 5 packs a 125mAh battery, which the company claims can last up to two weeks, and I managed to get to 9 days before my band needed charging. This is with plenty of activity tracking (walks, bike rides and sleep), with smartphone notifications enabled. I do like the magnetic charger as it makes managing the battery situation a whole lot easier.
Mi Smart Band 5 Verdict
The Mi Smart Band 5 is a nifty little fitness band that is perfect if you're starting to become more conscious about your sedentary lifestyle. If you want to start working out just to maintain some level of activity in you day, then the Mi Smart Band 5 is perfect to track and record those workouts. With the inclusion of indoor yoga tracking as well, the band has practically covered all bases when it comes to popular workout types. Where the band does falter is sleep tracking, but if that isn't too important, you can overlook that. Overall, the band is definitely worth the money.