Samsung 55KS9000 SUHD detailed review
HDR content in India is scarce, but HDR TVs aren't. Samsung's SUHD line of TVs impressed us last year, and the company carries its Quantum Dot branding this time with HDR 1000 added to it. What's HDR 1000? Well, it's Samsung's way of presenting HDR. The company says its TVs can produce 1000 nits brightness, and have HDR capabilities. Hence, HDR 1000. So, Samsung isn't just promising HDR quality, it's saying you'll get brighter HDR video on your TV, for a low price of just Rs. 2,59,990.
The price of the TV, of course, puts it out of reach of most regular buyers. However, the technology should eventually trickle down to lower end TVs, and is worth considering. Let's start with the brass tacks.
Picture Quality
Samsung's Quantum Dot technology places tiny nanocrystals behind the panel, which react to light coming from LEDs behind them, emitting colour. The nanocrystals produce higher colour gamut than regular panels, and theoretically, TVs have more colour depth and produce a wider range of colours than regular panels. SUHD TV from Samsung can theoretically produce a wider range of certain colours, than others. This, combined with a 10-bit panel that allows more colours, results in more vibrant colours as well.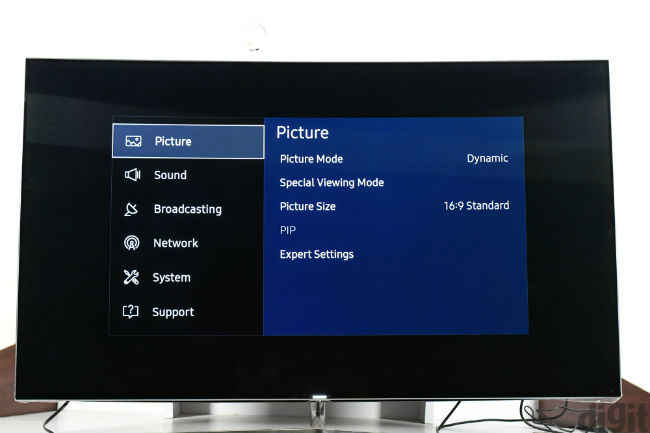 In practice, the Samsung SUHD 55-inch depicts really vibrant colours, with high contrast ratio. We were able to go as high as 4170:1, at the lowest brightness settings. The contrast ratio of course falls with increasing brightness, but never really enough to complain. Our tests also show that the TV can produce 100% of the sRGB gamut, and 89% of the NTSC colour gamut.
While the numbers look great, the Samsung 55-inch SUHD isn't perfect either. Some may find the picture artificial, and it's definitely not as sharp as some other TVs in this range. If you look close, you'll find that the edges seem like they're painted. Your viewing distance also matters in this case. The Samsung SUHD TV isn't meant for small rooms, and when viewed from about six feet or more, your eyes tend to focus more on the colours than the softness. Not to mention, many even like this kind of picture quality.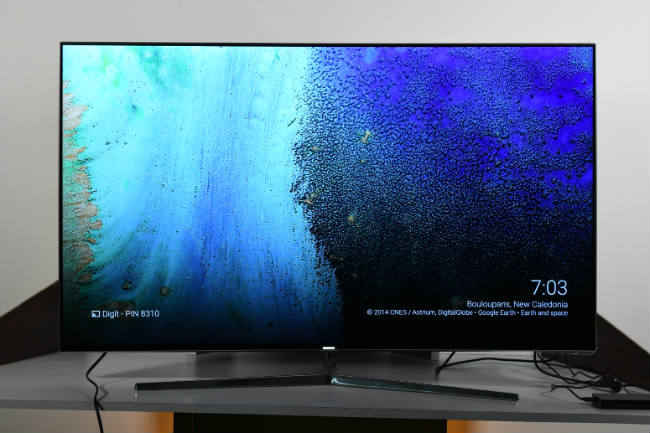 Getting HDR content is difficult, but if you can, it does look good on this TV.
The question to ask yourself is what would you rather have. Most of us are used to artificial colours, and would like a TV like this, which is perhaps why Samsung has been consistently leading the TV market for some years now.
It is also worth noting that while HDR video looks great on this TV, the soft quality doesn't really change. Videos shot in HDR will do better contrast between blacks and whites, and if you can get a hold of, it looks great on this TV. The Samsung SUHD TV supports 4K HDR, procuring which is almost impossible in India right now. Your best bet is to subscribe to the top-most package that Netflix offers, and even then, you need at least 24Mbps Internet to stream Marco Polo in HDR.
It's an issue right now, but if you're actually spending this much money on your TV, it makes sense to have HDR capabilities.
Audio Quality
Our TV testing area is a 24'x13' square foot room, and the 55-inch SUHD TV, at its full volume, can fill up this space quite easily. Your level will have to remain at about 60 on the volume meter, though. Given that this is a pretty large room, the SUHD TV would suffice most.
The TV has an output of 60W RMS, which is enough for a medium-sized room. The audio quality is also pretty clear, well suited for TV viewing. Samsung actually allows you to use the TV's output to play music over Bluetooth as well.
Ports and Remote
HDMI: 4
USB 2.0: 3
Component: 1
Composite: 1
Audio Out: 1
RF In: 1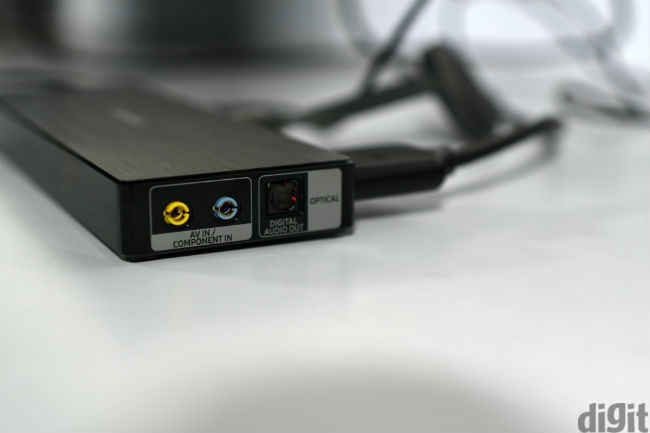 The One Connect takes care of all the ports and wires.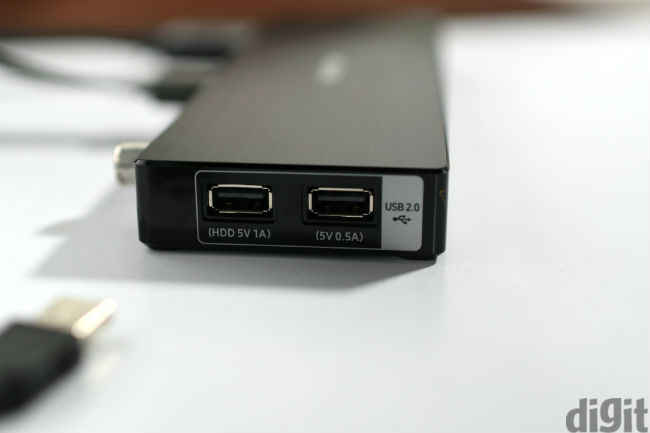 There are two USB ports and four HDMI ports on the One Connect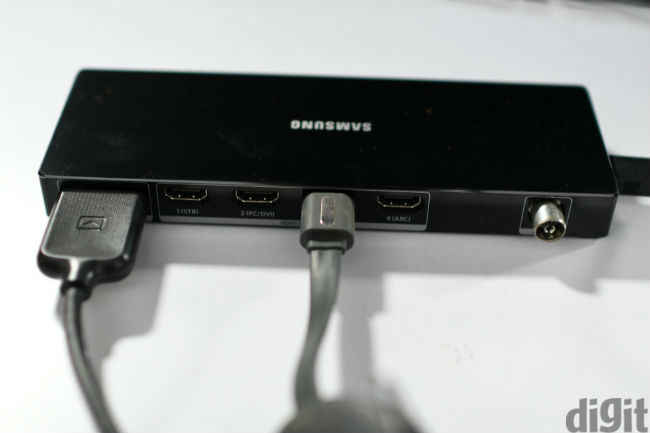 Samsung's SUHD TV has a floating design, and the most important part of that design is the One Connect module you get with this TV. This houses all the ports, with some on the TV's body. It's very easy to hide the wires using the One Connect. All the HDMI ports are on the One Connect, along with two of the USB ports. The TV itself has a LAN port, the audio out and another USB port.
You have perhaps noticed the lack of an USB 3.0 port on this TV. That's bad news for pirates, because you need a USB 3.0 port to play 4K through a hard drive or USB. It's a statement from Samsung against content piracy. The company is telling you to go through the "right" sources, instead of the Torrent route.
Moving on, the remote on the SUHD TV is simplistic, but left us wanting. The round dial in the middle has left, right, up and down buttons, while the circle in the center is the OK button. You also have a Home button, which brings up the Apps menu and more, and some more buttons go back, initiate voice, etc. What you keep looking for is a touchpad, or some kind of wand mechanism. Why? Read below.
Tizen
A highlight of Samsung's SUHD TVs is the fact that they run on their own Tizen operating system. Having tested all the smart TV OSs right now, we can affirm that Tizen is the fastest of the lot. Load time for apps are lower than that on Android and WebOS-powered TVs, and the interface is fluid to boot. The OS just needs a touch panel on the remote for easier navigation. Pressing buttons to navigate around the menu just hampers the overall experience.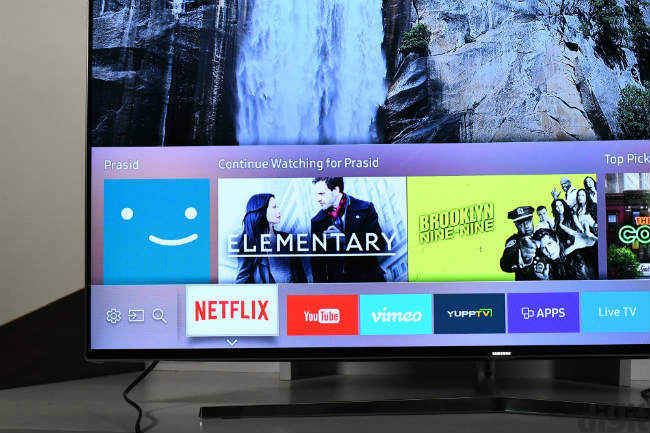 Netflix shows suggestions from your account, without opening the app.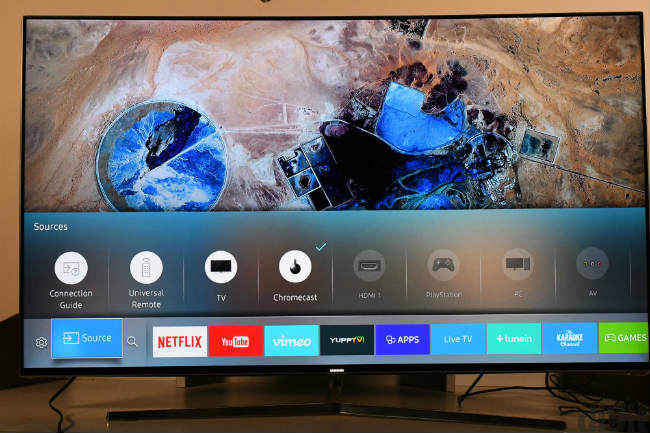 The TV shows the device connected to it, instead of the HDMI number it's connected to.
Tizen has some nifty features, though. For one, the TV can recognise what's connected to it (similar to Android TV). So, if you connect your Xbox to the HDMI 1 port, the TV will show Xbox One instead of HDMI 1. In addition, if you login to your Netflix account, the Netflix slab on the App slider will automatically show your suggested items, cutting a step and letting you play content faster. To suit the TV's impressive colours, Samsung has also made Tizen as colourful as possible.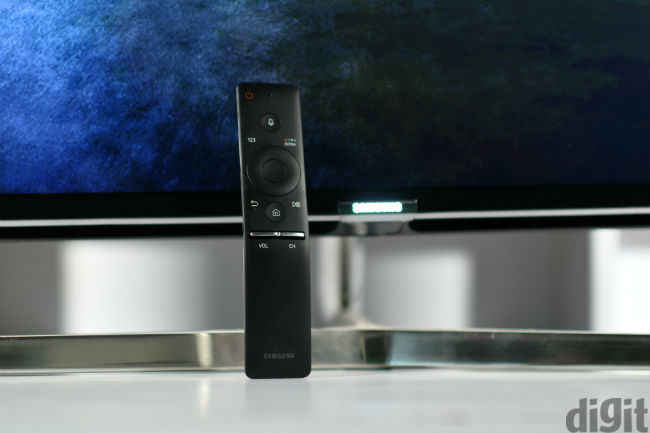 The remote is good looking and simplistic, but leaves you wanting.
The only real complaint about the OS is the lack of apps, just like on phones. You do get Netflix and UFC, but most other streaming apps like Eros Now, Hotstar, WWE Network etc. are missing. I could find a few more apps on Sony's Android TV, than I did on Samsung's 55-inch SUHD TV. The app ecosystem is poor on all TV OSs though, so we're really not holding it against Samsung, yet.
Build and Design
Curved screens are the order of the day for Samsung nowadays. Its phones have Edge display, while its TVs have curved screens. Some find this helpful with viewing angles, but in our tests, we found very little difference, if any at all. 178 degrees is still the best you need. As in its phones, though, the curved screen adds a lot to the style quotient of the SUHD TV. It looks great in any media center, and the fact that Samsung has paid attention to the stand is a big deal.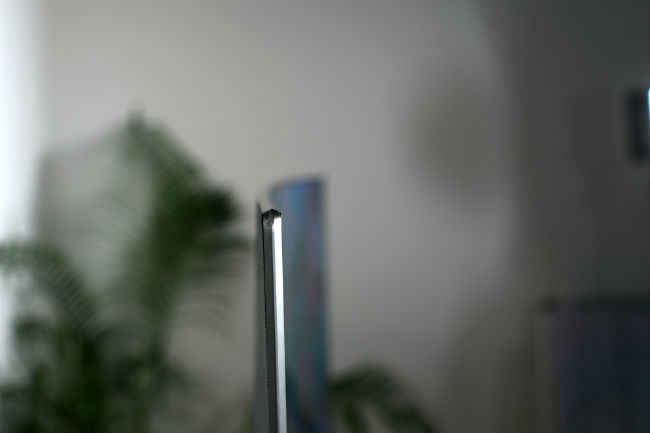 The TV is thin, and the metallic stand gives it a floating appearance.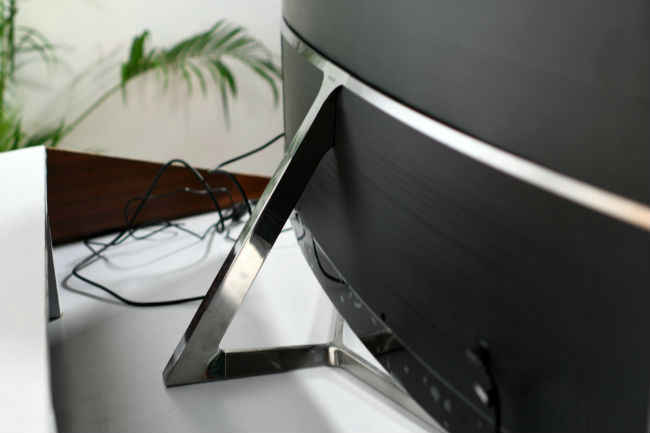 It weighs about 20 kilos with the stand, and actually has a floating effect. If the wires are properly hidden with the One Connect, the stand looks great, as does the TV. You can of course wall mount it as well, but we really think that this TV looks the best when placed on a flat surface. It's perfect for any media center. The bezels are slim, just like the TV itself, which makes the TV feel bigger.
Bottomline
The Samsung 55-inch SUHD TV is without a doubt among the best televisions in the market today. It's tough to recommend a TV that costs over Rs. 2.5 lakh, but for those who can afford it, it's a quality product. If you like bright, vibrant and oversaturated colours, you'll like this television, and it has the best TV tech that you can buy today as well. If you want more natural colours, though, we would recommend the Sony KD-55X9300D to you.