LG Signature OLED65E6P detailed review
Of all its high end televisions in India, LG's Signature OLED series is like the holy grail. Its OLED panels set it apart, and at least until we get to see how Sony's OLED panels work out, this is the best picture quality money can buy.
It costs Rs. 5,77,900 - only. That alone means neither you nor I know a lot of people who can actually buy this. However, the Signature OLED65E6T is a glowing example of what future TV technology will be. LG doesn't just use an OLED panel, this is also the only television in India that supports both Dolby Vision and HDR.
Build and Design
With that said, let's get the simple things out of the way. The Signature OLED65E6T may be the best looking television buy. OLED panel's can be thinner than LCDs and LG uses this to make a TV that is literally all screen.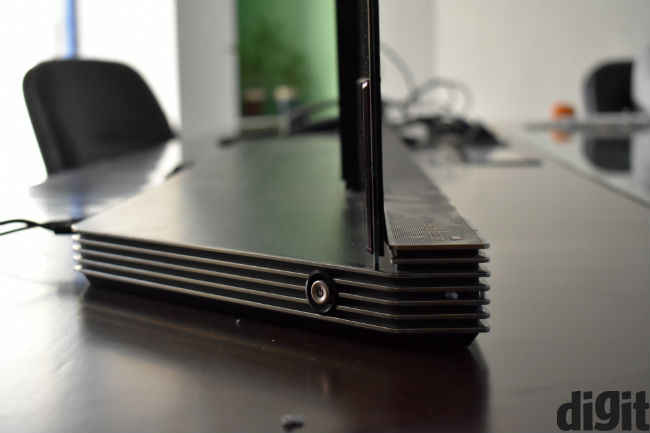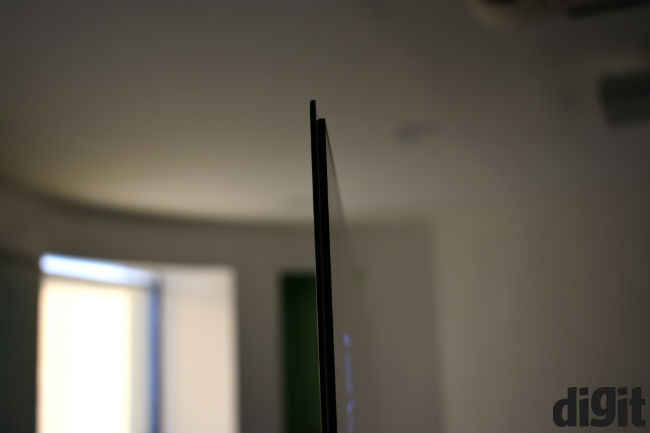 There is a non-detachable Harman Kardonn soundbar attached at the bottom, but everything else is almost paper thin.
The screen also has a ambient light filter on it, to avoid reflections. You'll know this is important once you see the TV's black levels, and the filter does a really good job of avoiding reflections, too.
Ports
HDMI: 4
USB 3.0: 1
USB 2.0: 2
Digital Audio Out: 1
Component: 1
Composite: 1
LAN: 1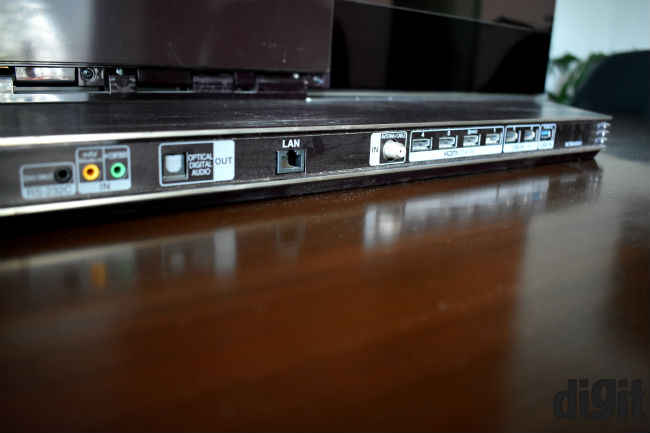 All the ports on the TV are on back of the soundbar unit. This actually is a good arrangement, allowing you to hide wires easily. They're also easier to reach this way, once you know where they are.
All four HDMI ports are 4K HDR capable and support HDCP 2.2. You will, of course need compatible HDMI 2.0 cables, though.
Picture Quality
As far as picture quality is concerned, OLED panels currently enjoy a place of their own. The LG Signature OLED 65E6T delivers rich and natural colours, with deeper than deep blacks. The panel can turn off individual pixels, making black levels 0 for up to 50% brightness. Even beyond that, black levels rise only slightly.
You will need to turn off LG's TruMotion feature at first. With it turned on, the TV tends to deliver picture that is too smooth. Otherwise, there's no motion blur to talk about.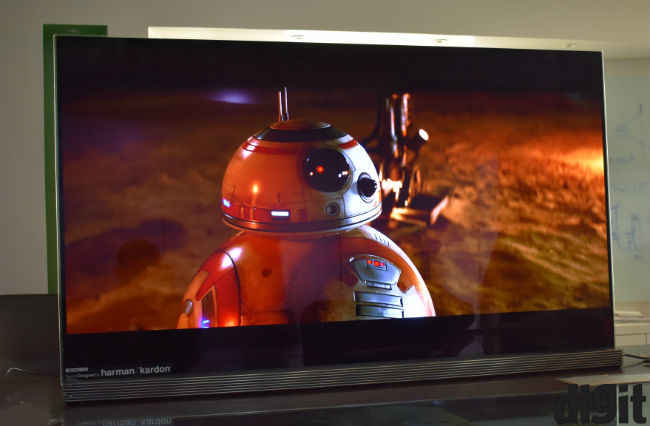 But all of that was expected from a TV at this price. What's truly exciting is its handling of 720p and 1080p content. Streaming 720p or 1080p on Netflix is clean and the TV scales content very well. In fact, even 480p content can be passed off satisfactorily, although we would not recommend watching a lot of such content.
Further, the LG Signature OLED65E6T shows little noise to speak of. You may be able to see some noise, most likely caused by dithering, on some content, but you'll need to be really close to the TV for that. Normal viewing distance works fine for almost any kind of content.
Testing via our colorimeter, the TV returns black levels of 0 on 0%, 25% and 50% brightness. 84% and 86% of the NTSC and AdobeRGB colour gamuts are represented, respectively.

This means skin tones or natural scenery look as natural as they can. You'll see the TV's black levels at work on scenes where the colour dominates. For example, the white text flowing in space at the beginning of Star Wars movies, or in movies like Gravity, where the background is predominantly black. The TV also does well on the almost-black settings that you see on Netflix's Daredevil series.
HDR
A problem specifically applicable to India right now is the availability of HDR content. While you could buy such content off websites like PlayAsia, not many would have the required players, HDMI cables etc. for it. You could stream 4K HDR content on Netflix, but you will need a stable 24Mbps Internet connection for it.
That said, if you are able to get HDR content to watch, the LG TV will look good. To its credit, it is tough to discern the difference HDR makes on the OLED panel. Blacks are generally good anyway, so making them even deeper is tough to really appreciate. Having said that, good HDR video still makes a difference, producing more colours and better contrast. You may not be able to tell the blacks apart, but the overall contrast is quite noticeably better.
Contrast ratios on the OLED panel are usually so high that what we see on regular high quality video on this TV is close to HDR TVs that we've reviewed before. Samsung and Sony have set high standards, but the LG OLED beats them hands down.
Audio Quality
A problem with thin TVs like these and especially LG's OLEDs has been audio quality. We have noted low audio levels on its TVs earlier. However, the Harman Kardonn soundbar solves that.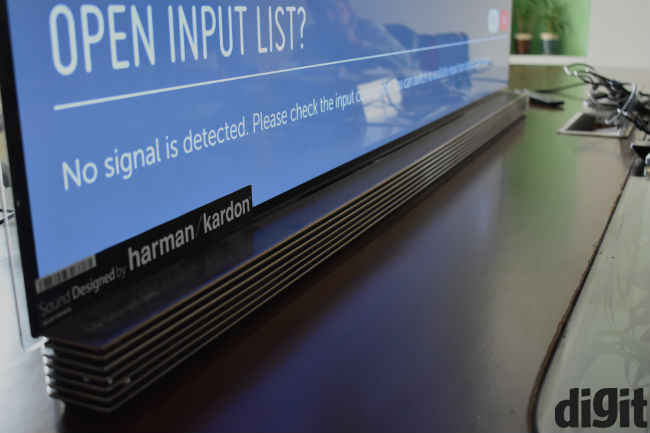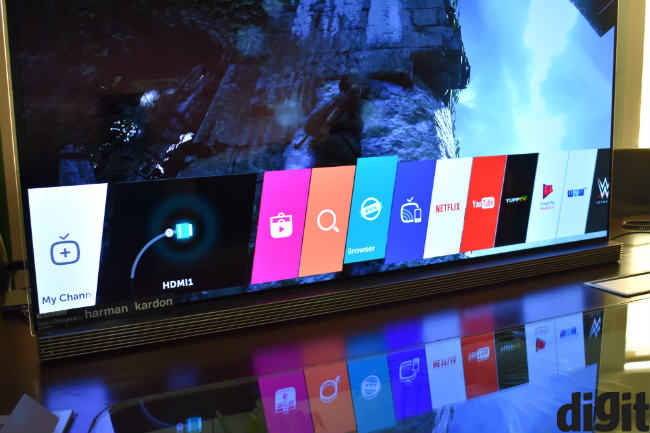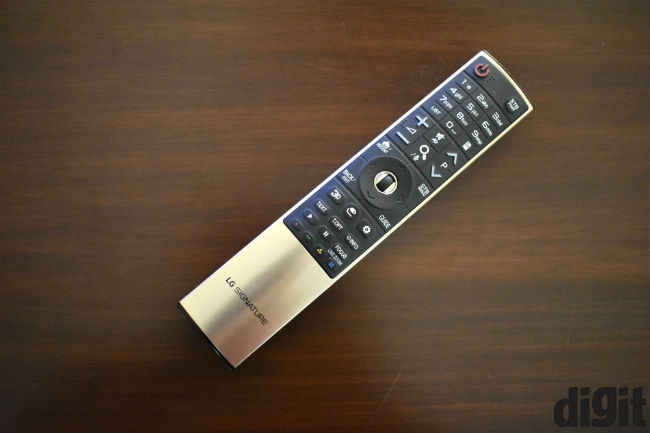 Audio is loud enough to fill large rooms and bass levels are high. However, audio quality isn't quite as detailed as the Sony X9350D television. Explosions, as on Hawkeye's arrows in the first Avengers movie, aren't as wholesome as that TV.
Nevertheless, the OLED65E6T sounds good for regular TV viewing. It's loud and provides decent audio quality.
Magic Remote and WebOS
In our opinion, LG's Magic Remote is one of the best ways to navigate around a TV. The remote basically replicates a computer mouse, with a cursor moving on screen. It may take a bit of getting used to, but once you do get used to it, you'll swear by it. However, it is worth mentioning that AndroidTV's touch-based remote is a little easier to get used to.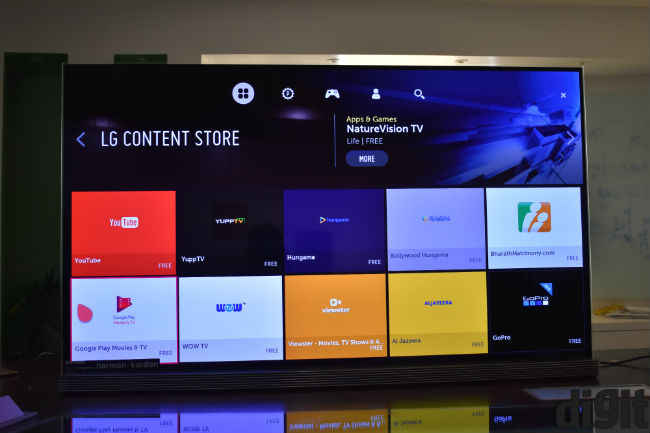 Further, LG's WebOS development seems to be stalled. While it looks and feels the same, and is fast, it still needs more apps. LG has added support for well known streaming apps, like Netflix, Amazon Prime and even the WWE Network, but the content store is still largely void of a lot of apps.
Bottomline
Yes, its price tag makes it quite unattainable. However, the LG Signature OLED65E6T is definitely the best television you can buy today. It beats the Sony Z9D, our Zero1 Awards winner for 2016, by a mile. It delivers unparalleled picture quality with decent audio to go with it.
We will still have to wait for this technology to trickle down to cheaper TVs, but Sony's entry into the fray at this year's CES is welcome sign of things to come. In the meanwhile, if you do have this kind of money, the LG Signature OLED65E6T is the best television to buy.