The last few years have seen an uptick in the number of people looking to go the OLED way for their next big TV for their living room. However, the number of those looking to buy a smaller OLED panel TV as a secondary set for their home, or even as a monitor for their desktop PCs, is still not huge. This is mostly because good OLED panel monitors do not come cheap, and the TVs, well, usually do not come small.
The C2 (42) Evo OLED TV is LG's answer to such concerns, as it promises not just very good picture performance, and pixel-level dimming, but also brings to the table support for key gaming technologies like VRR, 120Hz refresh rate, G-Sync and more.
We've had the LG C2 (42) with us for a while now, giving us a decent idea about the device, and more importantly, enough insight to help us answer the most important question of them all: Is it worth your money? Read our review to find the answer to this question and more.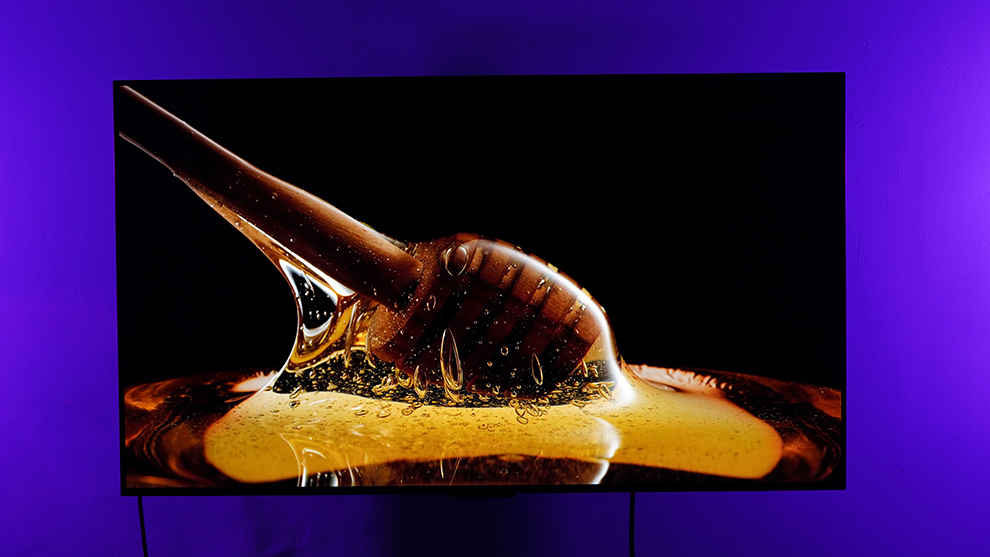 LG C2 (42) OLED TV: Specifications
Model name: :LG C2(42) OLED42C2PSA
Panel Size: 42-inch
Panel Resolution: 3840 x 2160p (4K)
Panel Refresh Rate: 120hz
HDR 10 support: Yes
HDR 10+ support: No
Dolby Vision Support: Yes
HDMI 2.1 Ports: 4
HDMI 2.0 Ports: 0
USB Ports: 2
Bluetooth: Yes, 5.0
Wi-Fi: Yes, dual-band
Ethernet: Yes
Speakers: 40W down-firing stereo speakers
Processor: a9 Gen 5 AI Processor
MRP: Starts at Rs 1,39,900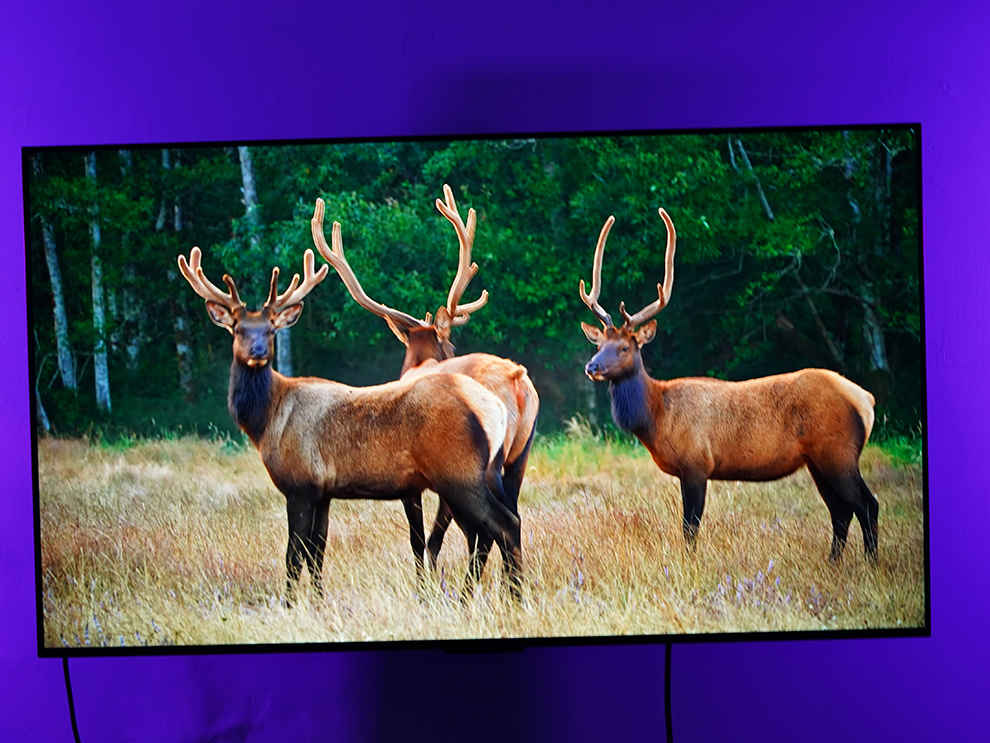 LG C2 (42): Display and Picture Quality
LG has been going big on OLED technology for years now and this has resulted in it launching some extremely good OLED TVs. Having used the C2 (42) for a while now, we can safely say, this new TV from LG definitely joins the list.
This is down to multiple reasons, and one of them is the company's use of Evo technology for the panel of the TV, which it is important to note, was restricted to LGs top of the line G1 range of OLED TVs up until last year. This technology improves the brightness of the panel through a new lighting element in the pixels themselves.
Now, the interesting thing is that the Evo technology used on the smaller 42-inch model of the LG C2 we're reviewing today is slightly different than the one that's used on the models that are 55-inch and above. As such, on the 42-inch model of the C2, the gains are not as pronounced as the bigger models, because LG has had to cram in millions of pixels into very little space. However, the use of Evo technology has allowed LG to at least help the 42-inch model match, and at times even surpass, the picture performance of last year's bigger LG C1 models.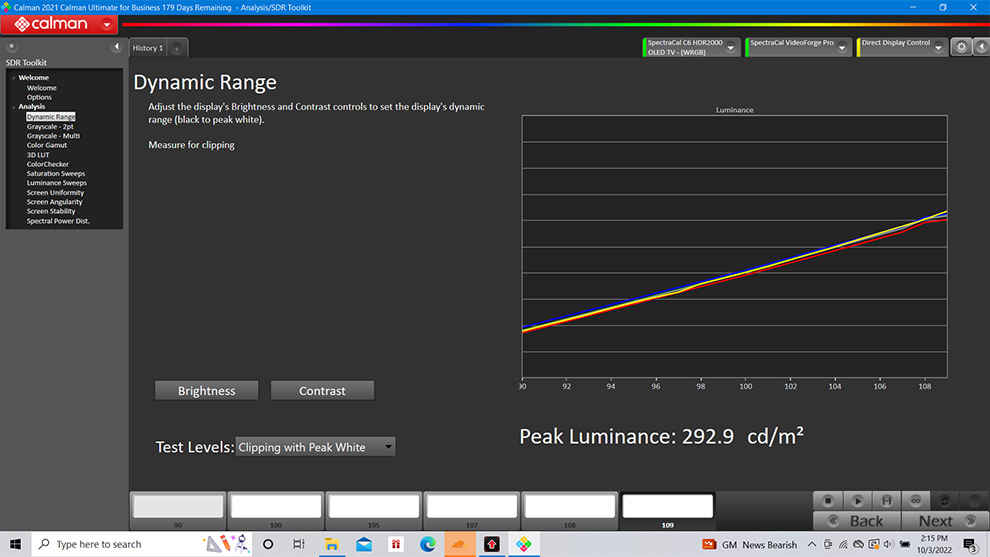 (Peak luminance SDR)
Additionally, the presence of LG's new A9 Gen5 AI processor on the TV ensures that the C2 42 handles complicated scenes as well as video processing and the upscaling of low-resolution content really well. Plus, you also get support for HDR, HDR10 Pro, HLG and Dolby Vision. Although, there is no HDR10+, which may actually not be a big miss considering most content on streaming sites these days is mastered for Dolby Vision.
So in day-to-day use, you'd notice the AI processing and the evo branded OLED panel of the TV coming together to push out some great visuals, with very good contrast, dynamic range and brightness peaks to wow. In fact, the performance is so good, that in bright scenes you can figure out the difference between really bright and moderately bright parts of the frame -- all without the loss of any details. Darker scenes too are handled well by the TV, and since the panel uses self-emitting pixels to create visuals, there is also no blooming or halo effect to ruin the experience.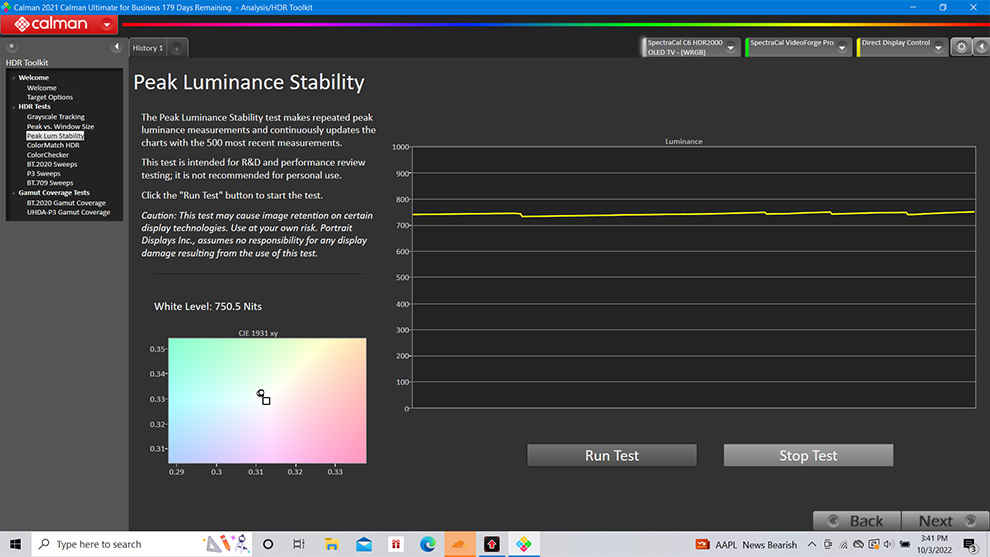 (Peak luminance HDR)
Set to the Filmmaker mode to simulate HDR performance, the LG C2 (42) also performed really well in terms of colour reproduction, with skin tones also proving to be quite accurate. These findings were corroborated by the results of the Calman tests we ran on the TV, as the C2 (42) clocked some really impressive numbers.
Spectracal C6 Colorimeter paired with Calman Ultimate showed the TV clocking very good average DeltaE figures in the above-mentioned colour profile, with the max Delta error also at acceptable levels. The EOTF curve generated for the Filmmaker mode also showed just how well the TV is calibrated to handle dark and bright sequences, with the TV also showing good performance in maintaining a strong RGB balance in tests.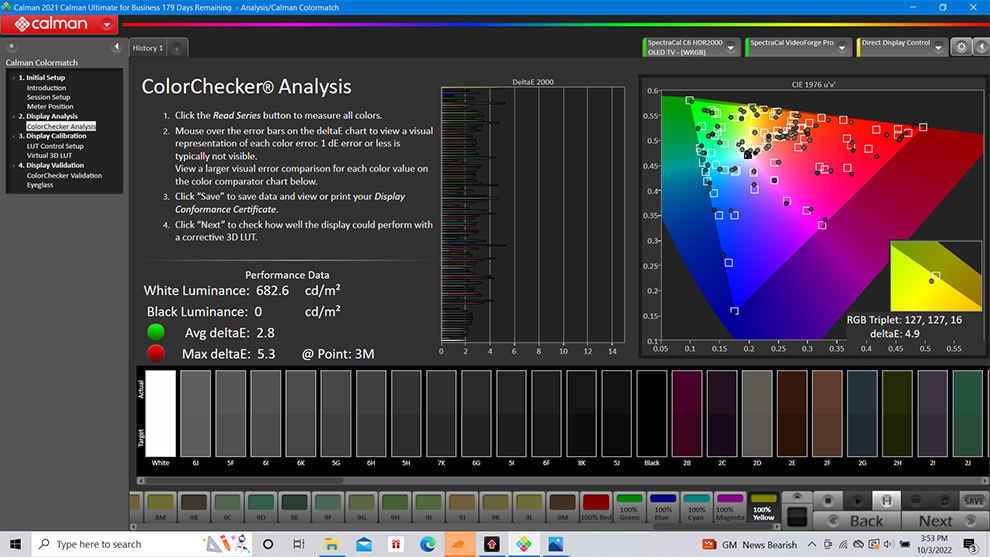 (Colour accuracy HDR)
Gamut coverage was also on point, with the TV covering about 130 per cent of the BT.709 colour space. Results for the slightly more challenging DCI-P3 were close to 100 per cent, with the panel also covering around 70 per cent of the BT.2020 colour space. Even in the luminance tests, we got really good results, with the LG C2 (42) reaching a peak of 292 nits in the SDR tests, and 750 nits when tested for HDR.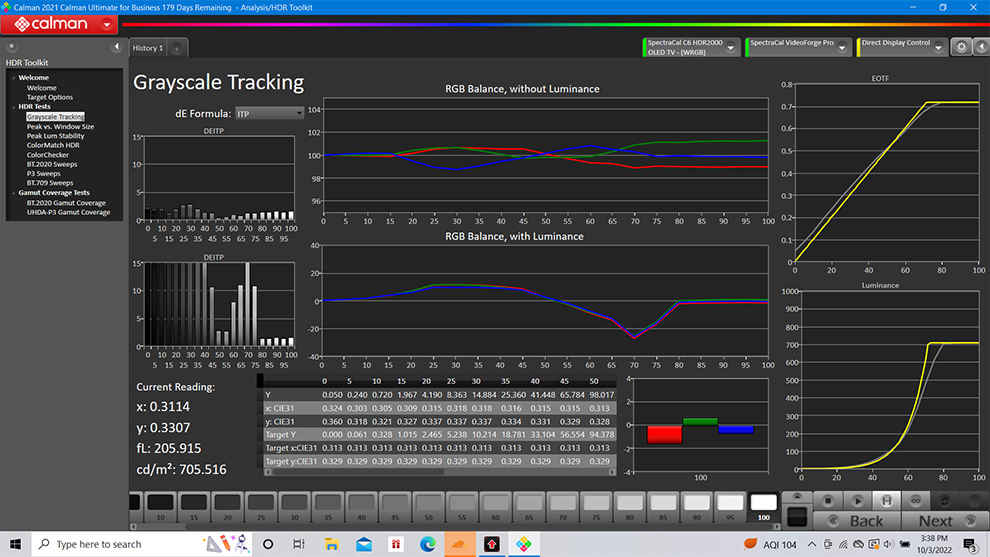 (RGB Balance and EOTF curve)
LG C2(42) Gaming
Apart from being a very good TV for watching movies and consuming multimedia content, the 42-inch LG C2 also makes for a very good TV (alternatively a monitor) for gaming. There's support for a lot of gaming first features, such as 4K 120Hz, VRR and G-Sync/FreeSync support. There's also support for ALLM for decreased latency to improve gaming experiences. Interestingly, all these features are supported on all four HDMI 2.1 ports, of the TV, making it a very good choice if you have multiple devices that can take advantage of this technology.
All of these features combine to create immersive gaming experiences, and backed by the TV's rich handling of colours and deep blacks, we found the LG C2(42) taking our breath away when running HDR-ready games such as Dirt 5 or Assassin's Creed Valhalla.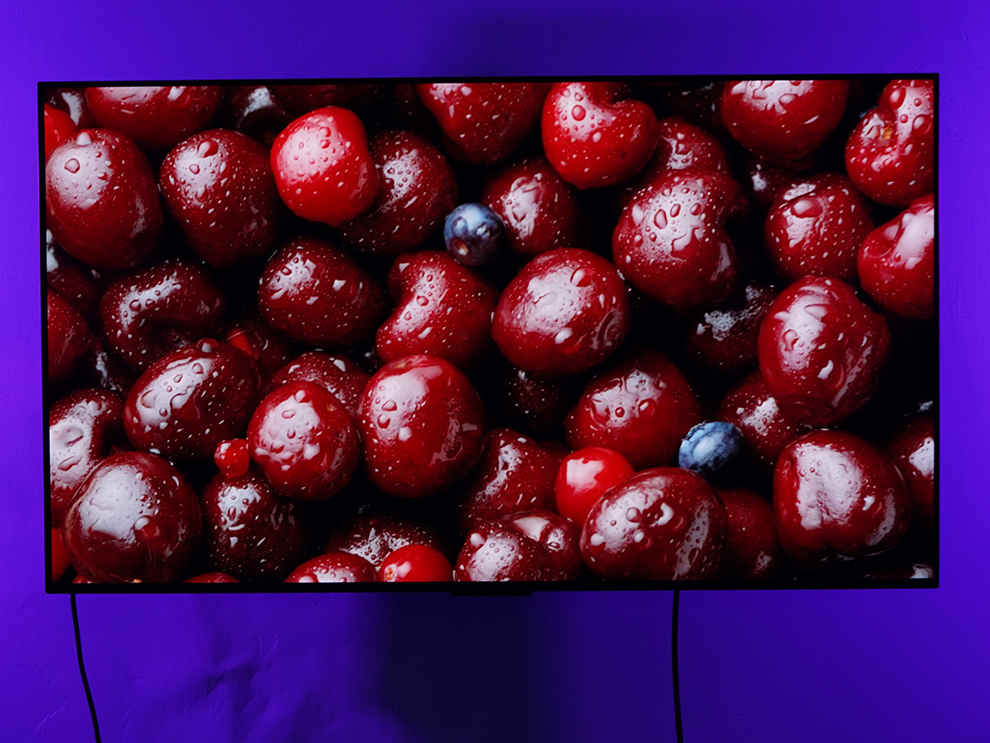 LG C2(42) Audio
LG C2(42) comes with 40W down-firing stereo speakers, so in theory, the sound quality on the TV shouldn't be great. But reviewing the TV I found out that was definitely not the case. Despite its small frame, the LG C2(42) manages to sound good enough for the most part. While it may not be good enough for a living room set-up, this OLED TV will definitely be good enough if you plan to keep it in a smaller room.
However, if the above-par audio experience is what you're looking for, then investing in a decent soundbar is recommended. But like we mentioned above, the Dolby Atmos supporting speakers on the TV should do the trick even if you don't.
LG C2 (42): Should you buy it?
The LG C2(42) is a very good option for anyone who is looking for a small-screen OLED TV. It offers all the goodness of a top-notch OLED at a size where there are rarely any good options available in the market.
Be it gaming or watching movies, the LG C2 (42) is a great option for all that you may want to use it for, and its size also makes it a viable choice for being used as a high-end gaming monitor. However, it is this size that also ends up being the biggest headache for the TV.
Compared to the bigger-sized models of the C2, this 42-inch model does not enjoy the same generational benefits in the display department and moreover does not also come at a price that makes it a very enticing offering. Making this one a TV that you can skip for a larger variant of the LG C2 itself or maybe an OLED from the Sony A80K line-up. Unless of course, you need a small-screen TV for your bedroom or a high-end OLED monitor for your desktop. In that case, the LG C2(42) may just be the perfect TV for you.