Yu Yureka Black detailed review
Micromax needs a win. In fact, it needs a big win, and for that it's pulling out the big guns. The company's sister concern, Yu Televentures, had its biggest and probably only win with the Yureka smartphone (review) some years ago. So, to bring back the Yu brand, Micromax is also reviving the Yureka line of devices, with what it calls the Yureka Black.
There's a stark change in philosophy this time. The Yureka Black feels more like a Micromax phone than one by Yu Televentures. It's not the price breaking, spec-focused device the company has been known for. Instead, Micromax is focusing on design and delivering the specs/features that most of its competitors are bringing. That means there's nothing really new or ground breaking about this device. Yet, it's one of the many smartphones contending for your attention and a portion of your hard earned money. So, here's the Yureka Black review.
Build and Design
Much like the Yu Yureka, the Yureka Black is essentially a phone called the Wiko uFeel Prime with the Yu logo instead of Wiko's. You could criticise the company for that, but really it makes Micromax no different than any other, with their similar looking smartphones. For what its worth, the Yureka Black at least doesn't look and feel like any of its competitors in the Indian market. It's a sad fact, but the smartphone market literally has no innovation anymore.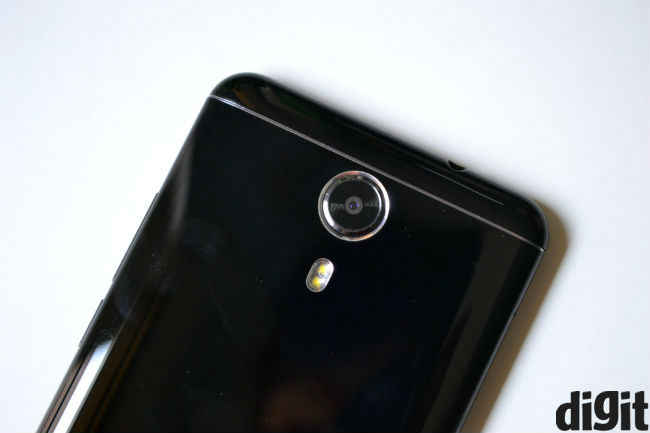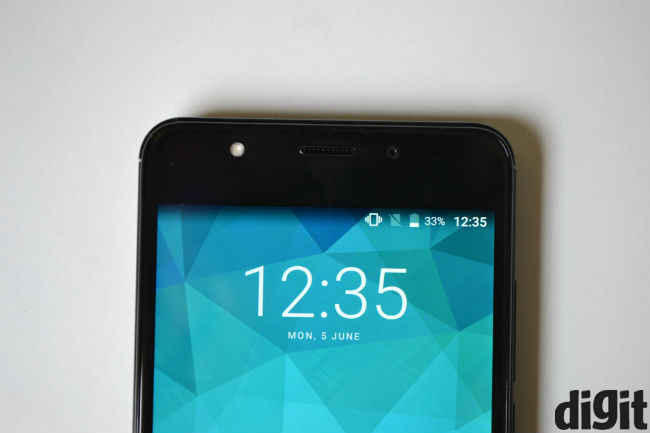 On the flipside, the Yureka Black's metallic back feels distinctly more premium than competing devices. It feels more like glass than metal, same as the Jet Black variant of the iPhone 7 (review). That though means that the Yureka Black is the most slippery smartphone in the budget segment. It feels slippery when you're holding it, and tends to slide off your lap or table. It's a difficult phone to handle, especially with one hand. Things are easier when holding it in vertical position, but it's a nightmare when held horizontally, for shooting photos, watching movies etc. The slippery back also makes it difficult to prop up against other objects, since it tends to slide off them too. Lastly, as with the iPhone 7, the body is prone to scratches and smudges.
There are chrome antenna lines on the back with the camera at the top-centre and a flash below it. The Yu logo is parallel to the camera on the bottom and the sides are rounded, as are the corners. There's 2.5D Gorilla Glass 3 on the front and true to its name, the entire device is as black as it gets. In fact, it's so black that I found it difficult to spot the micro-USB orientation in dimly lit rooms. The bezels are hard to spot too, because of this black treatment, and the entire design becomes more seamless due to that.
That said, I'm not a big fan of the black shadows (on the home screen) near the top and bottom edges of the display. It looks like light leak, but is actually an UI element that disappears when you're using other apps.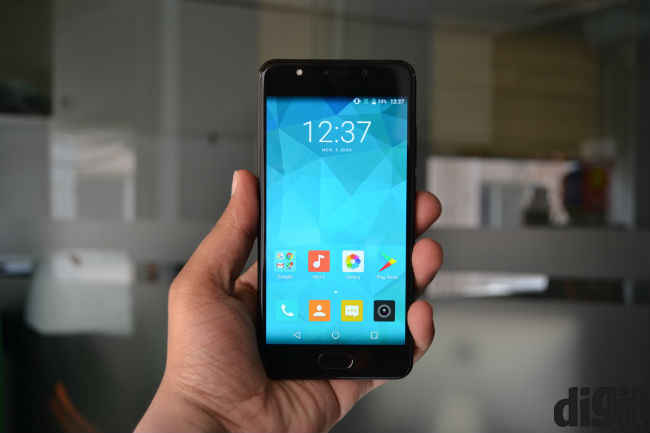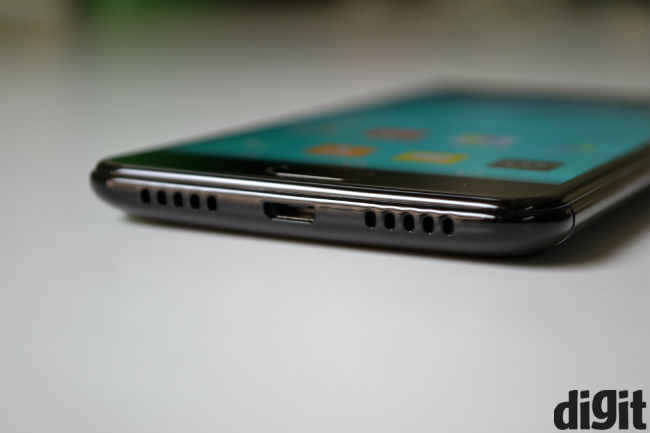 Overall, the Yureka Black chooses looks over ergonomics, and like every other smartphone you'll need a cover for this one. If that works for you, you'll enjoy this device.
Display
The black shadows I mentioned above make the display somewhat underwhelming at first glance. A closer look suggests that Yu has tuned the colours to pleasantly warmer levels, but contrast is certainly lower than usual. It's a nice looking display and touch performance is good as well, but higher black levels would have been warranted, especially for a phone that plays on the whole "black" thing. In fact, deeper blacks would have blended well with the design as well.
Viewing angles are fine, but a yellowish tone appears when you're not looking at the display head on. The angles don't have to be too extreme either and as a result, photos, movies and videos sometimes look quite unnatural on the screen. The display is also slightly on the dimmer side, which means you'll have to squint a little bit when you're out and about.
UI
Moving on, I've said this often in my reviews recently: Android Marshmallow is simply unacceptable on any smartphone today. Micromax isn't the only offender, but it must be penalised for this. If you really skip all Marshmallow-powered phones, Motorola and (upcoming) Nokia phones are the only ones you'll be left with.
The fact is that Android is a fragmented ecosystem, and you do not get updates often. So, by buying a device that's running a two-year-old OS now, you're simply reducing your phone's life cycle. Moreover, you're missing Google's security patches from an entire generation of Android, which should matter to even the most basic user today. Simply put, consumers have to demand phones with the newest version of Android and companies have to provide it. Period.
Now that you've read all that and ignored it, the UI on the Yureka Black is quite stock like. There are cosmetic changes to the icons and navigation bar, but there are no big changes or surprises here.
Micromax is promoting the fact that the phone supports something called "Smart Gestures". That basically consists of some regular gestures, like double tap to wake/lock, Flip to mute, pocket protection and more. These are all gestures we've seen before and while they do work, I'm personally better off without them. Also, there's a "Draw Gestures" box that appears when swiping from the top. I often brought this up when pulling down the notification shade, which is poor UI design. The gestures are a nifty gimmick, but nothing that you couldn't do without.
Performance
Going with industry trends, Micromax chose the Snapdragon 430 to power this smartphone. The company is using the Snapdragon 430 and 435 interchangeably, since the two aren't all that different in any way. However, Snapdragon 435-powered smartphones will have better LTE support, which means they're more versatile as far as connectivity is concerned.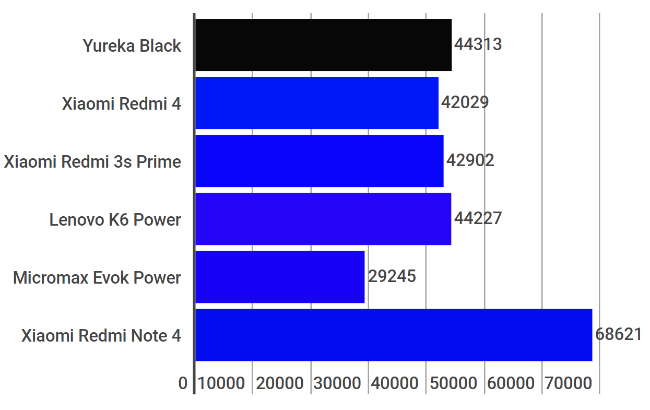 AnTuTu Benchmark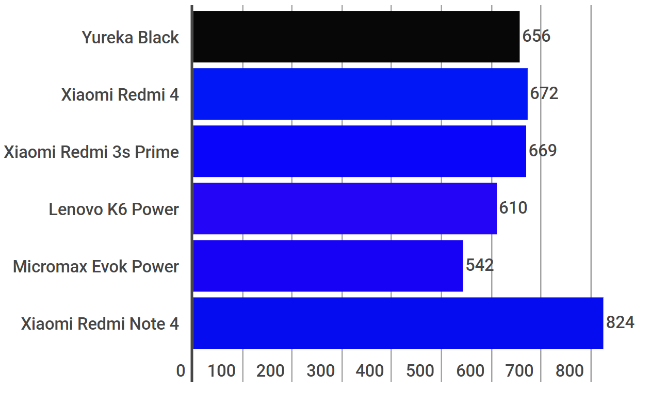 Geekbench 4 Single Core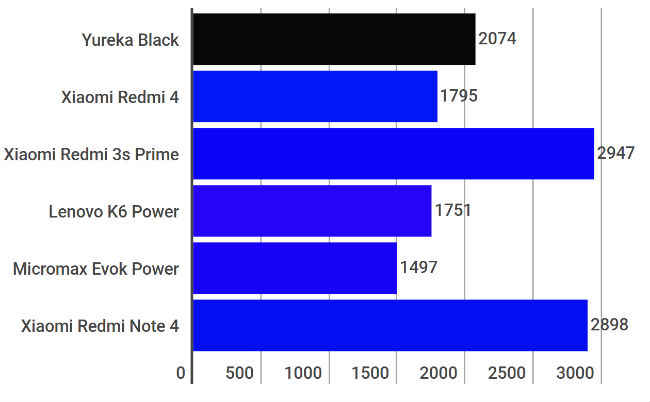 Geekbench 4 Multi Core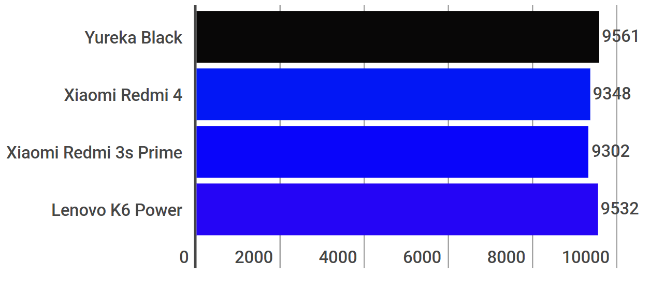 3D Mark Unlimited
On regular usage, you should expect some lags and stutters. Games are playable, but not at their best. Games like Injustice and WWE Champions will run a couple of frames over 30fps, but won't ever hit 60. That's about the performance you can expect from smartphones under Rs. 10,000 today, and it qualifies as usable too. As with most other aspects of this phone, the performance is neither surprising, nor does it impress anymore than other smartphones. App load times are high and I saw stutters when toggling the brightness meter at times. The performance is fine for basic users, but it's not a speedy or smooth device by any margin.
Camera
The rear camera is the only real disappointing aspect of the Yureka Black. I took some good photos at times, but the camera is far from dependable. Colour saturation is sometimes too high and sometimes on the lower side, details are very low and focus often goes wrong. The camera is slow to focus in both well lit and low light conditions. The phone also finds it difficult to separate closely matched colours, like a dark and light shade of green placed close to each other. There was even some colour noise in low light photos, something I haven't seen in smartphone cameras in years.
On the other hand, the front camera is more dependable. It softens facial textures a little bit, but not enough to make them look unnatural. However, details here are still low and photos lack sharpness still. There's a front flash that can be used in low light conditions, but it won't change any of the basic elements of the images. If selfies matter to you, the flash will probably add some value proposition here, but I'd recommend spending a little more for far better selfies.
Battery
Driving all of the above is a 3000 mAh battery and you'll get about 10-12 hours of battery life from this. You can game for over an hour on 20% charge and high brightness, while the camera isn't very tough on battery life either. The Yureka Black's battery life lies in the industry average today. You'll charge it every morning and charge again after a 10-hour work day. It's not going to last you till the night, though, so the Redmi 4 does provide almost 50% more battery life.
Bottom line
When you make a comeback, you want a phone that sticks out and garners consumer attention. In that, the Yureka Black is successful as far as design in concerned. But, there's nothing to set this phone aside from its competitors and its camera and battery life are actually inferior to the Xiaomi Redmi 4 (our current budget favourite). If you put good looks above all else, the Yureka Black will suit your fancy, but gun to my head, the Redmi 4 is a far more balanced and better device than this. Of course, the really right choice would be something with Android Nougat, but unfortunately no OEM wants to give you that in this price range.