Vivo Y55S detailed review
The performance gap between a sub-15K smartphone and a flagship device is thinning with each passing year. However, there are often devices that don't look powerful on paper, but still perform well. The Vivo Y55s is a good example of the same. The device looks, feels and functions like a budget smartphone and makes one wonder whether benchmarks are really the proof of performance.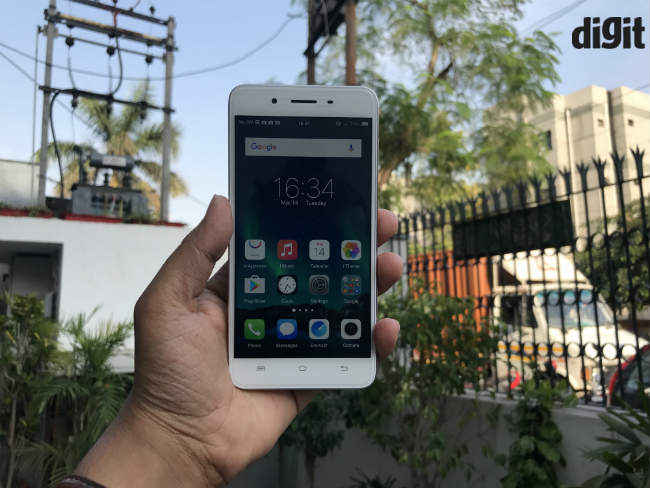 Build and Design
Vivo's smartphones have resembled Apple's iPhones in the past, and so does this one. However, that also means its a good looking phone, or at least that's what I think. The metal back feels nice and the rounded edges help provide comfortable grip. A thin metal strip runs around the phone, separating the front from the metal back, adding an unique feel to a phone that otherwise looks pretty much like all of Vivo's other devices. Both the power key and volume rocker are on the right, you get a dual SIM card slot on the left and a dedicated microSD slot on the top.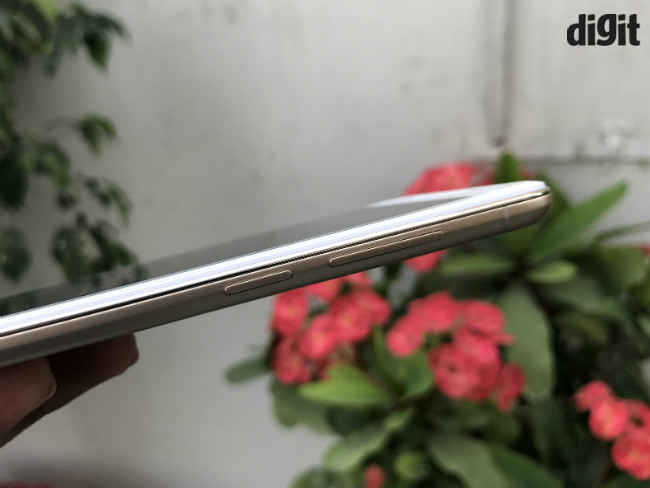 The build quality, on the other hand, is pretty much the industry average for budget smartphones. I've travelled with this in my pocket and inadvertently put my keys and coins in the same pocket, but the Vivo Y55s came out scratch free. Now, I don't recommend that you do this, but it's good to escape unscathed. At least the metal back seems resistant to scratches, while tempered glass comes installed on the display out-of-the-box.
Display and UI
Displays on budget devices have evolved over the years, but there are many that lack quality. The Vivo Y55s is amongst the former, though. Colour saturation and viewing angles are good and at par with the likes of Honor 6X and Coolpad Cool 1. Touch response is also decent and I didn't find the experience lacking in any way.
That said, it isn't without flaws. I definitely felt the low pixel density on the display, as the 5.2-inch panel only has 720p resolution. Moreover, it's quite dim. In fact, at 220 lux luminance, it's one of the dimmest panels I have seen on any device. This affects sunlight visibility too, which could have been better.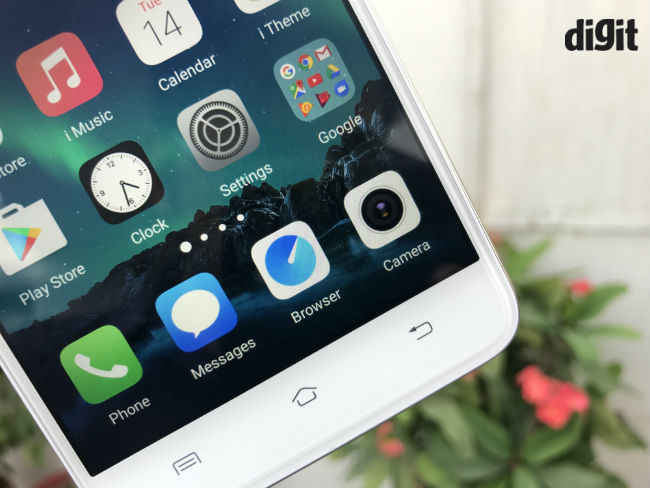 Vivo has not changed the UI from what we saw on the V5 Plus some months back. In fact, it adheres to the same iOS-themed interface it has been using since launch. The UI is more refined now, though, and doesn't tax the memory as much, which in a way is a good thing. It caters all the features you would expect from a Chinese UI, including, but not limited to, themes, a phone manager, a third party app store (V-App store), a pre-installed keyboard, and more. There are a few gesture-based features, such as smart split that basically is a split screen mode, and a dedicated one handed-mode that shrinks the UI to be used in one hand.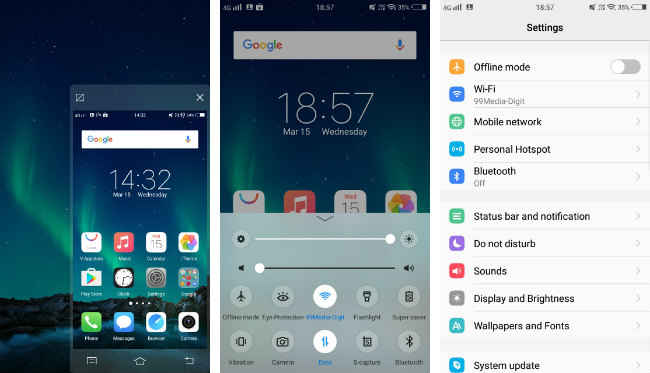 Performance
Setting aside the iOS-like UI, the phone really surprises with its performance. Powered by a Qualcomm Snapdragon 425 SoC and bundled with 3GB of RAM, the phone does a fine job, providing dependable experience. Using it as a daily driver with all the basic apps, including Facebook, Whatsapp, Youtube, Gmail, Maps, Wynk, Pocket, Chrome and more, I had no issues with performance. Even when I tested games like Asphalt 8 and Marvel's Contest of Champions, the phone was able to provide stable frame rates of 29 fps, which is reasonable for the price. However, synthetic benchmarks don't really reflect the same.
Here's the thing though. While this kind of performance is good, it's available at much cheaper prices as well. At Rs. 12,490, there are better performers out there. The Vivo Y55s isn't meant for those who multitask a lot, neither is it meant for avid gamers. It does the job, but only reasonably so. Given that you can get more, it's tough to justify the Snapdragon 425 and HD display.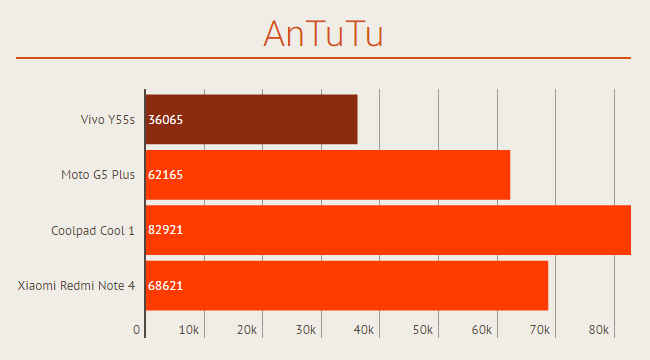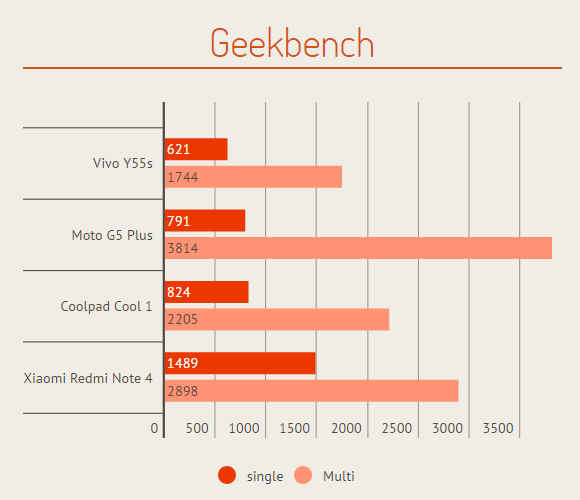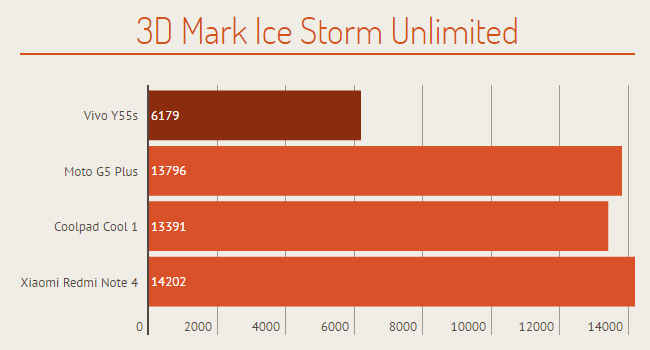 During gaming and even while shooting video (it can do FHD at best), the phone does heat up. I recorded max temperatures of about 41 degree celsius under ideal outdoor conditions, in the middle of the day. This, though, may be tougher to manage during the summers.


As for the audio, the bottom firing speaker isn't the best. It is loud enough to be heard in on roads, but you'd want headphones for listening to music. It's not the best for calling, either. The Vivo Y55s often dropped connections in areas where most other phones were performing well, while on the same network. For call quality, the earpiece volume is lower than most phones.
Battery
This brings us to the battery, which is just good enough for a work-day's worth of usage. The phone lasted 5 hours and 31 minutes on the PCMark Work 2.0 Battery Test, which is definitely not in the Redmi Note 4 territory, but not bad either. The 2730mAh battery seems well optimised as well and there are no worrisome drops even if you are playing video games, recordings videos or just using navigation. In my test period, I did not find the battery life insufficient on a day-to-day basis, even with half an hour of gaming and at least an hour of music streaming.
Camera
The camera, however, is a hit or miss. Photos shot in bright outdoor conditions by the 8MP rear camera produce sharp colours that are noticeably oversaturated, along with soft details. The sharpness levels are fairly decent, but object edges are compromised because of the lack of fine details. Most photographs tend to produce noise, which still remain limited in brightly lit conditions.
Colour details are fairly decent for its price, but the dynamic range is not exemplary. Things change for the worse as the light diminishes, with photographs getting expectedly noisier and more pixelated details. The camera spikes ISO to high levels which leads to the soft noise that mars details, and in all of this, the focusing is also slower than other phones in contention.
The Vivo Y55s can shoot 1080p videos with autofocus, which for the most part, looks good. In addition, there are slow motion and time-lapse modes as well, which work as intended.
The front-facing camera is only average at best, and the beauty mode noticeably softens skin tones, that we saw on the Vivo V5 lineup.
Bottomline
The Vivo Y55s is in many ways is a good budget device. It ignored the specs war, but manages to do most things right. It looks good, performs well, has a functional UI, along with a day's worth of battery life. A good camera would have completed the package, but I guess you still can't have everything on a budget. However, there are far better smartphones available in this price range. For example, the Moto G5 Plus may be more expensive, but it is much faster and has a vastly better camera. On the other hand, the Xiaomi Redmi Note 4 can do everything the Vivo V5 can, but better. It is also noticeably faster, making the V5's optimised performance look weak. While the Snapdragon 425 has been used well here, the 625s and 650s in this price range are just too fast to overcome with simple software optimisations.
The Vivo Y55s will reach more, being sold offline, and it's good to know that they have a dependable phone for themselves. However, in the market at large, this phone pales in comparison to its competitors.