Samsung Wave 525 detailed review
Samsung impressed everyone with the kind of hardware they packed into the original Wave (GT S8500) at an affordable price point. The curious were tempted enough to go for the phone even with at the risk of braving a brand new (and yet unproven) operating system called bada. The Wave 525 continues the same 'Wave' line of phones and is positioned as the most entry level offering in that line. Without going into the semantics too much, I would definitely place this phone beyond a feature phone and concur with the Wave 525's status as a smartphone – but just barely. More on that later.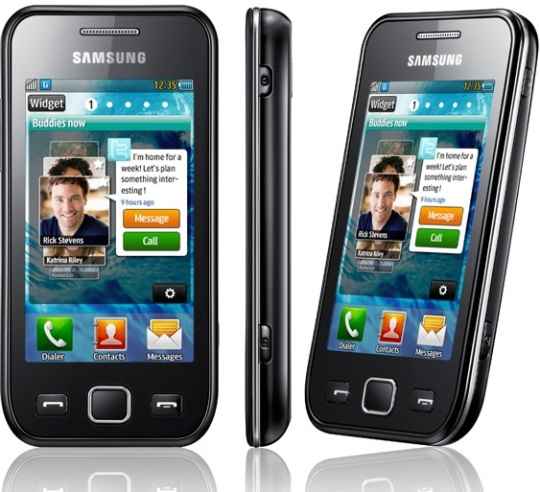 Right out of the box the phone didn't look bad at all. The bundle consists of a 2GB card (which wasn't there in our sample for some reason), kies software disks, microUSB charger, data cable, and a wired stereo head set. We found that there was a lot you could do with the phone without putting in a SIM. When it came to opening up the back, is when the minor irritants began. The back cover is extremely difficult to take off. In fact I found it quite funny that the manual cautions you about this. "Be careful not to damage your fingernails when you remove the back cover", it says, and I nearly did damage them.
Interface
[RELATED_ARTICLE]The operating system is bada 1.1 while the interface is based on the old TouchWiz UI that we've seen previously on Corby phones. This is version 3.0 of TouchWiz. It features upto 10 home screens with a dock at the bottom featuring buttons for Keypad dialer, Contacts, and Messages – things that Samsung rightly believes deserve quick access. Each of these home screens or virtual desktops can have widgets. Tapping on the little widgets button brings up the widgets dock from which you can drop widgets on to any of the home screens. Widgets include basic things like a calendar widget, feeds and updates widget that pulls content from social networking services you are signed into such as Facebook, Twitter and orkut.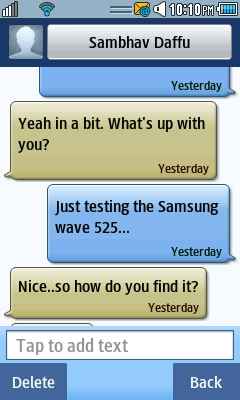 The OS has a peculiar way of managing social networking accounts. It does it in a centralised manner through what is calls a Social Hub – something even Windows Phone 7 OS was harping about. In terms of looks the widgets are designed keeping in mind modern-day aesthetics such as transparency etc. On pressing the center hardware button you get into the applications menu, which contains all your bundled applications, utilities, phone settings, as well as apps that you download from the apps store. The messaging application, shows messages in the bubble based conversation style, which is a nice touch of visual appeal and usability.
There is no hardware back button, so applications must always include a software method to go back. Pressing the end call button brings you back to the applications page or in some cases even ends the application. The phone features multitasking, so you can have a browser, music player and other applications open simultaneously. To view applications that are currently running you need to long press the middle button. From the page that it brings up you can switch between applications or choose to close them one by one. There is an "end all applications" button at the bottom, but tapping this will close widgets too. That means you will have to sit and customise your home screens all over again – a very annoying task.
The UI does manage to do a few things in style. While reviewing the phone I happened to stumble upon quite a few Easter Eggs of sorts. While in the phone contacts, you can sweep your finger across a name from left to right to directly call or from right to left to send a message. Another example is when the phone is locked and there is either a missed call or message notification. The long route is to first unlock the screen by sweeping it, then tapping on the notification.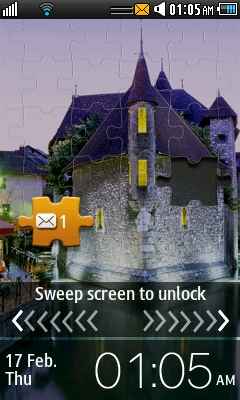 There is however a much quicker and fun way to do this. When the screen is locked, the notification shows up as a jigsaw puzzle piece. Without unlocking the phone, you can drag this piece onto an empty slot or missing piece. This will directly open that message or missed call straight away.
Click next to read on about the phone's applications and design...
Applications
The applications that come built in do what they're supposed to sure, but most of them are clunky. There is no finesse at all. Lets take the case of the Twitter and Facebook applications. They'll show you your feed and allow you to post but some advanced functions that even J2ME applications such as Snaptu allow, such as replying to all, browsing via notifications, re-tweeting by using the old school RT plus text, are not found on these apps.
[RELATED_ARTICLE]If you then look to the app store to find a better app you are sorely disappointed. The app store is not exactly empty, but you will hardly come across anything worthwhile. When you add a new Gmail account into the default email app too you will find yourself frustrated. The app downloads mails (thankfully subject only) in reverse chronological order ! For me it showed mails from 2007 first. I tried reversing the order of display, or sorting the list by read/unread but it didn't help and I finally had to give up. All mails downloaded appear as unread so you'll have to deal with that notification. Why don't I just sign out of it? Since the phone handles all connectivity centrally (both social networking or email) you necessarily have to be signed into an account to be able to attach and send files (most commonly pictures) via email.
Though not all applications are bad. The Music player is quite nice. It features many usability options like jumping to songs by tapping on the relevant alphabet, creation of playlists on the fly and browsing via most played songs, artists, genre, etc.
The phone can install Java apps. In fact the J2ME version of Gmail was much better than the native one. [Not all .jad and .jar files open]
Design
The phone is all plastic, but surprisingly manages to looks sleek and can easily masquerade as a mid range smart phone, rather than the entry level smart phone that it is. It has a metallic strip running around the edge that gives it a bit of dimension. Weighing in at a 100 grams it's quite light, but yet gives a good feel in the hand. The back has this dotted texture that is not exactly resistant to scratches.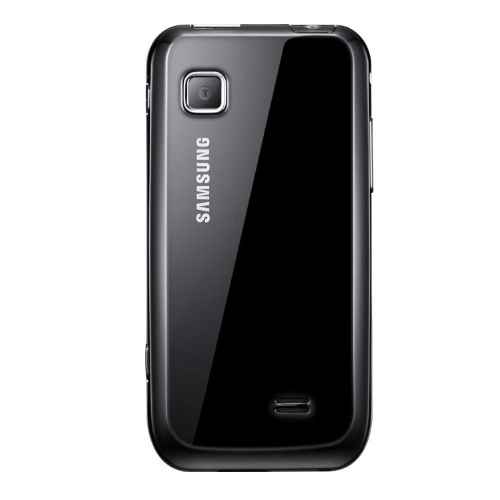 Click next to read on about the phone's performance, and our verdict...
Performance
Nothing is known about the clock speed of the processor. I did however find a presentation slide on some forum which claimed some bada / Wave family phones to be clocked at 400 Mhz. In any case I found that the phone started lagging a bit when I had four memory and connectivity intensive applications running together - viz. Twitter, Music player, Samsung App Store, and Facebook. The lag is not very annoying when its got to do with scrolling. I mean, we'd be willing to live with loss of fluidity in that respect, right? But when it creeps into your typing experience is when it gets annoying. There were a few times when the typing couldn't keep up with my input speed. This resulted in the typed out text either appearing all at once, or in some cases – even more annoying – input getting lost, giving typos! If you think you'll be running as many apps simultaneously, be prepared to have a laggy experience on this phone. However freeing up memory is quite easy with the task manager. Speaking of typing, the on screen keyboard was not all that good either. While in some apps it did customise itself for the purpose at hand, for instance when in the browser, you get a direct ".com" key, but for the most part it was again clunky to use.
A performance factor worth mentioning is regarding Wi-Fi. While testing I noticed that the range (if not the speed too) was significantly higher than other phones seen previously. This is perhaps owing to the fact that this phone packs Wi-fi 802.11n.
>Voice Calls
Call clarity was fabulous in most use case scenarios including switching towers while travelling, and the earpiece was loud and clear. No dropped calls were experienced. The only area in which I noticed a problem was the loudspeaker. It was not at all loud, so forget about using this phone to have conference calls on the loudspeaker. The silver lining is that 525 users won't be able to annoy us with horrid ringtones blaring away to glory.
>Touch screen
The capacitive 3.2" TFT LCD is bright and vibrant. The touch experience was fluid and whatever inaccuracy, mistaps were experienced, I suspect, were at the software processing end. The daylight performance was very decent. The menu style – incorporating solid colours, contrasts and stark block styles – helped in this area a lot.
>Head set
The headset bundled with the phone was quite adequate for regular listening need. Bass was certainly lacking, but overall the clarity in the mids was not bad at all. Being one of those plastic ear buds, isolation was minimal and at the same time some people find those hard plastics buds (without sponge) to be uncomfortable. I had no complaints with respect to comfort at least for about half an hour of listening at a stretch.
>Camera
Indoor shots were noisy. The outdoor shots are less noisy but colour depth was not up to the mark. This could be fixed - to an extent - by selecting the right scene mode. Speaking of which the phone has a whole barrage of shooting modes and effects. These include sports, burst, smile and many more. The camera can do video at 320x240 which was not at all bad. You will have to stay content with the fixed focus of the camera lens as it does not support auto focussing.
>Battery Life
The manufacturer rated talk time is 15hrs, while the standby is supposed to be up to 900hrs. In real world usage, I got a perfectly all right battery life from this 1200mAh battery. Under regular use with Wi-Fi on (without actual data), moderate browsing, and about 20 minutes on calls the battery lasted two days. Heavy users who are always on the commute may have to charge daily.
Other Features
[RELATED_ARTICLE]There are some features built into the operating system. While fiddling with the music player I came across this 5.1 channel effect. But frankly turning it on makes music sound absolutely rubbish. The phone has most of the utility stuff you'd need such as a note taker, stop watch, recorder etc, so no complaints there. Web browsing left me sorely disappointed. The webkit based Dolfin browser loads full websites and features multiple window browsing, but shockingly won't reflow screen size or zoom level. The picture editing options are quite phenomenal – you get all sorts of filters, effects, and tweaking options including adding text. Very useful if you want to quickly make changes, crop an image here and there and upload to a web service.
Verdict
The mix of performance and native features it offers at a market price of Rs. 7,500 is quite good. But if you're expecting app glory and the ability to extend the feature set of the phone through apps, you may be disappointed. The functionality offered by the phone, by itself, is not bad at all. If your the sort of user who doesn't want to indulge in much fiddling, this is a fine deal.
Ratings
Features: 7
Performance: 6
Build Quality: 7
Value for money: 7
Overall: 7
Quick Specs:
Network: GSM- 850/900/1800/1900MHz
Data: GPRS, EDGE
Screen: 3.2" TFT LCD (Capacitive) @ 240 x 400 pixels
Dimensions: 109.5 x 55 x 11.7mm
Weight: 100g
Battery: 1200 mAh
Connectivity: Wi-fi 802.11n, BT 3.0