Samsung Galaxy Ace Plus detailed review
When the Samsung Galaxy Ace landed on my desk, for a review, a bunch of questions were running around like some high-on-sugar kids. First, why is it priced so close to the Samsung Galaxy S? Secondly, why is the UI not any different from the one on the lot less expensive sibling the Samsung Galaxy Fit?
Look and Feel: Looks like the iPhone?
Look, there is no other way of putting this the Galaxy Ace looks a lot like the Apple iPhone 4. No wonder Apple is really grumpy about what they call the "shameful" copying of the iPhone 4's design. While we wont get into who is right and who is wrong, but the fact is the similarity is uncanny.
However, what that translates into, for the end user, is a sleek, slim and lightweight phone. The build quality is quite good. The sides of the Ace have a chrome strip running around all sides, with a matte finish plastic battery cover. Back to the font panel, the 3.5-inch TFT display is flanked by generous use of glossy black. Below the display is the menu key, with two touch-based keys on either side. The top panel has the charging port, along with a 3.5mm audio jack. The left panel has the volume control button. The power button is the lone key on the right side panel, and quite a step different from the traditional placement of this key on the top panel of the phones. The rear panel has the 5MP camera, along with the flash.
While the build quality is quite solid, the fact that this phone is a fingerprint magnet- on the glossy front panel as well as the chrome-laden sides, takes some sheen off a good-looking phone. The use of touch keys is very much welcome, for they fit well in the entire touchscreen phone environment.
Features: The midfield runner
[RELATED_ARTICLE]Despite its good looks and a build quality that gives it the aura of a more expensive phone, the Ace is strictly a mid-range Android smartphone. The 800 MHz processor does limit the Ace's power game to a large extent. If you are a power user (or suddenly decide to act like one!), and open 4-5 apps simultaneously, then the load will be visible. Having said that, we faced absolutely no problems with the Ace in normal usage scenarios. The interface is snappy, and does not feel sluggish. Quite an achievement, we must say, based on our past experiences with the likes of the Dell Venue and the Acer Liquid Metal. The two phones we have mentioned here have a 1 GHz and an 800 MHz processor, respectively, but felt sluggish right from the outset. At a price much lower than both, the Ace does do a good job of being snappy, but will be limited to an extent when it comes to flexing its muscles.
The 3.5-inch display is extremely disappointing. The TFT display, with a resolution of 320x480 pixels takes the sheen off an otherwise competent hardware package. First off, the display quality is the same as the Galaxy Fit, which is available for about Rs 12.5k. For someone who is spending about Rs 4k more, this will be extremely annoying. The display isn't very rich, in terms of colours. The sharpness is distinctly lacking, bordering on minor blurred at times. In sunlight, the display isn't going to be very helpful as you attempt to read an SMS or email, or even the number of the incoming call. Weirdly, Samsung didn't load this phone with the auto-brightness feature. This is extremely rare, and the only other recent phone that committed the same mistake was the Windows Phone 7 powered HTC HD7.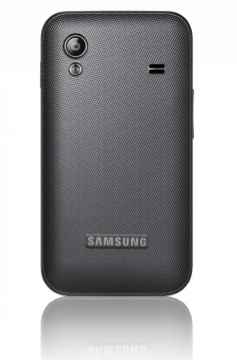 The Samsung Galaxy Ace comes with Android 2.2 preloaded, with Samsung saying that there will be an Android 2.3 update soon. And true to tradition, the OS has been wrapped with the TouchWiz 3.0 UI. While the availability of 3 screens helps with widget placement, the UI just doesn't cut it. While the Ace is the more expensive sibling of the Galaxy Fit, the UI is exactly the same. And for a phone that isn't exactly a budget smartphone, this is unacceptable.
As far as applications are concerned, the phone comes preinstalled with ThinkFree office- and you have a word/spreadsheet editor available, out of the box. The Social Hub app allows access to Twitter, Facebook and MySpace updates, in one place. Apart from that, the world of Android Market awaits!
Read on to know about the performance, our take and the specifications of the Samsung Galaxy Ace...
Performance: Does well within the boundaries
The Samsung Galaxy Ace offers very good call quality. The earpiece is loud and clear, and completely audible even in noisy environments. The built-in speaker does offer a lot of punch, despite being a tiny spec on the rear panel of the phone. However, it does get lost in the noise in case you want to use this outdoors.
The 5MP camera with LED flash does a pretty decent job of clicking pictures. However, take it into a low light scenario, and the images disappoint. Video recording is very basic, with a max resolution of 320x240 pixels. Videos are just passable, and are visibly bereft of colour depth. Smoothness, however, is available in large doses, which makes the videos look better. The phone lacks a dedicated camera button, which is surprising. The fact that you need to click on the screen to snap an image may result in blurred images, due to a slight movement of the phone.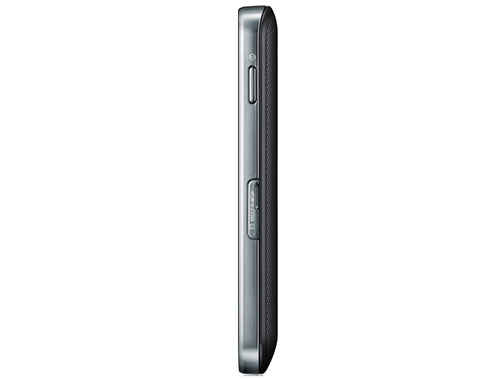 The battery life of the Ace is quite good. Under normal usage scenarios, it lasted about 2 days, from full charge to full discharge. And this when Facebook and Twitter were syncing in the background. The battery is 1350 mAh, which pretty much does the job.
Our take: Buy the Galaxy S instead!
The Samsung Galaxy Ace is sells for Rs 15,000, (box price is Rs. 18,290), that makes us wonder why you would want to buy this and not the more powerful sibling- the Galaxy S. While the Ace has an 800 MHz processor, the more powerful (albeit older generation) 1 GHz processor of the Galaxy S is in a league of its own. Second is the quality of the display. While the Ace's display is so-so, the Galaxy S is just far superior, being the S-LCD as against the TFT on the Ace. The display quality offered by the S-LCD is good, while the TFT on the Ace is a terrible disappointment.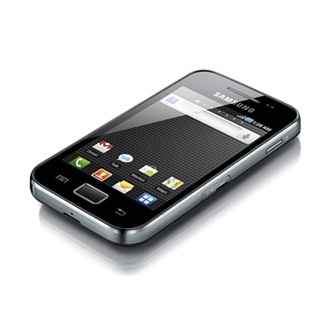 While the Ace is retailing for about Rs 16,000, the Samsung Galaxy S at Rs 19,000 is totally worth the extra cost. However, if you don't want to spend that much, take a look at the Motorola Defy, which is retailing at Rs 17,000 as well. The Defy also has an 800 MHz processor, but with a slightly bigger 3.7-inch screen, better display quality and solid build quality.
Specifications
CPU: 800MHz processor; OS: Android 2.2 with TouchWiz 3.0 UI; Display: 3.5-inch, 320x480 pixels; storage expansion: microSD card slot (up to 32GB); battery: 1350 mAh battery
Price: Rs 18,290
Ratings
Features: 6.5
Performance: 5.5
Build: 7.5
Value: 6
Overall: 6
Brand
Samsung
Model
Galaxy Ace

Street Prices (Rs)
17000
Price (MRP, Rs)
18290
Features
Physical Specs
Form Factor
Bar
2G Network Bands
GSM 850 / 900 / 1800 / 1900
3G Network Bands
HSDPA 900 / 2100
Screen Resolution
320x480
Screen Size (inches)
3.5
Maximum Screen colours
16M
Touchscreen / Dual Screen (Y/N)
Y/N
Battery Rating
1350 mAh
Dimensions (L x W x H)
112.4 x 59.9 x 11.5 mm
Weight
113g
Expandable Memory Type
microSD
RAM (in MB)
278
SoC (CPU, GPU)
ARM 11 processor, Adreno 200 GPU
CPU Clock speed
800MHz
No. of CPU cores
Single
Hot Swappable (Y/N)
Y
Available Colours
Black with Silver
Other Features
Operating System (Tested with)
Andoid 2.2 (Froyo)
Charging via USB (Y/N)
Y
Hardware Keypad (Regular/QWERTY)
N
Accelerometer (For auto rotate)
Y
Address Book Capacity
Unlimited
No of calls in register
Unlimited
Talk Time / Standby Time (3G) *
Up to 6h 30 min
No of Profiles # / Customisable
5/Y
Offline Opearability (Y/N)
Y
Inbuilt GPS / A-GPS support (Y / N)
Y
Connectivity
Browsing (GPRS/EDGE/3G)
Y/Y/Y
EDGE max speed (in kbps)
236.6 Kbps
3G max speed (in mbps)
7.2 Mbps
Connectivity (WiFi/Bluetooth/IR/USB)
Y/Y/N/Y
Bluetooth Version/A2DP support
2.1/Y
Camera Specs
Camera Resolution (Mega Pixels)
5
Video Capture Resolution
320X240
Auto focus / flash
Y/Y
Type of flash
LED
Secondary camera for video chat
N
Mirror for self portrait (Y / N)
N
Camera Settings (So 10)
6.5
Zoom (Optical/Digital)
Digital
Multimedia
Music Formats supported
MP3, AAC, AAC , eAAC
Video formats supported
MPEG4, H.263, H.264
FM Radio / RDS (Y/N)
Y/N
Accessories
Bundled Accessories
Memory card, handsfree, charger
Size of memory card provided
2GB
Build and Ergonomics (So 10)
Surface materials used
6.5
Overall build and in-hand feel
7.5
Quality of moving parts
7.25
Design and ergonomics
7.5
Keypad design (on-screen or hardware)
7.25
Menu and interface
6
Settings and ease of navigating menus
6.5
Camera menu options
6.5
Performance
Signal Reception and Voice Clarity (So 10)
Zone 1
7.5
Zone 2
5.75
Zone 3
4
Handsfree Clarity
7.5
Loudspeaker Clarity
5.75
Earpiece Clarity
7.75
Handsfree Volume
6.75
Loudspeaker Volume
6.5
Earpiece Volume
7.5
Bluetooth Transfer Speed (in KBps)
181
Imaging and multimedia tests
Captured Photo Colour
6.5
Captured Photo Crispness
6.5
Captuted Photo Detail
7.25
Captured Video Quality
5.75
Effectiveness of integrated flash
6.5
Music Quality (loudspeaker)
5.5
Music Quality (handsfree)
6.75
Volume levels (loudspeaker)
7.5
Volume levels (handsfree)
6.75
Display (So 10)
Crispness
6.5
Colour
6
Contrast
6
Font rendition
6
Legibility in bright sunlight
5.5
Video playback
5.75
* Manufacturer Rated
Contact: Samsung India
Phone: 180030008282
Email: N.A.