Samsung Galaxy A7 2017 detailed review
Taking a phone out with me on a trip has often proven to be the best way to test its dependability. While our regular lab tests do apply, the Samsung Galaxy A7 was my primary device on a recent trip to Kolkata. Samsung's premium phones recently have all passed with flying colours, but this one has a Exynos 7 series SoC, which often has earned the ire of consumers.
However, Samsung used the 14nm process for this one, and the phone still sports a premium design. Using it is kind of a roller coaster, with ups and downs all the way. In the end, I decided to present the Samsung Galaxy A7 review in a chronological manner, based on what I noticed and when. Unlike many of our other reviews, you'll have to read this one to get the full picture.
Build and Design
It's hard not to notice the Galaxy A7's design. From people at the Delhi airport, to those in Kolkata, I caught people staring at the phone in my hand multiple times, perhaps wondering what the great looking smartphone in my hand was, one even asked. On a personal note, I do prefer the Galaxy A7 in black more than the gold version, but market indicators would point towards a soft spot for the gold colour.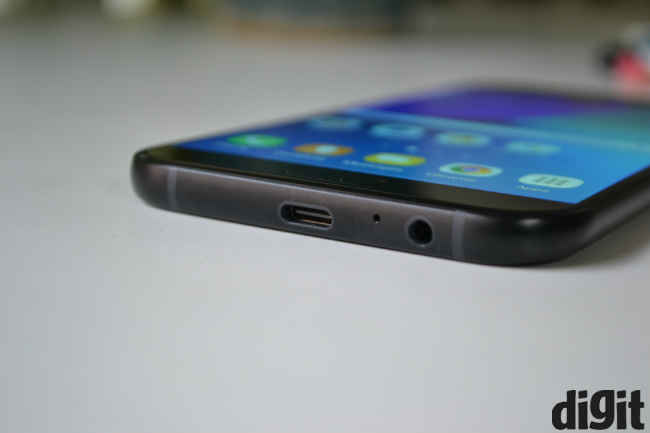 Nevertheless, the Samsung Galaxy A7 presents the best of Samsung's design philosophy, with the curved glass back we saw on the Galaxy S7 last year and a metallic frame all around. This is quickly becoming the quintessential Samsung design, and if the Galaxy S8's any indicator, it's here to stay. Not that I'm complaining.
You'll find a headphone jack at the bottom, the hybrid dual-SIM slot on top, power and volume rocker on either side, and interestingly, a speaker grille above the power button. I found that last choice quite interesting, since it ideally keeps the speaker from being muffled in any way. Rear speakers are obviously muffled almost always, while bottom firing ones are tougher to use when outdoors. However, that still applies to the Galaxy A7 and the speakers really aren't loud.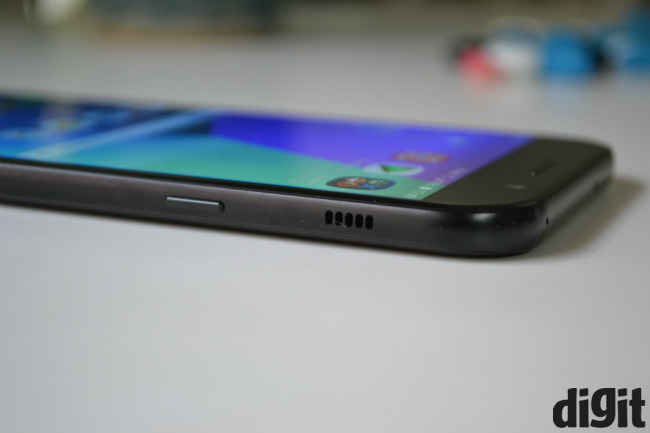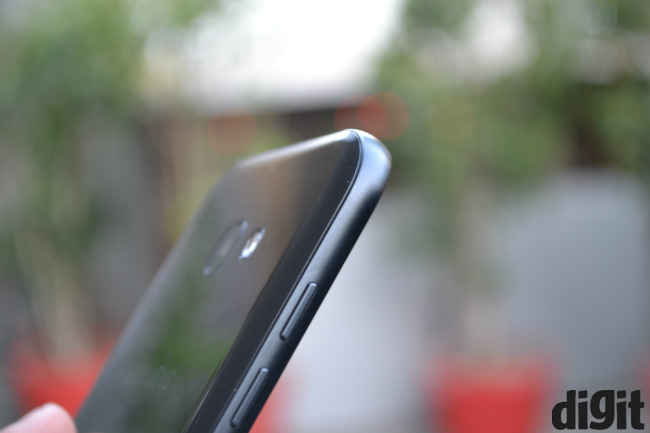 The camera module is on the top-center, on the rear panel, with no hump, thanks to a thicker form factor. To be clear, when I say thick, I do not mean unwieldy at all. In fact, at 185 grams and 7.9 mm, there's heft to the device, which actually feels really good. The 5.7 inch display size does get in the way of ergonomics, but those buying such a screen will probably still appreciate this form factor. The Galaxy A7 is one of the most ergonomic big-screen phones out there.
Overall, there's really no questioning the Galaxy A7 as far as the form factor is concerned. If you were concerned about the glass back being slippery earlier, that remains, but personally speaking, I didn't feel any difference worth writing about, here.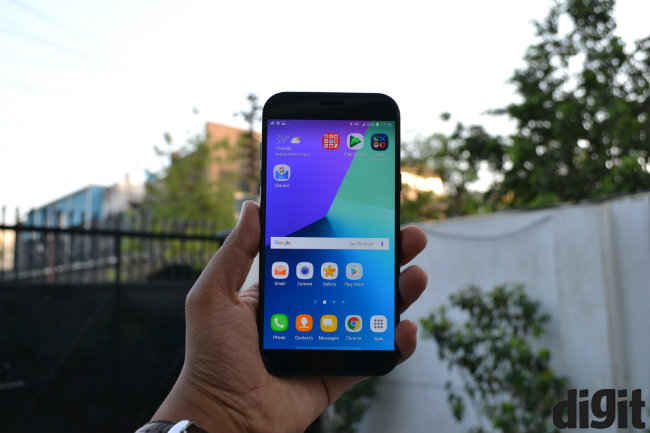 Display
Once you get past the great premium design, you notice how the Super AMOLED display complements the same. As has been the case with Samsung phones, you get a bright display with colours that pop and contrast worth commending. Samsung has even tuned the auto-brightness feature, to drop the brightness gradually, instead of a sudden drop. The transition isn't as smooth as an iPhone, but it's still much more pleasant than what I'm usually used to from other Android phones. It doesn't distract when you're reading. I noticed this feature while reviewing the Galaxy C9 Pro earlier, and it continues here.
It's one of the enhancements to Touchwiz recently, although other elements of the UI remain largely the same. It feels lighter, but really isn't as light as a stock Android device would be. You will get Microsoft apps pre-loaded and some others, all of which can be disabled if you don't like them.
Performance
Now here's where the roller coaster ride starts. Booting up the Galaxy A7 and setting it up, you get the feeling that this is a significantly slower device than the Galaxy C9 Pro and Samsung's flagships. Frankly speaking, the phone isn't particularly stuttery, but for a new device that has just been set up, there are a few too many lags.
It runs on the Exynos 7880 SoC, clocked at 1.8GHz. The octa-core SoC (Cortex A53) is built on the 14nm process, but it doesn't stand a chance against a Snapdragon 652 or 653, and of course not Qualcomm's flagship SoCs. I also see a distinct difference in the way the Exynos 7780 runs on this device, than the Snapdragon 653's implementation on the Galaxy C9 Pro. Of course, the Cortex A72 cores on that chipset make it visibly faster any way.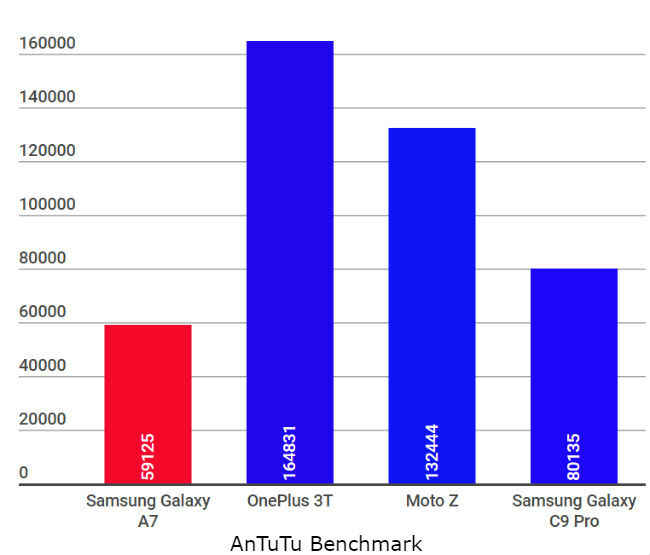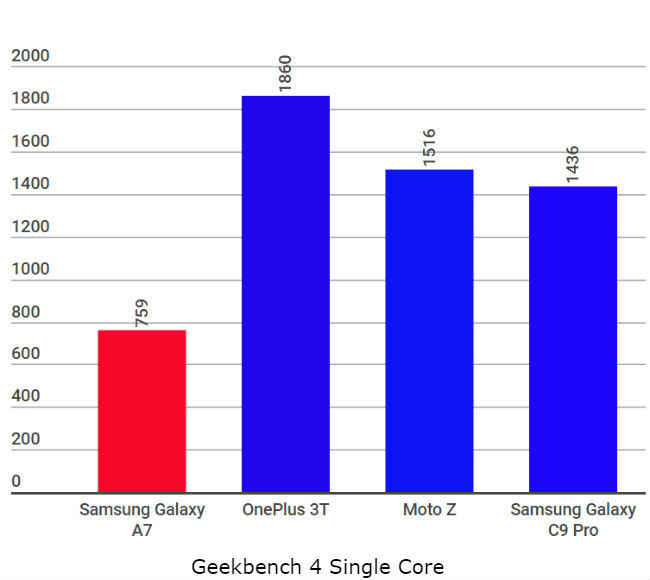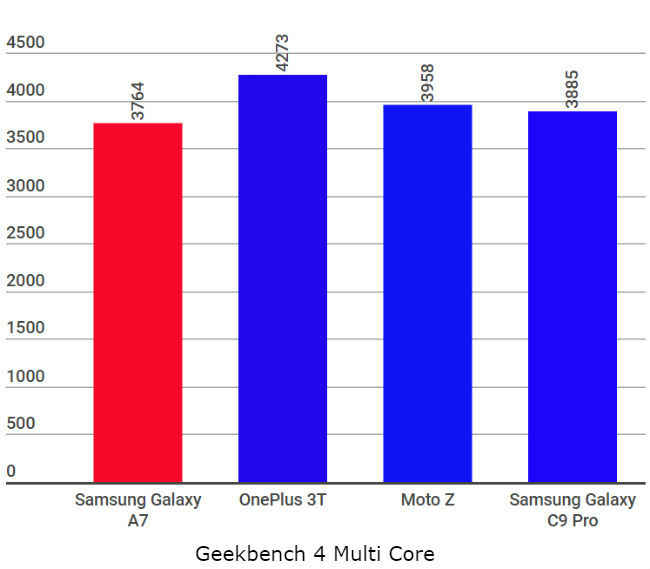 In practice, four cores of the Exynos 7780 seem to be turned off often, while the other four clock up to 1.4GHz and no more. While the UI still feels snappy, app load times are higher than would be ideal and not very well suited to a premium device. It works, but "works" is not what we're looking for, from a premium device anymore.
In practice, this results in somewhat unpredictable performance. The Galaxy A7 is a treat to use at times, while at others even apps like Facebook seemed to stutter a little. It's nowhere close to being unusable, but this being an Android phone, the Galaxy A7 is just as likely to slowing down as any other, and one wonders what the performance will be like then.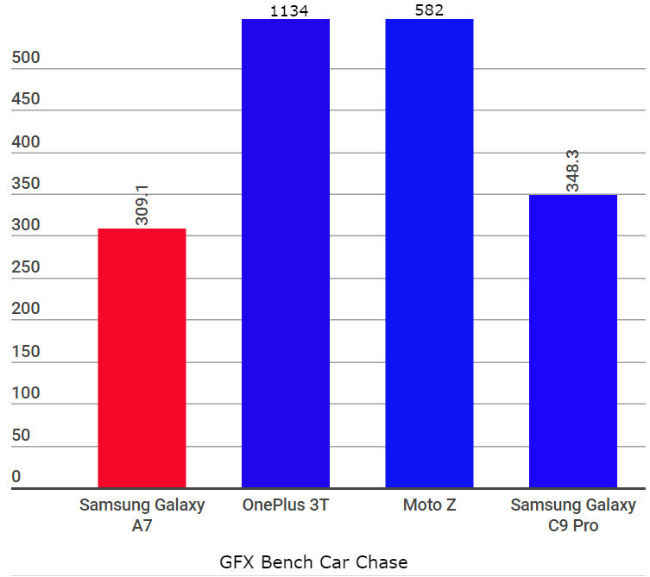 While travelling, I watched two hours of video on the smartphone, without any troubles. Netflix took a few seconds to boot up, and the video player didn't open as smoothly as it should, but when you look at how good high quality video looks at this screen, you kind of tend to forget all that and concentrate on the gorgeous colours.
Similarly, I notice some stutters on WWE Champions (that new candy crush wrestling game), but things are largely usable. The question you need to answer is whether "usable" is what you want for Rs. 33,490. In fact, Samsung's own Galaxy C9 Pro, which has a slightly larger screen and bigger form factor, delivers better performance, and given that 5.7 inch phones do apply to 6 inch buyers, it's a valid problem, at least in my opinion.


Other than that, the phone manages heat quite well, with temperatures at about 36 degrees after half an hour of gaming.
Two anomalies
There were two confounding anomalies on the Galaxy A7: the first is that its touch response seems wobbly. Throughout the last ten days, I've often had to tap on an app twice or thrice when trying to open it. The phone seems to not register touches at times, although this could also be due to the device itself freezing up. In fact, we tend to favour the second, as the same problem occurred on the Galaxy A5 as well, and it's less likely for Samsung to use faulty display panels on two consecutive devices.
The next problem, though, seems to be a unit specific issue. Where the fingerprint sensors on Samsung's premium devices have been fast and dependable usually, the one on the A7 seemed to falter many a time. This happened especially when trying to unlock the device from the screen turned off position. The phone would simply not respond to the fingerprint a bit too often. This problem couldn't be replicated on the Galaxy A5.
Camera
Where it lacks in performance, the Galaxy A7 redeems with camera quality. The 16MP f/1.9 sensor on the back does a decent job of shooting images. That is, as long as you have enough time to shoot. Due to its slow performance, the camera app is also slow, meaning you'll miss many moments while you wait for the camera app to load completely. Being on a trip, this became a regular affair with the Galaxy A7.
However, if you do have enough time and a steady hand, the Galaxy A7 can take some really good photos. You see the quintessential Samsung colour tone at work here, with pleasantly oversaturated photos and good details. It, however, struggles to balance light efficiently. In frames with sharply contrasting brightness areas, the Samsung Galaxy A7 tends to overexpose the photograph in order to provide enough light to darker areas. While this will produce reasonably well lit shadows, the rest of the frames exhibit severe clipping of highlights, which completely destroys any kind of detail in backgrounds.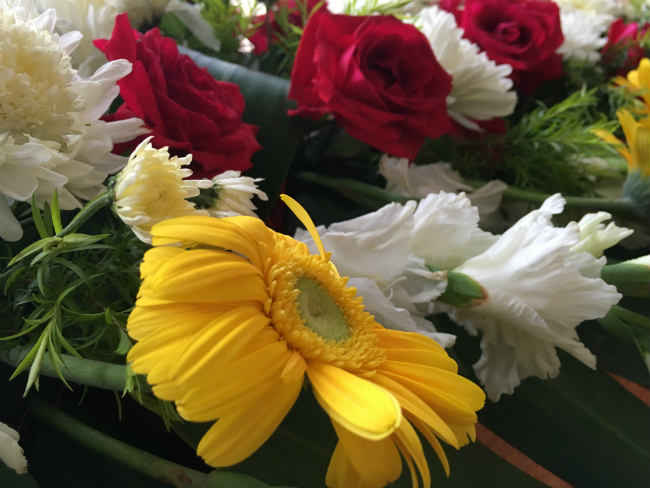 Same shot taken by an iPhone 6s (above) and the Samsung Galaxy A7 (below)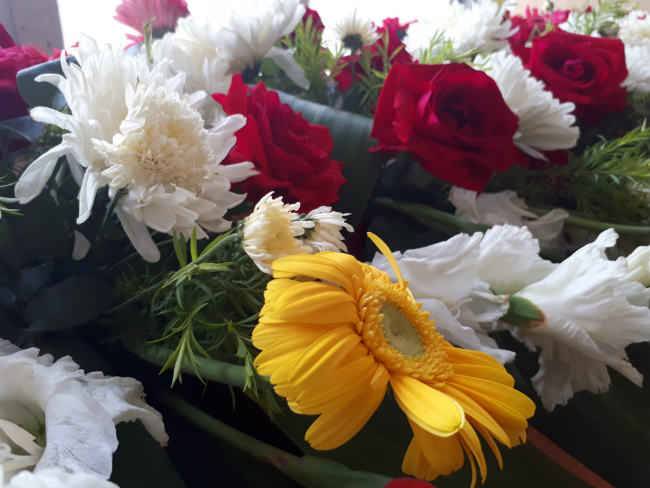 In low light areas or when on the move, the Galaxy A7 tends to shoot in slower shutter speed to provide ample light. This leads to blurry photos in poorly lit areas (see photo below), which in turn will almost always produce blurs, unless you shoot with a tripod or on a steady surface.
All I did was point and shoot.
Battery Life
Fortunately, the roller coaster ride ends on a high with this one. As far as battery life is concerned, the Samsung Galaxy A7 gives enough and more. Over the last ten days, I've charged this phone 8 times, which is saying something in this day and age. The 14nm chipset is evidently more power efficient and the Galaxy A7 lasts for 11 hours and 33 minutes on the PC Mark Work 2.0 battery test. That's higher than a Moto G5 Plus or Xiaomi Redmi Note 4, which run on the highly power friendly Snapdragon 625.
In regular usage, the Galaxy A7 could get by a full 24 hours easily. I carried an iPhone 6S in the other pocket, and you get no prizes for guessing which charger I pulled out of my bag more. In fact, I often left the A7's charger home, when the battery was at 60% or more. It drops about 15% battery when gaming with the screen turned up to medium brightness.
Bottomline
Personally, I do not like even the smallest stutter on my smartphone. Which is why it's surprising to me that after 10 days with the Galaxy A7, I do not want to give it up and move to the next review device. And that's probably what Samsung was hoping for. No, this isn't the best phone to buy in the premium segment. The Moto Z and OnePlus 3T are definitely better phones in almost every way, except design.
However, the Galaxy A7 can still be recommended for its end user experience. It's a premium phone for those who want Samsung's brand, but can't afford the Galaxy S flagship. It's the best looking big-screen phone in the market, which is something the fashion conscious would appreciate. It isn't a phone for the enthusiast, neither is it for geeks like us.