Oppo F1 Plus detailed review
I'll be honest. When I get a selfie focused smartphone to review, I cringe. I don't take selfies. I can't smile, pout, pose or care enough for them. In fact, I usually hand them over to other reviewers here at Digit. The point I'm trying to make is that it takes a lot for a selfie-focused smartphone to impress me. But, the Oppo F1 Plus did just that. It is part of Oppo's "selfie expert" series in India, and it has a lot going for it, while some things that aren't as good.
In many ways, the Oppo F1 Plus is a gem of a smartphone, but in others, it absolutely disappoints a user like me.
Build and Design: One may compare
You may want to compare this to Apple's iPhone designs, and you may even take it as a negative, but the fact remains that it's design done right. The Oppo F1 Plus sports a full metal design, with glossy plastic on the front, above and below the display. A screenguard is placed over the display, which covers most of the front, except the fingerprint sensor, speakers, the 16MP front camera and the other sensors. It is 6.6 mm slim, and Oppo has somehow made the 16MP camera on the front smaller than the 13MP module on the back.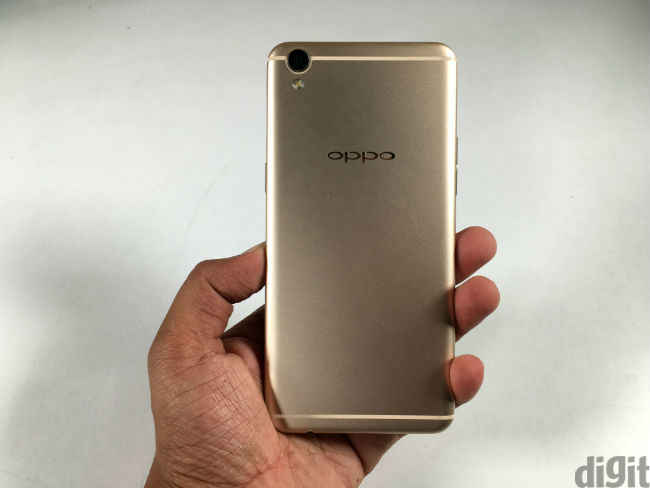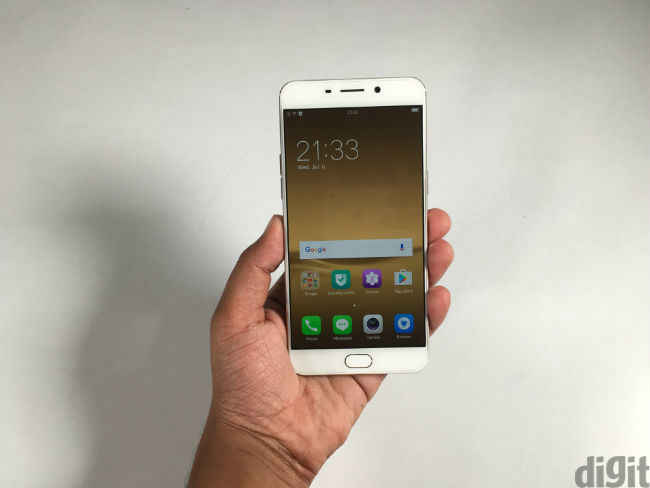 It feels as much like a premium device as any in its price segment, and while it's not particularly light, the weight is just right. The F1 Plus weighs about 145 grams, and combined with the metal body and sleek looks, it not only feels premium, but strong. It's extremely ergonomic for a 5.5 inch smartphone, and you get a nearly bezel-less display, with just below 2mm bezel size. The quality of the display further adds to the phone's looks, but more on that later. The fact that it is a 2.5D display may be important to many.
There's really nothing to complain about in this department. The power on/off button rests below your thumb always, while the volume rocker is placed where your index finger would rest. I could go from the fingerprint sensor to power button with minimal change to my grip.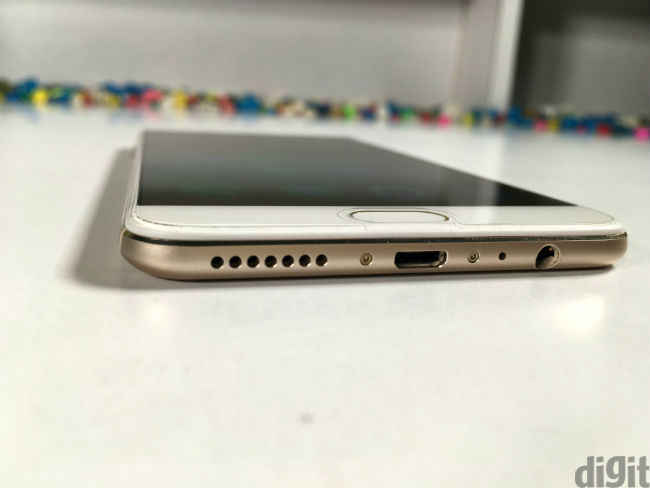 Display: Gorgeous
The 5.5 inch AMOLED panel on the Oppo F1 Plus has a diamond pentile pixel arrangement, and while brightness isn't its strong suit, colours are. My tests revealed a maximum brightness of about 735 lux, but the colours are distinctly AMOLED. The diamond pentile arrangement of sub-pixels ensures more uniform arrangement of colours, but Oppo seems to have artificially added a bit of punch to them.
Surprisingly, despite the low brightness, the display looks sufficiently crisp even under sunlight. The contrast is great all around, and the blacks are as deep as whites are light. The Oppo F1 Plus may not have the best display in the market, but it's amongst the best. Perhaps a brighter panel would have ranked it even higher.
UI: Far from stock
Oppo's ColorOS is far removed from Android, but it has its moments. The Lockscreen Magazine is nice, and keeps your lockscreen interesting. It cycles through very high resolution images of celebrities, flowers, animals, sports, movies and more. On a display as good as this, the lockscreen magazine is an obvious, but great addition.
Oppo has also made an interesting tweak to the fingerprint sensor, calling it Touch Access. The fingerprint sensor on the Oppo F1 Plus is a button, which usually means it can't recognise your fingerprint just by having the finger over it. Examples of such sensors can be found in iPhones, Samsung's Galaxy series and so on. Pressing buttons on those phones usually get you to the lockscreen for a second, before bypassing it. If the finger is pressed for a short time, the button just acts as a screen on button. This is redundant, given that you already have a power on/off button. On the Oppo F1 Plus, pressing the fingerprint sensor somehow bypasses the lockscreen completely, making it much more intuitive and fast. Fortunately, the button press isn't registered, so if you have an app running in the background, you will still be in it.
Other changes in ColorOS are pretty much change for the sake of change, and I wish icons were sharper, which would look good on this display.
Performance: A major hurdle
The Oppo F1 Plus runs on the MediaTek Helio P10 SoC, along with 4GB of RAM. While 4GB of RAM is good, the processor is hardly powerful enough. I'm not implying that RAM determines the processor speed, just that doing more tasks only makes sense when they're fast enough.
The Helio P10 on this phone is noticeably slower than most other phones in this price bracket. While Oppo has done a better job of it than Yu (with the Yu Yunicorn) or Meizu (with the Meizu M3 Note), it hasn't been able to get over all of the P10's drawbacks. You will still notice considerable lags on games like Injustice: Gods Among Us or Asphalt 8, and even the camera takes a tad longer to open than is ideal. The frame rates on graphic intensive tasks are noticeably lower.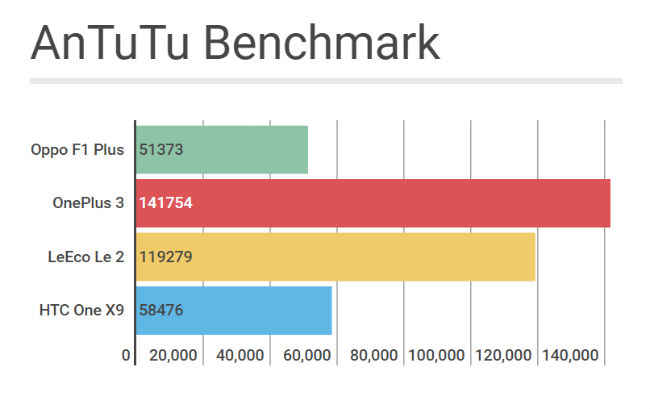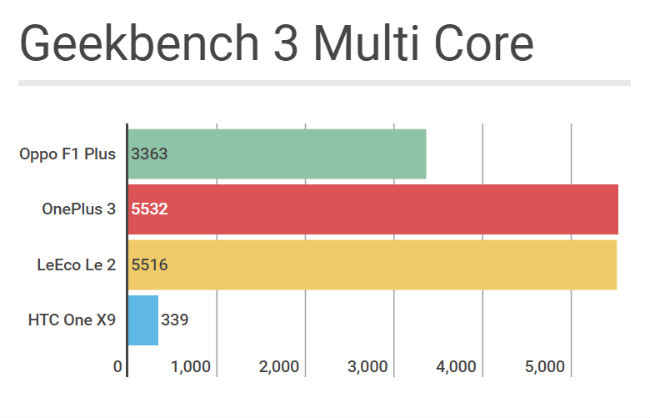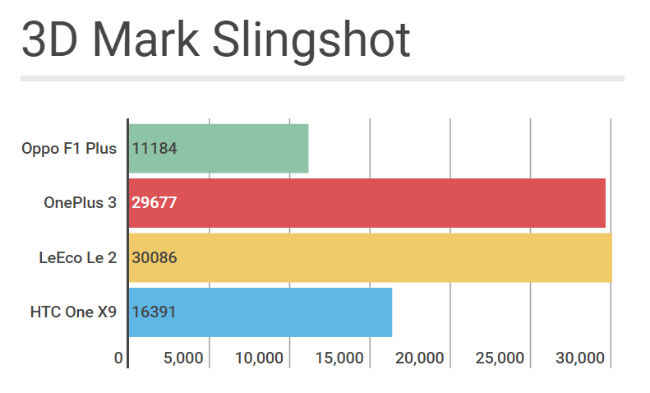 On the flip side, there are no heating issues on this device. The best of my efforts got it to 34 degrees celsius at best, and the large amount of RAM helps keep more apps open in the background.
Camera: Surprising results
The Oppo F1 Plus is all about its front camera. A 16MP camera on the front would ideally lead you to expect very good selfies, except that Oppo's algorithms seem to produce conflicting results. You expect soft image from a front camera since it's supposed to suit human faces. That said, Oppo's camera seems to overdo it, and produces less than optimal results. The details are lost and images aren't very sharp, either. Highlights are also blown out often, especially in indoor conditions. The Beautify mode seems to simply play with the colours, without affecting the issues mentioned above.
Oppo F1 Plus Sample Images
The algorithms are of course different for the 13MP rear camera. This one has a f/2.2 aperture, and while it's fast enough in terms of shutter speed, it can be slow to focus. On the other hand, images look good unless zoomed in. The colours are good, as is the dynamic range. The Oppo F1 Plus also produces satisfactory details. Here, again, it isn't the best camera in this range, but it's satisfactory. It can be considered similar to a HTC One A9 or One X9.
Battery: An able performer
A 2850 mAh battery really doesn't sound like much nowadays, but Oppo makes do with it. On regular usage, I got about 13 hours of battery life off this device, with mixed use of the power saver and regular modes. The phone loses battery quite fast while browsing, perhaps because of the display, but it had over 40% battery left after streaming two movies on Netflix.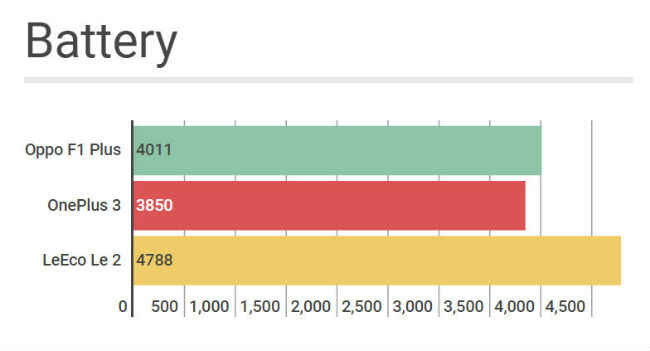 Oppo has also added its own VOOC fast charging technology to this device. This charges the battery from 0-100% in about 45 minutes, which is quite quick. If you're in a pinch, you can easily charge the F1 Plus for a short time to get you through the whole day. The best part of VOOC charging is that it doesn't heat the phone up, but you also need to carry Oppo's proprietary charger to use it.
Bottomline: Good isn't enough
When it entered India, Oppo created quite the intrigue, and the Oppo F1 Plus continues that. It has a very good display, satisfactory battery life, is good looking, and well built. That, though, isn't enough to really recommend this smartphone. For one, it fails in its own USP, the selfie camera, and its camera performance overall is satisfactory at best. Combined with the sub-optimal performance, the Oppo F1 Plus doesn't really belong in the near 28k price point. It's a pleasant phone to use, if you don't care about snappy performance and good camera, but otherwise, you're better off buying a OnePlus 3, LeEco Le Max 2 or even an HTC One X9.