Nokia X detailed review
All the rumours and leaks turned into reality when Nokia surprised the world by announcing its first smartphone based on the Android mobile operating system. Nokia clearly stated that the smartphone will not hamper the Windows Phone lineup or the Asha feature phones; rather it will be placed between the two. Priced at an affordable range, the Nokia X does seem impressive, but is it good enough to give any competition to the existing plethora of Android smartphones?
SPECIFICATIONS
Display: 4 inches IPS LCD panel with 800x480 resolution (233ppi)
Battery: 1500mAh
Storage: 4GB, expandable via microSD card
Camera: 3.15MP rear
SoC: Snapdragon S4
CPU: 1GHz dual-core
GPU: Adreno 203
RAM: 512MB
Operating system: Android 4.1.2
Connectivity: 3G, W-Fi, Bluetooth, Dual-SIM
BUILD AND DESIGN
The Nokia X is an overgrown Asha device. The back panel is all plastic and comes in a variety of colors including bright green, bright red, cyan, yellow, black, white. The material feels a bit like the polycarbonate used on the Lumia devices, with a matte finish. The front is dominated by a protective glass covering the 4-inch display. Below the display there is only one capacitive key that acts as a back key and is also used to exit applications.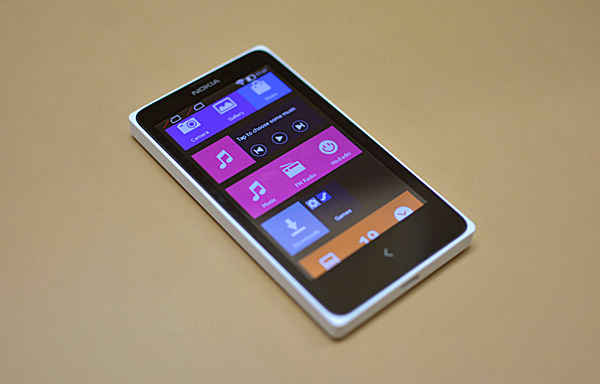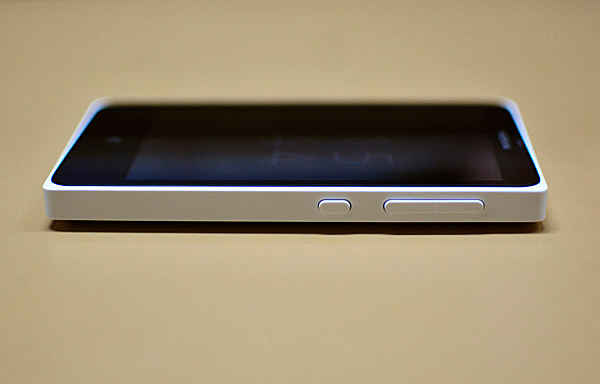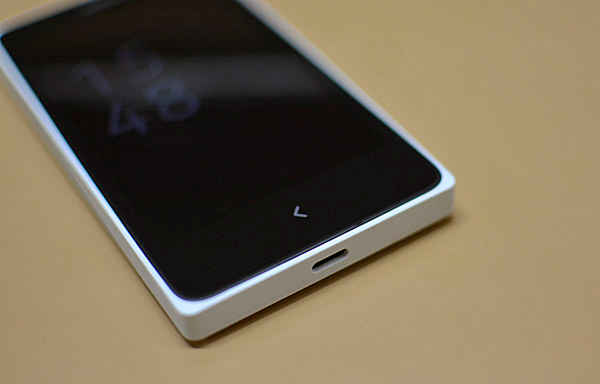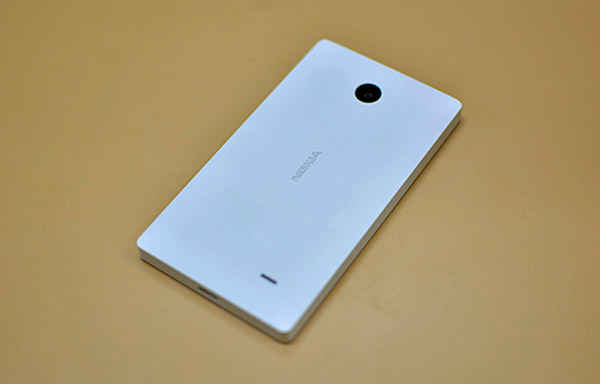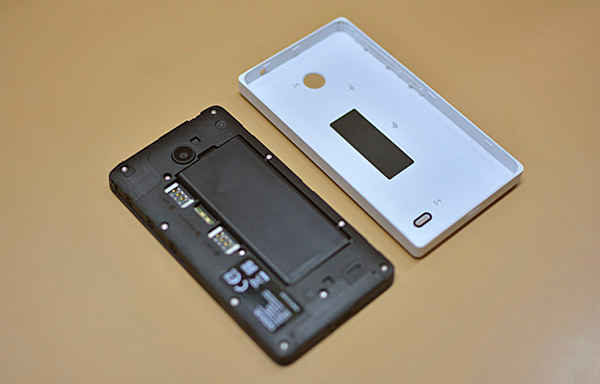 On the right side, we have the volume control keys and the power/lock key, the top has the headphone jack, the bottom has the microUSB port and the left side is all clean and empty. At the back we have a 3.15MP camera and a small speaker grill at the bottom. The coloured back panel comes off to reveal the 1500mAh battery, two microSIM card slots and a microSD card slot.
The handset has a very simple and clean design approach. The size and dimensions seem perfect and the handset fits into your palms perfectly (unless you have huge hands). Nokia has very smartly used material that doesn't cost much and carved it into something which actually looks attractive.
USER INTERFACE AND PERFORMANCE
This is where the Nokia made a very cunning move. At the time of announcement, the company mentioned that the handset runs on a custom built Android thanks to the AOSP (Android open source project). The UI is just like the Asha Platform with a mix of Windows Phones tiles, so you only have two screens, one where all your apps and widgets can be placed and the second is your Fastlane screen where all your recent apps and notifications are placed.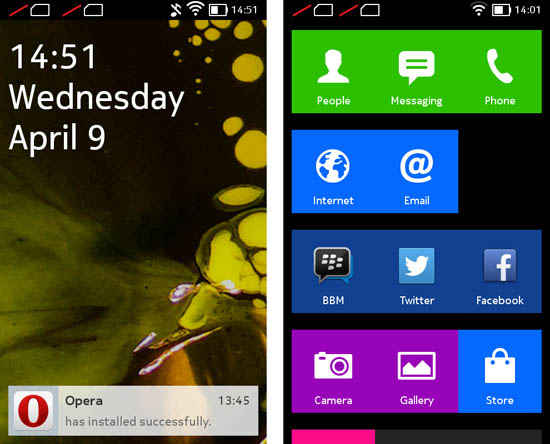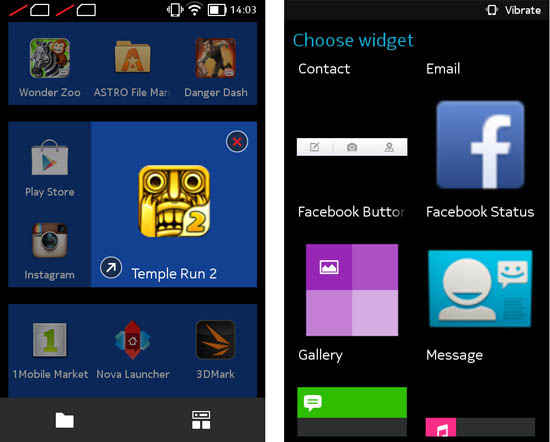 The UI is quite confusing in the beginning and feels a bit empty if you compare it to a proper Android running smartphones. All installed apps are placed automatically in colored blocks on the first homescreen and one can also make folders and add apps into them. The fastlane section, just like the Asha platform, gives you the recently opened apps, your system as well as social network notifications, alarms, birthdays, etc. The lockscreen is plain and simple and places your notifications which can be swiped on the right to open or swiped to the left to ignore. The lockscreen also features Nokia's Glance Screen feature where the screen stays active showing you the time and can be quickly unlocked by just double-tapping the display. The 'tap to wake' feature wasn't very consistent and many times, it didn't work at all. There is also a notification bar which can be opened by sliding your finger down from the top, however it only shows the status of your mobile and data connections along with a bunch of toggles and quick settings options.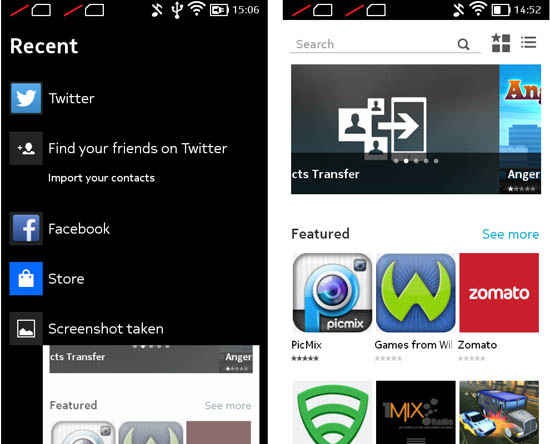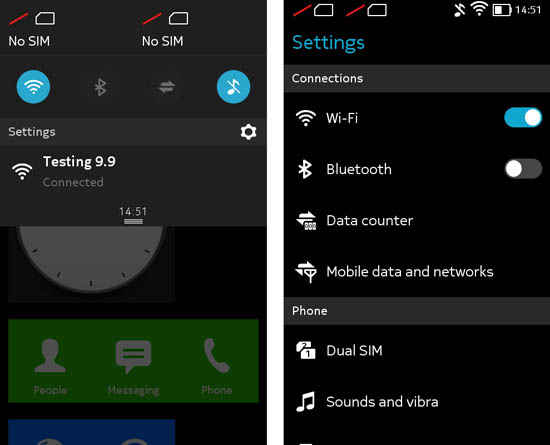 The OS doesn't support true multitasking so when you exit an app, you essentially close the app. You can resume working on the app by going to Fastlane, but switching between multiple apps is not possible. This isn't a huge concern as the apps do run in the background to give you notifications.
The major issue with OS is that there is no Google framework. This means that you cannot have access to all the apps that require a Google account such Gmail, Google Maps, and so on. This is a major concern as you don't get access to the Google Play store and you are stuck with the Nokia store which currently offers only a small range of Android apps. There are ways to tackle this issue but then that will require for you to root the device or even change the entire existing ROM. One can also install third-party app stores like 1Mobile Market which is actually very efficient.
The customized Android running on the Nokia X is definitely a fresh surprise, but it has more lows than highs. Nokia has very smartly moulded the OS to tackle various (legal) issues; however the outcome has not been very pleasing. The OS is slow and quite frankly needs a lot of improvement. The screen response is also very unpredictable and at times you are left with swiping and tapping multiple times on the touchscreen. This could be a hardware issue as it supports only two-finger multi-touch.
The Nokia X is essentially an affordable handset which offers smartphone-like features and supports Android apps. We didn't expect much in the performance department but we couldn't resist carrying out some benchmark tests. As the handset has the capability to sideload apps, we tried Smartbench, Antutu and Quadrant to see how it scores.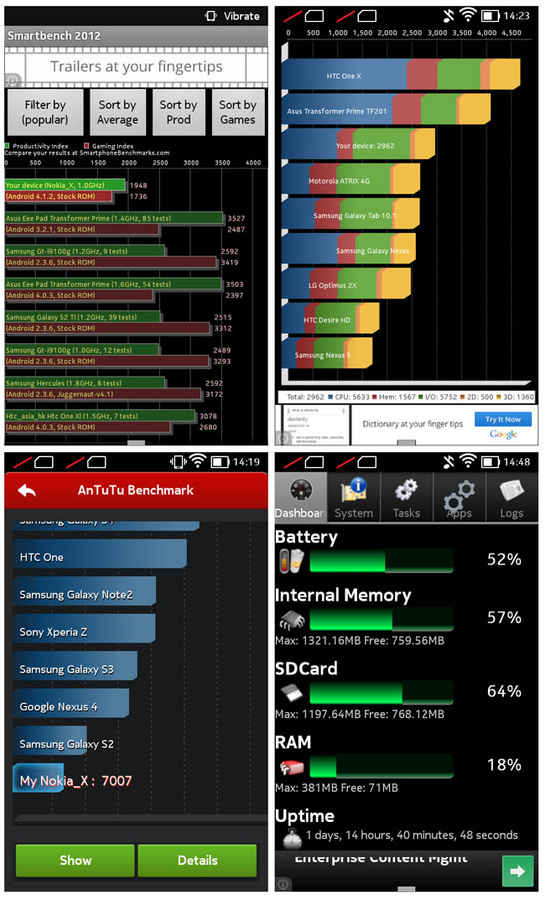 The battery test proved to be a little off-scale as we found a loss of about 32% after running a full HD video for one hour. This was mostly due to the large file size of the video as well as the video encoders which took a lot of power to encode. On an average usage the Nokia X should give you a full day of battery backup.
MULTIMEDIA
The Nokia X comes with a standard music player, FM Radio and Nokia's MixRadio app. All the apps work great and the phone offers a clear audio output. The standard video player wasn't that impressive as it couldn't handle full HD videos all that well. We installed MXPlayer which was better than the stock video player, although it didn't manage to run videos with high file size that smoothly due to limited hardware.
Nokia has used 1/5" sensor with a 3.15MP resolution on the camera. The camera app offers features like white balancing, ISO and exposure control, a few filters, sharpness and contrast control and so on. There is no tap to focus, so basically it is a fixed focus camera which produces decent results. Images turn out to be quite soft and at times shaky due to the fact that the sensor isn't that effective. Colors and contrast turn out to be a bit dull but pictures taken in bright sunlight are not that bad.
The camera can take videos in FWVGA resolution of 480p at 30FPS. The app offers various audio and video encoders for you to record your videos and you can take videos at a maximum length of 30 mins. There is also a timelapse feature on the camera where you can set the interval time for every frame.
Don't expect high-end games to work on this handset as it doesn't offer a fast processor and GPU. You can however enjoy games like Temple Run and Angry Birds and some basic games which do not require a lot of processing power.
CONCLUSION
Being the first Android based device, it is a decent effort by Nokia but it is far from being a smartphone worth spending. A lot of things are amiss and if you are an avid Android user, you might be disappointed. If Nokia can make the UI a bit more responsive and intuitive, then it can sit well as Nokia's low-end smartphone offering.
One can consider much faster and much better smartphones like the Lumia 525 or if you fancy Android devices then go for the Lenovo S720, Karbonn Titanium S5 Plus, Micromax Canvas Lite, or the recently launched Sony Xperia E1.
Advt: Buy Nokia X at an unbeatable price from The MobileStore