Lenovo Vibe K4 Note detailed review
Update: Due to the launch of new smartphones since we reviewed this phone, we have updated its rating retrospectively, since the competition is much tougher now. The earlier rating for this phone was 70.
The Lenovo Vibe K4 Note created a decent amount of hype, upon its launch. Following up on the generous amount of success that the K3 Note brought to Lenovo, the Lenovo Vibe K4 Note had a reasonable amount of expectations resting upon itself. The Lenovo K3 Note was a decent smartphone if you took into consideration its regular performance (calling, messaging, social media, music streaming, etc.), but fell apart when I tried gaming on it. I was rather surprised, as until I started playing on it, the K3 Note had worked almost flawlessly.
Naturally, I was a bit wary of how the K4 Note will turn out to be, on that note. There is a notable change in the design statement, the entire feel of the device, and the K4 Note now feels like a mature device that can stand its own ground in the fiercely competitive budget smartphone category in India. However, there were a number of interesting observations that I found while using it. Let's talk about all of that, in the detailed review of the Lenovo Vibe K4 Note.
Build, Design and Durability
The Lenovo K4 Note feels like a decently-built device. It has a matte plastic back panel, with slots for the rear camera and the fingerprint sensor, and the company logo etched right underneath the camera-fingerprint module. Above the camera-fingerprint module is the secondary noise-cancelling microphone. The sides are made of brushed metal, with the standard USB port and the microphone at the bottom, the volume rocker and the power button to the right, and the 3.5mm audio port at the top. The arrangement is quite standard, and makes for a decently ergonomic smartphone experience. One notable factor is that the Lenovo K4 Note seems rather large — larger than the average 5.5-inch smartphone, owing to a lower screen-to-body ratio. However, this is not significantly disruptive to call it a con. You will ideally require large palms to find the Lenovo K4 Note convenient to use. This is an area where one of its competitors, the LeEco Le 1s, beats it. With a screwless metal unibody design and a high screen-to-body ratio, the Le 1s is simply easier to hold and operate.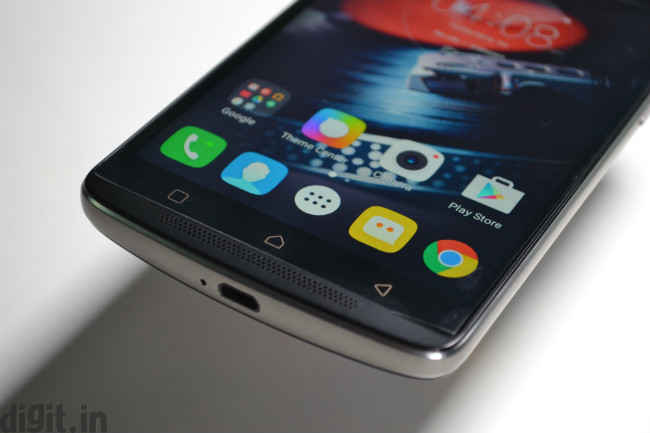 The front face of the Lenovo K4 Note houses the dual-stereo speakers (rather good ones — read 'Audio' section for details), the front-facing camera, the standard array of sensors, and the display. Overall, it is quite evident that Lenovo has put in effort behind its design, and it looks different from a number of other devices in its category. The slightly curved top and bottom edges give the K4 Note a unique statement of its own, and depending upon your personal preference, you may either find it quite appealing, or at the very least, decent. There is a slight curve on the back panel that helps the phone fit your palm, slightly negating the effect that its larger-than-average dimensions have on ergonomics. The back panel is removable, although the battery is sealed in. Above the battery are the two SIM slots, which also provide dual-standby. There's also a separate SD card slot, allowing you to expand the memory if needed. The SD card slot is housed in the same module as the second SIM slot.
Overall, in terms of build and design, the Lenovo K4 Note is a pleasant device that is built well, and designed with more attention than the Lenovo K3 Note. It looks like a device that can be a joy to use, and the front-facing speakers add to the statement of entertainment. However, even with the improvements, I found the Lenovo K4 Note lacking a certain cutting edge in terms of looks, and there was this slight sense of a bland demeanour on it. Even in terms of durability, the Lenovo K4 Note feels reasonably well-built, but not one that really encourages you to use it roughly. Over the four days that I used it, the screen managed to catch a few scratches, and the matte back cover is oleophilic, although cleaning it is rather easy. In terms of build, design and durability, the Lenovo K4 Note does a decent job (reasonably appealing looks, decent build, but nothing truly exceptional), and for its price, the LeEco Le 1s with its metal chassis impresses more than the K4 Note. This smartphone, however, won my preference over the Honor 5X's metal back that feels very inexpensive and hasty. Overall, the Lenovo K4 Note left very decent impressions on me.
Display: Clarity, Viewing Angles, Contrast Levels and more
Yet another aspect that Lenovo has continued on from the K3 Note is the sharp, vibrant display. Colour accuracy is decent, although there is a slight sense of added warmth and marginally higher saturation of colours on the display. While this does not preserve the exact coordinates of a subject's colour from its actual source, they appear richer and more vibrant, thus making video watching an enjoyable experience on the K4 Note.
An important note here is its brightness, which is on the lower side. While, for indoor watching it is fine, I found the K4 Note difficult to view content on under bright, incident sunlight. This is a massive issue on a display that is otherwise quite pleasant to view content on. Interestingly, this problem is prevalent across other devices within this category, too. We found the displays on the Honor 5X and the LeEco Le 1s similarly dim. While the Le 1s manages to be the better one among the three and you still manage to figure out content on your screen under bright sunlight, the K4 Note and the Honor 5X are particularly dim. This may have occurred because of all the phones using a similar LCD panel. On the usage front, I was left disappointed because of the overall dimness of the display.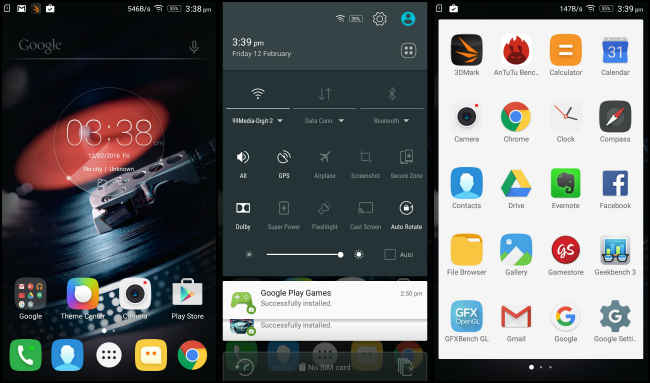 Viewing angles, however, were excellent. Even at near-180-degree angles, there was almost no colour or hue shift on the display. This is an excellent factor about the display, meaning that you can recline to your comfort on a sofa while watching movies. The slightly added sense of warmth enhances the reds and blues on the screen, and the black levels are deep enough to deliver crisp images with sharp contrast. An ideal example of this is when you watch Interstellar or Gravity on the K4 Note — the slightly enhanced saturation levels make content look more vibrant. On an overall experience, the Lenovo K4 Note looks really good while watching content in a dark environment, but loses out when you take it out.
In terms of the interface, Lenovo has decreased the amount of customisation to make it look closer to the stock Android interface. The custom icons are present, but on an overall experience, this version of Lenovo's Vibe UI look neater, and simply more organised. You can almost see Motorola rubbing off its impact here. There are a number of pre-installed applications, some of which can be manually uninstalled. For instance, you can uninstall Guvera, Evernote and UC Browser, while WeChat, WPS Office and Skype cannot be uninstalled. The set of preinstalled apps is not overbearing on the phone, and Lenovo has kept the uninstallable apps to a select few. There is also no massive load on the smartphone in terms of performance (read performance section for details), and overall, the display and interface of the Lenovo K4 Note is a satisfactory experience.
Performance
For the core section of performance, the Lenovo Vibe K4 Note remains fast, light and zippy for the most part. The MediaTek MT6753 octa-core chipset clocked at 1.3GHz is about a year old now, and suffices in terms of real world usage. You can breeze through regular updates, calling, messaging, occasional photography, music and video streaming, and social media, without any noticeable hiccup. There are, however, the split-second delays in opening a menu or an app, which are quite noticeable. While these do not massively hamper usage experience, it is a noticeable factor that I did not see on the Le 1s. It is not a major con, but in a world where phones are mapped to split-second lags, this does play a role.
The Lenovo K4 Note houses 3GB of RAM, and for the most part (unless more than five apps were open and active at the same time), the phone had nearly 1.8GB of memory free of load. Apart from the short delays in opening an app or switching between apps, there is no glitch in operation. Usage experience is reasonably fluid, and you will not need to keep cleaning memory or closing apps constantly, for uninterrupted usage. All of this gave rise to a promising ground for a good gaming experience, something that the K3 Note failed at.
However, while gaming on the Lenovo K4 Note is not utterly impossible, it is quite disappointing. While playing Need For Speed: No Limits, the Lenovo K4 Note took what seems like ages to shift between in-game menus, took more than usual to load game content, and gameplay was quite disappointing. Right from the initial moments of gaming, there are noticeable stutters, and content appears interpolated as a result. The ARM Mali-T720 MP3 GPU clocked at 450MHz does no exceptional job, either, and visual gaming output is quite underwhelming. There is nearly half-second lags in between tapping on the Garage menu within the game, and the page actually opening. Battery drainage is not massive, and the device does not flare up when you turn up your usage. There is possibly no CPU throttling, because switching to Guvera and Facebook while playing the game did not lead to the apps struggling. Overall, the graphics performance of the Lenovo K4 Note is not in the league of its category's best.
"While regular performance is fluid, gaming narrates a different story altogether"
The fingerprint scanner is well-optimised and accurate. You can set it up to act as custom buttons. I used it to act as a back button on single tap and show active apps on long press, and found it really convenient. The placement is also ergonomic, and adds to usability. The fingerprint sensor, like we have been seeing in recent times with a number of devices, is fast and responsive, and recognised my fingerprints accurately, almost always. Talking about buttons, one thing that can hinder your usage is the lack of backlight on the capacitive touch keys at the bottom of the display. These made using the K4 Note in dark environments difficult, and as a result, I resorted to operating with only the fingerprint sensor, for most of the time.
The Lenovo K4 Note leaves you slightly disappointed at the end, seeing that you really cannot game on the phone. It only suffices for regular usage, which is breezy. Call performance is standard, and there is no significant drop in networks too often. One significant issue that I faced with connectivity is its WiFi signal retention. The K4 Note kept getting disconnected from both my office and home WiFi networks, sometimes even between active downloads. This may have been an isolated issue with this particular device, but it is a persistent one nonetheless.
Benchmark scores also turned out lower than its peers, and reflects on the real-life performance prowess of the device quite accurately.
For detailed comparison between the Lenovo K4 Note, Honor 5X and LeEco Le 1s, click here.
Imaging and Video
The Lenovo K4 Note's rear camera is powered by a 13-megapixel Samsung ISOCELL camera, which is somewhat underwhelming. Under bright daylight conditions, images appear noisy. Colours have a slight hint of desaturation, and there is an overall lack of sharpness, which is rather disappointing. The image signal processor somewhat does not balance the colour saturation well, and indoor fluorescent lighting produces slightly oversaturated images, which, yet again, lacks sharpness. Low light performance is equally disappointing, with high noise prevailing all across the entire image despite the noise reduction algorithm, which fails to justify the amount of image that the sensor generates, and leaves images soft.
Shutter response is average, and there is a split-second delay in the operation of the shutter, making continuous shooting slightly delayed. You can shoot upto 30 images continuously on burst, and the entire array of photographs shot take nearly eight seconds to process, after you are done shooting. The camera app is laid out simply, and is easy to operate. Overall, the 13MP rear camera experience is average at best, and lags heavily when compared to the Honor 5X's camera.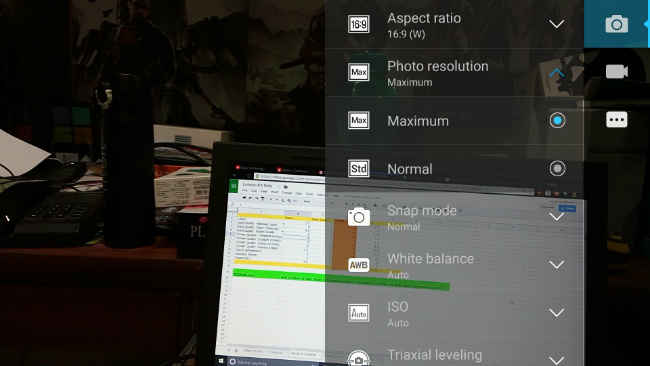 The front-facing 5-megapixel camera is powered by an OmniVision OV5693 image sensor with an f/2.2 lens, which functions better than the primary camera module. There is an overall sense of softness even in normal mode, but colour accuracy is decent, meaning that it can suffice as the average sociophile's photography tool. It can also shoot videos at 720p (HD), although the quality is nothing exceptional to boot.
Check out the image samples below for more detail (Please click to enlarge)
Audio
The front-facing stereo speakers are the standout experience with the Lenovo K4 Note. The dual front speakers have individual power ratings of 1.5W. Internally, audio is provided by a Wolfson Microelectronics WM8281 audio codec bringing in support for 24-bit high resolution audio to the Lenovo K4 Note. The Dolby Atmos engine gives surround sound and improved audio performance, both out of the speakers and on earphones. What you get is audio performance that is much improved than an average smartphone speaker, and the speakers are quite loud to act as a reasonably decent indoor loudspeaker, if you wish to play your music out loud when with your peers. Add to that the crisp display, and the Lenovo K4 Note makes for a really good entertainment package, especially considering its price point of Rs. 11,999.
Battery
The Lenovo K4 Note's 3300mAh Li-Polymer battery pack will assuredly see you through about half the day, with two hours of streaming music, 15-20 minutes of YouTube streaming and an equivalent amount of gaming, and the regular mix of calls, messages and Internet access. Without accessing battery saver modes, I would leave from home for work with 100% battery stamina, and return after nearly 12 hours, with about 15-20% charge left. It is roughly what the industry standard today, and the K4 Note delivers no less. It's not ideal battery life, but a tad better than the Honor 5X and only marginally lower than the LeEco Le 1s.
AntVR
The AntVR headset that Lenovo has on offer with the Vibe K4 Note doesn't quite provide state-of-the-art VR experience, but it's a nice gimmick for those interested in this relatively new technology. AntVR can be used to turn any video you're watching into a VR video, but it's not really as exciting as it sounds. With AntVR, you find youself in a room with the video being played on a big screen. It's fun at first, especially for things like gaming, but you would get bored of it eventually. It's well worth spending the extra thousand bucks though, if a taste of VR is all that you want. AntVR basically splits all videos into right eye and left eye views, giving you a good experience for the cost.
Bottomline
On an overall note, the Lenovo K4 Note is a decent device. It looks decent, has good audio performance, a sharp-yet-dim display, and fluid everyday performance. Its camera and gaming performance is underwhelming, which may be an issue with numerous users. The Ant VR headset that comes bundled is a neat gimmick. At Rs. 11,999, it is an attractive proposition. I personally preferred the Le 1s as a better overall device (lower in terms of audio, better in gaming/camera performance), and the Honor 5X tops the chart in terms of imaging performance. If audio is your top priority, this is the device you would look at within a stringent budget. For other purposes, you would rather choose the LeEco Le 1s as your everyday companion.