InFocus Epic 1 detailed review
The cacophony of smartphones today has made it really tough to identify good smartphones from the rest. If you look at spec-sheets, phones mostly look the same. Which is why manufacturers like InFocus need to tell you that their new smartphone is the cheapest phone powered by a deca-core processor. That, indeed is what the InFocus Epic 1 is. However, does a deca-core SoC equal better performance? We find out in the InFocus Epic 1 review.
Build and Design
We're not big fans of industrial designs any more. The upside of this is that one design fits all, but the downside is you get phones from different companies that look and feel pretty much the same. And that's just what's happening here. The InFocus Epic 1 looks as good as any sub-20k smartphone today, and it feels quite premium too.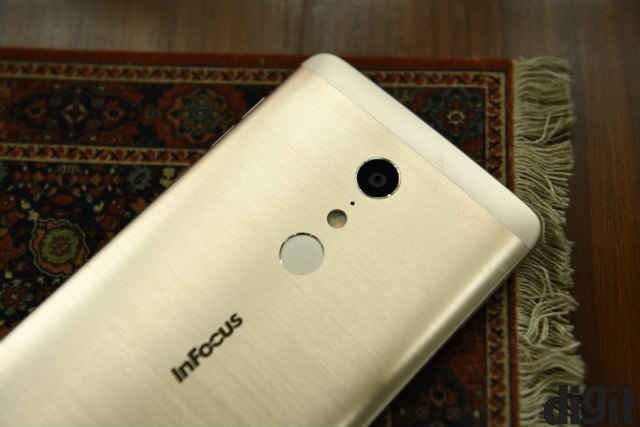 The brushed metal back does its job, and InFocus has added some differentiation in design by placing a rather large grille for the earpiece, on the front top bezel. On either side of this are the sensor hub and front camera, while the bottom bezel is idle without any buttons. On top you'll find the headphone jack and IR Blaster, while there's a single speaker grille, USB Type-C port and noise cancellation mic on the bottom, plus two screws.
A slight aberration is in the button placement. The volume rocker and power buttons are towards the upper end of the right side. In practice, you'll often have to shift your grip, especially when turning the volume up, which doesn't make for the most efficient design. The thick black bezels on the front also disturb the design, and look quite out of place.
There's another noise cancellation mic on the back, below the camera module, but the setup between the camera, fingerprint sensor and flash look almost exactly like the Earth-Moon-Sun setup you drew back in pre-school. The fingerprint sensor is round and slightly bigger than the camera, while the flash rests between these, taking the place of the moon. Directly below this, about halfway on the back is InFocus' logo, and the phone has two plastic strips running on the top and bottom for antenna performance.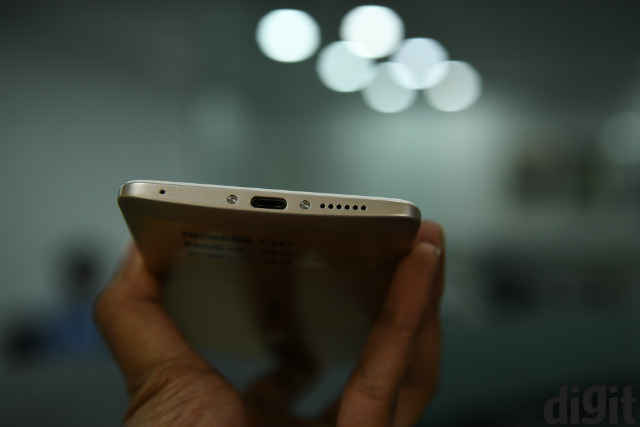 The InFocus Epic 1 is not the ideal smartphone for single-handed usage, but its rounded back does add to the ergonomics and the phone feels quite good in hand. It may not be an absolutely new design, but it's one that has worked before and works here as well.
Display
The 1080p display is adequately bright (maximum luminance ratings of 534 Lux), with decently defined colours. There is a slight shift on extreme viewing angles, but not enough to affect real world usage. Its pixel density comes in at 401 ppi, which works pretty well, as it does for all of its competitors.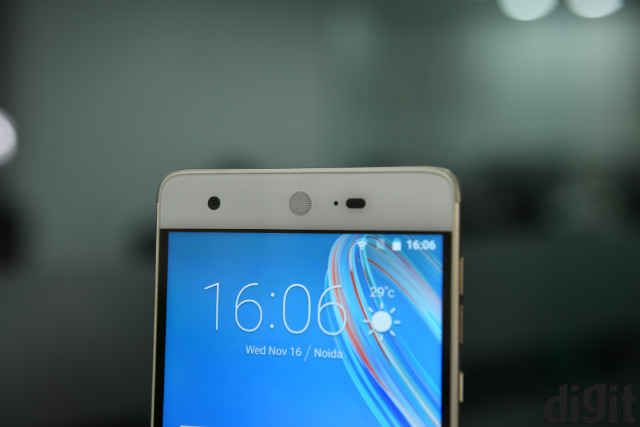 Some may find the Epic 1's display a tad cool on its default mode, but there are toggles to make it warmer, or even cooler. Like its design, though, the Epic 1's display doesn't really win you over on first sight. It's decent, with good colours, and nice, smooth touch performance. We would say this is one of the better displays out there and it's brighter than the LeEco Le 2, but not the Xiaomi Redmi Note 3.
UI
We've always found InFocus' Inlife UI to be a problem with its device. The interface isn't well optimised (more on this in the next section), doesn't look good and doesn't offer much functionality. It's seems to be meant for product differentiation, and product differentiation only.
For example, swiping up on any home screen brings up the customisation options for these screens. You can add widgets, change wallpapers etc. We found this to be a hurdle in usability, since the customisation screen would come up every time we would try to wipe specs of dust from the screen.
Further, InFocus' rounded app icons conflict with the sharper designs of Google's apps, Facebook, Amazon and almost every other app you use on a day-to-day basis. This makes the UI feel cluttered, despite the fact that the phone has an app-drawer for hiding apps from the home screens.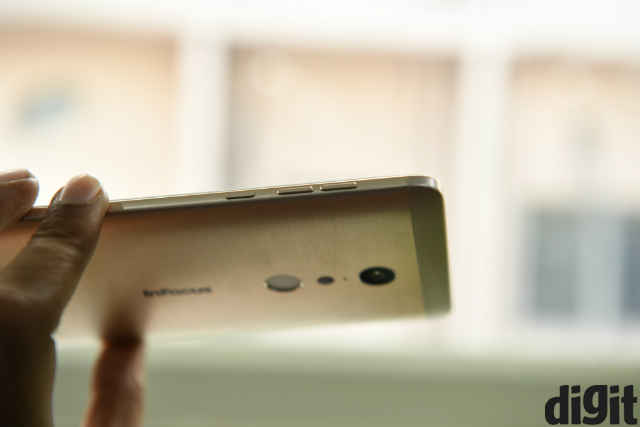 The UI also comes with a bunch of pre-installed applications, none of which can be removed. These include apps like KooKong (to control home appliances), Safebox, BeautyPlus Me and more. Moreover, the Frequently Used apps icon, which is supposed to show apps that you use all the time, doesn't work as desired and shows apps that we haven't yet used even once, or those that we have used only once.
All of the above is worsened by the fact that the fingerprint sensor doesn't respond often. You'll have to touch it twice for the phone to unlock on most occasions. That's a major bummer for a phone in today's market.
In essence, InFocus' Inlife 2 UI here, is not a UI that advances with the times. It doesn't build on top of Android Marshmallow, instead being a UI for the sake of differentiation only.
Performance
InFocus' UI also affects its performance. On a bare bones phone, with only benchmarks, Asphalt 8, and InFocus' pre-installed apps, you'll get about 1.5GB of free RAM. This is when the phone isn't being taxed by apps running in the background, and that's not a very favourable place to be. One wonders whether the OS couldn't have been optimised better, at least for a bare bones device.
In addition, we sometimes saw slight stutters during transitions, which again is because of lack of UI optimisation. The Helio X20 is well suited to manage day-to-day tasks, which makes these stutters, however small, quite confounding.
For the most part, the InFocus Epic 1 does well for a sub-15k smartphone. The performance is competitive, fast and reasonably smooth. The heat readings don't go beyond 38 degrees very easily, but it's SoC doesn't hit the top clock speed either. In fact, app load times are on the higher side, probably because the phone seems to halt the UI at around 1.4GHz. For practical purposes, this is the top clock speed for the Helio X20 on this device.
This also means that a deca-core SoC makes no real difference on the InFocus Epic 1. Its performance is comparable to the Xiaomi Redmi Note 3 and LeEco Le 2. The two extra cores can drive up numbers on benchmarks, but they don't seem to make any real world difference. This is all the more evident in the fact that the InFocus Epic 1 can only shoot 1080p video, and that too at 30fps only. In addition, its graphics performance is lower than these two devices.
Camera
It's down to the camera then. The 16MP camera on the InFocus Epic 1 has f/2.0 aperture, with a CMOS sensor, like most other smartphones today.
In practice, the camera is decent at best, taking reasonably good shots in well lit conditions. We did, however, find highlight clipping in some daylight photos, while indoor and low light shots show above average noise. In fact, the Epic 1 loses details under low light very often.
InFocus Epic 1
We would still call it a reasonably decent camera, though. Like many other things about the smartphone, the camera is no better than the Redmi Note 3 or LeEco Le 2, but it isn't better either.
In fact, we rate the Epic 1's camera lower than competitors because it's slow. Auto-focus takes time often, even in well lit conditions, and the same happens when you touch to focus. This could be because of lack of optimisation in image processing algorithms. We're even more confident of this because of the considerable processing lag that occurs often while shooting with this camera.
Battery
Perhaps the weakest aspect of the Epic 1 is its battery. It has a 3000 mAh battery, which lasts for just below 4 hours on the PC Mark battery test. That's one of the lowest scores that we've seen in this price range, and it could be the price of having a deca-core SoC.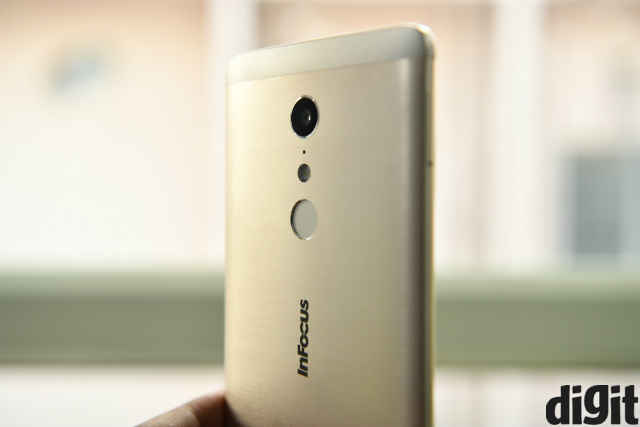 InFocus hasn't been able to optimise battery performance, and on a regular day, you'll be able to get by dusk to dawn if you aggressively use the battery saver modes, or are very confident. With the display brightness on auto, we routinely had to charge the device twice every day. That, with a few phone calls, lots of texting, some social networking, and about 20 minutes of gaming.
Bottomline
It is safe to say that the InFocus Epic 1 is one of the better phones in the sub-15k market. However, it's not the one we'd recommend. The deca-core SoC doesn't make much of a difference on the product, and its UI is a buzzkill. If the camera is your top priority, the Nubia Z11 Mini and Moto G4 Plus remain our top two recommendations, while the LeEco Le 2 and Xiaomi Redmi Note 3 are still the best overall smartphones in this price range.