InFocus Bingo 50 detailed review
When InFocus arrived in India, I was quite pleased by the way its phones performed. The first smartphone, InFocus M530, had a rather good camera, and ever since, InFocus has tried to include something worth noticing in its devices. The company itself has had a shaky start in its journey, and after about a year in India, it seems to continue on the same note.
The InFocus Bingo 50 (or InFocus M460) here is a similar story. For Rs. 7,500, you get a quad-core MediaTek processor, 8-megapixel cameras on the rear and front, and 3GB of RAM. It also gets a Sandstone back panel, and is neatly curved on the rear to aid ergonomics. On the overall sense, it has quite a few interesting factors, particularly considering its price. But, there are a number of things that it misses on. Allow us to explain all of this, in more detail.
Build and Design
The inclusion of a Sandstone Back panel is a neat addition to the InFocus Bingo 50. The coarse back panel adds grip, and sits well in making a statement of design. The sides of the rear panel are curved, and the phone fits snugly in the palm. The InFocus Bingo 50 tapers down to thin edges, and a metal rim runs around the sides, thereby not making the phone cut into your palm. It is not too heavy, either, thereby being quite comfortable to carry around.
On the front, however, the display is flanked by large bezels, the nature of which is slowly being removed from most devices nowadays. The screen to display ratio is 64%, lesser than many others around. InFocus could have decreased the size of this phone even further, and had they done that, it would have been an incredibly ergonomic device to hold. It still is good, but could have been better. The audio port is on the top, while the bottom edge houses the USB port. The left edge houses the volume rocker, and the right contains the power/lock button. The buttons are too dented for comfortable usage, and while button feedback is decent, they still feel slightly flimsy on the overall sense.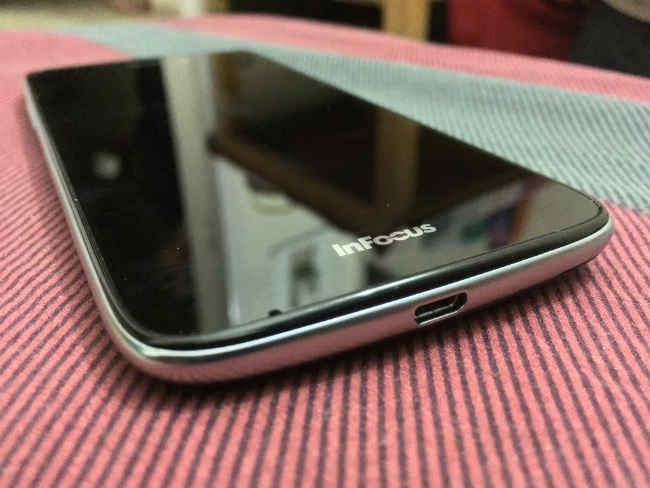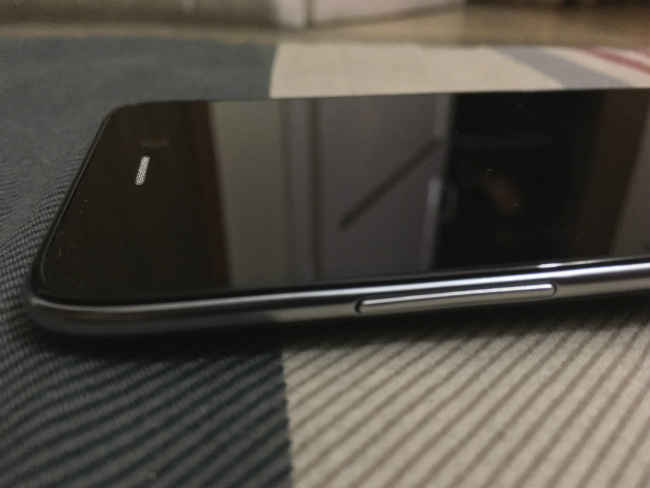 Even with a 5-inch display, the InFocus Bingo 50 is significantly larger than the Lenovo Vibe K5 Plus, and even slightly larger than the Samsung Galaxy S7 Edge (that houses a 5.5-inch display). This says a lot about how much space on the build may have been reduced. Overall, while the tapering rear edges and Sandstone Back panel add a lot to ergonomics, the added size is a deterrent. The overall build quality is decent, and is in fact much better than many other devices in this price category, but there is still a lot more that InFocus could have done with the Bingo 50 smartphone. It may still be one of the better devices in terms of looks and ergonomics, but could have been much, much better.
Display and UI
The 5-inch HD On-Cell display is amply bright. It lacks slightly in terms of sharpness, and colours look a bit dull. Viewing angles are decent, but there is a slight, notable colour shift on the display. It is not overtly disappointing, but we have seen much sharper display panels around. The decent amount of brightness helps in outdoor conditions, and specifically under bright, direct sunlight. The lack of sharpness and slightly dull colours do hamper video watching to an extent, but it is manageable.
This brings up the factor of touch response. Touches and swipes often go amiss, and the touch response is rather bad. More than often, I found myself having to repeatedly tap on apps to open them, and swipe repeatedly, often more than twice, to unlock the device. This is one of the major problems with this device, became a major issue while playing games (performance stutters notwithstanding). Puzzle games like ZigZag and Stack, that rely on tap feedback, become tricky to play as the touch response lags. InFocus does not provide Corning Gorilla Glass protection on the phone, and the touch feedback itself feels rather flimsy.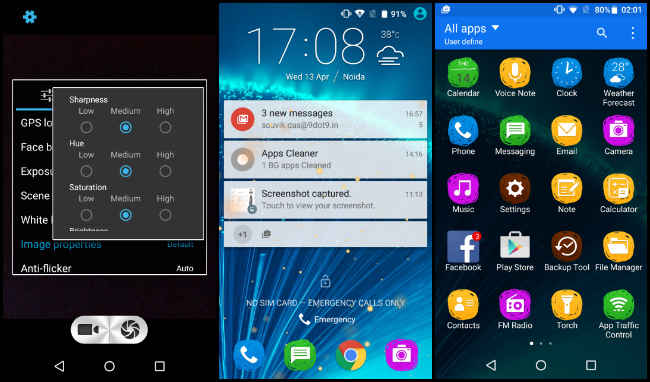 InLife UI has had a reasonably long journey, and while it indeed looks more playful, it still feels rather juvenile. It's almost like the UI has been treated as an afterthought, with untidy colour sketches forming icons for apps and settings. The InLife UI had this particular rain of glitter that showed when the device is unlocked or the notification panel is dropped down. InFocus may have been aiming to add a more lively feel over the custom Android skin, but maybe, in my humble opinion, keeping it simpler would have made it a better overall experience. To sum up, the display is bright, but lacks colour accuracy, sharpness and contrast. The touch response lags behind, and the UI does not score any points, either. There is little to take away from here.
Performance
A quad-core MediaTek MT6735 SoC powers the InFocus Bingo 50, with four cores clocked at 1.3GHz. Among its primary competitors, the Lenovo Vibe K5 Plus and the Coolpad Note 3 run on Qualcomm Snapdragon 616 and MediaTek MT6753 chipsets respectively, while the slightly lower-priced Coolpad Note 3 Lite and Meizu m2 uses the same chipset as this one. A parallel to the Snapdragon 410, the MediaTek MT6735 chipset gets daily tasks done fairly confidently. At this price point, you will undoubtedly face the split-second delays when apps load, or when switching between applications. However, for regular calling, messaging and browsing purposes, it suffices comfortably.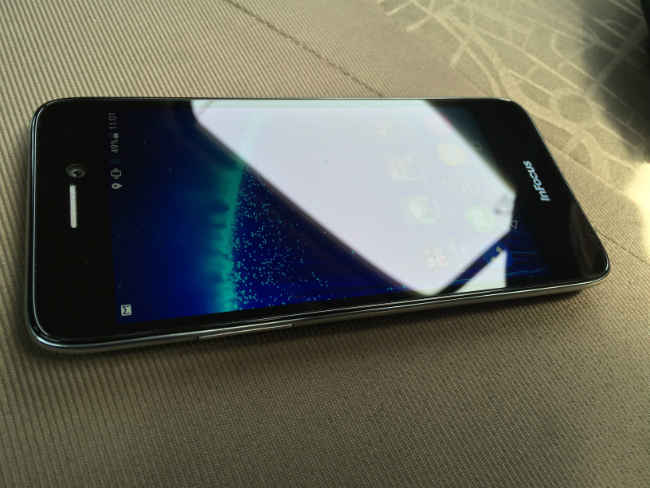 One aspect that makes a significant amount of difference here is the 3GB of RAM. The ample amount of RAM should see you through a certain amount of multitasking - for instance, messaging, music streaming and updating apps at the same time does bring about a few stutters here and there, but none large enough to halter usage. When it comes to gaming, the dual-core Mali-T720 MP2 does decently in rendering bearable graphics. While the processor lacks in processing power in comparison to MT6753 or Snapdragon 616, it does allow you to game to an extent. Sure, games like FIFA 16 and Asphalt 8: Airborne does face stutters, but you can still occasionally game on it, casually. If you're looking for serious gaming within budget, the likes of Meizu m2 Note and Coolpad Note 3 are significantly better achievers. Even the 2GB RAM variant of the Xiaomi Redmi Note 3, powered by Snapdragon 650, would certainly fare much, much better. These devices, however, cost about 1.5-2.5k more than this one.
Call performance is decent, with standard signal retention. In-call audio is also reasonably clear. The InFocus Bingo 50 supports 4G LTE bands, but in terms of WiFi, it does not support 5GHz bands. Bluetooth connection is stable, and the device has two independent SIM slots, and no hybrid slots. There is a dedicated memory card slot to expand on the 16GB of internal storage. Additionally, one aspect that really works in InFocus' favour is Android Marshmallow 6.0 by default. While the layers of customisation does take a lot of Marshmallow's charm away, you still get the goodness of enhanced app permissions, efficient battery management and Doze. It is one of the most affordable smartphones that present Android Marshmallow out of the box, and this gives it a massive edge over its competitors.
To sum up, the InFocus Bingo 50 is an efficient daily driver, and even gives you occasional gaming and light photo editing. It delivers in terms of its price, but the dent of flimsy touch response does take a lot of shine away from it.
Camera
The 8-megapixel primary camera is powered by a Samsung S5K3H7 BSI CMOS sensor. The older generation sensor dating back to 2012 falls right underneath Samsung's ISOCELL image sensors. It supports a maximum video frame rate of 30 frames per second, with pixel size of 1.4mi. Photos rendered by this camera module fall in line with the rest of the device - not bad, per se, but there have been better ones across the latest generation of budget smartphones.
Images clicked with the InFocus Bingo 50 lack contrast, and colours appear slightly washed, or undersaturated. The images are reasonably sharp, but the lack of contrast levels do affect photographs. The decent amount of sharpness does leave space for post-enhancement of photos, although details will definitely be compromised while cropping. Under indoor situations, the InFocus Bingo 50 appears to slightly dim out photos. Low light performance, unsurprisingly, is noisy, and images appear soft. They, however, are not entirely destroyed in the sense that colours remain recognisable. A major deterrent is the sensor's inability to record videos at higher than 720p. Video quality is passable at best, but nothing more.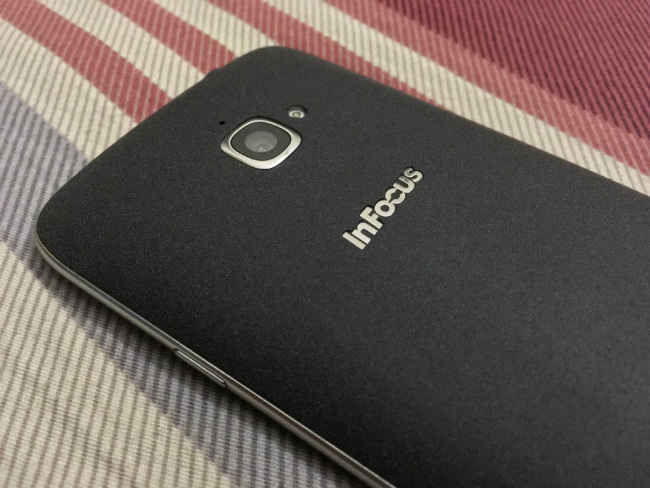 The front also features an 8-megapixel image sensor of unknown make. What is pleasant here is the decent amount of sharpness in photos captured by the front camera. The front camera suffices for selfies, and for regular, instant usage, it is actually quite decent. The camera app, however, is slow, often taking more than one second to focus on both rear and front cameras, and even the shutter response is slow. You do not get full manual controls, although you get settings to tweak sharpness, hue, saturation, brightness and contrast between low, medium and high. You also get exposure compensation and white balance settings, and can set anti-flicker frequency between auto, 50Hz and 60Hz. I certainly wish the app was more responsive, which would have made the camera experience so much better.
To sum up, the lag in the camera app combined with lack of sharpness and colour accuracy and the absence of Full HD videos ruin the camera experience. The flat chrominance gives room for minimal post-processing, and the front camera is a saving grace for an otherwise ordinary camera experience.
View post on imgur.com
Battery Life
The InFocus Bingo 50 clocks 6 hours, 27 minutes and 50 seconds on the Geekbench 3 battery benchmark test, which is slightly towards the lower scale. On usage basis, with an hour of voice calling, ample messaging on WhatsApp and Messenger, some scattered photography, 30-40 minutes of music streaming and 15-20 minutes of gaming will see the device last for around 10 hours, which should almost see you through your 10am to 7pm work day. You should still carry around a power bank, just in case.
Bottomline
Summing up, the InFocus Bingo 50 creates an impression with the tapered edges and the Sandstone back, and even performs decently. However, the lacklustre display, disappointing touch response, underwhelming camera and mediocre battery life make it a rather disappointing affair. It could have been so much better, and the scope is open if you use this device alongside others. As of now, the likes of Coolpad Note 3 Lite and Meizu m2 make better alternatives under Rs. 7,500, while slightly stretching the budget has the Meizu m2 Note and the Coolpad Note 3, all of which are more recommendable than this.