HTC HD7 - Sleek and stylish, but far from perfect detailed review
HTC is a brand that needs no introduction. The Taiwanese giant, known for building handsets for the likes of O2, iMate and so on, has entered the retail market and met with reasonable success. Touchscreen phones are the latest fad, and HTC has been steadily churning out a stream of such phones. They've made their mark in our market too, with some excellent capacitive-touch phones, and some of their phones like the Touch HD2 and Desire. Those interested can read our HTC Desire review here.
The HD7 is a direct descendent from the HD2, the latter was powered by Windows Mobile 6.5 while the former features Microsoft's Windows Phone 7 - the newest cellphone platform available today. However, as we've learnt when it comes to operating systems and cellphones, the latest isn't always the best. Android is far from the perfect cellphone platform, and while it has gotten better, there are still a lot of small nits to be ironed out. And so it goes with today's candidate. The HD7 is an impressive looking phone, with an impressive spec-sheet. However, in the end its usability as a phone and the minor teething issues of the platform prove to be its undoing. As we've said before, there is no perfect touchscreen cellphone, along with adding faster CPUs, applications, nifty gesture-based controls and multimedia, manufacturers have forgotten to master the basics.
Look and feel
The HD7 is a beautiful looking phone - black and dark grey, exceedingly slim side bezels, and a handset that's dominated by a massive 4.3-inch capacitive touchscreen. And this is probably the selling point or failing of this phone. The display will either attract you, or repel you on account of its size. Obviously, we'd have loved the ultra sharp Super LCD technology on the HTC Desire to make a second appearance here, but that wasn't to be. The gently curving rear and the flat front adds another dimension to the aesthetics. The HTC moniker on the top bezel is minimal - a relief from the space-consuming, garish and, at times cheap branding followed by the likes of the LG and Samsung. HTC is an OEM manufacturer, and it shows in the minimalist badging. The HTC is a conglomerate of metal, plastic and of course glass. There is a metal bezel running right around the phone, and the raised edges means placing the phone face down on a flat surface will not scratch the display.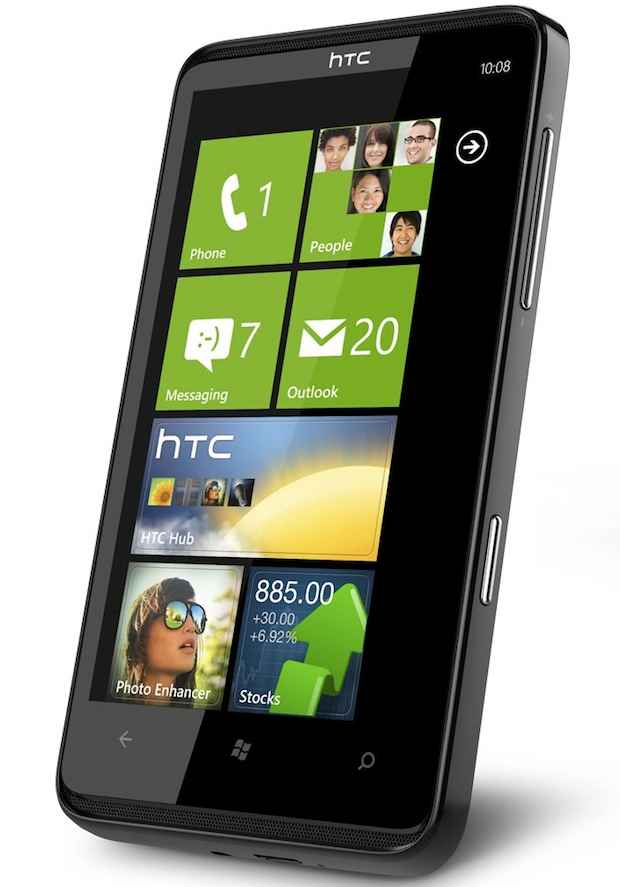 There are three touch-sensitive keys beneath the glass slab that extends below the LCD. These keys are really well spaced out and while their backlighting isn't excellent, it's more than adequate to use. The screen on/lock key is located on the top of the phone to the right side, and quite frankly, while it is intuitive thanks to a slight indication for ones fingerpads, it is hard to press, and offers minimal feedback. The volume rocker located on the right is similar, offering only marginally better feedback. The camera key is even worse, offering no feedback to half click (for autofocus). The microUSB port and 3.5mm jack are conveniently located on the bottom of the phone.
Interface
We found the layout quite simplistic. While not as intuitive as the iOS layout on the iPhone, Windows has done a fine job keeping things simple. There are far less settings, and anyone who has scratched his head wondering what the difference between Bluetooth on and Beam on is, in WM 6.5, will find the settings on Windows Phone 7 basic. In fact, too basic for some, as a few advanced options are missing. However, most of the settings involve changing values from a list, or a switch-like, on-screen slider.
The touchscreen is very sensitive, and owing to this, navigating around is a snap. WP 7 has a nice flowing menu system, consisting of large tiles. This is the default homescreen. The second screen, that is just a side scroll away, contains all possible options like alarms, calendar, games, browser, messaging, MS Office among others, in a single vertical-scroll list. A simple press and hold on any of these options, gives an option to add it to the home screen - pretty simple. Since all WP7 phones will run the same interface, the HD7 will look no different from other WP7 handsets, other than a few extra options. The Start menu that Microsoft doggedly persisted on is dead, and we don't miss it a bit. Within an option, you can swipe sideways and you will get different sub options, like a tabbed list, like within mail, side scrolling will get you mails under different and intuitive heads, like all, unread, flagged, urgent and so on. There is a context sensitive list of options, represented by icons, on a bar at the bottom of the screen. Expanding this bar by pressing the "..." symbol shows lists the functions of each of the icons, while displaying a few extra context-sensitive options.
[RELATED_ARTICLE]The lack of folders means that installed apps become part of an ever increasing list. Alphabetical scrolling is absent - this is a major pain for those who have a hundred or so installed apps. Multi-tasking has been omitted, and the last application will resume from exactly where you left it. This means that third party apps that are installed cannot be run in the background. This is something the Microsoft should remedy. Messages appear as threads of conversation. Calls show up as individual time-based calls, therefore, if you called a particular number eight times in succession, you will see eight entries in your dialled list. This is both utilitarian and annoying. The Office application is robust, although coming from the PC version, it's still rather bare-bones. The browser (Internet Explorer obviously), is pretty fast, pages render very quickly and we like the pinch zoom that also works seamlessly. Orientation is also snappy, and the bottom control bar disappears when in landscape mode. Up to six tabs can be opened, which is fair for a mobile device.
Click next to read on about its performance and our final take...
Performance
The display, although not a Super LCD, or Super AMOLED, is not bad. Somehow we feel that Windows' theme colour schemes and the generic colour scheme of the OS hides the display's lack of quality quite well. This might seem like hiding a flaw, and it is, but it's better than having brilliant wallpapers and moving themes on a substandard display like quite a few Android handsets. Kudos to Microsoft for the colour scheme - you can choose a light or dark background and then an accent colour, that is basically the colour of the tiles. We chose the dark theme, with a yellow mustard colour that was had pretty clear text rendition (in white), and the resolution of the display is sufficient, without any visible pixelation. However, watch movies and such, and the lack of vividness of colours and the lack of contrast is noticeable, and something like the iPod Touch 4G (review here) has a much better display for multimedia. Even while playing certain games, the colours look a bit faded.
While typing, a couple of flaws become apparent. Firstly, despite the size of the display, in portrait mode, the on-screen keys are a bit close, and this leads to a lot of wrong presses. Secondly, as sensitive as the display is, an iPhone it is not. In landscape mode, you'll have a lot less problems with typing accuracy, although now, the phone can feel just a bit large. For example, reaching from the centre keys to the peripheral keys usually means you need to resposition your grip.
The camera on the HD7 is pretty decent. It provides good colour and contrast, and the flash is reasonably powerful and seems to tone down a bit when shooting bright subjects on a dim background. It certainly lights up everything that is four feet away, and can illuminate a room 8 x 8 feet. The camera shutter also has an extra second of lag - not good for the shutterbug. Music quality via the handsfree kit is good - decent bass for earphones, and a nice mid-range. It's certainly not for the discerning, but will do for most people. The loudspeaker is frankly rubbish for music and distorts a lot. Music can only be transferred via Zune software, and there's none for OS X. Basically WP7 phones aren't meant for Apple users. Video playback is a mediocre experience. While the large display is good, colours can look a bit washed out, and the contrast is mediocre at best.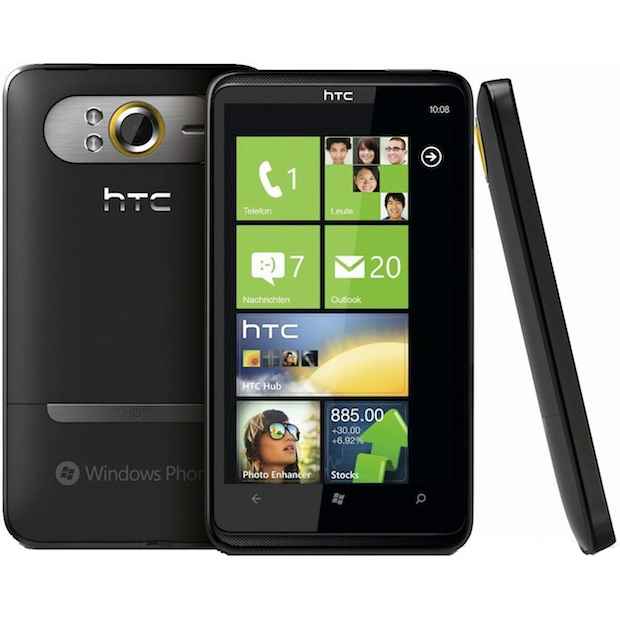 The phone itself is very snappy, even while playing games, scrolling through long mail lists, and lots of images, we had absolutely no issues with speed. The QSD8250 processor running at 1GHz, coupled with the monster 576 MB of RAM keeps everything running super smoothly. However, pause a game by locking the display, then resume it by unlocking the screen and the game might take up to three seconds to appear - this is the only area where the HD7 could use some further optimisation, however for a new platform, WP 7 is remarkably lightweight.
[RELATED_ARTICLE]Battery life seems decent considering the paltry 1230 mAh powerplant. The huge screen is a drain, as is the processor, and we'd have loved HTC to have gone the extra mile with a juicy 1650 mAh battery - but sadly we're reminded of the adage that wishes aren't horses. Play a few games, use the display a bit and you'll see battery life nosedive. With the usual messaging and an hour of calls you'll need to charge the phone every evening. With heavy usage and 2-3 hours of calls, battery life drops to 25 per cent within a day. Either way, you'll charge the HD7 every day, just to be on the safe side. However, Android phones like the HTC Desire fare even worse with similar battery life given a larger battery.
In terms of the signal quality, the HD7 is good with a couple of problems. With good reception, call quality and clarity is good, and there is no echoing, or buzzing. With a mediocre signal, there is a loss of coherence on the other side, especially if you walk around with the phone. In areas of bad reception, the voice quality is poor, and the clarity intermittent. One call got disconnected. The antenna used is a far cry from the typically excellent ones found on some Nokia and Blackberry phones that retain clarity even with poor reception.
Our take
Inevitably, as it is with all cellphones, their salability comes down to a combination of price, features and usability. At an MRP of Rs. 29,990, the HD7 isn't cheap. Neither is it close to perfect. It has a list of minor flaws that total up to detract from the overall experience. However, all is not bad. The platform seems good, and stable - which given the past, is a blessing. The device itself is solidly built and sexy looking. However, the HD7 remains an expensive gadget that we'd recommend if giving no consideration to value. That taken into account, we cannot. There are better performing, more rounded devices available.
Specifications: OS: Windows Phone 7; CPU: Qualcomm QSD8250 (1 GHz); RAM: 576 MB; Display: 4.3-inch, 480x800 pixels, capacitive; battery: 1230 mAh; weight: 162 grams
Rating:
Features: 7.5
Performance: 7
Build: 7
Value: 5.5
Overall: 6.5
| | |
| --- | --- |
| Brand | HTC |
| Model | HD7 |
| Price (MRP, Rs) | 29,990 |
| Features | |
| Physical Specs | |
| Form Factor | Bar |
| 2G Network Bands | GSM 850 / 900 / 1800 / 1900 |
| 3G Network Bands | HSDPA 900 / 2100 |
| Screen Resolution | 480 x 800 pixel |
| Screen Size (in inches) | 4.3 inches |
| Maximum Screen colours | 16M |
| Touchscreen / Dual Screen (Y/N) | Y / N |
| Battery Rating | 1230 mAh |
| Dimensions (L x W x H) (in mm) | 122 x 68 x 11.2 mm |
| Weight (in grams) | 162 g |
| Expandable Memory Type | N |
| Hot Swappable (Y/N) | NA |
| Available Colours | Black |
| Other Features | |
| Operating System | Windows Phone 7 |
| Charging via USB (Y/N) | Y |
| Hardware Keypad (Regular/QWERTY) | N / N |
| Accelerometer (For auto rotate) | Y |
| Address Book Capacity | Practically unlimited |
| No of calls in register | Practically unlimited |
| Talk Time / Standby Time * (hrs, min) | 5 hrs, 20 min / 320 hrs |
| No of Profiles / Customisable (Y/N) | 2 / Y |
| Offline Opearability (Y/N) | Y |
| Inbuilt GPS / A-GPS support (Y / N) | Y / Y |
| Connectivity | |
| Browsing (GPRS/EDGE/3G) | Y / Y / Y |
| EDGE max speed | 296 kbps |
| 3G max speed | 7.2 (HSDPA) |
| Connectivity (WiFi/Bluetooth/IR/USB) | Y / Y / N / Y |
| Bluetooth Version/A2DP support | 2.1 / Y |
| Accessories | |
| Bundled Accessories | Charger, data cable, handsfree |
| Size of memory card provided | NA |
| Overall Build Quality (So 10) | 7.25 |
| Overall Ergonomics (So 10) | 7.5 |
| Keypad Design, ergonomics, usability (So 10) | 7.5 |
| Camera Specs | |
| Camera Resolution (Mega Pixels) | 5 |
| Video Capture Resolution | 1280 x 720 |
| Dual Cameras / Auto Focus / Flash (Y/N) | N / Y / Y |
| Mirror for self portrait (Y / N) | N |
| Camera Settings (So 10) | 6.5 |
| Zoom (Optical/Digital) | Digital |
| Multimedia | |
| Music Formats supported | MP3, WAV, WMA, eAAC |
| Video formats supported | MP4, WMV, H.264, H.263 |
| FM Radio / RDS (Y/N) | Y / Y |
| Performance | |
| Signal Reception and Voice Clarity (So 10) | |
| Zone 1 | 7.5 |
| Zone 2 | 6.5 |
| Zone 3 | 5 |
| Device Earpiece Volume (on call) | 7.25 |
| Loudspeaker Volume (on call) | 6.5 |
| Device Loudspeaker clarity (on call) | 5 |
| Handsfree Clarity (on call) | 7.5 |
| Bluetooth Transfer Speed (in kbps) | - |
| WiFi signal strength (Zone 2) (%) | 33 |
| Captured Photo Quality (So 10) | |
| Captured Photo Colour | 7 |
| Captured Photo Crispness | 6 |
| Captured Video Quality | 5.75 |
| Effectiveness of integrated flash | 6.75 |
| Loudspeaker Audio Quality (music) | 6 |
| Bundled Earphones Quality (music) | 7 |
| Display | |
| Quality of display | 7.25 |
| Viewing angle of display | 6.75 |
| Legibility in bright sunlight | 5.5 |
| Video Playback Quality (So 10) | 7.25 |
| | |
| * Manufacturer Rated | |
Contact: Bright Point India
Phone No: 9910821100
E-mail ID: nitin.pandita@brightpoint.com
Website: www.htc.com/in
Price: Rs. 29,990 (MOP)