HTC Desire Z - When Z means a keypad detailed review
We reviewed the HTC Desire, (click here to read it), awhile back, and were quite impressed. Android was fairly advanced back then, and we tested the Desire using version 2.1. The phone had a lot going for it - a great S-LCD display, decent battery life (for an Android device) and was a well rounded performer. Major criticism was the plastic body and of course people wanted a hardware keypad, because as good as its onscreen one was, we've gotten used to keys that we can physically press.
Fast forward some seven months, and enter two HTC phones - the HTC Desire Z and the Desire HD. While the Desire HD is a different beast altogether with a larger display (which at 4.3-inches is identical to the HTC HD7 reviewed here), the Desire Z could be called the successor to the HTC Desire, even though the latter is still an active model. The Desire Z and Desire HD were launched together; stay tuned for a detailed review of the Desire HD soon.
Look and feel
The Desire Z comes in a rather small, inconspicuous looking box, though this was a review sample and retail packaging will surely be more attractive. You get a charger with detachable cable that also doubles as a data cable, and a neat looking handsfree kit with large drivers, that made our ears hurt to look at them. The phone itself is surprisingly heavy, at 180 grams, and it feels quite substantial in-hand on account of this. The Desire Z has a very plain looking colour scheme - grey with brushed aluminium silver, and quite frankly other than the neat grilled earpiece and square-shaped optical trackpad there is nothing catchy about the phone, although it isn't unattractive. Shockingly, the glass slab that is the display plus touch keys isn't set perfectly within the metal bezel, and a slight gap between glass and aluminium was visible on the right side, admittedly it isn't enough to insert even a fingernail tip into, but dust that collects in here is pretty much impossible to remove, and more importantly it is a glaring contrast to this phones high-end image. The aluminium bezel around the display is also slightly raised, and the edges a bit sharp. If wedged between ear and shoulder, these edges tend to hurt your ears. Obviously, this raised surface is meant to protect the screen from scratches if the phone were placed face down on a table, but HTC could have made things a bit more comfortable.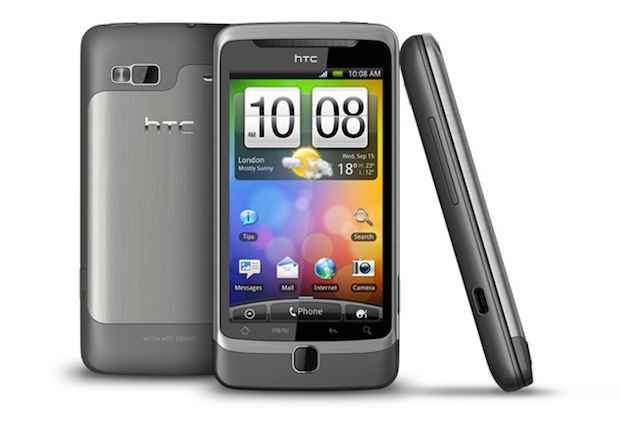 The touch buttons beneath the 3.7-inch S-LCD are unevenly and garishly white backlit - we didn't like them, although they are functional. The power cum display lock button is located on the top and is quite usable. Besides it is the 3.5mm jack, while the USB port and camera button are located on opposite sides of the phone, left and right sides respectively. Beneath the camera button, there is a switch that pops open the sturdy aluminium battery cover, revealing the 1,300 mAh battery that we find a little inadequate given the original HTC Desire that featured a 1,400 mAh unit. An inch above the micro USB port is the volume rocker that offers no feedback and loses out on usability on account of this. The square-shaped optical trackpad located below the touch keys is sensitive and works well while looking cool with a burnished chrome surrounding its black surface. It also acts as a button and exudes perfect feedback though we hardly used it when using the display. It was intended for use with the QWERTY, but we find it a little inconvenient since it's located quite far away from the keypad and you need to keep diverting your right thumb away to use it.
The much talked about QWERTY keypad has a weird mechanism - you need to lift and move the display to the right, and the keypad appears from the left. We would have preferred the slideout form factor since this mechanism feels flimsy and there is a possibility of the phone opening up inside a bag since there is no resistance needed to open it. Coming to the keypad, which is this phones' only other real boast over the original Desire, we weren't impressed. The keys are almost flat, and this coupled with their rubbery feedback and smaller size makes the keypad a pain for typing - and this hammers the Desire Z on its forte. Larger keys would have helped a lot, and this keypad just isn't intuitive while using.
[RELATED_ARTICLE]The onscreen keypad is sensitive, but the lack of inches is apparent, and it feels cramped compared to the larger keypad on the Desire HD. In fact, at this point we must scoff at the notion that many people have, (and manufacturers have cashed in on), that the presence of a QWERTY keypad makes a phone great for emailing, chatting and messaging. This is not entirely true and depends more on how usable the keypad is. With the Desire Z, the quirky keypad is more a hindrance than a boon, and therefore one strictly one of those features that manufacturers include merely to satisfy consumers' checklists. Sure, it's there as a feature, and after some use, you are bound to get used to it, but we're sorely disappointed that this aspect of the phone doesn't deliver on the regenerated hype.
Features
Talking about cellphone hardware has become a must, since a lot of phones try to outpace the competition by simply offering faster hardware, and the Desire Z seems adequately pumped up on this front. An 800 MHz processor, with an Adreno 205 graphics solution (the Qualcomm MSM7230 SoC) and 512 MB of RAM make the Desire Z a reasonably potent package, but not the fastest around. The S-LCD is sure to bring about some power savings compared to regular LCDs, but other than that and the fact that it has nice colours there is nothing standout about the display.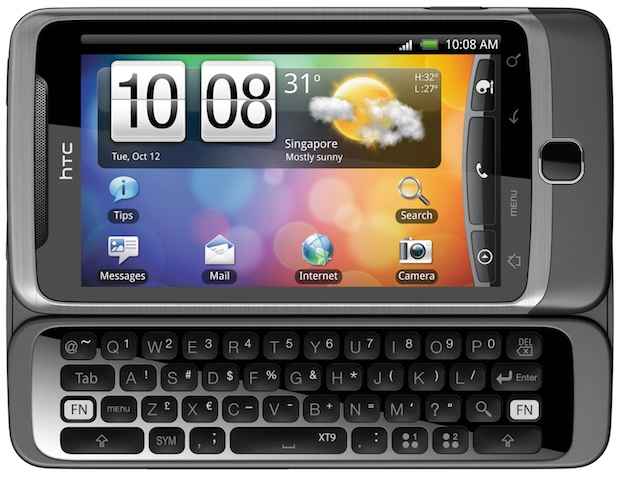 The camera is a 5 megapixel unit with an LED flash - pretty much de facto for a phone in the price segment. HTC Sense makes yet another appearance, and we must say that the UI is a pleasure to work with - it's reasonably fast, highly customisable and very intuitive - with Sense HTC has a winner, and is much ahead of the likes of Motorolas, Sony Ericssons and Samsungs of the world. Under the Sense UI, the Android 2.2 interface is visible and with a wealth of settings available, even the most hardcore user will not complain. HTC is also the quickest and most frequent releaser of patches and version updates, and in the 20 days that we had these two Android phones for test there were 2 patches available.
The phone comes preinstalled with a growing list of apps, and of course you have access to the Android store for more. Needless to say Facebook and Twitter clients work well, and HTCs Friend Stream is pretty cool, delivering all updates and such content from various social networking accounts you may have to a single panel. Then your contact list is automatically updated with contacts from your Facebook stream, complete with profile pictures and it is useful little tidbits like this that make life with HTC a bit better.
Click next to read on about its performance and our take
Performance
The HTC Desire Z isn't the fastest phone around, and it takes a good 5 seconds longer than the HTC Desire HD to boot up, obviously its larger sibling benefits from the extra 256 MB of RAM, and possibly the faster CPU clock speed. With 5 to 6 apps open, the interface also can experience the odd slowdown, and while this isn't commonplace enough to be a problem, it is noticeable. The S-LCD is a good unit with good sharpness and legibility under indoor lighting. Colours are good without being exceptional, although the contrast appears a bit weak, and surprisingly, the S-LCD screen on the original HTC Desire looked better. That being said, on account of colour, the Desire Zs display is better than the Desire HD, although the latter doesn't look any less crisper owing to a lower pixel-per-inch count.
The Desire Z has a very good antenna, and fared well in the call tests with good voice clarity in zone 1 and 2. In zone 3, we noticed slight degradation in quality with some vocals taking on a bit of additional noise, and the voice tone starts sounding a little more mechanical. The handsfree unit is loud and clear, but the loudspeaker outputs very tinny and directional sound that while clear and legible for voice, is horrible for music - no bass with squeaky sounding vocals. For some reason, fonts on the Desire HD look crisper than on the Desire Z - we've no idea why, unless the slightly weaker contrast is the culprit. Legibility in bright sunlight is poor, but this is one area where most phones need to buck up.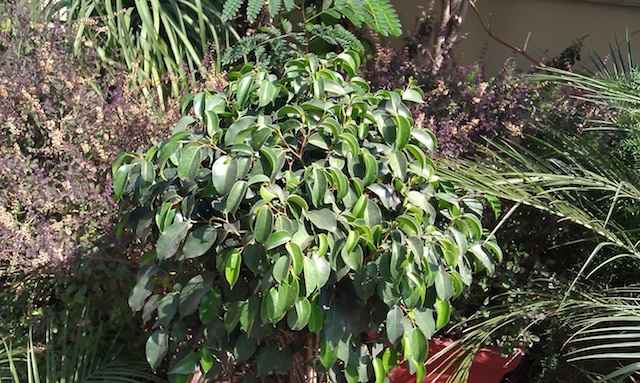 We weren't expecting much from its clicker, but we were in for a pleasant surprise. We got some nice shots - good colour and exposure, with a fair bit of detail and minimum noise (at base ISOs) - commendable for a phone who's camera seemed like another of those "for the checklist only" add-ons. The flash unit is reasonably powerful for an LED unit, but falls well short of Xenon-based units. The Desire Z offers decent music quality using the handsfree kit and while there are better sounding phones in this price bracket - like the Samsung Galaxy S or the Sony Ericsson X10i it is certainly good enough to double as an MP3 player on the daily commute to work; noise isolating earplugs HTC...you need to start thinking about bundling them with your phones.
Our take
[RELATED_ARTICLE]An MRP of 25,590 is lower than the price at which the original Desire launched, and we'd expect street prices to hover around the Rs. 23,000 mark. At this price, the Desire Z, its flaws not withstanding, is a good buy. Admittedly, its keypad is flawed, and while the flaw isn't crippling to the phone to a great extent, it's annoying because this could have been avoided. You could go for the slightly more expensive Desire HD, or the evergreen Samsung Galaxy S for around the same price, but if if the quirky QWERTY or our doubts to the longevity of its mechanism doesn't deter you, and you want a marginally compacter device, the Desire Z is a good phone.
Specifications: Display: 3.7-inches, 480 x 800 pixels, S-LCD; SoC: Qualcomm MSM7230 (800 MHz); RAM: 512 MB; memory expansion: microSD; battery: 1300 mAh; weight: 180 grams
Rating:
Features: 7.5
Performance: 7
Build: 7.5
Value: 7.25
Overall: 7.5
| | |
| --- | --- |
| Brand | HTC |
| Model | Desire Z |
| Street Price (Rs) | 24999 |
| Features | |
| Physical Specs | |
| Form Factor | Side-slider |
| 2G Network Bands | GSM 850 / 900 / 1800 / 1900 |
| 3G Network Bands | HSDPA 900 / 2100 |
| Screen Resolution | 480 x 800 pixels |
| Screen Size (inches) | 3.7-inches |
| Maximum Screen colours | 16M |
| Touchscreen / Dual Screen (Y/N) | Y / N |
| Battery Rating | 1300 mAh |
| Dimensions (L x W x H) | 119 x 60.4 x 14.2 mm |
| Weight | 180 grams |
| Expandable Memory Type | microSD |
| Hot Swappable (Y/N) | N |
| Available Colours | Black |
| Other Features | |
| Operating System (Tested with) | Android 2.2 (Gingerbread ready) |
| Charging via USB (Y/N) | Y |
| Hardware Keypad (Regular/QWERTY) | Regular |
| Accelerometer (For auto rotate) | Y |
| Address Book Capacity | Unlimited |
| No of calls in register | Unlimited |
| Talk Time / Standby Time * | Standby time Up to 430 h (2G, 3G) / Talktime 9 hrs 50 min (2G), 6 hrs 40 min (3G) |
| No of Profiles / Customisable | 2 / Y |
| Offline Opearability (Y/N) | Y |
| Inbuilt GPS / A-GPS support (Y / N) | Y / Y |
| Connectivity | |
| Browsing (GPRS/EDGE/3G) | Y / Y / Y |
| EDGE max speed (in kbps) | 296.6 kbps |
| 3G max speed (in mbps) | 14.4 mbps |
| Connectivity (WiFi/Bluetooth/IR/USB) | Y / Y / N / Y |
| Bluetooth Version/A2DP support | 2.1 / Y |
| Camera Specs | |
| Camera Resolution (Mega Pixels) | 5 |
| Video Capture Resolution | 1280 x 720 |
| Dual Cameras / Auto Focus / Flash (Y/N) | N / Y / Y |
| Mirror for self portrait (Y / N) | N |
| Camera Settings (So 10) | 7.5 |
| Zoom (Optical/Digital) | Digital |
| Multimedia | |
| Music Formats supported | MP3, WAV, AAC |
| Video formats supported | MP4, H.264, DivX, XviD |
| FM Radio (Y/N) | Y |
| Accessories | |
| Bundled Accessories | Data cable, charger, handsfree |
| Size of memory card provided | |
| Build and Ergonomics (So 10) | |
| Surface materials used | 7.75 |
| Overall build and in-hand feel | 8 |
| Quality of moving parts | 7.5 |
| Design and ergonomics | 7 |
| Keypad design (on-screen or hardware) | 6.75 |
| Menu and interface | 7.75 |
| Settings and ease of navigating menus | 7.5 |
| Camera menu options | 7.5 |
| Performance | |
| Signal Reception and Voice Clarity (So 10) | |
| Zone 1 | 7.75 |
| Zone 2 | 7.25 |
| Zone 3 | 6.5 |
| Handsfree Clarity | 7.5 |
| Loudspeaker Clarity | 6.25 |
| Earpiece Clarity | 7.5 |
| Handsfree Volume | 8.25 |
| Loudspeaker Volume | 7 |
| Earpiece Volume | 8 |
| Bluetooth Transfer Speed (in KBps) | 127.24 |
| Imaging and multimedia tests | |
| Captured Photo Colour | 7.75 |
| Captured Photo Crispness | 7.75 |
| Captuted Photo Detail | 7.5 |
| Captured Video Quality | 7.5 |
| Effectiveness of integrated flash | 6.75 |
| Music Quality (loudspeaker) | 5.75 |
| Music Quality (handsfree) | 7.5 |
| Volume levels (loudspeaker) | 7 |
| Volume levels (handsfree) | 8 |
| Display (So 10) | |
| Crispness | 7.5 |
| Colour | 7.5 |
| Font rendition | 8 |
| Legibility in bright sunlight | 5 |
| Video playback | 7.75 |
| | |
| * Manufacturer Rated | |
Contact: Bright Point India
Phone No: 9910821100
E-mail ID: nitin.pandita@brightpoint.com
Website: www.htc.com/in
Price: Rs. 25,590 (MRP)