HTC Desire S detailed review
With the Desire S, HTC has taken a longtime favourite from its stable and upped it a few notches with next generation components. The phone packs in some of the most advanced hardware innards available in the Android landscape (when it comes to single-core options). The next generation Qualcomm MSM8255 SoC offers the 1 GHz snapdragon at its heart making it zipper than before and the 768 MB RAM ensures enough memory for tackle multi-tasking with ease. So where does it falter in a typical pre-buying specs comparison table? Prima facie, the screen and camera.
However for one-handed operation, some would find the Desire S's 3.7-inch screen to be adequate. People with small hands may in fact find it difficult to easily reach the corners of the screen on larger screens for one-handed operation. Let us move on to the look and feel to explore the operation of this device further.
YouTube Digit TV Review:
Look and Feel
The phone feels quite rugged to hold thanks to the aluminium unibody design and it features the sturdier Gorilla Glass. The back cover fits so seamlessly that it's very difficult to pull out. If you do end up owning this phone please make a note of the serial number and whatever it is you want to fiddle around within, because this is one phone you don't want to open up. It's that difficult to open the back cover. How does it fare in terms of looks? Smooth curves, a dash of chrome, and the slight chin on the front make it quite easy on the eyes.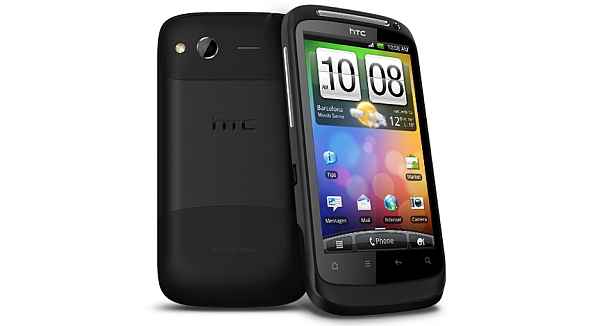 Features
[RELATED_ARTICLE]The Desire S features Android 2.3 (Gingerbread) straight out of the box. With Gingerbread at its heart and HTC's Sense UI on top, it would be difficult for you to find a more fluid and user-friendly experience. But we don't want to fixate on it too much because Android's very nature allows for customisability and the ecosystem provides you limitless possibilities by installing different launchers, application drawers and even a complete replacement of ROM if you choose to root your phone. But as it stands, HTC Sense won't disappoint. Other features to talk of are social networking integration, Bluetooth, gps, and Wi-Fi 802.11n connectivity. The phone also features a 5 MP clicker with flash. There are also a variety of image filters or effects available while clicking to explore your creative side. It supports 720p video. The 1.1 GB internal memory is adequate but is also augmented with a 8 GB micro SD card that is bundled with the phone.
Performance
Earpiece clarity was average (though not bad) with you having to go "huh?" and "come again" while in a noisy environment. Camera performance is decent for a 5 MP camera. The on-screen customisation options pertaining to effects and settings like white balance while capturing both, video and stills, are plenty. The S-LCD screen looks good, and having compared it with a Galaxy S side we can say it looks better with warmer colours. Even the text looks crisper owing to a smaller pixel pitch. The battery lasts about a day with mixed usage. We even had the chance to use it for a whole day while continuously being on 3G. Definitely more impressive than the norm. However there are some serious flaws that blew a dent in it's overall performance score. These are talked about below.
When you switch on the phone, you're greeted with HTC's tag line "Quietly Brilliant". You use the phone for a while and begin to nod your head in agreement with the brilliant part. "But what about the quietly bit?", you may wonder. That mystery is soon solved when you get your first call. With the Desire S, HTC seems to have taken the first half of its tag line too literally. The ringer on the Desire S is abysmally soft. Overall in the audio test too the speaker comes across as tinny.
Forget about hearing the device in noisy outdoor environment - you'll solely have to depend on the vibration - but even at home, your TV is loud enough to drown out the phone. So if you've keep it on the table a little away from you, chances are you'll come back to a string of missed calls waiting for you. Initially, we couldn't find any solution other than making custom cut ringtones with preamp levels upped a couple of decibels. Clipping is better than missing calls all the time right? We also decided to look online for a possible solution and came across this feature blurb from HTC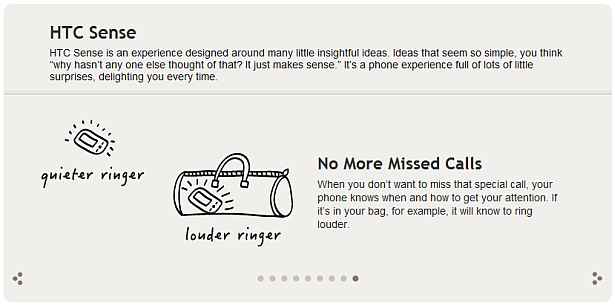 Could this be the reason the speaker volume is so low? Please tell us how to turn it off HTC! We contacted tech support and they suggested an app to increase volume.
The second, and more serious defect, is the network problem. Usually when someone says network problem the first thing you may think of is dropped calls. This is not the issue with the Desire S. The problem is more serious. In places where there's low network strength, often if you pull out the phone from your pocket, or pick it up from your table after it's been there for a while, you'll be shocked to see absolutely no network on your screen. You have to manually search for your network service and manually register. The problem we suspect is with switching towers to hunt for the strongest network. Once a signal becomes too weak to hold on to, the phone's ability to automatically hunt for another tower with a better signal is where the flaw lies. We shudder to think of how many times people are going to message Desire S users saying their phone is unreachable.
Click to enlarge

| | |
| --- | --- |
| | |
Isolated case? Defective piece perhaps? Nope. Fortunately (or unfortunately for HTC) we had another piece with us and it shares the same troubles. We even called up a couple of users in different locations such as Bengaluru, and guess what? Same story. When we searched Google for this particular issue, we did find a few mentions here and there on forums, but nothing conclusive. As with old school machines, we've noticed over the years that even electronics need a bit of running in; you know, to let the parts settle and resolve teething issues on their own. At first we thought maybe it's even a software level issue wherein the phone can't resolve which tower to choose when faced with towers of equal signal strength and that perhaps the solution is an update away. But even with an update the problem persists. The phone drops network in low coverage areas and you need to keep nannying the device and connect manually to a network all the time. The phone even hangs every now and then. Here are some videos of this problem when we encountered it. This is a class action law suit waiting to happen if the problem doesn't solve itself.
Verdict:
Not many reviews online tell you about the two major flaws that we've encountered. Even if you were to argue that the network problem is a freak case with units that we've come across, what about the loudspeaker? If it's something you can live with, and you are looks and feature crazy this is a phone you might consider. Other than that it looks good and performs well when it comes to apps and UI, and at a price of Rs. 23,300 is decently priced.
Rating:
Features: 7
Performance: 6
Build: 8
Value: 6
Overall: 6
Price: Rs. 23,300 (MOP)
Specifications
CPU: 1 GHz
Internal phone storage: 1.1 GB
RAM: 768 MB
Main Camera: 5 MP autofocus with LED flash
Sensors: G, Proximity, Light, Compass
Battery: 1450 mAh L-ion
SoC: Qualcomm MSM8255
Misc: GPS, Wi-Fi b/g/n
Test Scores Log Sheet

| | |
| --- | --- |
| Brand | HTC |
| Model | Desire S |
| Street Prices (Rs) | 23300 |
| Price (MRP, Rs) | --- |
| Features | |
| Physical Specs | |
| Form Factor | Bar |
| 2G Network Bands | GSM 850 / 900 / 1800 / 1900 |
| 3G Network Bands | HSDPA 900 / 2100 |
| Screen Resolution | 480 x 800 pixels |
| Screen Size (inches) | 3.7 inches |
| Maximum Screen colours | 16M |
| Touchscreen / Dual Screen (Y/N) | Touchscreen |
| Battery Rating | 1450 mAh |
| Dimensions (L x W x H) | 115 x 59.8 x 11.6 mm |
| Weight | 130 gm |
| Expandable Memory Type | MicroSD – 8 GB bundled |
| RAM (in MB) | 768 MB |
| SoC (CPU, GPU) | Qualcomm MSM 8255 |
| CPU Clock speed | 1 GHz |
| No. of CPU Cores | 1 |
| Memory Card Hot Swappable (Y/N) | N |
| Available Colours | Black, Red |
| Other Features | |
| Operating System (Tested with) | Android 2.3.3 |
| Charging via USB (Y/N) | Y |
| Hardware Keypad (Regular/QWERTY) | None |
| Accelerometer (For auto rotate) | Y |
| Address Book Capacity | Unlimited |
| No of Calls in Register | Unlimited |
| Talk Time / Standby Time (3G) * | 590 minutes / 430 hours |
| No of Profiles # / Customisable | NA / Y |
| Offline Operability (Y/N) | Y |
| Inbuilt GPS / A-GPS support (Y / N) | Y / Y |
| Connectivity | |
| Browsing (GPRS/EDGE/3G) | Y / Y / Y |
| EDGE Max Speed (in kbps) | 560 kbps |
| 3G Max Speed (in mbps) | 14.4 mbps (HSDPA) |
| Connectivity (WiFi/Bluetooth/IR/USB) | Y / Y / N / Y |
| Bluetooth Version/A2DP support | 2.1 / Y |
| Camera Specs | |
| Camera Resolution (Mega Pixels) | 5 |
| Video Capture Resolution | 1280 x 720 |
| Auto Focus / Flash | Y / Y |
| Type of Flash | Single LED |
| Secondary Camera for Video Chat | Y |
| Resolution of Secondary Camera | 1.3 MP |
| Camera Settings (So 10) | 7 |
| Multimedia | |
| Music Formats Supported | .aac, .amr, .ogg, .m4a, .mid, .mp3, .wav, .wma (Windows Media Audio 9) |
| Video Formats Supported | 3gp, .3g2, .mp4, .wmv (Windows Media Video 9), .avi (MP4 ASP and MP3), .xvid (MP4 ASP and MP3) |
| FM Radio / RDS (Y/N) | Y / Y |
| Accessories | |
| Bundled Accessories | Charger, hands-free, data cable |
| Size of Memory Card Provided | 8 GB |
| Build and Ergonomics (So 10) | |
| Surface Materials Used | 8 |
| Overall Build and In-hand Feel | 8 |
| Quality of Moving Parts | 7.25 |
| Design and Ergonomics | 8 |
| Keypad Design (On-screen or Hardware) | 7.5 |
| Menu and Interface | 7.5 |
| Settings and Ease of Navigating Menus | 7.5 |
| Performance | |
| Signal Reception and Voice Clarity (So 10) | |
| Zone 1 | 6 |
| Zone 2 | 6 |
| Zone 3 | 6 |
| Hands-free Clarity | 7.75 |
| Loudspeaker Clarity | 4 |
| Earpiece Clarity | 7 |
| Hands-free Volume | 7 |
| Loudspeaker Volume | 4 |
| Earpiece Volume | 6.5 |
| Bluetooth Transfer Speed (in KBps) | |
| Imaging and multimedia tests | |
| Captured Photo Colour | 7 |
| Captured Photo Crispness | 7 |
| Captuted Photo Detail | 7 |
| Captured Video Quality | 7 |
| Effectiveness of integrated flash | 6 |
| Music Quality (loudspeaker) | 3 |
| Music Quality (hands-free) | 6.5 |
| Volume levels (loudspeaker) | 4 |
| Volume levels (hands-free) | 7 |
| Display (So 10) | |
| Crispness | 7.75 |
| Colour | 8 |
| Contrast | 7.25 |
| Font Rendition | 7.5 |
| Legibility in Bright Sunlight | 4 |
| Video Playback | 6.5 |
| | |
| Benchmarks | |
| Linpack | 40 million flops (avg) |
| Quadrant | 1214 (max of 3 runs) |
| | |
| | |
| * Manufacturer Rated | |
Contact
Website: www.htc.com/in