HTC Desire 728 Dual SIM detailed review
I've always found HTC to be a neat device maker. Its phones look good, sound good, and even make for decent performers. Somehow, of late, we have not managed to single out one particular HTC device that stands above the rest in its category, even in at least one category. Admittedly, it is difficult to freely innovate within a shoestring budget, but I'm talking of devices like the recently-launched Xiaomi Redmi Note 3 that performs out of its skin, ZTE's Nubia Z9 Mini with a flagship-class camera, and Coolpad's Note 3 Lite with its fingerprint sensor under 7k. The HTC Desire 728 is yet another device that seems likeable enough, but with mid-budget devices delivering increasingly spectacular performances, it has a lot to achieve in the face of stiff competition.
Build, Design and Durability
The HTC Desire 728 has a neat design, with matte, rubberised plastic on the rear and the shimmering band running around the sides that emulate metal finish. On the front are large bezels that flank the 5.5-inch display, with dual front-firing speakers. The rear panels are slightly curved towards the edges, making the rear camera module appear slightly raised. To the left is a flap that houses two SIM slots and a dedicated memory slot, while to the right is a power button and a volume rocker. The top edge houses the 3.5mm audio port, while the bottom houses the microUSB port.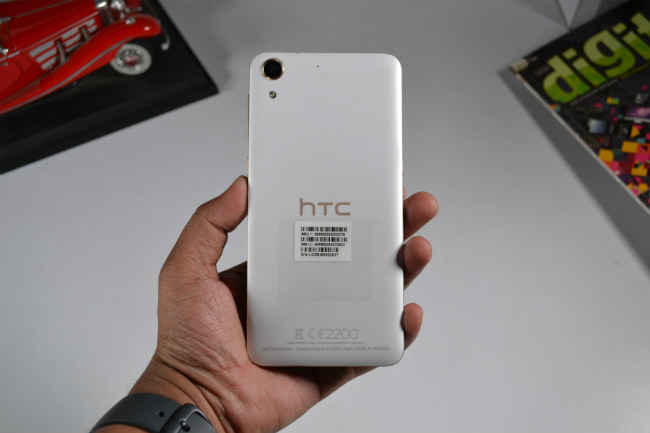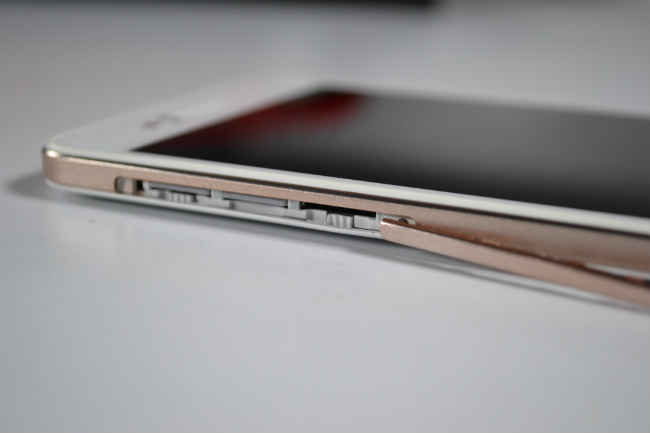 Overall, the HTC Desire 728 has very average configuration in terms of its design, and in process of keeping things matte and simple, the Desire 728 ends up looking bland and dull. This will appeal to you, if you like your phone to look very simple. It decidedly looks different in comparison to the majority of devices out in the market, but fails to really strike an impression. In terms of ergonomics, you will almost certainly not be able to use it with one hand, and while the slightly chamfered side band aids grip, the overall build style may lead to unprecedented slips. To make matters worse, the HTC Desire 728 does not have Corning Gorilla Glass protection on top. The rear panel seems reasonably well-made, although it has managed to pick up a significantly visible scratch within about 7 days of usage. It also attracts a lot of fingerprints (even the white finish), taking even more away from its mojo.
Display and UI
The 5.5-inch display has a 720x1280-pixel resolution with a Super LCD2 panel. It is reasonably good - the display is slightly warm, colours are nearly true to source, and viewing angles are quite good. You will not see any noticeable colour or hue shift on the display, and the slightly added warmth of the display (on default setting) makes content look more pleasing to the eye. While all of this makes the display quite good, there is a slight lack of detail that makes high resolution movies appear slightly lacking in sharpness. You also end up with video interpolation, leading to sudden distortions in video content.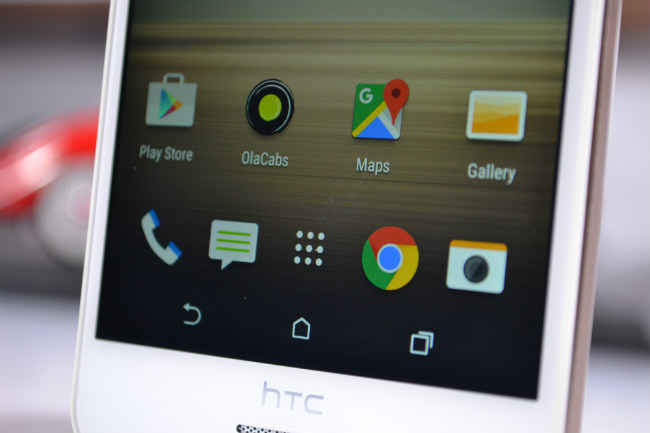 Under direct sunlight, the display is reasonably visible, thanks to its ample brightness. One factor that I found depressing in both the Lenovo K4 Note and LeEco Le 1s are the dimly lit display panels. The Desire 728 is bright, and coupled with good colour performance, makes viewing under direct or bright light convenient. The ambient display also works responsively, dimming down the display under dark environments to not lay too much strain on your eyes. Coming to the touch performance, the HTC Desire 728 really stutters here. For actions that you would usually complete in one swipe, you end up using three to four swipes to complete the same. The display fails to act on light touches, and also misses swipes. It is not too frequent to make using the device unusable, but is noticeable enough to annoy you every now and then.
While every device worth its salt houses a 1080p display panel, the HTC Desire 728 has a 720p panel, which is yet another unnecessary sacrifice. The difference in clarity really shows on the 5.5-inch display, and I don't really know why would HTC not go for a 1080p panel even though the entirety of its competition is. An example of a company bucking the trend and still succeeding is Sony, with the beautiful 720p display panels that do not make you miss a 1080p resolution display. This panel, sadly, is not in the same league to make up for its lesser pixels with good sharpness and an overall vibrance, taking even more away from the device.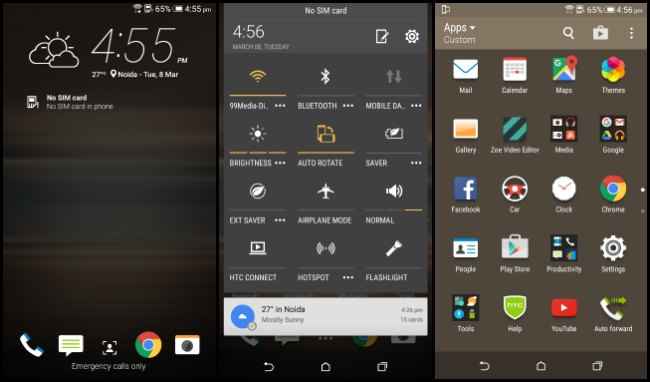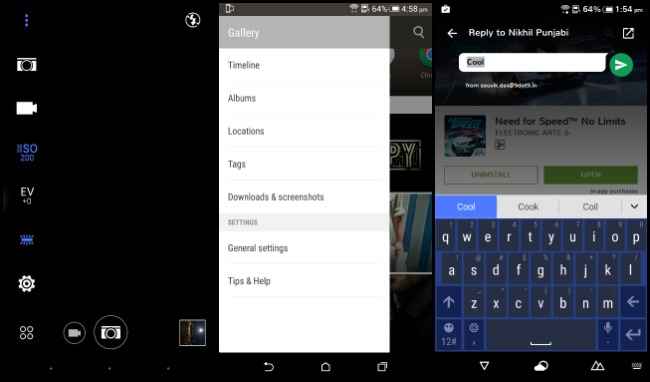 While I have never really disliked HTC's Sense UI, I have not been a major fan either. It gives you room for customisation, and I managed to get hold of a few happy-looking pastel-finish themes to brighten up my days with the Desire 728. It did somewhat achieve what I wanted it to (+1 to that), seeing that I was not having the best experience with the device, anyway. On an average, with about 5-8 apps open, I only had about 500-600MB of the 2GB of memory to spare. The Sense UI 7.0 does not consume an extraordinary amount of memory, but takes up a fair amount of resource, nevertheless.
Performance
The HTC Desire 728 is powered by an octa-core MediaTek MT6753 SoC, with eight Cortex-A53 cores capped at maximum clock speed of 1.3GHz. Graphics are powered by the Mali-T720 MP3 tri-core GPU. It houses 2GB of memory, along with 16GB of internal storage. The constituents make for an average mid-budget range smartphone, and for the essential elements, the Desire 728 does tick most of the checkboxes, albeit with some stress. Multitasking with WhatsApp, Google Play updating apps in the background and editing photos taken by this camera on Snapseed was possible, although the second-long delays in opening the multitasking screen, returning to Home, reopening an app's page, and any relevant actions, were very evident. I started facing these lags even before I really started using my entire set of applications.
To give a perspective of the Desire 728's performance, editing the same photograph on my two-year-old iPhone 5s (A7 processor, 1GB RAM) on Snapseed with the same number of adjustments and filters (with all other apps shut) relayed the performance lag that this phone suffers from. With seven adjustments and four filters applied to a 1.4MB photograph taken on the iPhone 5s, the Desire 728 took four seconds more than the iPhone to render all the applied layers and export the final image, and this is without counting the constant half-second delays that the Desire 728 took to apply each layer changes.
It is crucial to mention here that the iPhone 5s has a two-generation-old dual-core processor, clocked at 1.3GHz, along with a quad-core PowerVR G6430 GPU. In comparison, the HTC Desire 728 has a one-year-old octa-core processor running at the same clock speed, with a tri-core Mali-T720 MP3 GPU. Admittedly, this is a somewhat lopsided comparison owing to Apple's excellent synchronisation of resources with processing even from the older hardware, but does give a fair idea of what to expect from the device, and how it lags.
For a more uniform comparison perimeter, the likes of Honor 5X, LeEco Le 1s and Xiaomi Redmi Note 3 did not face the difficulties that the Desire 728 faces, in terms of light app usage. At a lesser price, the Honor 5X is powered by the Snapdragon 616, the Le 1s by MediaTek's Helio X10, and the Redmi Note 3 with the Snapdragon 650. Adding to this, all of these devices are Rs. 3,000-4,000 cheaper than the Desire 728, which simply does not have enough firepower inside to take on its competition.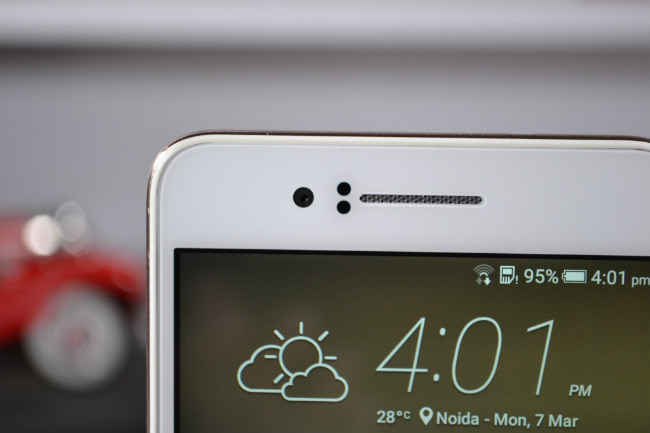 Browsing and texting experiences are riddled with similar delays all over the phone, which is a major deterrent. While general browsing is stable, it always takes the extra amount of time to open pages, jump between tabs and save images. Call performance and network retention was decent, and there were no major network drops that I experienced. Even in relatively low network areas, the HTC Desire 728 maintained good network strength, which is one of its few good aspects.
Coming to gaming, the HTC Desire 728 actually performs better than what you would expect it to, after stuttering in less tasking tests. I played a number of games on it, including EA's Need For Speed: No Limits and Ubisoft's Driver Speedboat Paradise (a good, free alternative to Riptide GP2, actually), and while none of these games really performed without glitches and stutters, they were not as bad as I expected them to be. Maybe I had my expectations run down by the initial experience, but gameplay was fairly stable and playable even through nearly 40 minutes of gaming. The frame rates, however, looked bordering on abysmal, and the lack of sharp details on the display really shows here. In-game menus took their own sweet time to open and navigate, and the lacklustre touch response contributed to making the gaming experience fairly underwhelming. The audio performance while watching films or simply playing music is good, but not superlative. The front-facing speakers combined with HTC's BoomSound engine deliver good audio experience, but is simply not stellar enough to be an audiophile's part-time companion. With all of this combined, while the Desire 728 did surpass my very low expectations in terms of gaming, it is not really a significant ace for it to advertise.
Overall, the HTC Desire 728 barely passes as a daily usage driver. It will keep most of your apps ticking, and you may even run a couple of reasonably good games with highly sacrificed details and ease, but seeing that the market has a number of excellent alternatives that do not face any such issues at the same or lower prices, why would you? The benchmark scores attached below will give you a further idea of how far behind the HTC Desire 728 lags in the middle of the competition.
Camera
It just kept going from bad to worse. The camera app takes a while to open, and even after it does, the ISP is simply too heavily tasked by the 13-megapixel BSI CMOS sensor, and is not optimised well enough to perform at peak. In terms of imaging performance, even under bright sunlight, the images have a sense of pixelation that is simply not acceptable in the present world of budget smartphone cameras that keep exceeding our expectations with every passing day. While colour details are not massively distorted, the images are oversaturated, heavily lack sharpness and details, and due to poor optimisation of the image signal processor to the chipset, I never managed to get the camera's live viewfinder to work smoothly. Focussing time was decent, and shutter response was fairly swift, giving the only pros to this camera module.
View post on imgur.com
The front camera is barely passable at best, and there is literally nothing exceptional to mention here.
Battery
The HTC Desire 728 is powered by a 2800mAh Li-Po battery pack. On average consumption, the Desire 728 will last you through your work day of 10-12 hours, and even some more. It also managed to obtain a reasonably decent score on Geekbench battery test. On an average, the Desire 728 will see you through a day's email, messages, social media (Facebook, Twitter, Instagram) activity, two hours of music listening and 30 minutes of gaming upon full charge, giving it decent battery performance.
Watch HTC Desire 728 Review Video

Bottomline
There is literally nothing exceptional about the HTC Desire 728. Let alone exceptional, I have struggled to find a single aspect where the Desire 728 really excels, bringing me back to the point I raised in the introduction. For this price bracket, you have the Xiaomi Redmi Note 3 that excels in performance, the LeEco Le 1s that brings good performance at an even cheaper price point, and even the decent camera performer that the Honor 5X is. It's been a week with the HTC Desire 728 and we've unfortunately found nothing to recommend this phone for.