Lenovo Thinkpad T460 Windows 10 detailed review
The Thinkpad line of laptops are built with a particular purpose in mind, offering understated looks and dependable performance, alongside added security features an enterprise customer may need. It goes from the basic Thinkpad 13 or the high-end Carbon X1, but Lenovo also has a T-series Thinkpad range that fits somewhere in between and adds semi-ruggedness to the Thinkpad portfolio. In typical Thinkpad fashion, it's a 14-inch laptop and is mainly aimed at corporate customers, who buy in bulk. So, while you or I may not be able to buy it, those niche buyers may need to know more about it.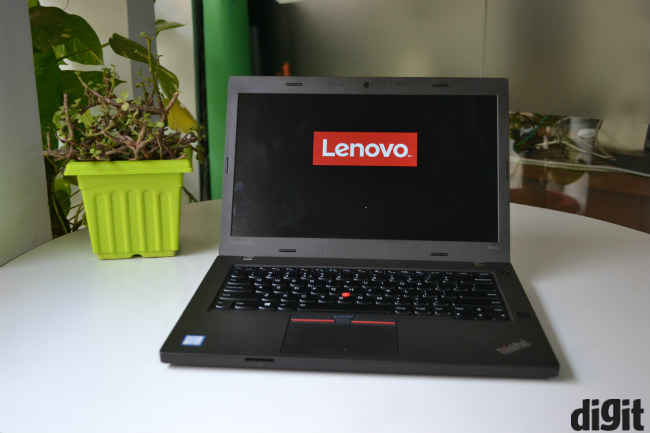 Design : The usual
If you have seen a Thinkpad laptop earlier or read our earlier reviews, then the looks of this one won't surprise you. In fact, the T460 looks exactly like the T450, its predecessor. You get a standard black plastic shell, which at 0.83-inch is somewhat thicker than the usual Thinkpad laptops, but has the same 14-inch form factor we love. As for the overall looks, it is not particularly a head turner, but it will not go completely unnoticed either. Especially the signature Thinkpad keyboard and touchpad.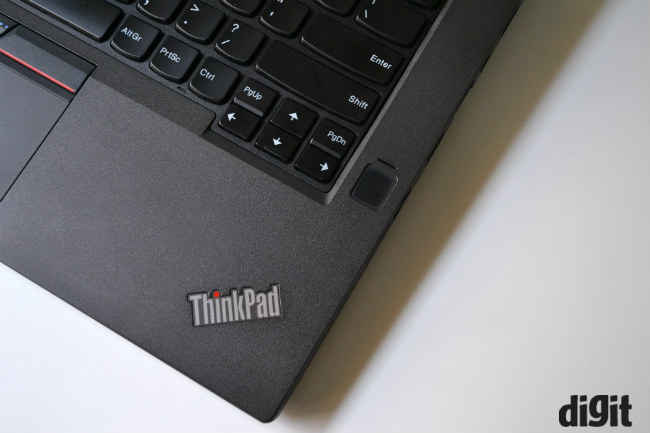 Build - Ruff and tuff
Lenovo claims that the T460 can take more abuse than a standard Thinkpad. According to the company, the laptop fulfils 11 military grade testing parameters. The company claims that it can basically work under extreme temperatures, pressure and humid conditions. It is also resistant to vibration, dust, fungus and salt. Lenovo says you can literally bake this laptop or put it in the freezer, and it'll live through those conditions. To test, we actually put it in a pre-heated oven (heated to 180 degrees) for a minute with no damage to the laptop. The same is true for freezers as well.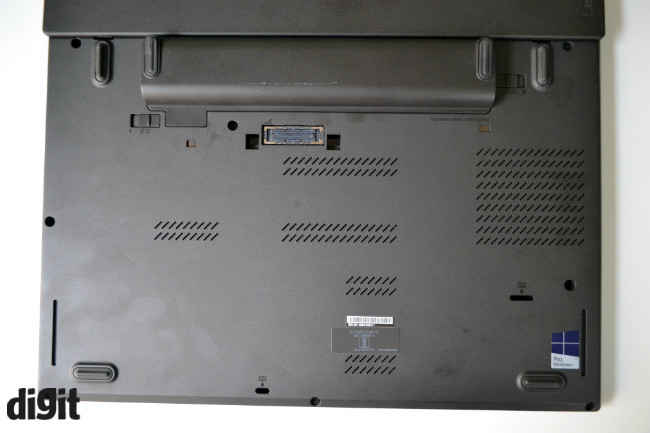 We took the battery out for safety purposes, but this is impressive indeed. You may not need this in real life, but for that niche audience, it's a handy thing to have.
Amongst Lenovo's claims is also one that says the Thinkpad T640 stands drops from up to 4 feet, which is how high most tables are. And the claim seems true as well. I dropped this laptop often, probably a dozen times over the course of the review, and from heights ranging between 2 feet to 5 feet. I tried dropping it on sand, grass, marble and even concrete.
The other thing I like is the spill resistant keyboard, that is a big plus for any laptop. It can handle basically up to 500ml of water, coffee or some other liquids, and yes, it passed this in real life as well. However, that doesn't necessarily mean it'll manage all kinds of drops. Coffee, water, wine and some regular liquids should be fine.
Lenovo has relied on its premium plastic material, plus rubber mountings on some of the internal hardware to offer this level of ruggedness. The spill resistant keyboard has channels below the keys, which direct the liquid away from internal components and underneath the keyboard. Then there is how the hardware is laid out inside. All this combined make it the toughest laptop in the Thinkpad line. If you are wondering, there are tougher machines out there, like the Panasonic Toughbook, which are even for even more specialised conditions.
It's worth mentioning that the overall fit and finish of the laptop does not feel as premium as the Thinkpad Carbon X1, but it will do the job. Moreover, there is almost no flex in the display or on the keyboard. The hinge is quite good and precise and has metal mountings which add to the laptop's rugged quotient.
NOTE: After all this torture testing and literally tossing the laptop around, the hard drive gave up finally. So, I would add that even though the machine is tough and can withstand occasional drops easily, you should not do it intentionally as if your luck runs out, you might brick your laptop and loose your precious data.
Display and I/O: Ticking the right boxes
Like previous Thinkpad laptops we tested, the T460 also has a 14-inch IPS panel. It has 1920 x 1080p resolution and good viewing angles. It is certainly not the best out there, but if all you want to do is view documents or watch an occasional movie, it does the job well enough. At just 198 lux luminance, it is not a bright display either, but the matte finish on the display does help curb legibility issues under bright light to some degree.
As for the I/O, you have everything you may need from a laptop of this calibre, with the exception of a USB Type-C port. On the left of the machine you have the standard Lenovo power connector, one USB 3.0 port, an exhaust and a microphone headphone combo. On the right side, it has a SIM card slot, two USB 3.0 ports, ethernet jack, a mini DisplayPort and an HDMI-out. The left USB port will even charge your phone with the lid down, or even when the laptop is off.
Keyboard and Touchpad
There is nothing new as far as the keyboard and touchpad are concerned, and for good measure. The legendary Thinkpad keyboard needs little change, with its non-slip matte black finish, offering ample key travel and excellent feedback. It also has white backlighting, which is not as aggressive as some prior Thinkpads, and is now subtler and in-line with the rest of the lineup.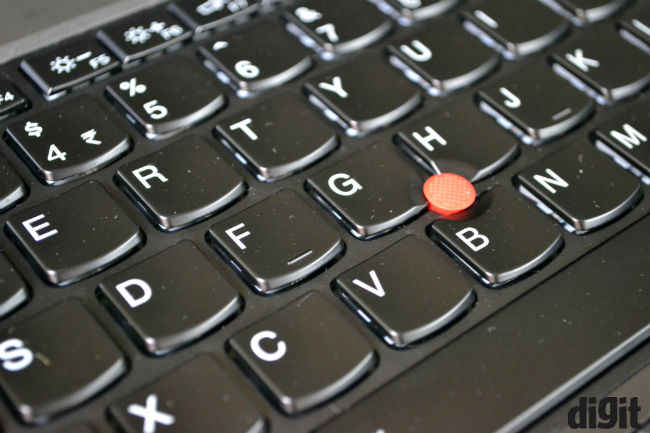 Same goes for the touchpad, which is precise and offers smooth glides across the touch area. The touch area in turn is slightly roughened, which feels somewhat awkward compared to the smooth matte finish we used on previous Thinkpads, but it gets the job done. Moreover, the three physical keys below the touchpad are precise, and offer excellent travel, although, there is no audible click here. Also, the red trackpoint is a delight to use every time.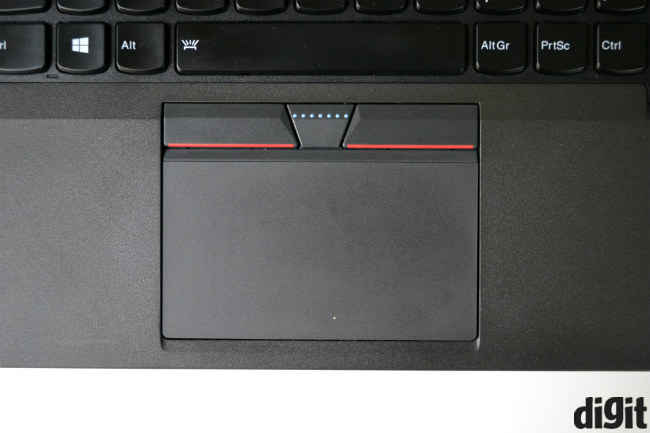 You also get a fingerprint scanner, which is linked to Windows Hello and works well, although, you will face some difficulty if you try to use it with greasy hands.
Performance - Acceptable
While the Thinkpad has an exceptional keyboard, the overall performance of the machine is just about good enough. There is an Intel Core i5-6200U processor, which is a widely used processor, combined with 8GB of RAM. The silicon is not the problem here. My qualm lies with the HDD storage, which occasionally hit 100% usage during testing, making the laptop freeze. At first, I thought it was a hardware issue that may have occurred due to those numerous drop tests I did previously. Although after ascertaining via various software that the HDD was healthy, I rested the PC, which resolved the issue. That said, the single HDD storage is still slow and at its price the T460 should have included an SSD based storage as standard.
I did not try any heavy gaming on the machine, but be assured that it can run games like Dota 2, Hearthstone and more. Our PCmark 8 and Cinebench scores suggest that the performance is just average when compared to the category, which further justify my findings.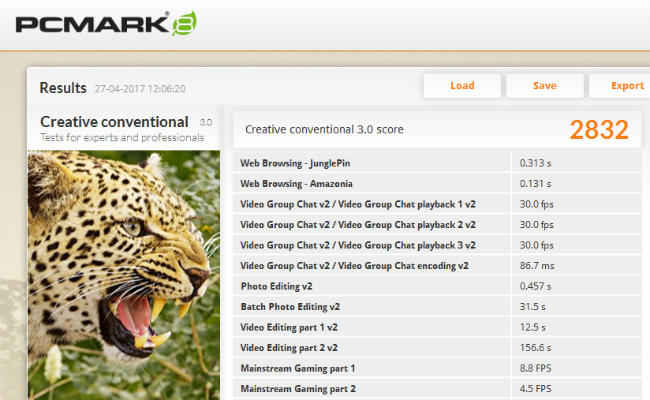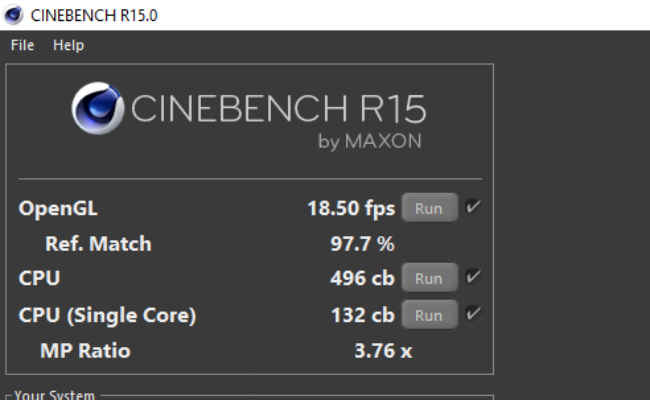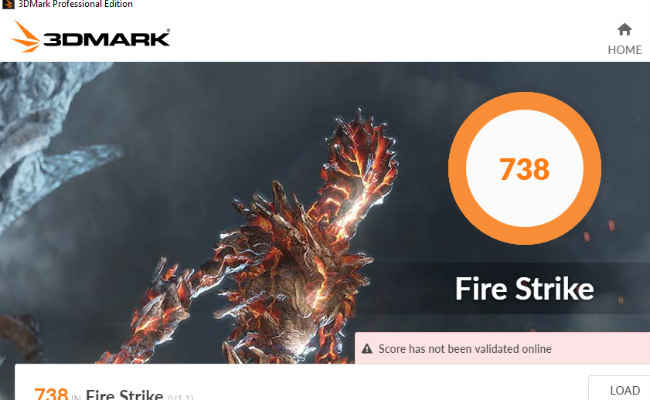 Battery life - Reliable
Amidst the current generation of laptops, most of which do not have a user replaceable battery, the T460 features a large 72 whr removable battery. This gives the laptop a lot more flexibility in terms of portability and provides enough juice to last a normal work day at 25% screen brightness. By normal, I mean browsing, streaming audio, docs and some light photo editing only. I should also add that the batteries are not impact resistant and if you see white smoke coming out of the laptop after you accidently drop it, DO NOT turn it on or use it.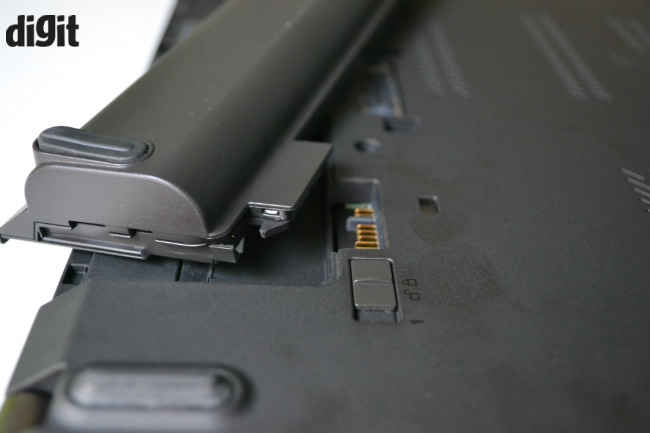 Bottomline
The Lenovo T460 is a slightly more expensive alternative to the standard Thinkpads (L-series), but it's rugged and offers enterprise class security as well. It is not the first machine a company or corporation's purchase department should think of, unless ruggedness is the need of the hour. In addition, I reckon Lenovo could have added a better storage solution or at least a Core i7 chip to match the asking price.