Lenovo Ideapad Flex 2 59-420166 detailed review
The Lenovo Yoga is one of the finest examples of a hybrid device that can seamlessly (almost) switch between a laptop and pseudo-tablet mode. The Flex 2 has always seemed like the lesser known younger brother. But is it really? We don't think so.
Design and Build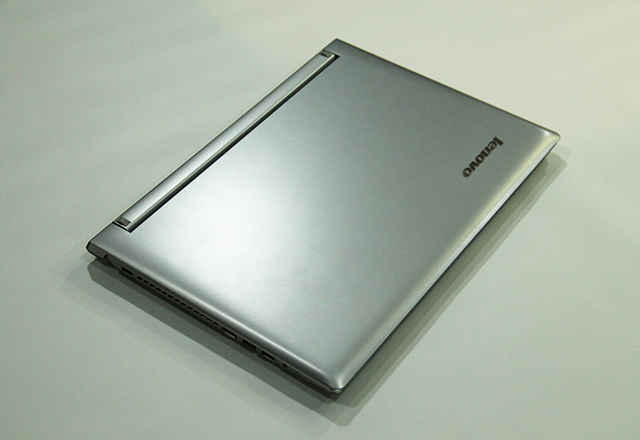 While not as well-styled as the Yoga, the Flex is quite a decent looking device in itself. We would have preferred a dash of style, but this is quite a cheap device and maybe that's asking too much at this price. It's still a very nicely built device though. Everything feels sturdy and as if it's built to last and that's nice to see in a device at this price.
The hinge, which is really not as flexible as the one on the Yoga is still good and unless you're really enamoured by the Yoga's 360° hinge, this is more than enough. It's definitely a bulky device and is comparatively heavy too (at 1.89Kgs), but it also packs in some reasonably powerful hardware in this category. Considering that you're meant to use this device in tent mode, Lenovo's added small rubber feet all over the device (the parts that come into contact with the table that is). They do look a bit ugly, especially when you consider the Yoga's more elegant solution of a black rubber strip around the border.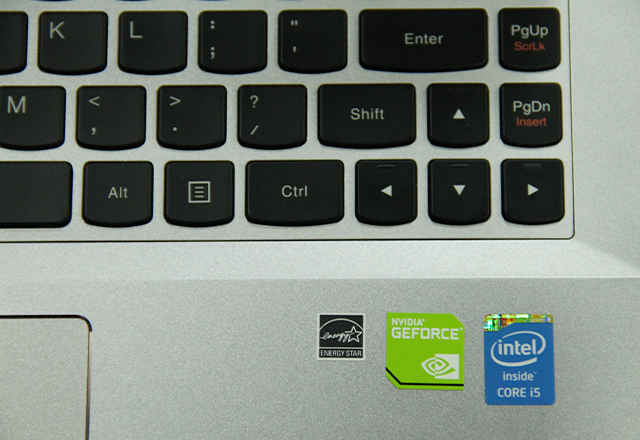 Regardless, the solution used here is adequate and we really shouldn't be complaining so much.
Features and Ergonomics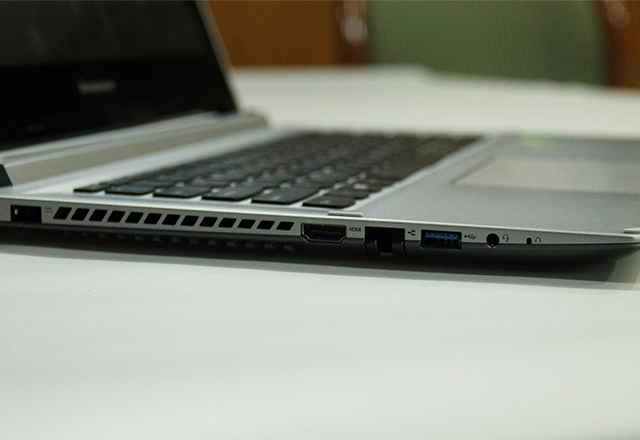 Coming to features, other than the fancy hinge, there's really not much else. You get three USB ports, but only one USB 3.0 port, which is a bit disappointing.
Ergonomically speaking, this is a great device. The keyboard is a little bit better than the one on the Yoga 2 and the touchscreen and touchpad about as good. You can use the device in tent mode, but honestly, it's a mode that never really appealed to us.
Performance
The Flex 2 packs quite a punch for a device at this price. It's powered by an i5 4210U CPU that's just slightly faster than the 4100U that powers most devices in this segment. Interestingly, you also get an NVIDIA GeForce 820M GPU, which does wonders for the device in our GPU intensive benchmarks.
| | |
| --- | --- |
| PCMark 8 | 2081 |
| 3DMark | 49029 |
| Peacekeeper | 4101 |
| Cinebench R15 | 230 |
| Sniper Elite V2 (fps) | 20 |
| Battery Life (min.) | 125 |
| Screen Brightness (cd/m2) | 192.28 |
| Contrast Ratio | 71:1 |
| Max. temperature | 64 |
Battery life takes a significant hit, where we clocked in a barely adequate two hours; this is quite disappointing because we've tested laptops that offer double that battery life. Of course, the NVIDIA GPU might have something to do with that performance hit, but still, we expected much more from such a device.
Another sore point with the Flex 2 is the screen, which, after the Yoga 2's stellar screen, is a drastic step down. The brightness of 200cd/m2 is quite nice, but the contrast ratio of 70:1 is borderline acceptable.
Is that a price you're willing to pay for the extra performance that the NVIDIA GPU affords?
User Experience
The real challenge here is comparing the Flex 2 and the Yoga 2. The latter is more expensive, has a better screen, and has about 25% less performance, while the former is cheaper, almost as flexible and so much more powerful.
In practice, we didn't really miss the Yoga's 360° hinge, but we did miss the gorgeous screen. The Flex 2 is a nice device to work with but a better screen and better battery life would have gone a long way in providing a better user experience.
At this price however, we really can't complain.
Verdict
Some might call this the poor man's Yoga, and we're inclined to agree. You lose out on that gorgeous screen and the 360°, but in the bargain you do shave off Rs.10,000 and get a much appreciated performance boost.
Choosing between the Flex 2 and the Yoga 2 is like trying to decide between a Mazda and a Ferrari. One is more flashy for sure, but the other is also more practical and maybe more convenient. Honestly, the choice is a very personal one and we can't make that for you. But in terms of value for money, this might be the best laptop that you can buy today.