Dell Alienware 13 Review: Glitteringly glorious, but not the best anymore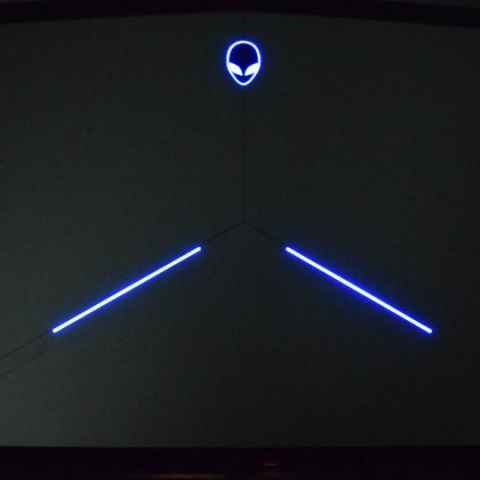 DIGIT RATING
82 /100
design

90

performance

80

value for money

70

features

85
PROS

Very good build quality
Unique looks
Comfortable keyboard + touchpad
CONS

Not the best performer
Expensive
Verdict
The Alienware 13 is good performer but it loses out to couple of sub-100k laptops, like the Lenovo Y50 and ASUS X550JK. The laptop will perform better with an external GPU, which can be used via the Alienware Graphics Amplifier, which again requires you to shell out more money.
Dell Alienware 13 detailed review
The new Alienware 13 is meant to be an ultraportable gaming laptop with unique looks and distinctive style. Its screen lid is made of high quality plastic mixed with carbon fibre, its keyboard deck and chassis as firm as a ThinkPad's, giving the notebook very good build quality and rigidity. And when it comes to its looks, we can assuredly say that the Alienware 13 remains quite unique, given its angular design accents, glowing LED keyboard and logo, and overall cool quotient. The pre-installed Alienware Command Center is pretty intuitive when it comes to letting you configure the LED glow colour across the keyboard, logo and accents on the Alienware. It will make heads turn in a LAN party for sure, earning you extra brownie points if that sort of thing matters to you. Its HD webcam is great for Skype or Google Hangout, picking up voice input flawlessly for the most part.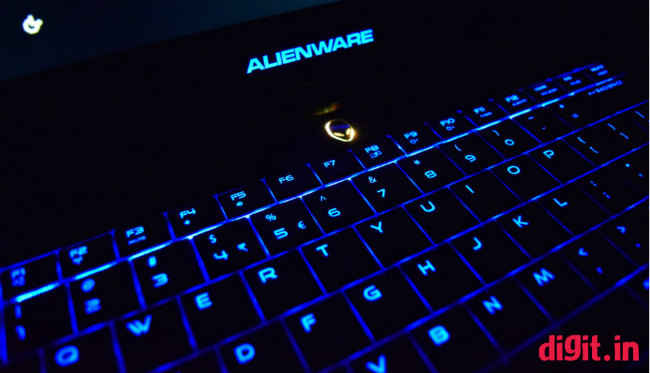 The gaming laptop is high on features, bundling in all that a laptop selling at its price needs to have, and even more. On its back panel lies a custom PCIe bridge to connect it to an external graphics amplification device (sold separately) called the Alienware Graphics Amplifier. It's meant to futureproof the Alienware 13's graphics capabilities, by allowing you to plug in any desktop-sized PCIe graphics card and keep conquering future games. It's a great concept, one that we would've liked to test for this review, but Alienware forgot to send us the Amplifier.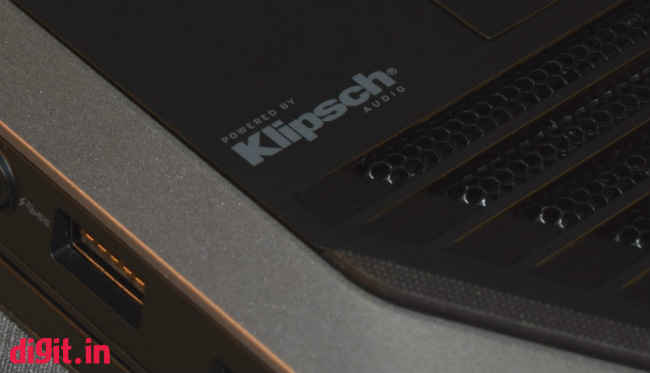 The Alienware 13 has a bright, glossy QHD (2560x1440 resolution) touchscreen display. It's one of the better displays we've seen on a notebook, offering nice viewing angles and sharpness, and the multitouch input works like a charm on Windows 8 natively – but it's a mirror, reflecting any lit object in the room. Its onboard speakers are good as well. The laptop's keyboard is great to use and its touchpad isn't too bad either. The machine heats up while gaming but it copes well with fans and large vents on its bottom panel to keep temps under the 60 deg C mark. This machine is very good for multimedia use, its Klipsch speakers providing very good audio output, but drops the ball in the gaming department. Its combination of an Intel Core i5 chip and NVIDIA GeForce GTX 860M GPU pump out most modern games well at medium settings, but that's not even par for the course on an Alienware. On the screen's native resolution and high to ultra settings, gaming isn't worth your time. Its battery life isn't too bad at 2 hours 39 minutes in our high-performance synthetic test – of course, the more the better.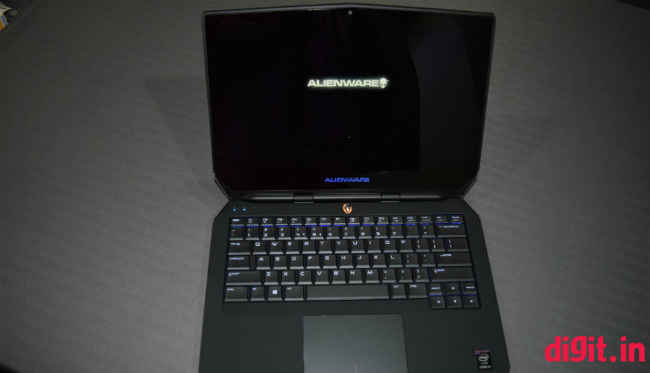 At one point of time, it would've been next to impossible to think of Alienware not being the best gaming laptop out there. But that time has come. The Alienware continues to bedazzle you with its exquisite looks, glowing LED accents, QHD touchscreen display, even its rugged build quality. However, this 13-inch SKU blinks in the face of competition when it comes to its performance. Its proprietary PCIe port for external graphics amplification is useless unless you shell out more money for the Alienware Graphics Amplifier. In terms of performance – which is what matters in a gaming laptop at the end of the day – the Alienware 13 loses out to couple of sub-1 lakh laptops like Lenovo Y50 and ASUS X550JK. Does that make the Alienware 13 an undesirable laptop? Not by a long shot.