Asus ZenBook Pro 15 detailed review
Let's face the cold truth: dual-screen laptops of the past never really took off. Remember the Lenovo ThinkPad W700DS? It was a mammoth laptop that had a secondary 10.6-inch screen in upright format sliding out of the 17-inch primary screen. At close to 4 kilogrammes and $3,700 (Rs 2,55,000 approx) for the base model, it was bulky and insanely expensive. Toshiba's Libretto W105 was too small to be taken seriously for power computing, and the more recent Intel Tiger Rapids was nothing more than a prototype.
Asus changed the game when, during this year's Computex event in Taiwan, it showed off two new devices with a dual screen. The first device was a prototype called Project Precog. This mad new slim laptop was essentially two large screens of the same size in the place of a regular screen and keyboard. The second device is the one on which I'm writing this review: the Asus ZenBook Pro 15 (UX580). It features a 'ScreenPad', which is essentially a touchpad that's also a secondary screen. I've got the fully-loaded model with an Intel Core i9 processor, 16GB of RAM, 1TB of SSD-based storage, and an Nvidia GeForce GTX 1050 Ti GPU.
Build and Design
According to Asus, the ZenBook Pro 15 has an all-metal unibody construction. The brushed dark blue surface of the laptop's lid, base, and the area around the keyboard looks solid and feels sturdy to hold. Pressing down on the lid and base to lift the laptop with a firm grip reveals mild signs of flex but doesn't make the laptop feel structurally weak by any means. The two-phase anodised edges are neatly chamfered and don't cut into wrists while typing.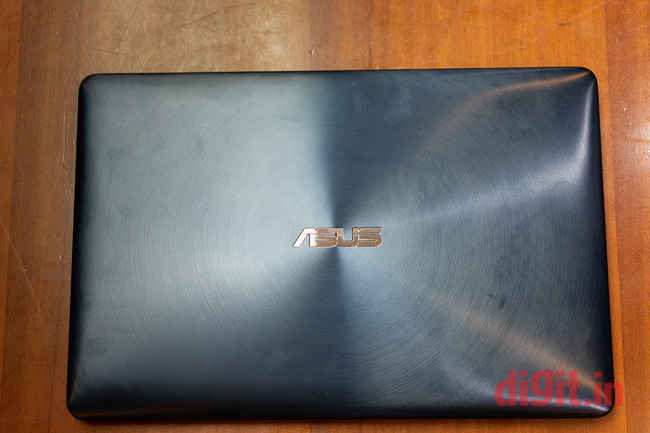 The ZenBook Pro 15 is available in only one colour
The laptop's lid is thick, and pushing it towards you to close the lid doesn't cause any rippling on the display. The lid's hinges feel extremely solid while opening but don't go beyond 130 degrees. A glossy black bezel of 7.3 mm surrounds the 15.6-inch display, giving the laptop a very appropriate look. On the inner side of the base, there's a chiclet-style keyboard sitting inside a shallow recess and a noticeably large touchpad further below. On the keyboard's lower right corner there's a tiny fingerprint scanner and an etched 'harman/kardon' badge of certification. Save for the four round rubber shoes and the speaker grills on either side, the base of the laptop is completely bare. On the rear end of the laptop there's an etched badge that reads 'ZenBook Series'.

At 1.88 kilogrammes, the ZenBook Pro 15 is quite heavy to carry around. There are times when the brushed metal surface of the laptop feels slippery in the hand, but it's nothing one can't get used to. All in all, the Asus ZenBook has a solid build and a neat finish that should stand the test of time. Just don't bring a blade or penknife close to the surface of the lid though; it scratches easy.
Display, Audio, and IO
The ZenBook Pro 15 comes with two 16:9 15.6-inch display options: a Full HD unit with an optional touchscreen and a 4K touchscreen unit. The Full HD display covers 100 percent of the sRGB colour gamut and claims to have a colour accuracy of Delta E < 3. The 4K display covers 100 percent of the Adobe RGB colour gamut and claims to have a colour accuracy of Delta E < 2. The model I received for review had the superior 4K touchscreen unit. And what a display it was!
The brightness of the display ranges well from 6 nits to 108 nits. At max brightness, the light is sufficient for most indoor spots. Working in a balcony on a sunny afternoon shouldn't pose a problem, but sitting inside a conference room with very bright lights just above the laptop might because the display has a reflective finish. During my time with the ZenBook Pro 15, I found reds, greens, and blues appearing vivid. The display scored 20 out of 20 in Lagom's Black Level test for LCD displays and 12 out of 15 in Lagom's White Saturation test.
Touch response from the display was instant and palm rejection worked well without a single miss. According to Asus, this ZenBook is compatible with the Asus Pen stylus. That's a swell idea but I think this support would have gone the full distance if the display folded all the way back into tablet mode instead of just stopping at 130 degrees. It's like offering support for child safety seats on a tiny two-door hatchback.
Audio output from the ZenBook Pro 15's two down-firing speakers is surprisingly good, given the size and position of the drivers. According to Asus, the audio system on the laptop was designed by an in-house team called 'Golden Ears' and was then certified by harman/kardon. The company claims the speakers' frequency range is 1.4 times louder and 1.6 times wider than the ones on the previous model, the ZenBook Pro UX550.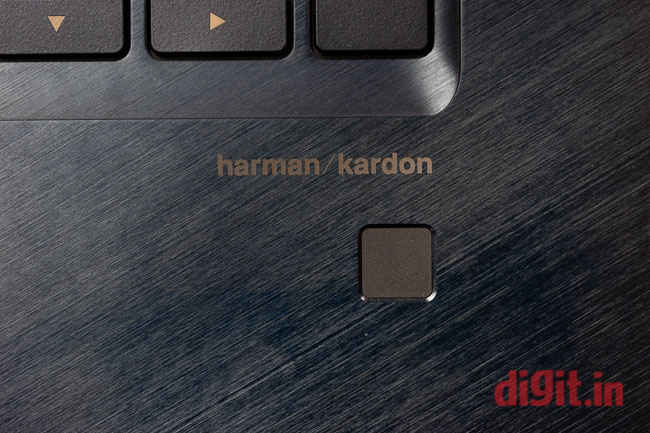 Down-firing speakers handle low frequencies really well
In my experience I found the speakers delivering low, mid-range, and high frequencies with ease. Low frequencies, I thought, were particularly well handled. Frequencies as low as 56Hz could be felt on the laptop's body as pleasant vibrations, and there was never a sign of bottoming out from the drivers even during sharp thumps. High frequencies were well handled too, but needed a little more loudness I thought; they sounded like they were getting lost amidst the other ranges. Stereo separation was distinctly noticeable when the laptop was placed on the lap. With these speakers, you can skip buying a portable Bluetooth speaker altogether if you don't feel too compelled because they're that good.
The ZenBook Pro 15 does not skimp on ports; it comes with all the right modern offerings. On the left side, it's got the round power port, a full-size HDMI port, and two Thunderbolt 3 (USB Type-C) ports. On the right side, it's got two full-size USB 3.1 Gen 2 ports, a microSD card slot, and a 3.5mm audio jack for headsets.

For the sake of better port interoperability I would have liked to see the ZenBook Pro 15 draw power via a Thunderbolt 3 port, but sadly, it's 150W charging system just won't allow it. That's why it uses the dedicated round power port. On the plus side, it leaves you with two completely untouched Thunderbolt 3 ports for more 4K magic. I would have also liked to see another full-size USB port on the left side instead of just two on the right side, placed so close to each other. Fat connectors and dongles (if anyone even uses them these days) will be fighting for space. Lastly, I would have also liked to see a Kensington lock port on a machine this expensive.

The fingerprint sensor below the keyboard worked quickly and without a fuss while logging in to Windows every single time. The quality of the web camera on the laptop was unsurprisingly bad. Asus tells us that the ZenBook Pro 15 employs a HD camera. When I took a picture through Windows' default camera app, my face looked pixelated and grainy, kind of like the picture from my driving licence—but only bigger (and scarier). A 4K PANTONE-validated display and a web camera from the 2000s for modern-day video calls? Really, Asus?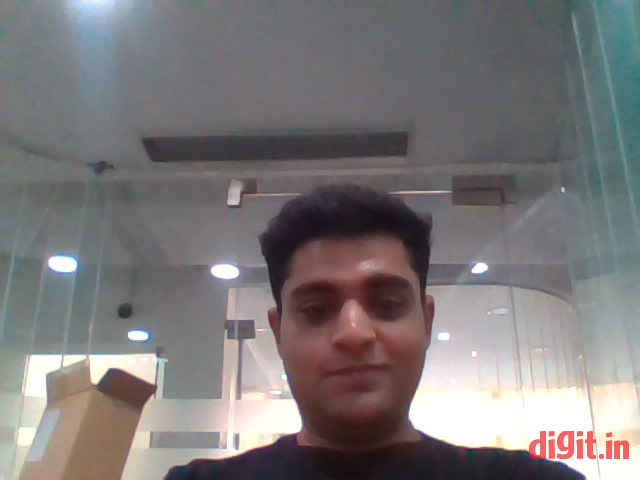 The HD web camera on a laptop of this price disappoints
Keyboard
The chiclet-style keyboard on the Asus ZenBook Pro 15 makes typing a breeze. The keys look flat but have a respectable 1.5mm of travel. The resistance of the keys is just right, and in my opinion, is suitable for long hours of typing. Finding keys on the keyboard is easy as all the keys are sufficiently spaced. Home, Page Up, Page Down, and End functions get dedicated keys on the right side of the keyboard as a separate column. Below them is an extra Function key for easy reach. The F-keys and shortcut keys can be locked instantly by pressing the Function key and the Escape key together.
What I really like about this keyboard is the colour of the backlighting; the keys look off-white in the dark and not pure white. This matches the tone of the display when Windows' Night Light feature is turned on. This way, there are no two discordant light sources next to each other to distract or blind you.
ScreenPad
The ScreenPad is this ZenBook's biggest party trick, and it's a big one no doubt! As a concept alone, I think it's fantastic. Could we have imagined, as school children learning computer science, a day when an input device for laptop computers joins with an output device to work as both at the same time? I certainly didn't. When I saw the ScreenPad for the first time I had my own doubts about how it would work. Would it act as a touchscreen for the Windows elements shown in it? Would the interface get in the way when I suddenly want to use the touchpad?
A few days into testing the ZenBook Pro 15 and all my questions were answered. I was left feeling positive about Asus' new innovation. Allow me to explain how I look it at: the ScreenPad is essentially a second monitor when it's used in the 'Extension Display' mode. In fact, Windows treats it as a second monitor. You can drag windows into it as usual. Through all of this, the ScreenPad behaves just like any other touchpad. To top it off it's a precision touchpad; so Windows Settings-controlled gestures and taps work perfectly well. When the mouse pointer is moved into the ScreenPad area the pointer becomes larger so you can spot its position and trail more easily.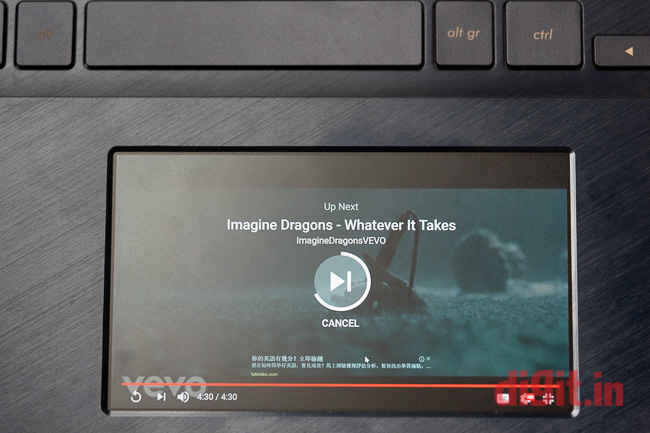 In the 'ScreenPad' mode, the home screen is a regular touchpad with a constant user-customisable wallpaper. In this mode there's a tiny tab displayed on the top of the ScreenPad, which, when pulled down reveals the ScreenPad Toolbar, a menu for apps designed for the ScreenPad. Apps pre-installed include ScreenPad Launcher, a launcher for Windows applications; ScreenPad Online Video Player, a tool with player controls for YouTube on Chrome (works with a Chrome extension); and ScreenPad Office, a tool for common functions across Microsoft Office applications like Word, Excel, and PowerPoint. These apps also include a music player, a calculator, and a calendar. There's also a virtual numpad for when you might need it.
Some of these apps launch automatically based on context; for example, the ScreenPad Office app opens automatically along with Microsoft Word. While in an app, the close button on the top right corner must be pressed to go back to the home screen and to use the touchpad. These apps are best used with a mouse. There are two other modes available on the ScreenPad: one is a regular touchpad mode in which the screen is turned off and the other is a mode in which the touchpad is completely disabled.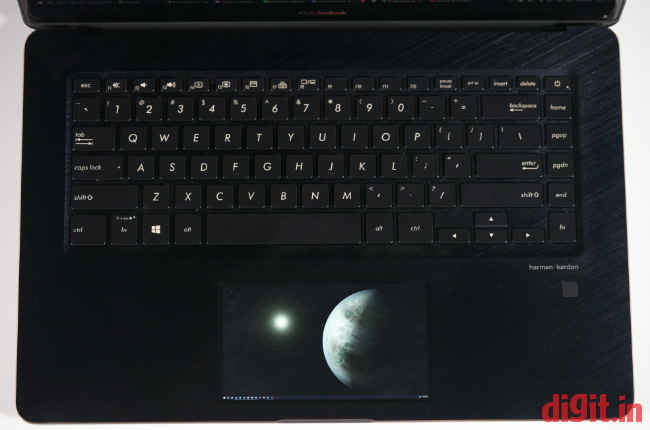 While I'm convinced the ScreenPad is a neat innovation, I'm not entirely sure I benefited much from it, at least during the short duration for which I used it. It was useful when the player controls popped up automatically while starting a YouTube video but I barely felt the need to use its calendar or calculator. When I dragged a chat app like WhatsApp for PC or Hangouts into it, I could barely read any of my messages as the text was too small unless I zoomed in. The same went for text documents and most other windows. The best use I had for it was a YouTube window, with which I could play a video in full screen while working on something else.
I noticed that Windows didn't support Night Light on the little ScreenPad. Installing f.lux ensured a warm experience at night on both displays though. Then there was the question of the quality of the display itself, which I thought was decent for a Full HD unit of 5.5 inches, but too grainy for text because of the texture of the surface. It reminded me of the grainy HD display on an old Asus MeMo Pad tablet (ME172V) I used to own.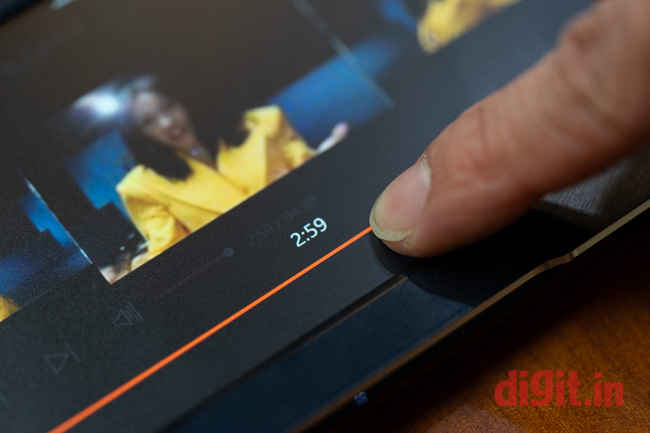 Controls for YouTube pop up automatically in ScreenPad mode when a video is played
All things considered, I thought the implementation of a display over a precision touchpad was done brilliantly. The ScreenPad popped up before Windows' initial setup could even finish and the shortcut button to toggle between the modes (Function + F6) worked right out of the box. Asus GIFTBOX, the Windows app that manages apps on the ScreenPad needed to be updated through the Microsoft Store before it could be used.
Performance
The Asus ZenBook Pro 15 comes with three eighth-generation Intel Core series CPU options: Core i5, Core i7, and Core i9. The one I got for review had the Core i9-8950HK hexa-core processor (clocked at 2.9GHz). It was supported by an ample 16GB of RAM and a 1TB M.2 NVMe SSD by Samsung. Handling the graphics department was a Nvidia GeForce GTX 1050 Ti with 4GB of video memory.
On benchmark tests, the ZenBook Pro 15 scored splendidly. On PCMark 10 it scored 4675, which is nearly 900 points over what the ThinkPad X1 Yoga convertible laptop scored a few weeks ago. Benchmark scores across GPU tests too looked respectably high. In the Adobe Lightroom rendering test, the ZenBook managed to export 100 RAW images (45 Megapixel resolution each) to full-quality JPEG images in 3 minutes and 50 seconds. The same operation on 500 files took 20 minutes and 5 seconds.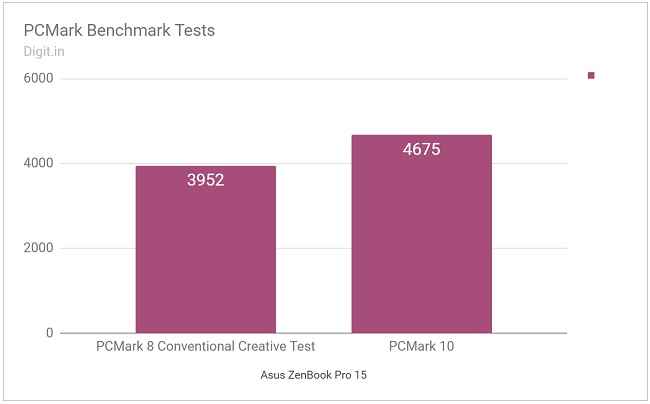 Good benchmark scores on the Asus ZenBook Pro 15
In my time with the Asus ZenBook Pro 15, I found the performance of the machine to be a smashing hit. I was able to run over fifteen applications simultaneously without sensing a hiccup. Metro: Last Light ran noticeably okay on 'Very High' graphics with VSync on in 4K resolution, but frame rate dropped to 17 frames per second. Doom scored a slightly better 25 frames per second in 'Ultra' graphics. While I could understand drops in frame rate in 4K resolution and very high graphics settings, I could not understand why there was an animation lag while switching virtual desktops in Windows. Hitting Win + Tab with the ScreenPad on in Extension mode would open the Task View screen but with jagged animations on both displays.
The potential of the eighth-gen Core i9 processor, coupled with the copious 16 gigs of RAM, was particularly noticeable when I ran an open-source fractal flame rendering software. This test in question involves rendering an image based on fractal algorithms at a resolution of 6400x4800. Each pixel in the image is generated after a number of mathematical calculations and in this particular case, the number of calculations ran up to millions. The software utilizes just the CPU and RAM for rendering duties, effectively acting as a good benchmark for measuring how well the CPU can flex its muscles. In the case of the Asus Zenbook Pro 15, the software took 2 hours to complete the render, which is 30 minutes longer than our benchmark for that particular test.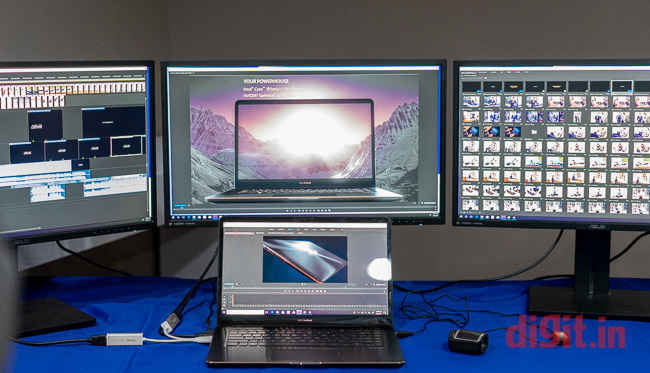 Two Thunderbolt 3 ports on the ZenBook Pro 15 means multiple-monitor setup is possible
The CPU package temperature climbed to 96 degrees Celsius while installing applications. On the lap, this heat was definitely felt in the rear end of the laptop's base but was never too much to bear. Luckily the keyboard remained mostly cool even when things got hot. The dual fan cooling system kicked in every time a demanding task was commanded. Fan noise was very much audible but not distracting.
What's obvious here is that the Zenbook Pro 15 is tailor-made for creative work, aimed squarely at photographers, film-editors, 3D artists etc and while it does pack serious hardware ideal for such kind of use cases, it is not the best for gaming, at least at the price.
Battery
The Asus ZenBook Pro 15's battery scored 142 minutes on our benchmark test. In real-world usage, the battery dropped from full charge to 15 percent in exactly 3 hours on more than two occasions. On all occasions the display brightness was set to 75 percent, the Wi-Fi was turned on, and Bluetooth was turned off. I ran eleven applications and had one YouTube window playing video constantly on the ScreenPad.
A low battery life of 3 hours on a machine like this is not surprising, considering the fact that it was designed for performance and the fact that it has two displays instead of the usual one. In fact, Asus mentions in its brief that it has "used a lithium polymer 8-cell battery that uses virtually every available nook and cranny of space remaining after the ScreenPad, the processors, cooling solution, and the port array." You can't have it all, I suppose.
Bottom line
The Asus ZenBook Pro 15 UX580 is definitely a step-up when compared with the previous model, the UX550. Real-world benefits of the innovative new ScreenPad are still being assessed, but from what I've seen so far, the ScreenPad is an improvement over a regular touchpad for that odd YouTube or calculator window you'd like to throw in there.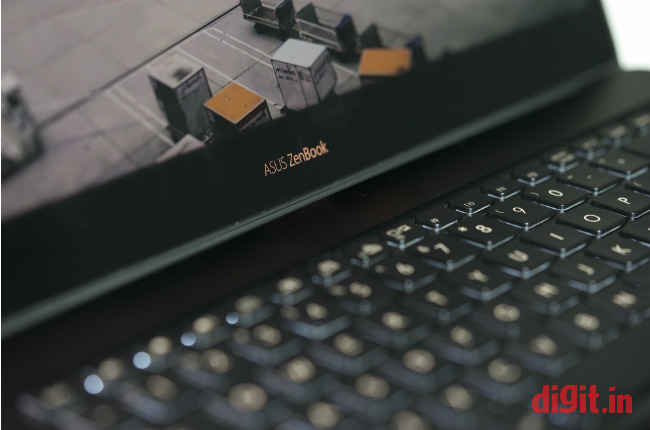 Considering aspects like build, display, audio, and overall performance, I believe the Asus ZenBook Pro 15 is definitely worth its price. You should get it if you're looking for a performance laptop capable of AV editing and gaming. The display, with its colour accuracy of Delta E < 2, is one of its best features. Just don't ask for a long battery life though.