Asus Vivobook X505 detailed review
Asus has been on a roll this year, releasing one laptop after another across various segments. After launching the Vivobook X507 earlier this year in April, the company has now launched the Vivobook X505. The X505 isn't an upgrade to the X507, but instead, the two are supposed to co-exist. This is because the Asus Vivobook X505 is powered by AMD's Ryzen lineup of processors while X507 remains as an Intel-based laptop. We spent several days using the Asus Vivobook X505 as our primary work machine to try and understand just how much value the laptop had to offer, and who would be the right kind of buyer for it.
Asus Vivobook X505 Key Specifications
Processor: AMD Ryzen 5 2500U
Processor Cores: 4
Processor Clock Speed: 2GHz (Max Boost of 3.6GHz)
RAM: 8GB, upgradeable to 16GB
Storage: 1TB 5400rpm HDD
Display Resolution: 1920x1080
Ports: 2 x USB 2.0, 1 x USB 3.0, 1 x USB-C, 1 x HDMI 1.4
Build and Design
The Asus Vivobook X505 borrows heavily from the Vivobook X507 in terms of its design. The laptop itself is mostly made out of ABS plastic, which helps it maintain a light-weight profile weighing in at just 1.68 kilograms The display does need two hands to open the lid. The lid shows significant flex if you try to open it with just one hand. The laptop has a thickness of less than 1 inch, which is pretty impressive. There is a distinct lack of curvature around the hinges that were present on the X507.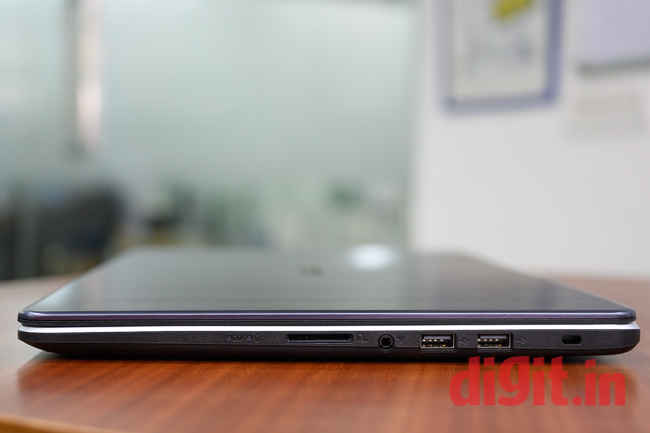 USB 2.0 ports and an SD Card reader can be foud on the right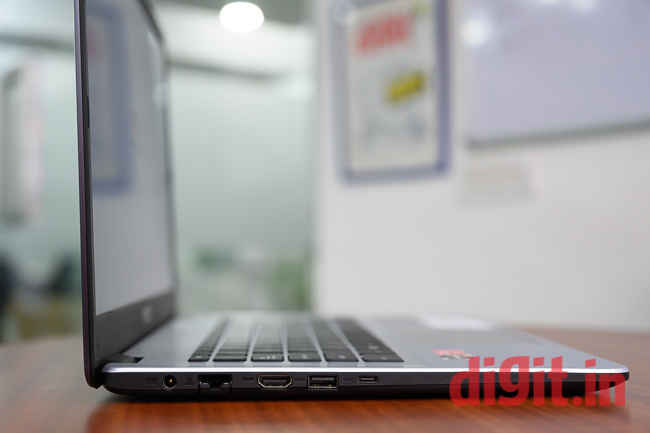 Ethernet, HDMI, USB3..0 ad a USB-C port on the left
The ports are neatly arranged on either side of the laptop. On the right side, there are two USB ports along with the unified headphone jack and a glorious SD card reader. On the left, there's the charging port, along with an RJ45 Ethernet port, an HDMI 1.4 port, a USB 3.0 port and a USB type-C port. The ports are arranged pretty neatly on either side with enough space between them for easy placement and removal.
From a design perspective, the Asus Vivobook X505 isn't anything exceptional. It has a standard rectangular design with the lid having the same concentric design that we've seen on other Asus laptops.
Keyboard and Trackpad
The keyboard on the Asus Vivobook X505 was a rather pleasant thing to use. The keys offer decent travel, although are a little spongy. For someone who's used to using a mechanical keyboard, the sponginess was a little weird at first, but after using the laptop for well over a week, it felt like a really good keyboard to type on. There is no dedicated num-pad on the X505, unlike on the X507, but personally, that's a good thing since you get slightly bigger keys with better spacing for individual keys. However, once you get into an intense typing session for, let us say a long review or a research paper etc you will start to notice the flex that the keyboard exhibits. After repeatedly rapping on the keyboard for hours, the keys held strong, but the flex was a little disconcerting to work with. In fact, if you apply even a little pressure with your finger on the keys, the whole keyboard island pushes inwards, with surprising ease. Not a very nice characteristics, but given the price point, the Asus Vivobook X505 can be excused for it.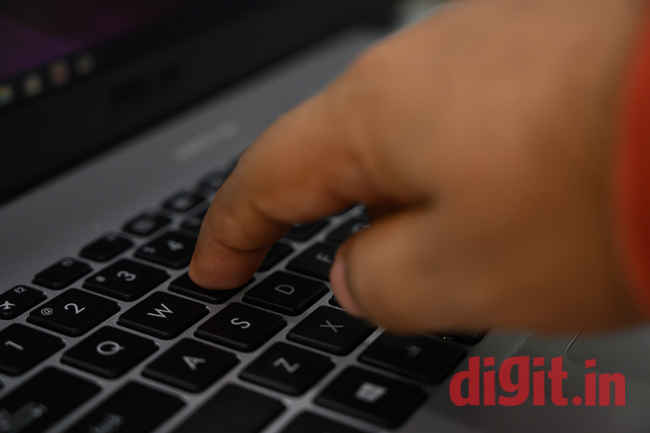 The keyboard is great to type on but shows flex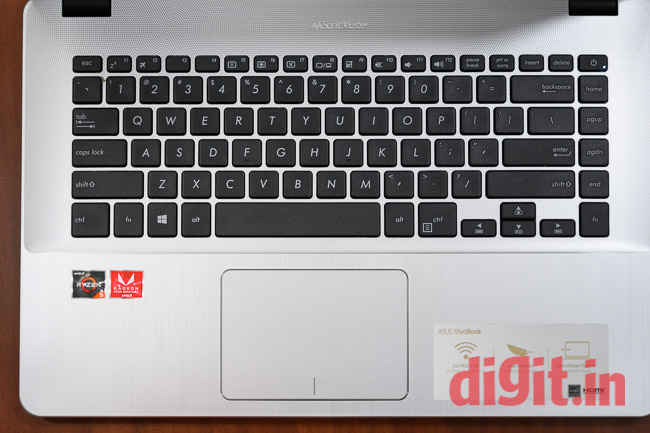 There is no numpad on the Vivobook X505
The track is generously sized and is made of plastic, offering an ever so slight texture. It is barely noticeable, but there's enough of it to not feel like smooth, slippery plastic. There is a single unified button at the base whose left and right sides are divided into left and right clicks. The buttons have decent amount of travel and wiggle a little bit, but this is very common in laptops in this price range. The trackpad does not utilise Windows Precision drivers which is a bummer. In our extensive use of the laptop, we did not find any instance of the trackpad not being able to register our finger's movements. There was no lag in mouse movement and the clicks register just fine. However, given the large travel on the mouse buttons for each click, we have to wonder about how long the trackpad's buttons would last.
Display
The Asus Vivobook X505 review unit that we received comes with a fullHD display. The 15.6-inch display sports Asus's nanoedge branding, which is essentially marketing speak for narrow bezels. The panel sports bezels as thin as 7.7mm and unlike other laptop brands that have moved the webcam to the bottom to accommodate narrow bezels, the Vivobook X505 retains the webcam in its traditional position.
We evaluated the display using a colourimeter and found that the panel on the Asus Vivobook X505 is capable of reproducing only 93 percent of the sRGB colour gamut. Most laptops in the 35K price bracket seldom offer full sRGB colour reproduction, and the Asus is no exception. The lack of 100 percent sRGB colour reproduction only means that you're definitely not doing any photo-editing on this, but if you want to watch your favourite movies or TV shows over Netflix or Amazon Prime Videos, you won't feel like you're losing out on anything. The display offers good viewing angles, enough for two people to huddle around the display and watch a movie without anyone losing visual fidelity. You may even get away with three people watching a movie on his at the same time, with very minimal discolouration at the edges.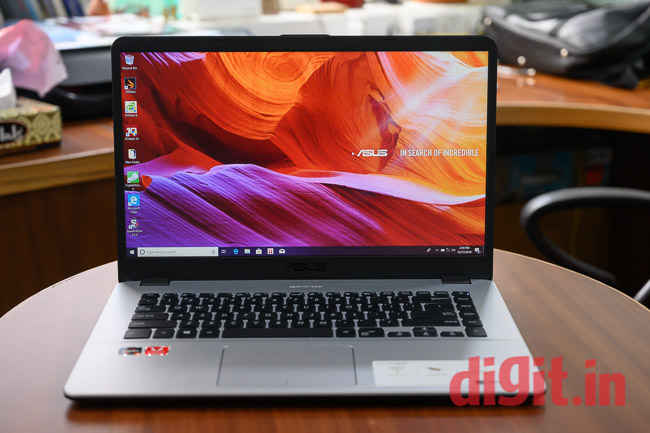 A vibrant 1080p ddisplay makes the Vivooboook X505 great for content cosumption
At best, the Asus Vivobook X505 offers a decent and functional display, ideally suited for college students who have too write papers by day and would want to relax at night by watching a show or something. Even those of us who would like a laptop for work wouldn't 'be let down by this display either.
Performance
The Asus Vivobook X505 we received for review came powered by the AMD Ryzen 5 2500U processor with a base clock of 2GHz and a maximum boost clock of 3.6GHz. The system also had 8GB DDR4 memory, which can be expanded to 16GB if you feel the need. Additionally, there is a 1TB hard drive with a spin speed of 5400rpm. Graphics duties are performed by Radeon Vega 8. AMD's new Ryzen chips offer the promise of performance similar to Intel's Core series of processors but at a much lower cost. The processors are also infused with graphics chips that AMD says offer exceptional performance for graphics-intensive tasks, such as gaming. We put the entire package to the test, first in our standard battery of benchmarks.
On the PCMark 8 Creative benchmark, the Vivobook X505 managed to score a modest 3585 on the test. Similarly on 3DMark's suite of tests such as FireStrike, Ice Storm Extreme and Skydiver, the machine scored 1156, 40783 and784 respectively. In comparison, the Lenovo Thinkpad E480 powered by Intel's Core i5 processor scored 887, 39532 and 3761 respectively. On the CrystalMark Disk benchmark for drive speed, the 5400rpm drive did not fare well at all, scoring a measly 132MB/s read speed and 108MB/s write speed. You could replace this with a SATA SSD drive for better performance, but then you'd be sacrificing storage space for speed. Interestingly, the Asus Vivobook X505 scored the lowest in comparison to the Swift 3 and Dell Inspiron 15, both laptops powered by the same AMD Ryzen 5 CPU ad 8GB of RAM.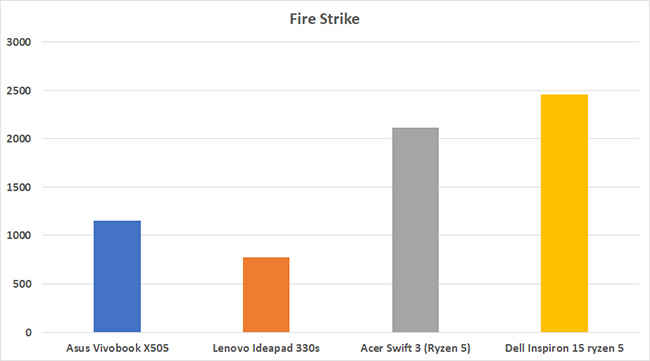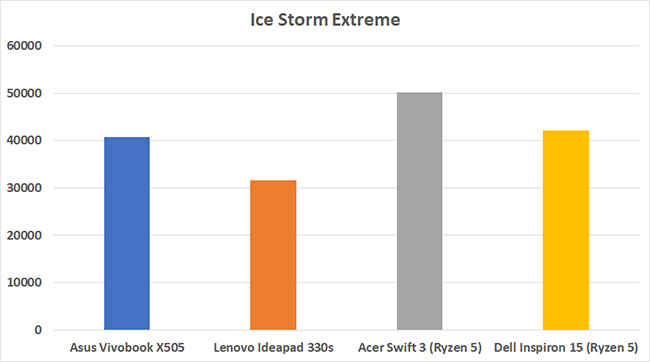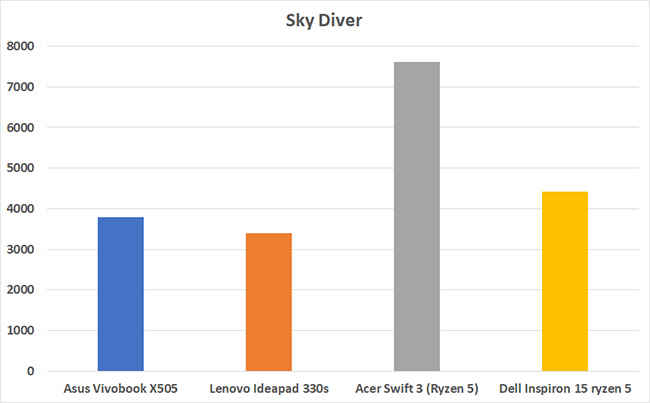 In terms of day to day performance, there are some things about this laptop that bothered us. First, a regular hard drive means slow boot times. The system would take up to 2 and a half minutes to boot up, with an additional minute to minute and a half before it was ready for us to fire up applications. Chrome would take a good 8 seconds to launch after a cold boot, with subsequent timings improving. Once the system "settles in", things work fine for the most part. Apps do take some time ot open, but once they're open, there is no lag or delays in actions performance. For example, when typing out a review on MS Word on the Vivobook X505, the letters would appear on the display as soon as their respective keys were pressed. Similarly, when trying to open a browser window for attaching images to an e-mail using Chrome, the window opened promptly and allowed us to browse the filesystem without any hiccups.
After discovering that the Vivobook X505 does fairly well for day-to-day tasks like browsing the web obsessively and binge-watching everything on your favourite YouTuber's channel, we thought it would be fun to see how well the laptop could run modern day games. This isn't a part of our typical tests, but we figured what's there to lose. We loaded up Doom, Metro Last Light and Forza Horizon 4 on this machine. Even at their lowest settings, the games wouldn't lock 30fps, with Doom playing at 12fps at best. Needless to say, the Vivobook X505 isn't a great gaming machine.
Battery Life
The battery life on the Asus Vivobook X505 is something that could have definitely been better. On PCMark's battery test, the machine lasted an all of 3 hours and 29 minutes. In real life, the machine gave us about 3 hours of use with the brightness turned down to 40 percent, Bluetooth off and no USB devices connected. The battery life is something that could have definitely been better is what we feel, especially seeing how as laptops age, their battery life only diminishes with time. You will, however, be able to make it through one whole movie with the brightness turned all the way to full and the speakers at full volume as long as the movie is not longer than 2 hours. We watched Guardians of the Galaxy, which has a run time of 2 hours, on this laptop and by the tim the movie ended, the battery had dropped to 15 percent. overall, it is decent battery life, but we feel that it could have been better.
Bottomline
The Asus Vivobook costs Rs 34,990 and gets you an AMD Ryzen 5 CPU with 8GB RAM and 1TB storage space. There are decent upgradability options here, with the RAM upgradable to 16GB and hard drive swappable to a SATA SSD. The performance is adequate to make this machine ideal for any college student who needs a laptop for writing papers, research, making presentations and even unwinding to a good movie. Same goes for office going adults who need a basic machine for the easier tasks of the office. For Rs 35,000 this isn't too bad a machine, but if you are the impatient kind who can't wait 2 minutes for his/her laptop to boot up, you'd be better off investing in an SSD as well. Regardless, the 8GB RAM will become insufficient sooner than later.
Asus Vivobook X505 Key Specs, Price and Launch Date
| | |
| --- | --- |
| Price: | |
| Release Date: | 18 Dec 2018 |
| Variant: | None |
| Market Status: | Launched |