ASUS AiO Transformer P1801 detailed review
The ASUS AIO Transformer is a very interesting concept. At a time when PC manufacturers are struggling to sell their devices, ASUS has decided that innovation is key and came out with this device. A 3-in-1 PC that they hope will make sense of the mess of ecosystems that has become part and parcel of our daily lives.
You get the following items right out of the box:
• 18-inch tablet that's powered by an Nvidia Tegra 3 SoC and is running Android. The tablet does double-duty as a tablet as well as a remote display for the Transformer's base station.
• An AIO PC that's powered by an i5 processor and an Nvidia GT730M and running on Windows 8.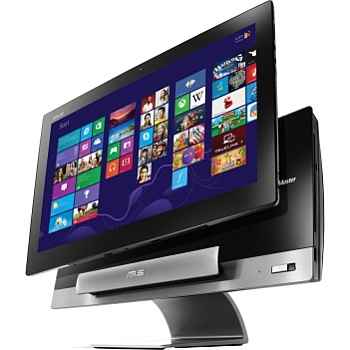 How does it work?
The base-station is the PC and the tablet docks with it via a port at the bottom of the PC. You just pop the tablet into the port and the tablet becomes the display. There's a blue button along right-side bezel that you can tap to switch between modes on the tablet. You can also connect an external display or TV to the PC via the (lone) HDMI port at the back.
To use the ASUS AiO Transformer P1801 in Android mode or as a remote desktop, you simply undock it or press the blue button. Very simple. The tablet will charge while it's docked and can also be charged separately via a bundled adapter.
Now let's evaluate the operating modes in more detail.
Mode 1: 18-inch tablet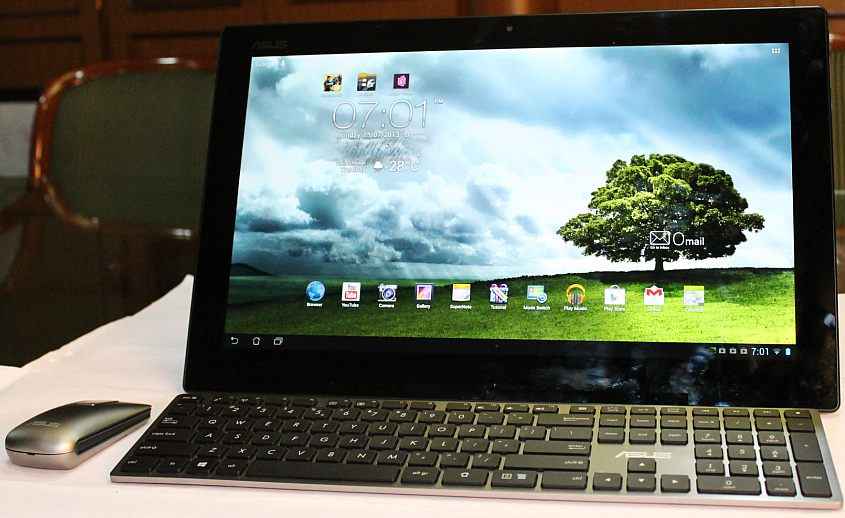 The ASUS AiO Transformer P1801's tablet itself is nothing much to speak off, in terms of design that is. It is an oversized tablet and looks exactly like one. There is a convenient stand at the back that can be used to prop up the device on any reasonably flat surface; there is also a small, recessed carrying flap that opens up, allowing you to carry the "tablet" with ease. The display is capable of 1080p and while we don't like the fact that it's glossy (that's a matter of personal opinion anyway) and the colours are a bit washed out compared to superlative displays, the quality is excellent and text and images are nice and crisp. The speakers are also surprisingly good for a tablet and while not fantastic, are acceptable.
In terms of raw specs the ASUS AiO Transformer P1801 tablet portion is quite powerful, as far as Android tablets go. The Tegra 3 SoC is no slouch when it comes to gaming and should normally be powerful enough to keep an Android tablet ticking. Sadly, the UI seems to lag a bit in general use and while games are smooth, you probably wouldn't want to be playing them on an 18-inch tablet anyway.
Also, the 18-inch form-factor is very uncomfortable to use if you're thinking of using it as a tablet. If you were to consider it to be a sort of PC, a Chromebook if you will, then it starts to make more sense. The tablet is large and heavy but as long as you've got it propped on a table or some similar surface, you should be fine. That said, Android is an uncomfortable OS on a large tablet and it's only worse as a PC. Still, the novelty of using such a large tablet won't wear off very easily.
One quibble we have with the ASUS AiO Transformer P1801 is the lack of full-sized USB ports on the side. We've seen smaller tablets with such ports and it would have been nice if we could have just plugged in a pen drive or HDD (or even a game-controller) without worrying about carrying extra dongles and adapters.
Mode 2: 18-inch remote display
It's in the remote desktop mode that this tablet actually starts to make sense. Essentially, ASUS installed a remote-desktop server on the Windows 8-based base station and a viewer as an app on the tablet. Once the two devices are on the same Wi-Fi network and setup correctly (which is a cinch by the way), you can happily stream your Windows desktop to the tablet. Of course, you'll need a good router that's rated at 300N to take full advantage of the system, but the point is, it works and it's fun.
You can be working on a document the whole day for example, and then simply pick up the screen and carry it to your bedroom if you wish to. There is a tiny bit of lag so you can't really play games, but for movies and general browsing, a streamed Windows environment is a pleasure to work with.
The base station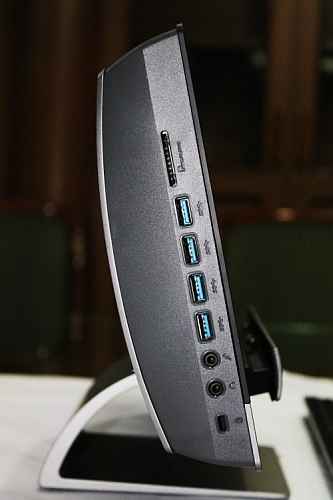 By PC standards, the ASUS AiO Transformer P1801's base-station is quite minimal. You get an i5 processor of course, but you also only get an Nvidia 730M which is abysmal by any standards, though probably better than integrated graphics. 4xUSB ports also don't cut it anymore and only one HDMI port is a big disappointment.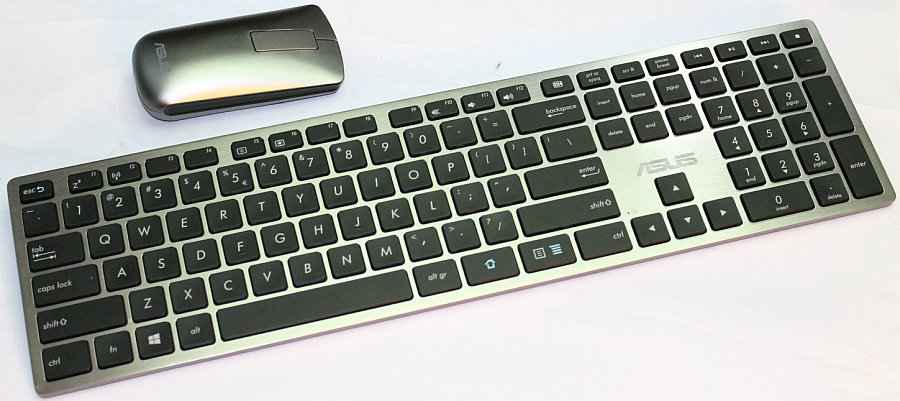 The wireless keyboard and mouse that come with the ASUS AiO Transformer P1801 are elegant in terms of design and do seem well-built. The mouse however, is a big disappointment. It's not very ergonomic and the buttons are very stiff. The tracking is also a bit iffy on not-so-ideal surfaces.
If you disregard the above comments, the ASUS AiO Transformer P1801's station itself is well-built, it feels sturdy and depending on your taste, is well-designed as well. There is a vent at the back to aid in circulation and it was enough to keep the temperatures in check, but considering that they haven't put powerful hardware in the system in the first place, that is to be expected.
The cracks
The cracks in this system start to show when you start wanting to do more with it. Say you're working on the tablet in the remote display mode and you want to plug-in a pen drive to transfer some files, you can't; the lag can also get a bit irritating when you're streaming a movie to the tablet or want to play a simple game that's on your PC. You almost feel like there's so much wasted potential with the device and you also realize how much sense a Microsoft Surface PRO would make.
In fact, if the tablet itself was a PC powered by Haswell (for the extra battery life), the PC would have made so much more sense. The base station could have been relegated to a NAS device with extra storage and connectivity and double as a simple stand when for when you want to use the device as a PC.
Verdict
As it stands, the Windows/Android tablet combo just doesn't work for us. You can actually buy a full-fledged mid-range gaming rig and an iPad (or other tablet of your choice) with the money you'll spend on this AIO and that would be a system that would make so much more sense. Your Rs. 93,000 nets you a crippled PC and a semi-functional tablet. The ASUS AiO Transformer P1801 creates more problems than it solves.While we hesitate to rate this product poorly, it's well-designed and does offer a very specific kind of person the functionality required, however, the ASUS AiO Transformer P1801 would have been so much better if the whole system was better integrated and provided a more seamless experience. You've essentially got two different environments to contend with and if you thought that the Metro UI wasn't well integrated with the desktop, this is worse.