Alienware m15 detailed review
Earlier this year at the Consumer Electronics Show, the Alienware Area-51m stole the show for being the laptop with fully upgradable guts, running off a desktop processor. What the company also showed off was the Alienware m15, the company's smallest and lightest 15-inch laptop ever. While it doesn't boast of complete upgradability, it does still manage to come with impressive specs. Dell sent a unit over to our labs a few weeks ago and we've been putting the machine through that which it was made for: gaming. Before we get into how the Alienware m15 fared in our grueling Metro Exodus sessions, let's first take a look at what you get for the money you pay.
Specifications
The Alienware m15 is powered by a 6-core 8th generation Intel Core i7-8750H processor. In India, the company offers a choice of 8GB RAM with an Nvidia GeForce RTX 2060 and 512GB NVMe storage and a 16GB RAM variant with an Nvidia GeForce RTX 2070 Max-Q and a terabyte of NVMe storage. Both the models sport FullHD IPS displays with a refresh rate of 144Hz. Sadly, there's no G-sync on either model, which is somewhat of a letdown. Perhaps the most puzzling is the existence of an 8GB RAM variant. When it comes to gaming machines, especially something out of Alienware's stable, you don't expect the company to have a configuration with such a clear bottleneck. However, we received the more expensive, RTX 2070 Max-Q variant for testing.
Alienware m15 Specifications
Processor
Intel Core i7-8750H 2.2 GHz
Platform
HM370
RAM FSB
2666 MHz
RAM Capacity
16 GB
Screen Size
15.6–inches 144 Hz
Screen Resolution
1920x1080
GPU
Nvidia GeForce RTX 2070 Max-Q
SSD
512 GB NVMe
HDD
None
Ethernet
Yes
Wi-Fi
Killer Wireless 1550 2x2
Audio
Realtek ALC294
Battery
60WHr
AC Adapter
230 W
Weight
2.16 Kg
Build and Design
The Alienware m15 is a thing of beauty. We received the Nebula Red variant of the M15 and in the time I was using it outside of office, it definitely turned more than a few heads. The striking red colour isn't audacious, but rather easy on the eyes. The alien-head logo sits at the intersection of the three lines that form a Y on the lid. The finish is soft to the touch, with a slightly powdered texture on it. If you have naturally oily hands, you might leave an imprint or two on it, but it's easy to clean it off.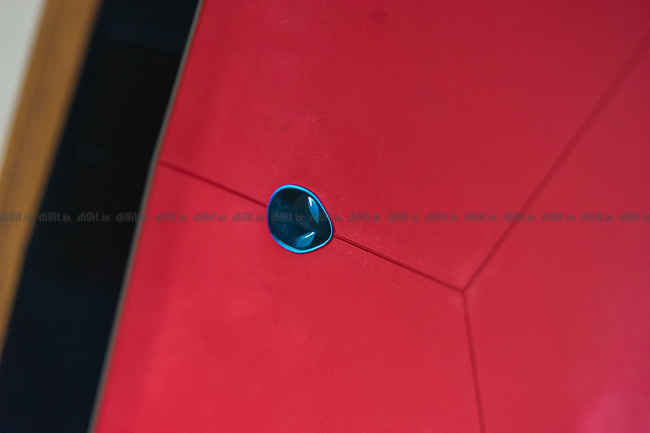 The Nebula Red variant of the Alienware m15 looks slick
Alienware takes a lot of pride in the fact that the m15 is its lightest 15-inch gaming laptop. In reality, however, there are gaming laptops with the same 15-inch display that are thinner and even lighter, such as the MSI GS65 Stealth and even the Asus ROG Strix G531. Weighing in at 2.1 kilos, the m15 may not sound like a light machine, but given the hardware it's packing, the weight can definitely be forgiven. I have carried the laptop around in my hand and backpack for over a week and a half and it's not really been much of an issue.
One of the best things about the Alienware m15 is just how solid it feels. There's no flex on the top lid or the bottom, which bodes extremely well. You can lug this machine around without having to worry about damaging it by putting unnecessary stress on it.
Display
The Alienware m15 comes with a Full HD IPS display with a 144Hz refresh rate. The lack of G-sync branding was immediately evident, but we're told that Alienware had to forego G-sync in favour of providing good battery life. The reason for this is that in order to get the best battery life, Alienware had to opt for Nvidia's Optimus technology, which switches between Intel graphics and the discrete GPU depending on the task at hand. Unfortunately, the G-sync pipeline does not support this kind of switching, which is why G-sync is missing on the m15.
Using our Spyder colourimeter, we were able to verify that the m15's display offers accurate representation for 98 percent sRGB. This makes the m15 a good candidate even for creative professionals, but more on this in our performance section. IPS panels tend to suffer from light bleeds and the m15 has the problem fairly well under control. The light bleed does show in the bottom right corner if there's a black wallpaper on your desktop, but it's not one that creates any problems while gaming. Having played Doom, Metro Exodus (lots of dark scenes here), Battlefield V and a few others, I confirmed that the light bleed was not a problem in any of them.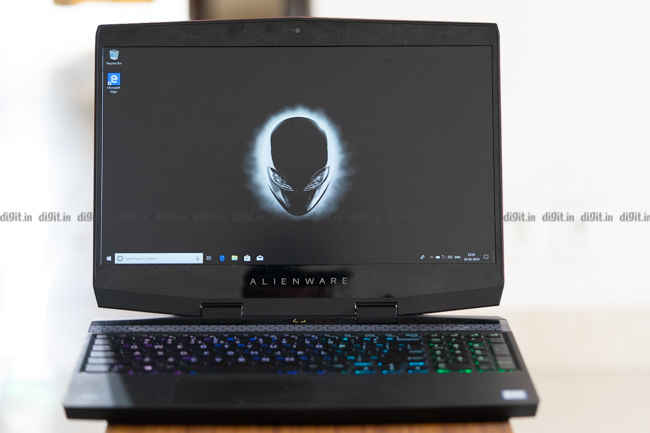 The FHD IPS display has a 144Hz refresh rate and minor IPS bleed
The 144Hz refresh rate is definitely super helpful if you're into competitive gaming, or even shooters. For the most part, it's a great thing to have, but the Nvidia RTX 2070 Max-Q on this thing isn't powerful enough to push the modern-day titles to 144Hz, unless you lower the graphical settings.
Keyboard, Trackpad and I/O
In a bid to make the Alienware m15 a 'slim' laptop, the company chose to go with keys that have 1.1mm of travel. The travel is short, but snappy. The keys are not spongy at all and they register 3/4th of the way down. As someone whose laptop has 1.8mm of key travel, the shorter distance was definitely noticeable, although easy to get used to. I used the Alienware m15 as my daily driver for roughly two weeks, and discovered that the keyboard is actually really nice to type on. The short but firm keystrokes offer great feedback, while not being noisy at all. Additionally, the keyboard comes with 3-zone RGB lighting, which can be controlled from the Alienware Command Center. The keys themselves are reasonably spaced, with each keycap offering generous amount of area for your fingers to find their way. This is especially impressive seeing how the m15 also sports a full num-pad, which is a little compact, but still very much usable.
Underneath the keyboard is an off-center trackpad. In a conversation with Frank Azor, Co-Founder and Vice President of Alienware, we learnt that the company has aligned the trackpad to be center-aligned with respect to the G & H keys, instead of being center aligned to the keyboard in general. They say this was done after a lot of usability research and it may make sense, but in terms of my usage, the story was a little different. The more left-aligned trackpad was easy to use with the left hand, but the right and left click buttons were a different story. On the m15, you will find yourself clicking the left button instead of the right due to its position. While Alienware may have research to back up their decisions but going by what people are used to and just muscle memory, the trackpad is going to take a lot of getting used to.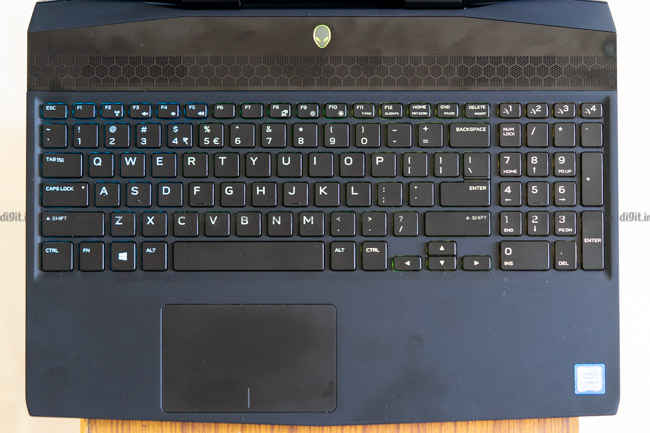 The off-center trackpad with no individual left and right click makes the trackpad difficult for in-game use
What you will, however, enjoy are all the ports the machine comes with. Along with a Thunderbolt 3 port at the back, there is also a Graphics Amplifier port at the back along with an HDMI 2.0 and Mini Display Port 1.3. On the left side, you get two USB 3.1 gen 1 ports while the right side of the machine houses another USB 3.1 Gen 1 port along with an ethernet port and a combined headphone-microphone port.
The I/O on the Alienware m15 is pretty solid when considering the keyboard and the ports. The trackpad's placement, however, does make it a little weird. Frankly, you're just better off using an external mouse for not just your gaming sessions, but for everything else in general.
Performance
The Alienware m15 comes with an Nvidia GeForce RTX 2070 Max-Q on board, mated to an Intel Core i7-8750H and 16 gigs of RAM. Further reducing any bottlenecks is the 1 terabyte of NVMe storage. For all intents and purposes, the m15 sports a very balanced set of components, all of which come together for great performance, so we put the machine through its paces.
For synthetic benchmarks, since this is the first RTX powered laptop we're testing, we've reworked our test sheets so this laptop comes with no competing number yet. Regardless, we saw the m15 surpass some of upper threshold we had set of gaming laptops. The machine clocked a score of 6,508 on 3DMark's Time Spy benchmark and 15,319 on Fire Strike. On Port Royal, we benchmarked the m15 only for a Full HD run of the benchmark and walked away with a score of 5,970. As of now, RTX and DLSS performance isn't a significant part of our test. While synthetic benchmarks hold different meanings for different people, we figured the best way to judge the m15's performance was to use it for the thing its meant for: gaming.
Our gaming tests began with Metro Exodus, a game that is garnering the reputation for bringing even the most powerful gaming rigs to their knees. With the game's graphical settings turned up to Ultra (in Full HD) and RTX on with DLSS turned on, we were able to get an average frame rate of 48fps. Turning RTX off and dropping the graphics settings from Ultra to High did noticeably improve frame rates, bringing the average up to 60fps. For Battlefield V, the average frame rate stayed around 70fps with RTX and DLSS turned on. Turning the feature off and dropping the graphics settings to High boosted the frame rates to 90fps and with graphics turned down to Medium, we saw a frame rate of 110fps.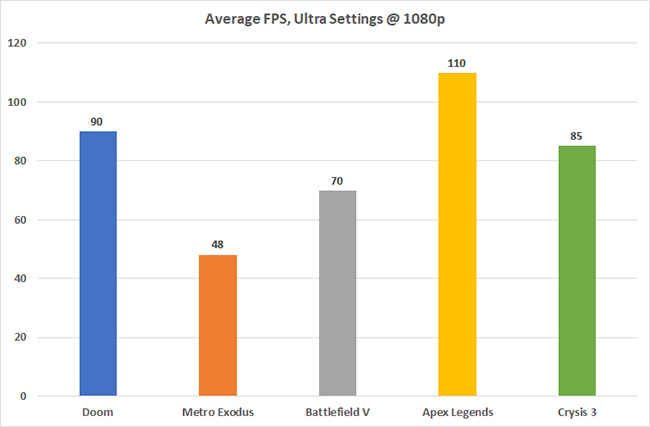 Metro Exodus and Battlefield V frame rates were recorded with RTX and DLSS on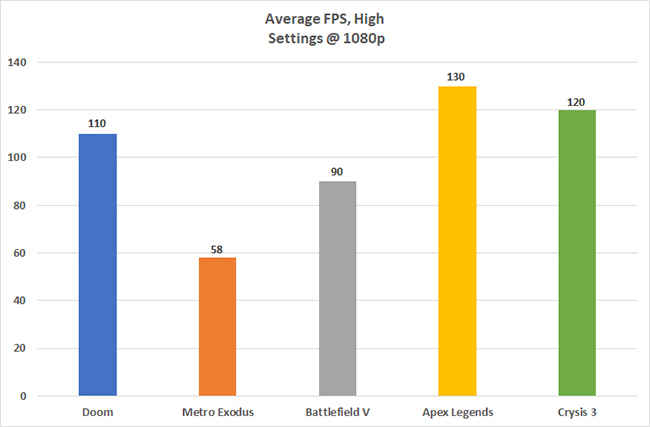 RTX and DLSS turned off for Exodus and Battlefield V
For games that aren't RTX and DLSS enabled like Apex Legends, the Crysis trilogy, Anthem and Doom, we managed to get some pretty impressive numbers. Apex Legends ran at a butter smooth 110fps with all its settings turned all the way up. We were able to lock a steady frame rate of 90fps on Doom while Anthem's frame rates varied between 85 and103fps, depending on the amount of action taking place.
Moving past gaming and onto creative loads, we ran our standard Adobe Lightroom export test using 500 RAW files from a Nikon D850. The Alienware m15 was able to push out a batch of 50, 100 and 500 images in 1 minute 15 seconds, 2 minutes 58 seconds and a little over 20 minutes respectively. By any margin, these are fairly impressive numbers, with the Dell XPS 15 with the Intel Core i9 still being the fastest export machine.
Suffice it to say, the Alienware m15 does not leave any room for complaint when it comes to the performance, but there is one significant cost to all this and that is thermals.
Thermals and Fan noise
One thing that is pretty much a given about gaming laptops is that they will run hot. We don't penalize laptops for running hot unless the heat starts to impede with the usability, either through throttling or by making the surface of the machine so hot that it becomes uncomfortable to use. The Alienware m15, even with its new Cryo V.20 cooling, falters when it comes to some aspects of heat management.
During our gaming and benchmark sessions, we verified the package temperature to be well within the high 90s. To keep the temps from rising any further, the laptop ramps up the dual high-voltage fans to their max speed, which results in 56.6 decibels of noise. At idle, the fans stay at a more respectable 28 decibels. The problem, however, comes during long gaming sessions. We observed that the air coming out of the side vents measures 60 degrees Celsius, and the WASD keys having a temperature of 46.6 degree Celsius. While this could be passable for short gaming sessions, my 4-hour-long Battlefield V session became somewhat uncomfortable after a point. The top plate just above the keyboard in fact got even hotter, registering a temperature of 56 degrees Celsius.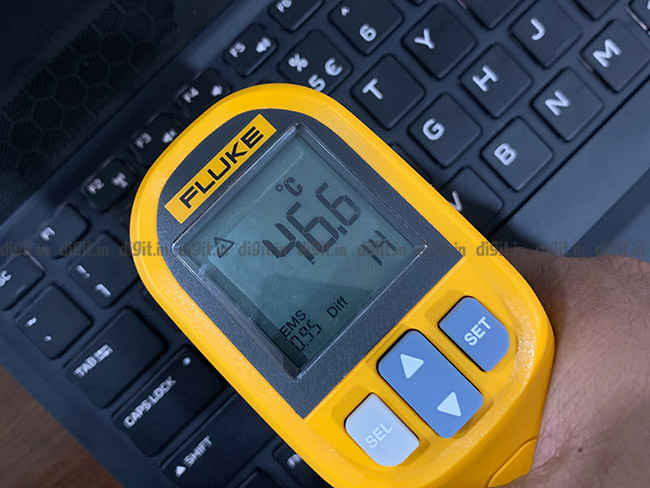 WASD keys get really hot for long gaming sessions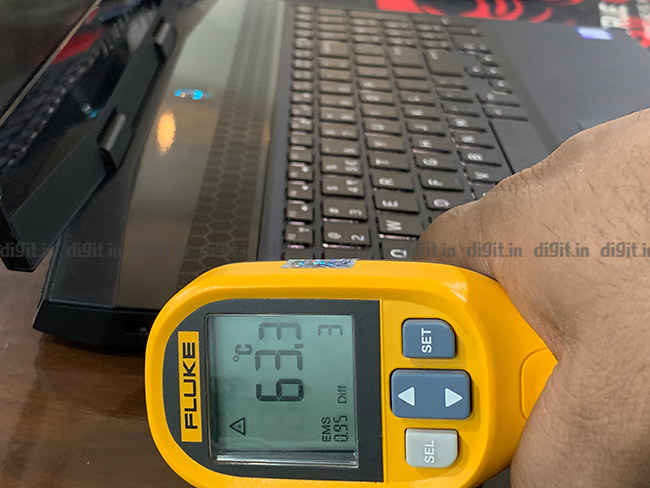 The Alienware m15 does run pretty hot
Between the heat and the loud fans, it can get difficult to get a sense of in-game audio or enjoy dialogues in a movie unless you're wearing headphones. You can set the system's fans to operate at a quieter volume, but then the thermals ride pretty quickly. Unfortunately, we're not very happy with the thermals and noise performance of the Alienware m15. Even if you're gaming in a café with headphones on, the people around you are definitely going to wonder what is going on.
Battery Life
The Alienware m15 packs a 60WHr battery with an optional 90WHr battery that can give you up to 17 hours of standby time. Our unit came with a 60WHr battery and lasted us about 5 hours and 20 minutes on regular work mode. For this, we had the system fan configuration set to balanced and did not play any games during this time. Gaming on battery life does yield a slightly lower frame rate across the board, but also eats into the battery significantly. While streaming Altered Carbon from Netflix with the display brightness set to 100 percent, the laptop's battery dropped about 22 percent charge. The audio was routed through the internal speakers. On PCMark 8's battery benchmark, the Alienware m15 lasted for 4 hours and 18 minutes.
Gaming laptops aren't particularly known for having great battery life and the Alienware m15 is pretty much in line with what similarly spec'd gaming machines have to offer.
Conclusion
The Alienware m15 is a brilliant machine by itself, sporting a unique look regardless of the angle you look at it from. In terms of specifications, the machine is brilliantly balanced in terms of hardware, where no one component really bottlenecks another. We've seen the machine push out respectable frame rates on popular gaming titles. The keyboard works well but we are not fans of the trackpad placement, or the fact that it doesn't have individual buttons for left and right clicks. It offers a good selection of ports, including Thunderbolt 3 which can be used for expansion. The display is brilliant with its colour reproduction and refresh rates. While the Alienware m15 is a great gaming laptop by most accounts, where it does definitely falter is the fact that the WASD keys get uncomfortably hot especially during long gaming sessions. However, if you're looking for a beefy machine that can handle any game or render any task you through at it without a hitch, the Alienware m15 would be a great choice.