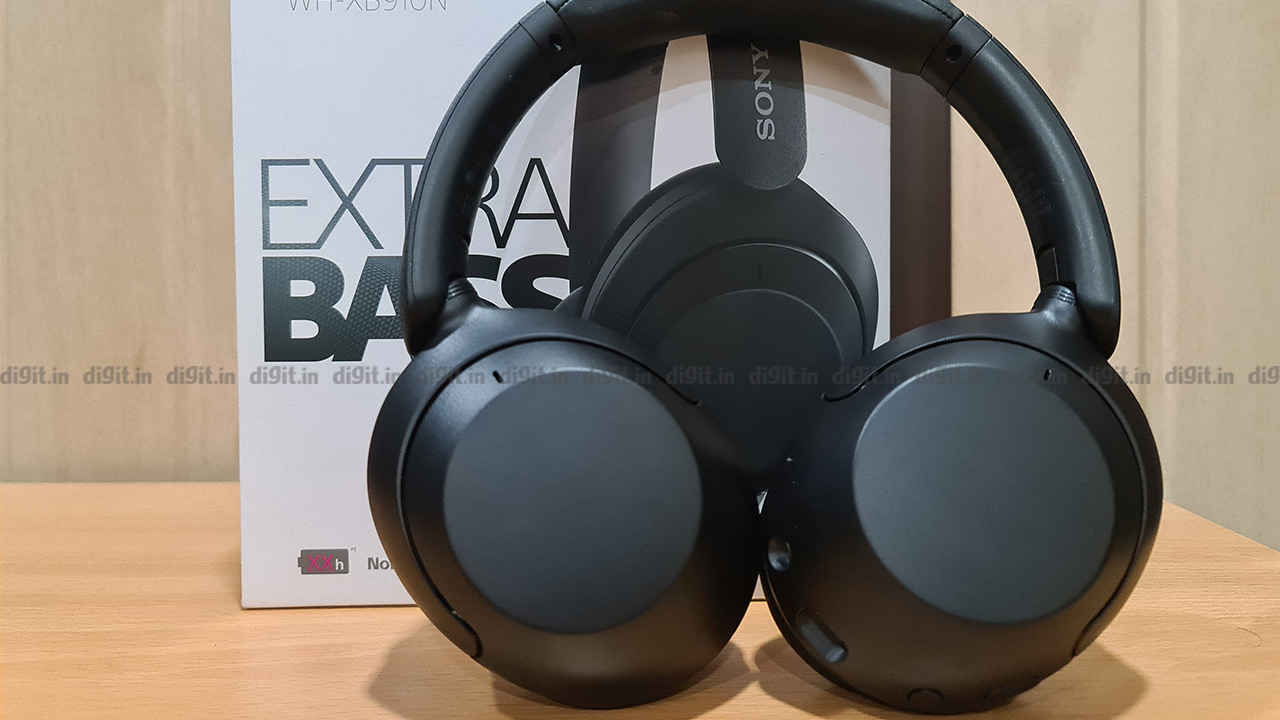 PROS:
Impressive battery life, Bluetooth multipoint connectivity, Feature-rich accompanying app, Comfortable fit
CONS:
Bloated bass response, Mediocre Active Noise Cancellation, Sound leakage
VERDICT:
An affordable alternative to the Sony WH-1000XM4 and a bass lover's dream, the Sony WH-XB910N has a lot going for it. Not only do you get ANC, app support, and multipoint connection support, but you also get a solid, robust build and excellent battery life. However, the ANC performance is not close to Sony's flagship headsets, so keep that in mind. The sound signature is quite bass-forward though and may only appease hardcore bass lovers, so purists and audiophiles should look the other way.
The Sony Extra Bass (XB) lineup has always been a popular one in India, with an audience that largely prefers bass-heavy headsets. We've reviewed several XB headphones over the years, and they usually stay true to their moniker, being that extra bass promised. The Sony WH-XB910N is the company's newest entrant in the XB lineup equipped with Noise Cancelling abilities. Priced at Rs 14,990, the WH-XB910N is cheaper than the company's most premium noise-cancelling headset – the lauded WH-1000XM4 – and it comes with similar features. So, users who may not want to spend more than 20K on a noise-cancelling pair of cans may find the Sony WH-XB910N more appealing, price-wise. Additionally, those who prefer a more bass-driven sound signature may also gravitate towards these headphones. However, how do these headphones perform and are they worth their price tag? Let's find out that and more in this review.
Sony WH-XB910N: Build and comfort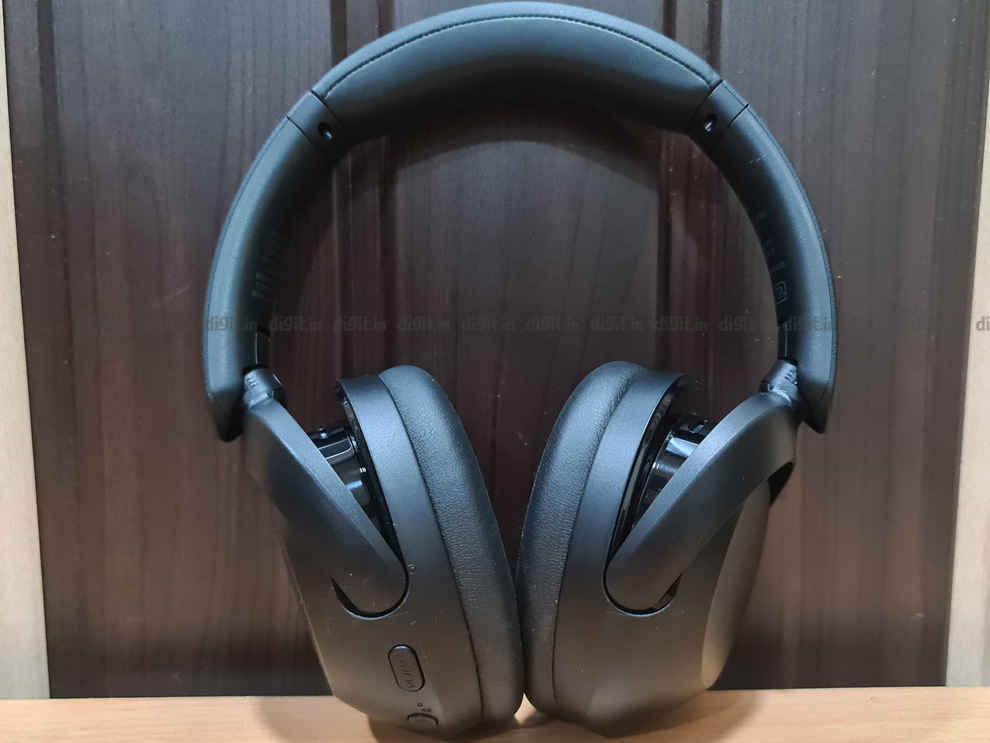 The Sony WH-XB910N's design is reminiscent of the more expensive WH-1000XM4. The shape and styling are very similar but these headphones are lacking the copper accents that give the Mark 4s their aesthetic appeal. The WH-XB910N looks simple and plain but that's not necessarily a bad thing. The headphones are also very light, weighing merely 252g. The weight is also evenly distributed and you won't feel stress at any one point when wearing the cans.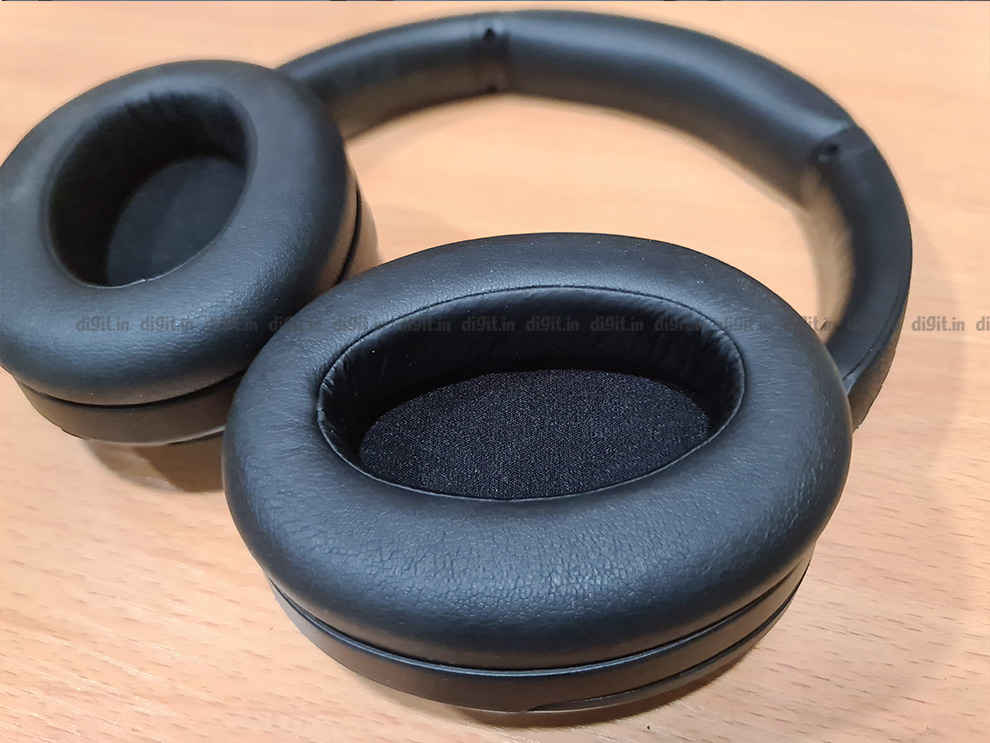 The headphones have an over-ear design with thick, plushy foam ear cups. The underside of the headband is also padded with foam, making these headphones supremely comfortable to wear. The urethane memory foam ear cups do get slightly warm after long periods of usage though. However, the headset is extremely comfortable to use in most scenarios including walking, jogging or merely sitting.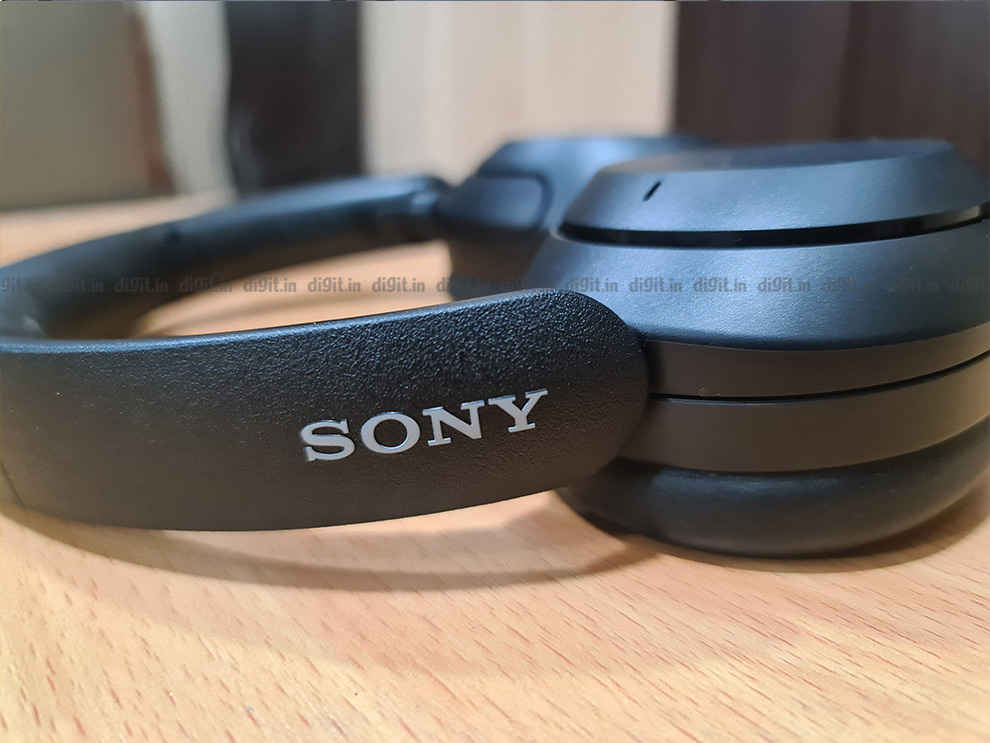 The headphones are very flexible so they should fit large-sized heads too. The headband extenders allow for variability in fit as well, allowing small or large-sized heads to wear the headphones comfortably. The earcups also rotate so they can sit flat on your chest when not in use. The headphones can be folded as well, so they are easily portable. Sony has provided a hard carrying case with a fabric texture, which is convenient for carrying the headphones around.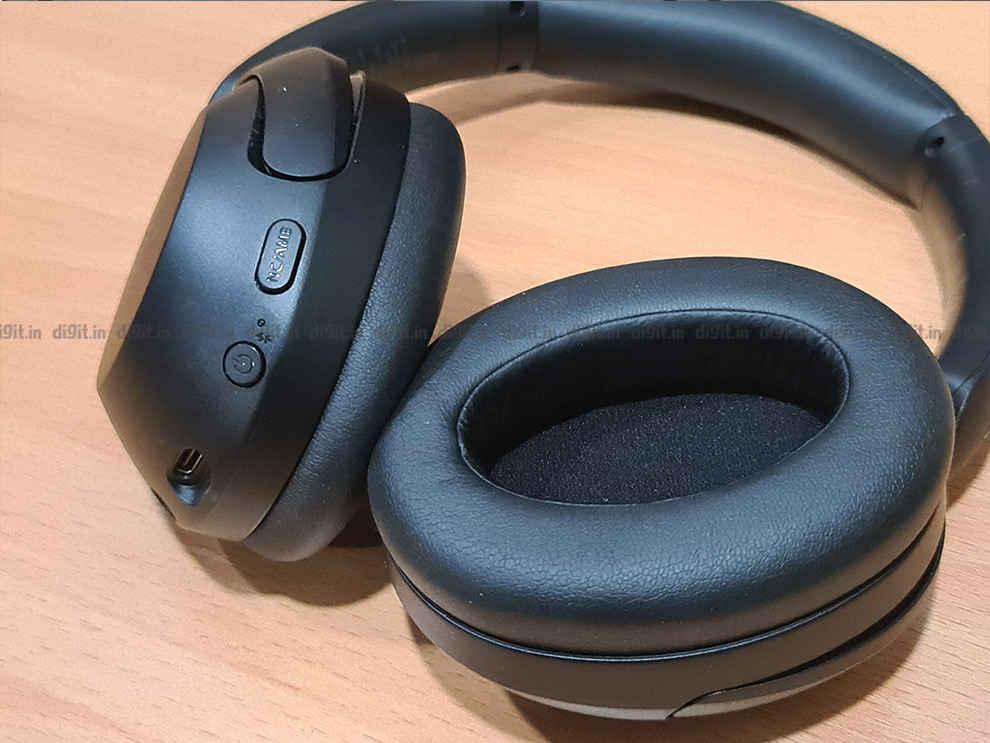 The power and ANC buttons are situated on the side of the left earcup. They're easy to press and have pretty good tactile feedback. At the bottom, you also have a 3.5mm audio jack to listen to music passively using the provided 3.5mm cable. There's also a USB Type-C port for charging. On the right side, you have the touch-sensitive panel on top of the earcup. You can use the touch panel to pause/play music, skip tracks, control volume levels, and activate voice assistant. The controls are simple, intuitive and worked flawlessly during our testing.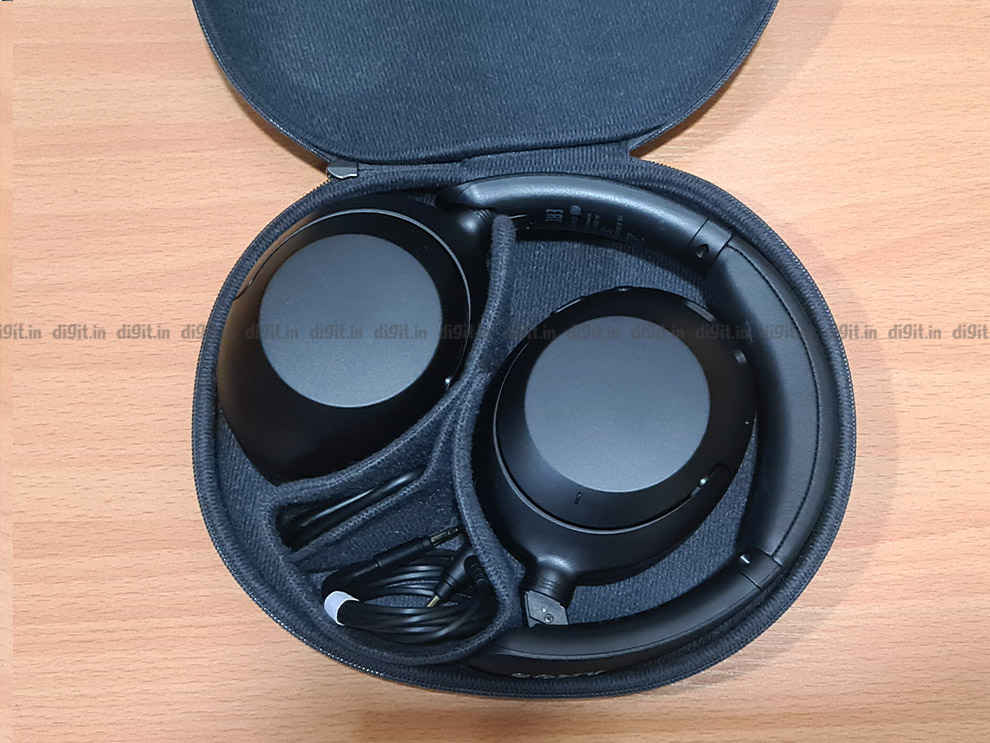 Inside the box, you get the headphones themselves, a hard fabric-textured carrying case, a 3.5mm audio cable, a USB Type-C charging cable, and some documentation.
Sony WH-XB910N: Features
The Sony WH-XB910N serves up an array of features present in the Sony WH-1000XM4 at a more affordable price to users. Firstly, the cans come equipped with Active Noise Cancellation and Ambient Sound. The headphones are equipped with two feedforward and feedback microphones that capture environmental noise and either subdue it with ANC or amplify it with Ambient Sound mode.
Another excellent feature present on these headphones is Sony Headphones Connect app support. The app allows access to a plethora of features and customisations including Sony's AI-based Adaptive Sound Control, 5-band customisable EQ, 360 Reality Audio setup, Sony's DSEE upscaling technology and voice assistant function. The Adaptive Sound Control function uses AI smarts to detect your surroundings or actions and apply a noise-cancelling mode accordingly. So, when you're walking, it turns on ambient sound so you can hear your surroundings, and when you're sitting it turns on ANC mode. You can tweak what activity applies which noise-cancelling mode within the app, as per your preference.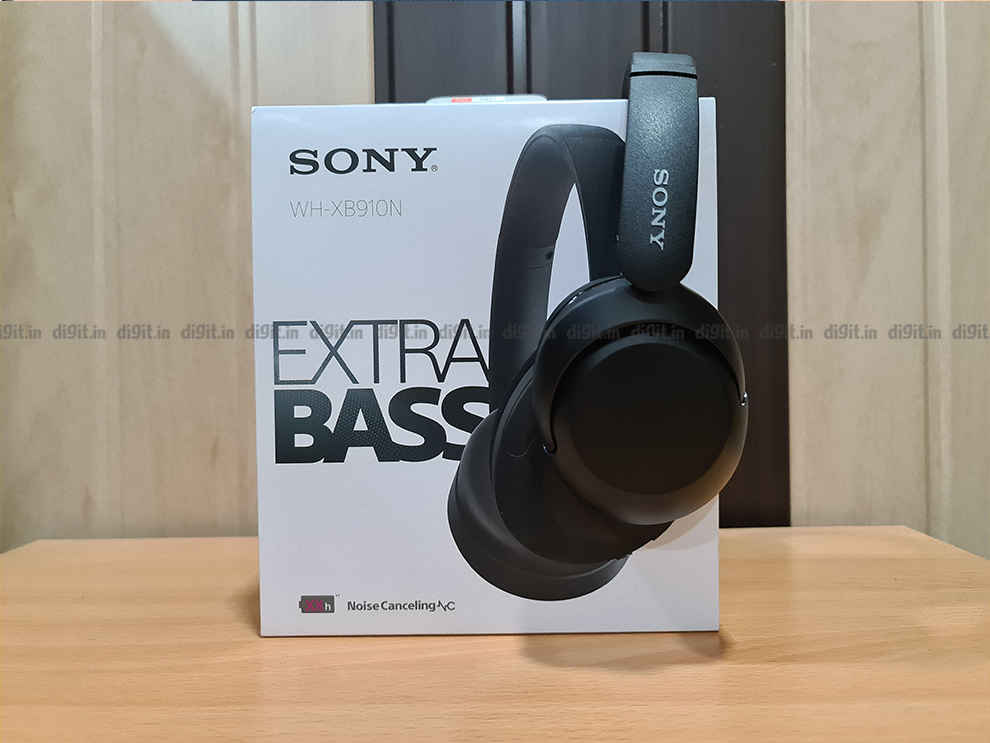 360 Reality Audio is present but there aren't too many apps that support the feature in India. As for DSEE, it enhances and upscales digital files to bring them as close to the original recording's quality as possible, according to Sony. You can also toggle multipoint connectivity within the app that allows you to connect two devices to the headphones simultaneously. Additionally, you can pick between the device voice assistant or a handsfree voice assistant (Google Assistant or Alexa) within the app. We picked Google Assistant and used handsfree commands a lot to call people, have assistant read out our notifications, and more. Overall, the app is very feature-rich and allows users to have more granular control over the headphones.
As for other features, the headphones come with Quick Attention Mode which is possibly one of our favourite features to use on ANC headphones. Placing your palm on top of the right earcup activates ambient sound and turns down media volume, allowing you to have a quick conversation or pay attention to announcements at railway stations or airports. It is an excellent feature that we really enjoy using and miss having on headsets from other companies.
The headphones also support Google's Fast Pair, allowing you to connect the headphones to your Android device in a jiffy and you can even ring them to find them if misplaced. The headphones support Swift Pair as well, allowing them to be connected to Windows 10 PCs with ease via a pop-up pairing window.
Sony WH-XB910N: Performance
The Sony WH-XB910N headphones feature 40mm dynamic drivers and support the SBC, AAC and LDAC audio codecs. LDAC is a high-quality codec that provides 96kHz sampling at 990kbps, which in turn allows for more detailed sonic representation. The headphones are part of Sony's XB (eXtra Bass) lineup and they stay true to that moniker. While not as ridiculously lows-biased as their predecessors – the Sony WH-XB900N – they still favour the lower end of the frequency spectrum.
The cans have a warm, V-shaped sonic signature with boosted bass and treble notes. The bass is punchy and dynamic while the mids are recessed. This sonic signature lends itself well to genres such as pop, rap, EDM and Bollywood and will please bass lovers. However, audiophiles and purists should turn away since the bloated bass can definitely sound muddy at times and hamper the clarity of the already-recessed mids.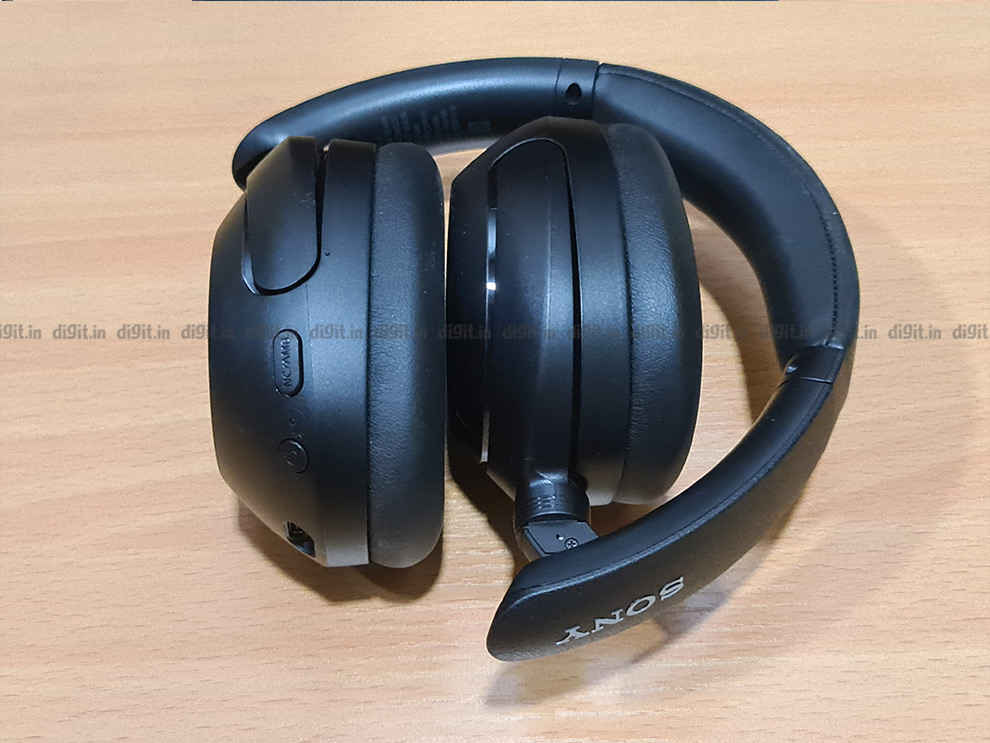 In tracks such as Another One Bites The Dust by Queen, the bass notes sound boomy and veil the details in Mercury's vocals quite a bit. The sound you get is pretty one-dimensional and it doesn't work with genres such as classical and blues. The highs can get slightly shrill as well and the drop off isn't as precise as we'd hope as well. The soundstage is wide though and feels as if it extends well beyond the confines of your head. The headphones also suffer from sound leakage, we recorded well beyond 70dB of sound leakage, which isn't ideal, especially when listening to music around other people.
Overall, these headphones' sound signature is best suited to those who prefer bass-biased headphones and not to those looking for a more natural and balanced sound. However, you can use the customisable EQ within the app to tailor the sound to your liking. We found that lowering the bass and treble a bit can really make a tremendous difference.
As for ANC performance, it isn't as effective as that on the Mark 4s. Low, constant sounds are dealt with pretty decently but more erratic, high-frequency sounds barely get suppressed at all. So, sounds such as high-speed fans, the clacking of a mechanical keyboard, the sound of train tracks, or people speaking make their way through almost unhindered even with ANC turned on. The cans are more proficient at dealing with sounds such as an AC's hum, a PC's whir, etc. Moving on to ambient sound mode, the effect provided allows users to be aware of their surroundings but the sound is slightly unnatural. The same is true for the Sony WH-1000XM4's ambient sound mode as well, so Sony needs to put in some work in this area.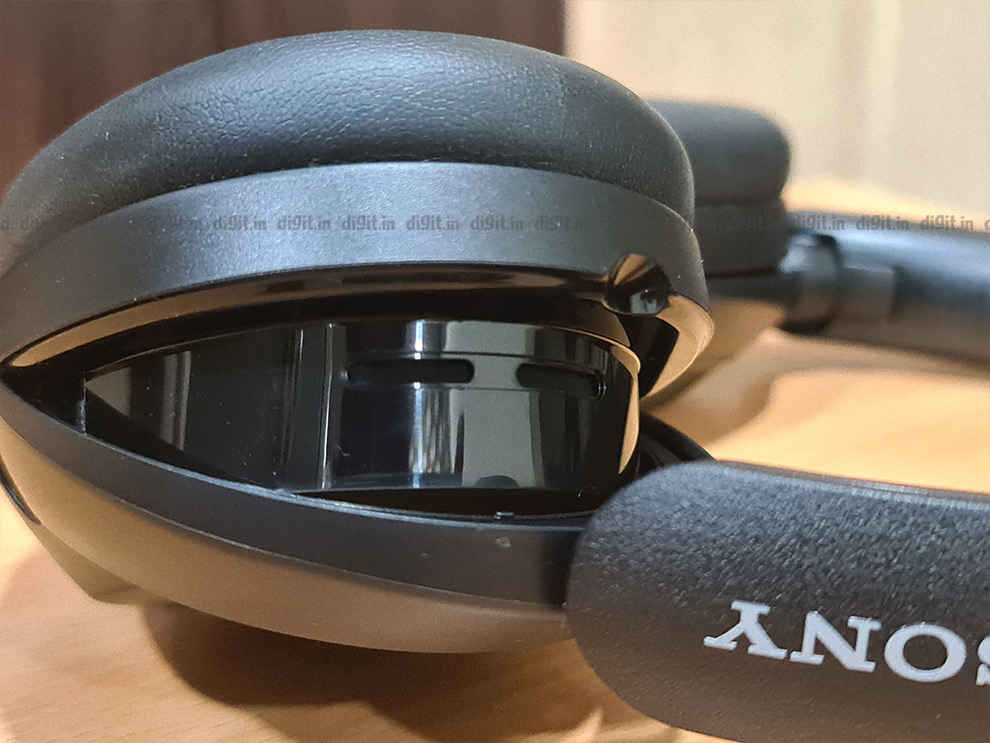 Wireless connectivity is exceptionally stable on these headphones. You get Bluetooth v5.2 which is a huge improvement over its predecessor's v4.2. There were no lags or stutters in the connection and the latency is barely noticeable unless you really look for it. If you're really nitpicky about this, you can use the 3.5mm cable to listen passively without any latency.
Finally, coming to microphone performance, the Sony WH-XB910N does pretty well in this regard. The headphones pick up the speaker's voice and relay it clearly with minimal distortion. The speaker's voice can sound slightly muffled at times, but the overall experience is a pleasant one. The headphones' microphone is best used in an indoor setting for meetings and calls. Outdoors, the microphones tend to pick up a lot of ambient sound which may sour the calling experience.
Sony WH-XB910N: Battery life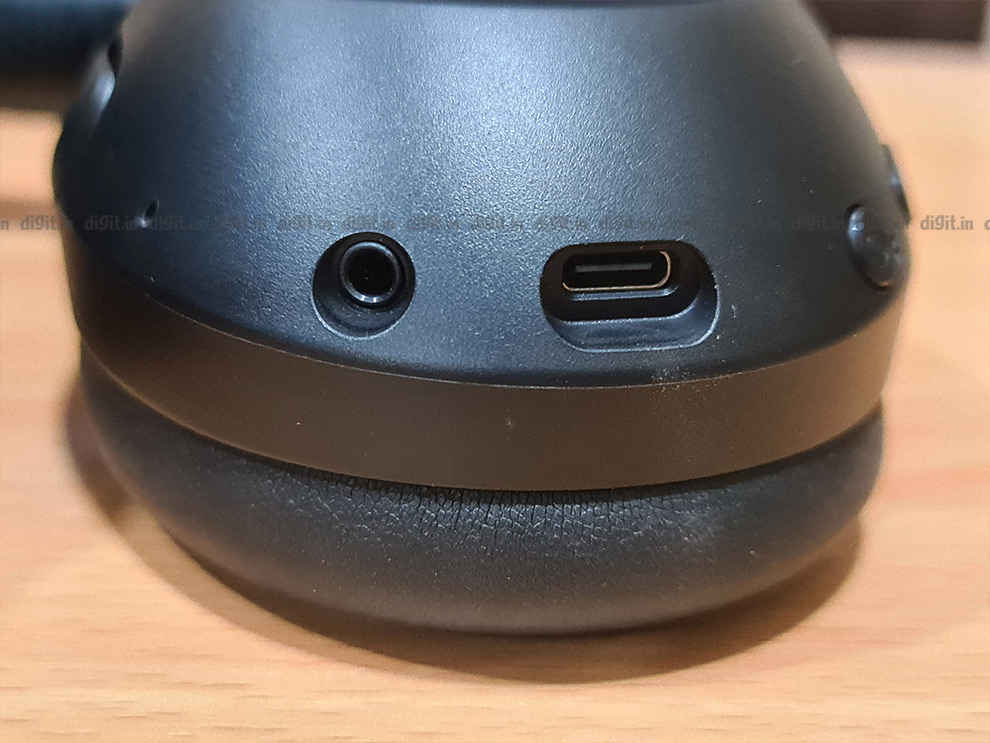 The Sony WH-XB910N's battery life is nothing short of exemplary. You get 30 hours of wireless playback with ANC turned on and a whopping 50 hours with ANC turned off. In our tests, the headphones managed a playback time of 31 hours with ANC turned on and the battery levels set at 60 per cent. Not just this, the headphones also support fast charging. So, plugging the headphones into a charger for merely 10 minutes will provide 4.5 hours' worth of wireless playback time! This is extremely convenient and we barely had to charge the device through our week-long testing phase. The headphones take about 3.5 hours to charge to full though, which is a tad longer than desirable.
Sony WH-XB910N: Verdict
An affordable alternative to the Sony WH-1000XM4 and a bass lover's dream, the Sony WH-XB910N has a lot going for it. Not only do you get ANC, app support, and multipoint connection support, but you also get a solid, robust build and excellent battery life. However, the ANC performance is not close to Sony's flagship headsets, so keep that in mind. The sound signature is quite bass-forward though and may only appease hardcore bass lovers, so purists and audiophiles should look the other way. There are options in the market at a similar price range with a more balanced sound signature from Sennheiser and Jabra, but if booming bass is your style, there's really no reason to look another way.
Sony WH-XB910N Key Specs, Price and Launch Date
| | |
| --- | --- |
| Release Date: | |
| Market Status: | Launched |