Sony SRS-XB41 Portable Wireless Bluetooth detailed review
Sony has a legacy of making great audio products. There was a time (maybe a long long time ago) when a Sony music system could be found in practically every household. As the years passed and Apple's iPod revolutionized how we consume music, Sony's dominance started to slip out of its grasp. However, thanks to the digital revolution and the need for everything "wireless," Sony is making somewhat of a comeback. The SRS XB41 is Sony's portable Bluetooth speaker designed for the bass heads out there. A subtle upgrade to last year's SRS-XB40, the new XB41 comes with a few tricks of its own, but the question is, can it hack it as a portable, Bluetooth speaker that delivers stellar sound? Read on to find out.
What's in the Box
1 x Sony SRS XB41
1 x Power adaptor
1 x Micro USB cable
1 x Quick start guide
1 x Safety sheet
1 x Warranty card
Product Specifications
Speaker Type: Full range
Speaker Size: 58mm
Cone Material: Mica Reinforced Cellular Fiber
Connectivity: Bluetooth 4.2, AUX-in
Has NFC
Battery life: 24 Hours
IP Rating: IP67
Build and Design
The Sony SRS-XB41 is an update to last year's XB40, which in of itself was a pretty damn well-built speaker. It had RGB LED trim along the front and back and even colour lights firing into the speaker. It was a party speaker for sure and the same DNA carries over to the XB41. Start playing your favourite EDM tunes on this at a house party (with dim lights) and watch the light show turn heads. What has noticeably changed is the material that comprises the surface of the speaker. Last year's XB40 used a grille while this year, Sony has used a nylon-based material which is just as durable but allows for better sound transmission. I tested the claims of the durability of the material by taking a blade to the surface and sure enough, there was no damage.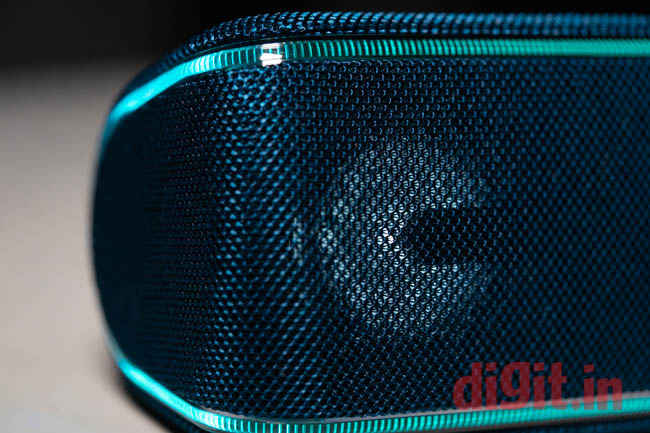 The speaker is mostly covered in the nylon material except for a small portion on the top and the bottom, which are made of very grippy rubber. The rubber feet grip most surfaces (even wet once) well enough to not slip around, regardless of how strong the bass is or whether you have it placed on an inclined surface. The top houses the usual portfolio of buttons that govern playback along with the power button. The NFC chip resides in the top as well. On the back, the nylong continues to hug the gentle curves of the XB 41, only to be interrupted by a rubber cap that hides the charging port, a USB port that can be used to charge your smartphone a micro-USB port and an AUX-in. Above the ports are also three buttons, which serve the purpose of helping you pair additional units of the speaker together for "wireless party play" and checking the battery level and
Once the rubber door is closed properly, the whole speaker becomes IP67 compliant, being able to withstand not just splashes, but also complete submersion in water. Of course, once the speaker is underwater, the music might stop playing because Bluetooth signals don't do well under water. However, once the speaker was brought back onto dry land, it continued to work. It didn't need any drying and neither did I have to bury it in a bag of rice.
The overall build and ergonomics of the XB41 are very nice. Some might consider it a little on the bigger and heavier side compared to other speakers that fall in this category. It weighs a whole 1.5 kilos, but personally, it didn't feel very cumbersome to carry around in my backpack. I've flown overseas with the XB40 in my backpack and not really felt like it was too heavy of a speaker. The XB41 should be no different since they weight about the same.
Performance
The Sony SRS XB-41 belongs to the Extra Bass series of products from Sony and as such, expect the bass to be heavy. We have a standard suite of music we use for testing all Bluetooth speakers, and the XB-41 was no exception. All tracks were played once over Bluetooth and then via an AUX cable using a Samsung Galaxy S9+. We started with Judas Priest's Beyond the Realms of Death for its delicate arrangement of the guitar, a soft drum profile along with strings. At various volumes, the opening strums of the guitar were a little difficult to hear. The drums were the strongest element in the song to stand out, which makes sense since this speaker is supposed to be a bass-heavy speaker. Surprisingly, for this song, there were hardly any instances of the vocals getting drowned out by the lower frequencies.
After our standard suite of test songs which are more generic in nature, it was time to switch to music that the speaker was designed for. The starting track was Stanton Warrior's Turn Me Up Some which relies on multiple vocal ranges and bass that floats throughout the range. The bass is contrasted with sharp highs, so this was a good track to figure out how well the XB41 is tuned. There were parts of the track where the bass completely overpowers everything, but that's not a bad thing since those parts of the song are designed to do just that. For music that is bass heavy, the upper-mids do take a serious hit, but then again, when you're at a party, the thumping bass is all you want and that it delivers. I went through multiple albums by Infected Mushroom, Daft Punk, Chemical Brothers, The Prodigy and even Moby to figure out whether this would appease the bass head in me.
Here's the thing about having bass. Its great to feel the beat drop and hit you right in the gut. Instead, if it starts to make your ears feel like they're going to explode form the inside, you've got a problem. When it comes to the XB41, it for the most part handles bass well, but if you listen to Dubstep, the bass is going to sound extremely loose and all over the place, becoming too overwhelming for the subtle transitions that are so important to the genre. Just listen to Skream's Rutten on whatever earphone/headphone/speaker you have and you'll know what I mean. Similarly, Modeselektor's track named Black Block completely destroys the speaker's ability to sound good. Besides this, the speaker is actually quiet a good little thing to have around the house whenever you're in the mood for a small party, even if it's a party of one.
So in terms of performance, here's a quick cheat sheet. Pop, EDM and Hip-Hop will sound great on the Sony SRS XB41. Psy-Trance, House and Breakbeat sound above average, while dubstep (and similar genres) will disappoint. Since this is a bass heavy speaker, expect the clarity on the vocals to sometimes be less than stellar.
Now that we've got sound out of the way, I should mention that the speaker can be paired with up to 100 more XB41s. Why would someone do that is beyond me, but I did have two units on hand and put them on either ends of a 24-foot-long room, it felt like having a proper stereo experience, which you don't get from a single speaker (poor stereo separation). Also, there was absolutely no lag or delays in between the two speakers, which was honestly something I wasn't expecting.
Part of the speaker's performance and personality is also the tricked out LED setup. Based on the tunes you play, the lights will change colour and flutter just like an old school visual equalizer used to. The LEDs are not just across the outside periphery, but also on the inside. They illuminate the cones to the beat of the music and it all just looks fabulous. If you want to work some custom lighting magic, there is the Fiestable app which allows you to define custom lighting and even turn the surface of the speaker into an instrument. Honestly, while having these features may sound like "whoa!" at first, after a period of time you won't really bother. Besides, are you going to be busy dancing and having a good time at a party or would you be working the app, trying to change colours on the speaker?
Battery Life
The Sony SRS-XB41 runs on a built-in battery which can either be charged via the micro-USB port of the supplied adapter. If you don't want to run the speaker on the internal battery, then you're going to have to use the supplied power adapter as the power supplied over micro-USB won't be enough to drive the 58mm drivers on this thing. Sony advertises a 24 hour battery life and at roughly 40-60 percent volume, I was able to get about 16 hours max. Maybe with more judicious use, you could get an hour or so extra, but in the month I used the speaker, I was not able to cross that mark. With about 2-3 hours of listening every day like a normal person (listening for pleasure, and not necessarily to test), the speaker needed to be charged after 5-6 days. Using the supplied adapter, it takes a little over an hour to charge the battery of the speaker to full.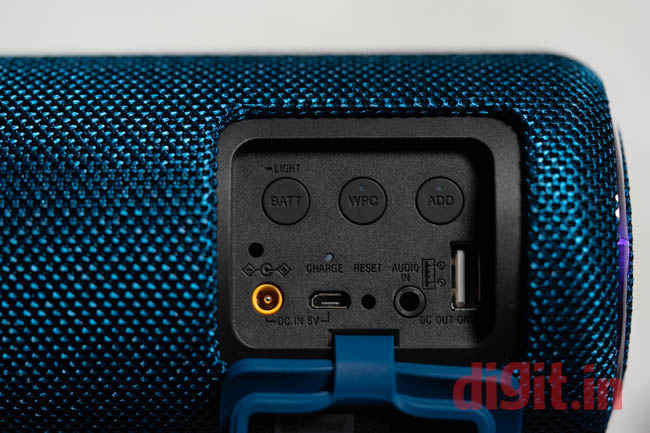 Bottomline
The Sony SRS-XB41 is a nice upgrade to its predecessor, becoming a true party speaker thanks to its bass heavy tuning and its IP67 rating. This isn't a speaker to listen to classical music on. You won't enjoy Jazz or Blues on this either. The Extra Bass series was designed for those who enjoy a little extra thump in their music and may not necessarily mind a slight dip in the mids and highs. For those looking for a portable speaker that can provide enough bass to have a dance-off on a sidewalk, the SRS-XB41 won't disappoint. You could even pull off a small house party with this speaker without any problems, but if you get a friend to bring their unit as well, then you'll enjoy the sound a whole lot more. Sony sells the speaker officially for Rs 16,990 but you can find it as low as Rs 14,000 on Amazon India. For the price, you also get IP67 rating, the ability to charge your smartphone using the built-in battery and a very premium looking and feeling speaker.