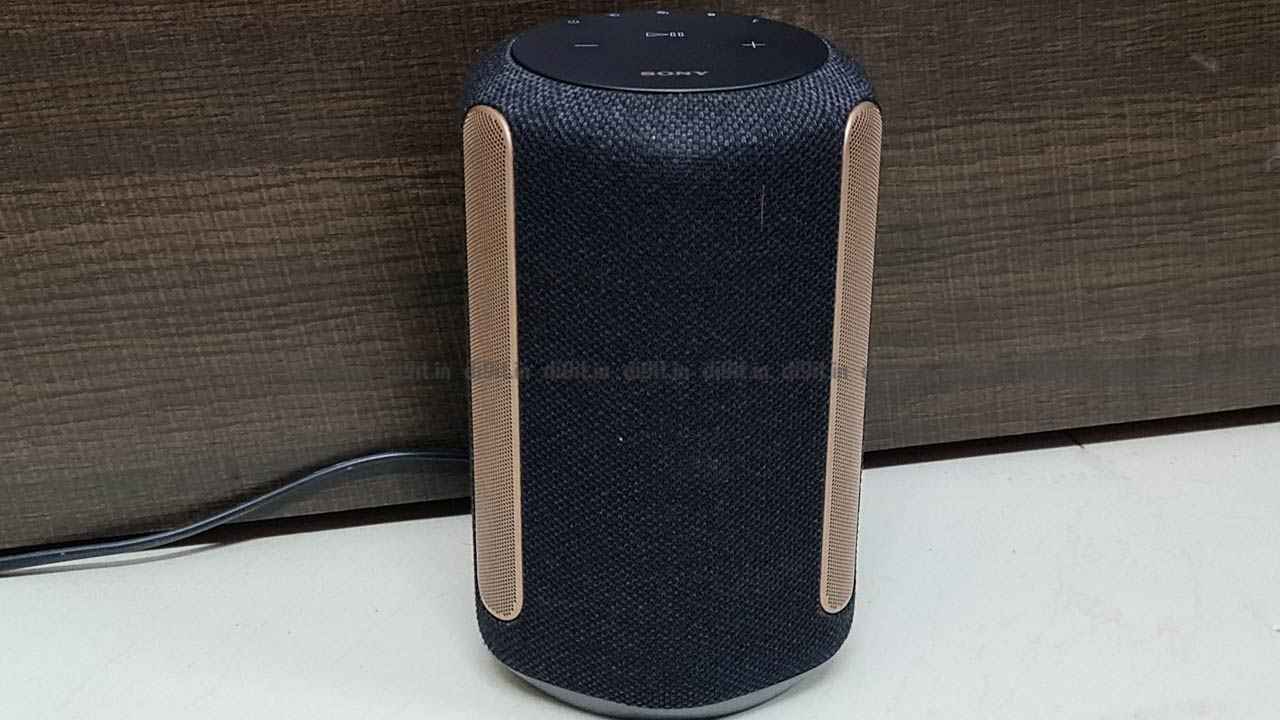 VERDICT:
The Sony SRS-RA3000 is a well-built, feature-laden wired speaker that offers a lot for its price. It even competes with Amazon Echo or Google Home speakers due to its ability to morph into a voice-controlled speaker when connected to a smart speaker.
At the Consumer Electronics Show (CES) 2020, Sony launched premium speakers with its 360 Reality Audio technology, differentiating them from what was already on the market. The company has now launched the Sony SRS-RA3000 and Sony SRS-RA5000, boasting of this technology, in India. The former is priced pretty competitively at Rs 19,990, seeing that the speaker is massive, comes equipped with 360 Reality Audio and Immersive Audio Enhancement, and tons of connectivity options. There's no dearth of large, loud speakers on the market but what Sony does differently with these speakers is offer room-encompassing sound technology that attempts to fill the entire room with ambient sound by bouncing sound from the floor to the ceiling. Here's how the speaker fared in our review.
Build and design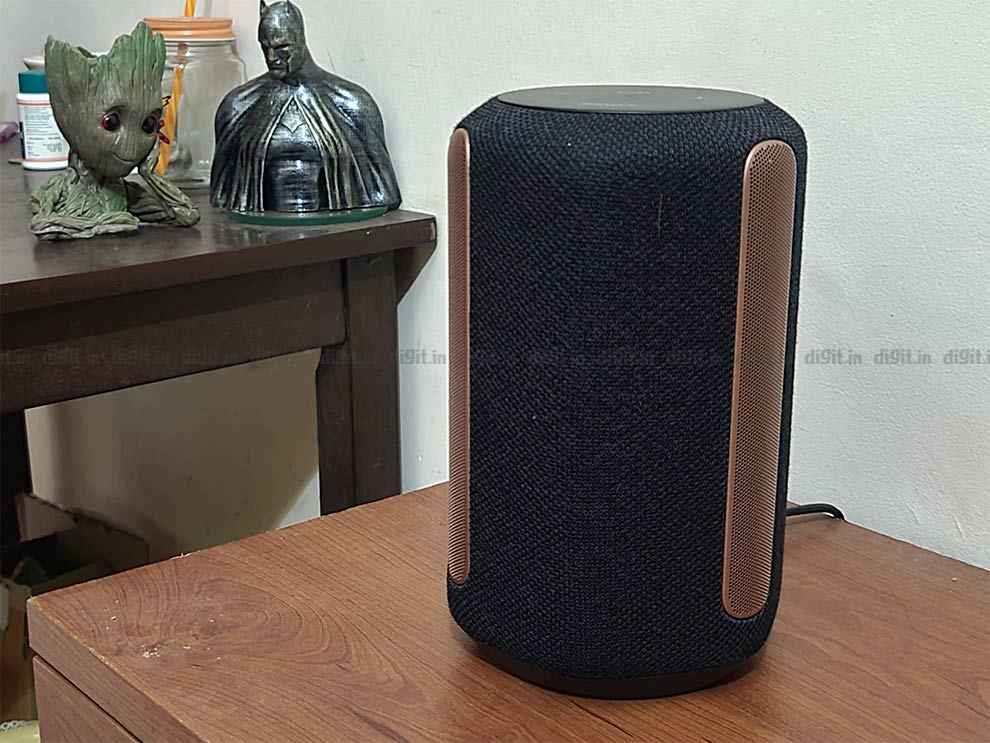 The Sony SRS-RA3000 has a rather imposing build being almost 10 inches tall and weighing a whopping 2.5kg. Nevertheless, this is a wired speaker and the company never really markets it as portable, so it's something you would set up in one designated place in your home and forget about it. Even if you do move it, the speaker auto-calibrates itself to the dimensions of the room in order to fill the room with sound adequately. We didn't really test this out in a bunch of different sized rooms, but the speaker easily filled a larger-than-standard-sized room with its sound. The speaker can also adjust volume automatically according to the track that's playing, to ensure that it's not too loud or quiet.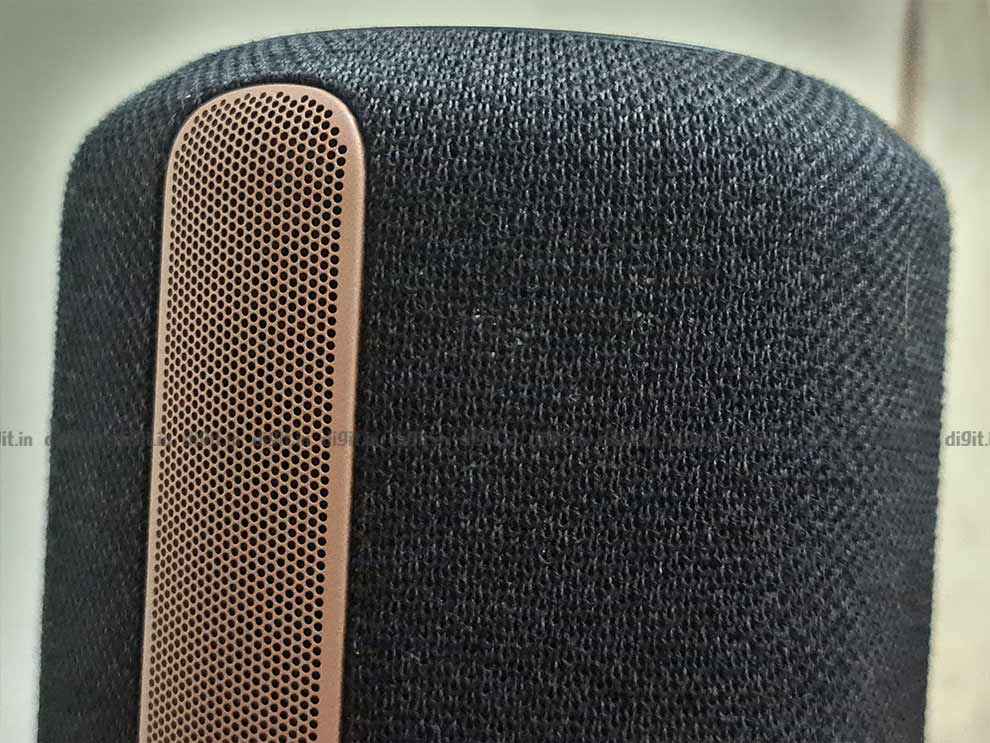 The Sony SRS-RA3000 is pretty classy and elegant to look at. It comes with a fabric finish that contrasts against the copper-coloured grilles. The fabric finish, however, ends up being quite a dust magnet. The speaker is sturdy and stands firmly in place due to rubber grips at the bottom. Sony also claims that the speaker is humidity resistant but there's no official IP rating attached to it, so we would advise against using it in the washroom or at a pool.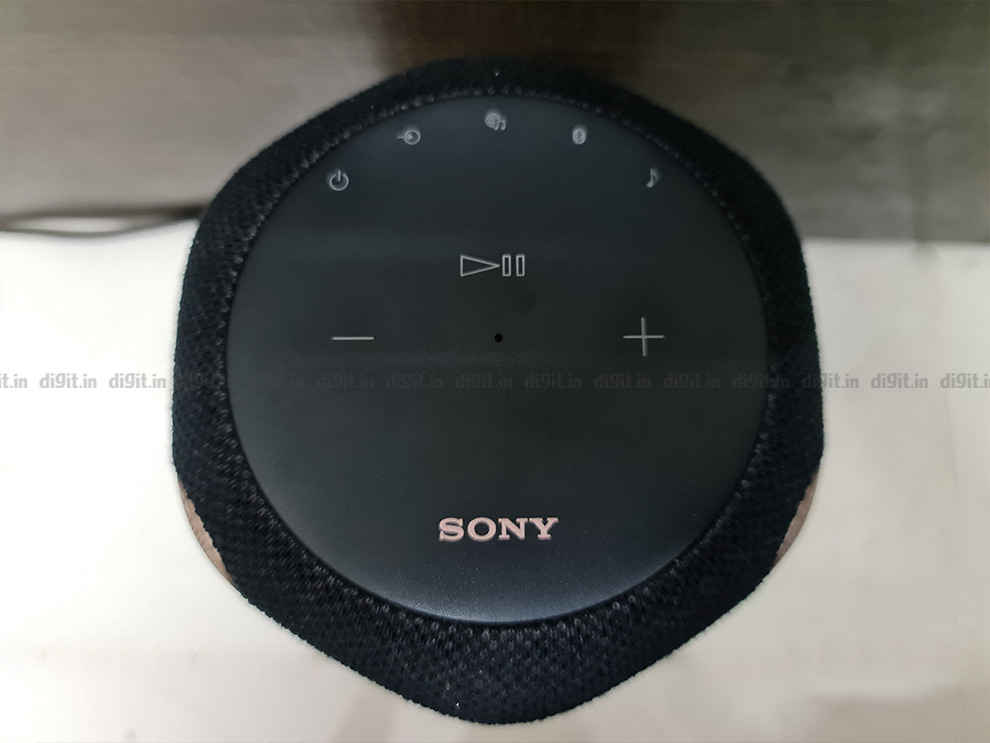 On the top of the speaker, you have a touch panel that houses the speaker's controls. The buttons allow you to pause/play music, increase or decrease volume, power on or off the speaker, connect via Bluetooth, Audio In (AUX input), and Wi-Fi. There's also an Immersive Audio Enhancement button that changes the sound profile of the speaker significantly and fires music from the floor to the ceiling to provide a more immersive sonic experience. At the back of the speaker, you have an Audio In jack and a power jack.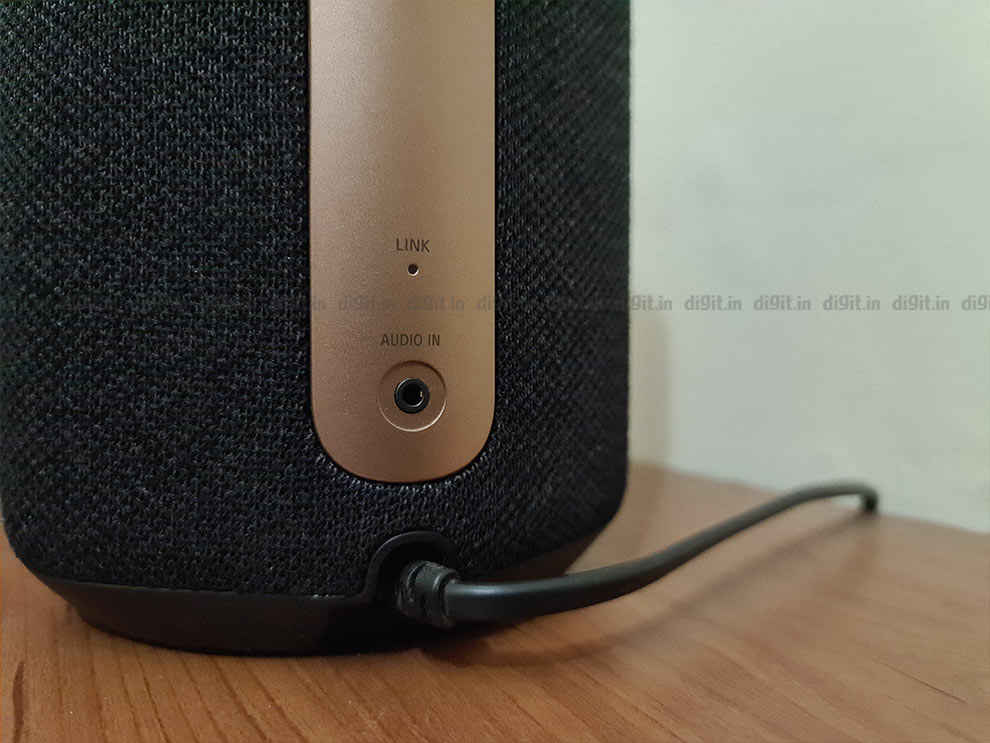 There are three ways to connect and play back music from the speaker. You can connect the speaker to your smartphone or tablet via Bluetooth, use a Wi-Fi connection to stream music since the speaker comes with Chromecast built-in or you could simply connect the speaker via an AUX cable. Alternatively, you can even connect the SRS-RA3000 to a compatible Sony Bravia TV via Bluetooth.
Features
As we mentioned above, the Sony SRS-RA3000 has auto calibration and auto volume adjustment capabilities that come in pretty handy. Apart from these, the speaker also comes packing Sony's 360 Reality Audio technology that can play supported tracks by incorporating three-dimensional sound location data to deliver room-filling, immersive audio. Unfortunately, there is only one 360 Reality Audio platform available as of now, and it's paid, so many users may not use it. If you still want to try it, there's a 30-day free trial you can avail to try nugs.net, the streaming app that houses a few 360 Reality Audio tracks. It's a shame there aren't more options at the moment, since 360 Reality Audio is a big selling feature of the speaker.
Nevertheless, Sony has also incorporated Immersive Audio Enhancement technology that turns regular stereo tracks into ambient room-encapsulating sound. We found there to be a marked difference between regular stereo audio and Immersive Audio Enhancement, which we will discuss in the Performance section below.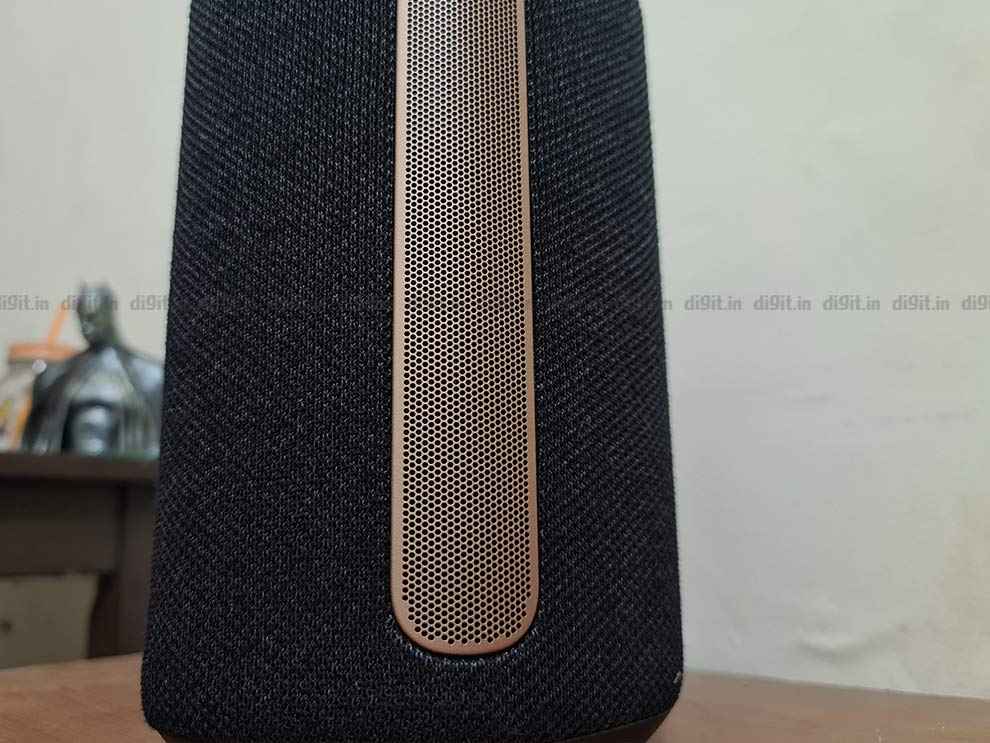 While the Sony SRS-RA3000 is not a smart speaker by itself, the device can be set up alongside an Echo or Google Nest device to give it some smart brains. This will allow users to control the speaker with their voice. Additionally, the speakers can also be set up via Google Home to connect to a Spotify account and play music directly without using a smartphone.
There's also Sony's Music Center accompanying app that allows users to tweak EQ settings and configure Alexa and Google Assistant voice control. Lastly, using the Google Home app, one can pair multiple Sony SRS-RA3000 speakers together and play different songs in different rooms, or even play the same track throughout your house where the speakers are placed.
Performance
When it comes to hardware, the Sony SRS-RA3000 packs two 17mm tweeters alongside a full-range 80mm speaker and two passive radiators. The speaker supports SBC and AAC audio codecs. We primarily tested the speaker in normal stereo mode and Immersive Audio Enhancement Mode. We did try 360 Reality Audio and the results were pretty impressive, with the soundstage being full and dynamic, however, since not many users will get to use this service since the only option at the moment is paid, we will be concentrating on the above two modes.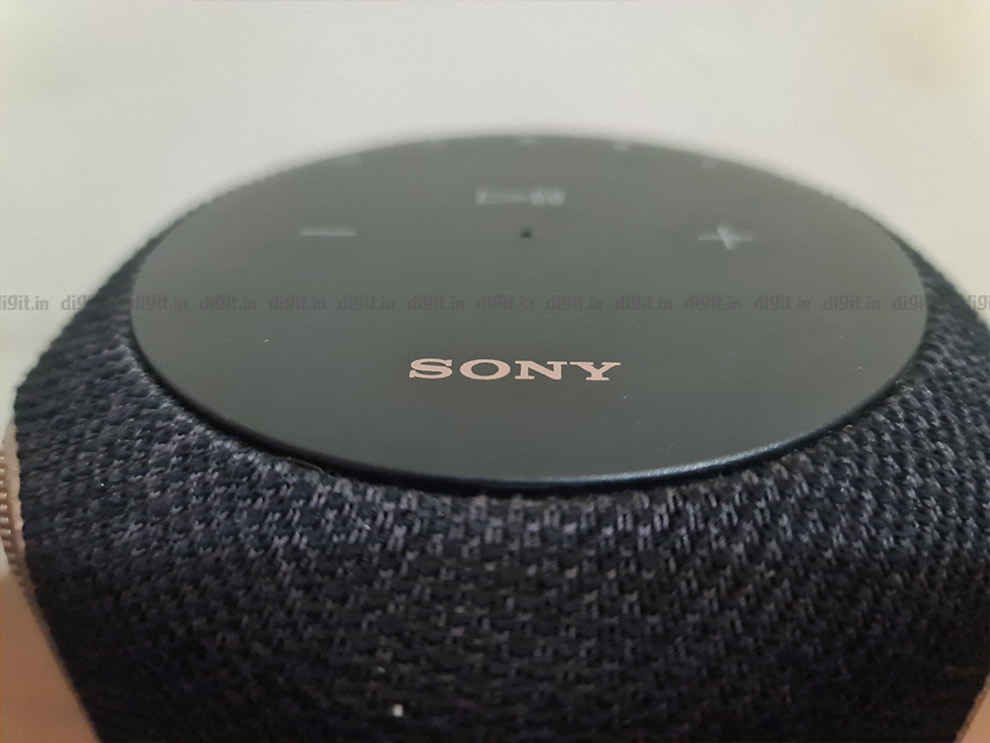 Firstly, with Immersive Audio Enhancement Mode, we found the performance to be slightly polarising. The speaker certainly emits room-filling audio with a wide soundscape, but the bass does get boomy, especially at higher volumes. Also, there's a certain lack of clarity in comparison to regular stereo listening. The bloated bass was slightly problematic in tracks that were already bass-heavy with there being a constant floor-shaking, boomy bass response that wasn't pleasant to the ear. Nevertheless, this mode is certainly more immersive and almost makes you feel like you're in a concert or a movie theatre. It definitely makes more sense to use Immersive Enhancement Audio when you are watching TV series and movies rather than listening to music since the bloated bass and cramped details can hamper the listening experience slightly.
In the regular stereo setting, the speaker delivers clean, crisp vocals, well-rounded bass response, and pleasant highs. Listening to Hi-Fi music on nugs.net, we found the soundstage to be more open and the details were even more prominent. The sound quality in this mode was quite delightful irrespective of the genre of music we played. The bass response is still slightly dominating, but it is much tamer and allows the other frequencies to flourish.
Verdict
Priced at Rs 19,990, the Sony SRS-RA3000 is a powerful package that comes equipped with a plethora of features and good sound. At this price, it allows users to experience a premium audio experience without breaking the bank. While 360 Reality Audio isn't as usable due to the lack of apps supporting it, Immersive Audio Enhancement does the trick to provide users with encapsulating sound that fills even large rooms. However, the regular stereo setup provides slightly better details in the sound and better bass response. Overall, the Sony SRS-RA3000 is a well-built, feature-laden wired speaker that offers a lot for its price. It even competes with Amazon Echo or Google Home speakers due to its ability to morph into a voice-controlled speaker when connected to a smart speaker