Logitech X300 detailed review
What's the definition of a good Bluetooth speaker today? Well, I think it'd be safe to assume that most folks looking for a portable Bluetooth speaker will want it to have great battery life, good Bluetooth range, low weight and a small footprint without compromising on actual audio performance, and finally, a reasonable price-tag. Unfortunately, not many Bluetooth speakers in the market meet the above criteria though many attempt to.
Now, Logitech has a good reputation when it comes to affordable audio gear and specifically, portable Bluetooth speakers. The X300 is the latest Bluetooth speaker from Logitech to target the budget market and, as it turns out, it is an interesting proposition.
Let's find out why.
Looks & Design
The Logitech X300 is not as flashy as the JBL Pulse or as tiny as the X-mini II but it's a good looking speaker nonetheless. The X300 is about the size of a packet of biscuits, i.e. it's about six inches long and three inches thick. It's not really heavy when compared to other Bluetooth speakers, at 335 grams, but you will feel it when you put it in your handbag or knapsack. The X300 has a rubberized plastic body with a matte finish while the speaker grill is entirely made of plastic. The X300 has a conical shape with a tapered back and a flat front and sides, which means that you can place it both horizontally or vertically.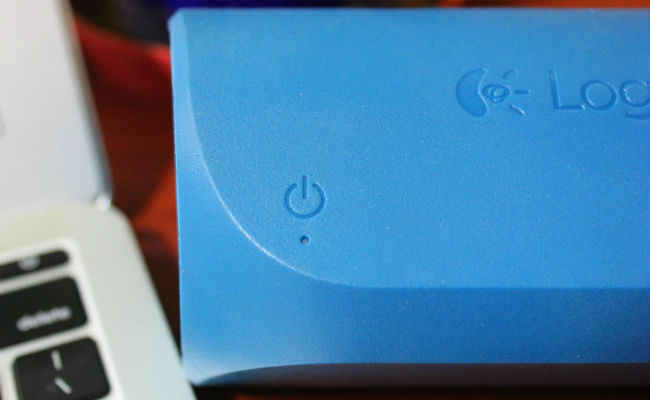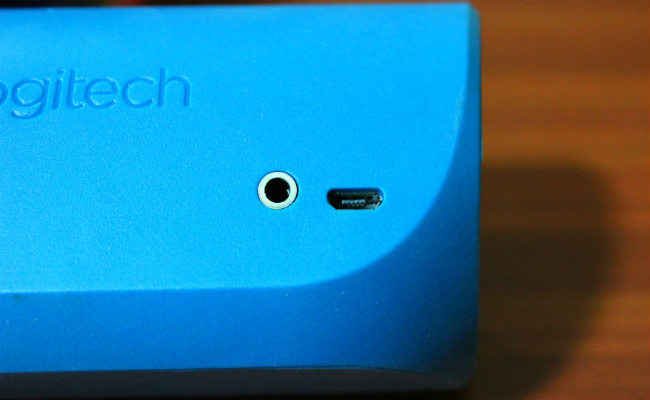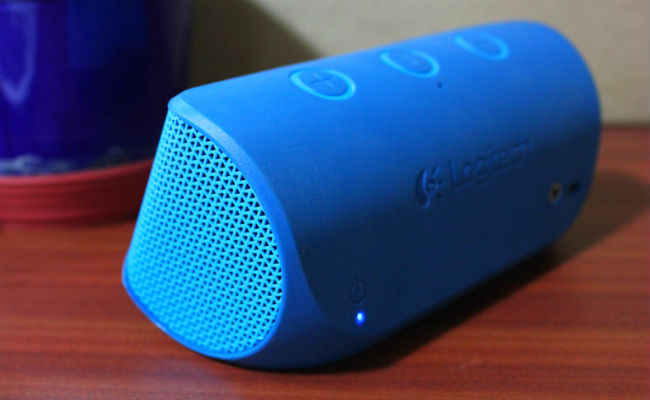 There isn't much in terms of controls on the X300; three large buttons on the top control the volume and let you pair devices over Bluetooth. There's a microphone pinhole next to the buttons as well, while the speaker's back has the Logitech branding, a 3.5mm jack, a microUSB port and the power button. While power users will feel the pain of not getting any advanced controls, Logitech has deliberately kept things simple and we can't fault them for it. The only thing that I'd change is that the control buttons are a bit soft and the power button is at the back which is annoying if you just want to check if the speaker is charging or not.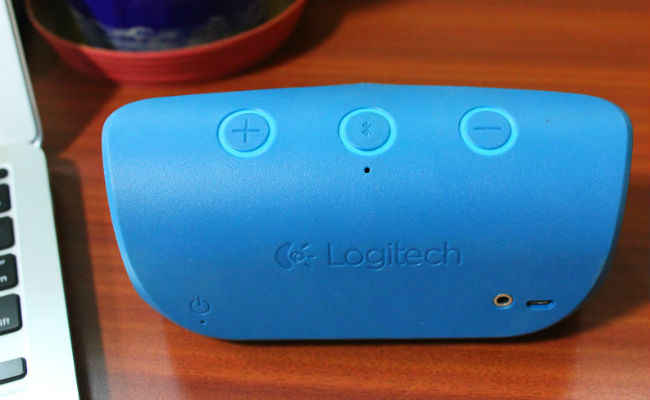 Overall, the Logitech X300 is a well-built, good leaking speaker, something that can a find a spot on both your office desk and bedside table. Despite having an unusual shape, the X300 finds firm footing on most flat surfaces whether you put it horizontally or vertically, and that's really great.
Performance
It's quite surprising how loud the X300 is, especially for its size. The X300 can easily fill an average sized room, but the best thing is that it can do so without any distortion or drop in clarity. However, I've learnt from experience that just because something is loud, doesn't mean that it's good as well. To test how the X300 fares in audio quality, I used the following tracks:
'Take me to Church' by Hozier (Rock)
'Let Her Go' by Passenger (Acoustic)
'Blood & Thunder' by Mastodon (Metal)
'Derezzed' by Daft Punk (Electronic)
'Blockbuster Night Part 1' by Run the Jewels (Hip-Hop)
The X300 is good, but not great, when it comes to bass-heavy music. The overall sound signature is very warm, and suits Hip-Hop and Electronic music. While the performance was not as good when it came to the acoustic and rock tracks, I was pleasantly surprised to hear the crispness of the cymbals and the snare drum reproduced decently. Unfortunately, the X300 royally messed up when it came to the metal test track, with the audio sounding very confined and claustrophobic. What I realised is that the X300 is alright when the music doesn't involve too many instruments, but when it does, or the production puts equal emphasis on all instruments, the X300 falls short.
The X300 has decent battery life that easily vaults over the company's quoted time. Logitech claims that the X300 should last five hours of continuous playback but I managed to squeeze out almost ten hours from the speaker. This means that the X300 should fit the bill for picnics or long drives.
Bottomline
The Logitech X300 is a very good Bluetooth speaker, there's no doubting that. It's portable, looks decent and has good battery life. Sure, it suffers from inconsistent audio quality but at least it's pretty damn loud. Unfortunately, the X300 also costs a fair sum of money (Rs. 5,995) if you buy it from physical retail stores. On the other hand, the X300 costs Rs. 4,500 on Flipkart, a price tag that makes it a much better buy. However, for reasons best known to it, Logitech makes it very clear through a sticker on the X300's packaging box that users who buy it online may not get warranty.
To sum it up, for Rs. 5,995, I wouldn't recommend the Logitech X300 and instead ask you to look at either the Logitech Mini Ultimate Ears Boombox or the JBL Flip II. For Rs. 4,500, you should buy the X300 only if you want to risk the fact that if anything goes awry, you may not be able to claim the warranty. Unrealistically speaking, if price was not a concern, then yes, I would recommend the X300.