Jabra Evolve 75 detailed review
Before we get into the review, let's understand that the Jabra Evolve 75 doesn't aim to appeal to the audiophiles or the gaming enthusiasts. It's built for the corporate environment where you'd be sitting in a large room with a hundred other people who're all jabbering away all through the day giving you not a moment of silence. Not unless, you invest in a pair of expensive Active Noise Cancelling headphones or headset. The Jabra Evolve 75 is one such headset.
Jabra, as a brand is more synonymous with those Bluetooth earpieces that you've seen way too many times on some suit toting businessman or chauffeur. They've had product offerings starting from economical BT 2046 which costs as low as Rs.899 to the overly expensive Jabra Extreme 2 that costs about Rs.10K. The Jabra Evolve 75 takes it up a notch with its price tag that's well over Rs.37,000. With that out of the way, let's take a look at the Jabra Evolve 75 Bluetooth Headset.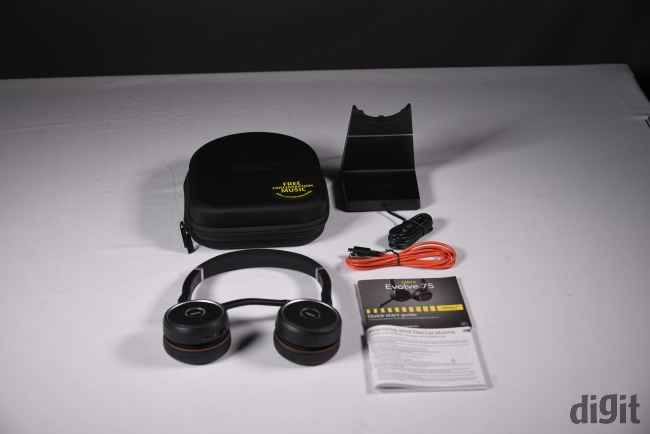 Build and Design
The Jabra Evolve 75 is an on-ear headset which has a sleek matte-black colour tone across the headset and the charger accentuated with silver strips on the headband and on the ear pieces. The power button, a tactile one, is situated on the earpiece and there's a red LED ring to indicate whether it's turned on or not. There's an obvious difference with the headset which is in the form of the microphone boom being on the right rather than on the left. While this is completely inconsequential, we can't count the number of times we've reached towards the left to flick the microphone to its on position.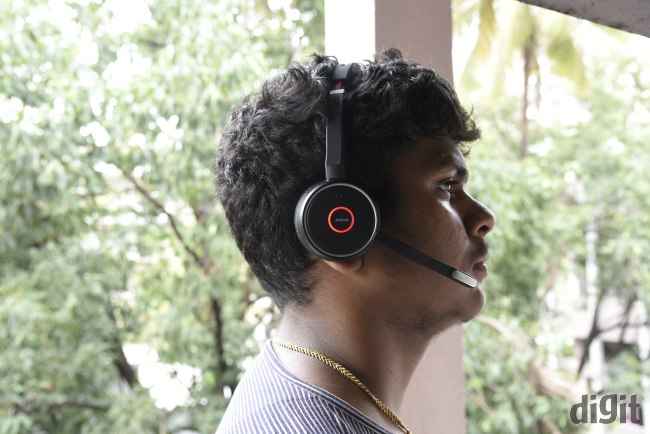 Speaking of the microphone boom, we wouldn't call it too rigid or soft. It automatically switches on or off based on its position. It would have certainly helped if the boom were to be either extensible or have a few more inches to it. Often times we had to scooch our lips towards the microphone to get it to pick up. And we had to compensate for that by increasing microphone gain by around 50 per cent. Anything more and it started picking up way too much noise.
The headband is thin and has a moderate level of padding on the top. And the clamping pressure felt a teensy bit too low. We'd not recommend swinging your head quickly while wearing these headphones as there's a slight chance of them flying away. Then again, these headphones were meant to be worn throughout the average work day, which for the purposes of this review, will be eight hours. With that in mind, the clamping pressure seems just about right. We've spent over four days with the headphones on for approximately 8.5 hours, each day. And we can say with surety that the were not uncomfortable at all. The padding on the earpieces are quite soft and there's plenty of breathing space so we didn't experience any swamp ears post our binge sessions. It should be noted that the ambient temperature while testing these phones were around 23 degrees celsius.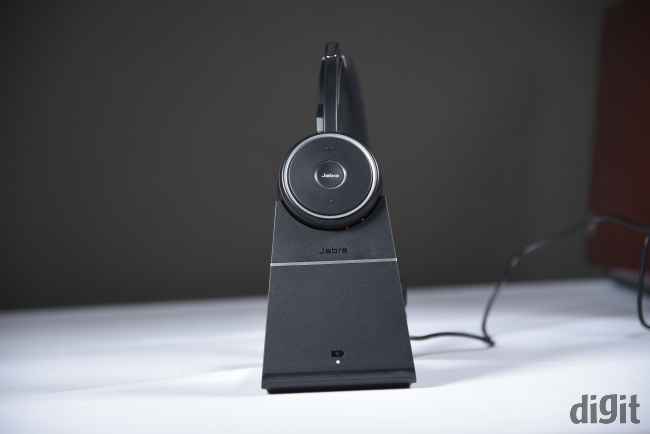 Performance
Let's start off with the audio quality. Since the Jabra Evolve 75 is wireless, we ran the audio files while remaining within 1 meter of the Bluetooth receiver as a precaution to avoid any signal loss. We did switch off all Bluetooth devices in the vicinity but let other devices which operate on the 2.4 GHz band remain powered on. It would be prudent to say that these are not going to appeal to anyone who's interested in enjoying their music in a crowded office room. Not just because the extraneous noise but also because the audio sounds very muffled in the mid-range and higher ranges. There's an ample amount of bass but nothing to the extent that would satiate bass-heads. Don't get us wrong, for a wireless headset, this is decent and given the fact that they don't even advertise to appeal to music lovers, it only reinforces that opinion.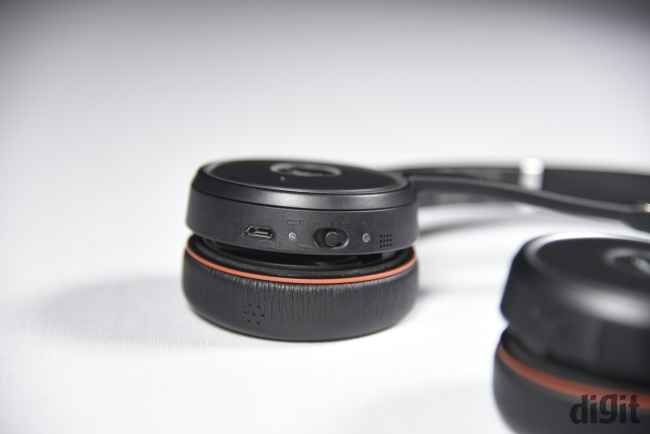 We tried out a couple of tracks with the Jabra Evolve 75, including Yanni - The Rain Must Fall (Live at the Acropolis), Massive Attack - Angel and a couple of EDM tracks which for the sake of sanity shall not be listed. The higher notes of Karen Briggs' violin solo in The Rain Must Fall seem to be dampened and identifying the individual percussion instruments wasn't easy either. If you're wondering why we're looking at these tracks, then we'd like to bring the price of the unit into the picture - $275 which should retail for around Rs.24,000 in India. A couple of eBay listing have it priced in the higher 30's which is ridiculous by all standards.
Coming to the ANC, the Jabra Evolve 75 does a pretty good job of isolating unwanted noise but owing to the supra-aural design, there's plenty of leakage. The Digit Test Centre does not resemble the average corporate office as there's a lot more activity, so if we are to imagine an corporate office to be much quieter, then the Evolve 75's ANC should be more than sufficient. The other wireless headset with ANC that we've tried out is the Bose QuietComfort 35, and boy is that way better than the Jabra Evolve 75. However, it's not an apples-to-apples comparison since the QC35 is circumaural which gives it a much better seal.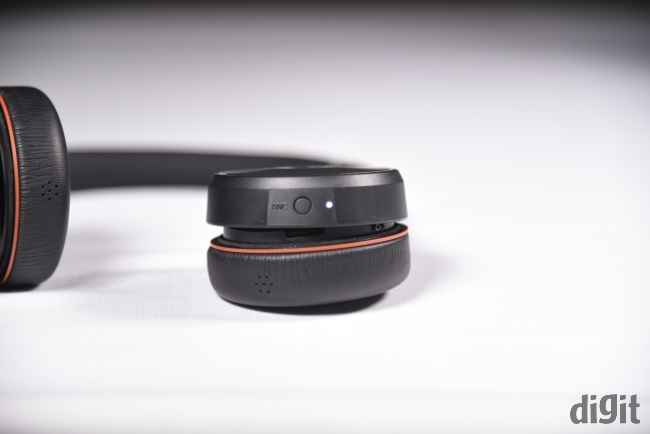 As for the battery life, we had the microphone on with some audio or the other playing throughout the day and we noticed that the headset would start cutting off at around 8-8.5 hours. You could turn it on but it wouldn't last longer than a couple of minutes so you had to put it to charge. We don't know how Jabra arrived at the 15-hour battery life mark as this is nowhere close to what we achieved.
Lastly, we had to try out the microphone and what better way to do it than squad up for a match of PLAYERUNKOWN's BATTLEGROUNDS. And that's where we believe the Jabra Evolve 75 found its calling, at least in our books. Zeroing onto remote snipers by echo-locating the bullet sounds and even figuring out where players in your vicinity were thanks to their loud footsteps was quite easy. This speaks for the much wider soundstage that the Jabra Evolve 75 has. The microphone, as we described earlier, had to be adjusted for higher gain. It would certainly have been better to have a slightly longer boom.
Verdict
The Jabra Evolve 75 is built for the corporate environment and rightly so, isn't for audiophiles. It has a pretty suppressed sound signature across the mid and higher ranges but the lower range seems to be pretty neutral. For the purposes of blocking out extraneous noise and making calls, this is a pretty good pair of headsets. However, the pricing seems to be a little too high. So much that it feels prudent to plunk down a few extra grand towards getting the Bose QuietComfort 35.
Specifications
Driver: 40mm,
Cup design: Supra-aural, closed back,
Frequency response: 20 Hz - 20 kHz,
Bluetooth: Class 1,
NFC: NA,
Battery life: 15 hours,
Microphone freq: 150 Hz - 6.8 kHz,
Weight: 177 g.