Creative Stage Air detailed review
When purchasing speakers, it is easy to spend a lot and yet not find the exact performance you're looking for. However, when building a PC, in most cases we're looking for a solution that is cost effective, especially if you're primarily a gamer who relies on good headphones for most of the time. As is the case with almost every component you can buy, getting the right price to performance ratio can be a challenge, yet Creative has taken a shot at that with the aggressively priced Creative Stage Air soundbar. We tested it out to understand the value a desktop soundbar can add to your PC life.
Price and Features
While the MRP of the Creative Stage Air is marked at Rs. 5999, at the time of writing this review, the soundbar is selling online at Rs. 3599. Inside the package, you get the soundbar itself, along with a 3.5mm connector as well as a micro-USB charging cable. Creative has not specified any coating for the connectors, so it is safe to assume that there's none.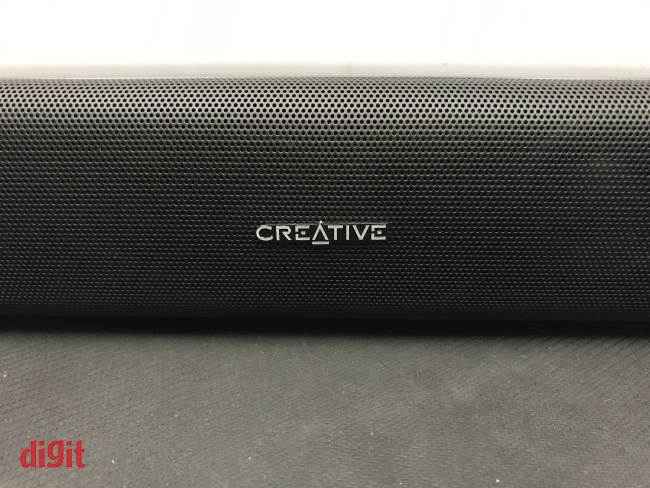 When it comes to branding, that's about it
In terms of connectivity, the Stage Air features 3.5mm input, playback from a USB flash drive as well as over Bluetooth. There are four buttons on the right (stage left) - Power, Volume Increase, Volume Decrease and Bluetooth. When connected via 3.5mm, the buttons fulfil their namesake purposes. When connected over Bluetooth, the Volume controls can be long pressed to change tracks and the Bluetooth button can be pressed to Play/Pause. The Power button, in both modes, acts as a mode toggle between Bluetooth and 3.5mm on a single tap. A singular, really bright and distracting LED at the front tells you the current state of connectivity.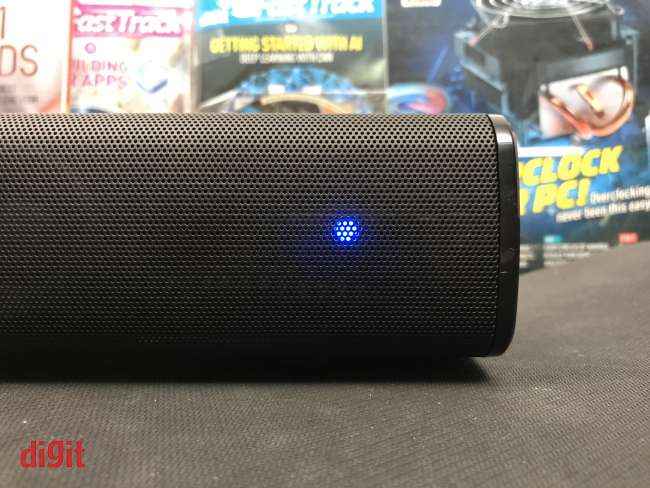 The Bluetooth mode and...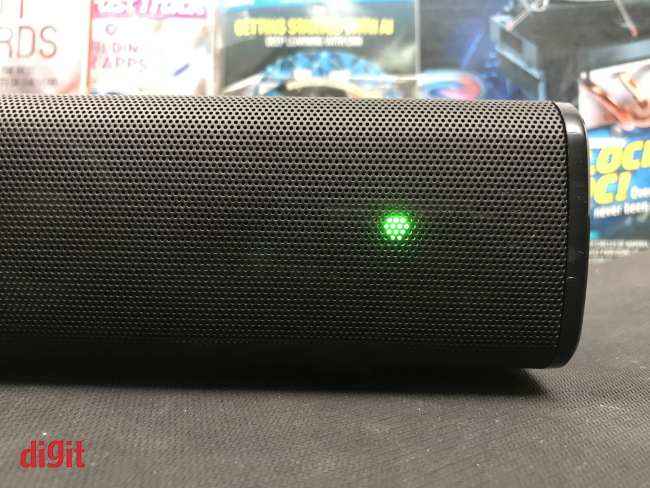 ...the 3.5mm mode. If you're using the Stage Air in a dark room, it will definitely spoil the ambience and might even end up distracting you from your gameplay or movie
The USB playback is limited to 32GB flash drives. While there's no official word on the formats it can support, we tried out MP3, WAV successfully, but it failed to play FLAC files. Over Bluetooth 4.2, it only supports the SBC codec, so if you were expecting it to be capable of pushing high-quality wireless audio via AAC for macOS and iOS or aptX for Windows and Android, you'll be disappointed. You also cannot stray more than 33 feet (line of sight) without experiencing connectivity issues.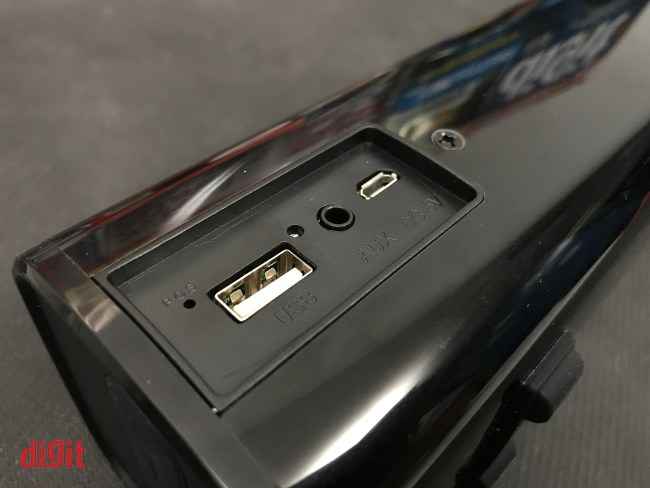 The connectors at the back of the soundbar
An issue that was reported initially with the speaker was that it would turn off after 15 minutes of inactivity, even if it was connected to a computer. Creative has issued a firmware update to extend that time period to 6 hours, which is the same as the advertised battery life.
Design
The Creative Stage Air is a compact device. At 410mm*70mm*74mm it has a small profile, and along with its 910g weight, is quite portable. It would fit into most backpacks along with its accessories.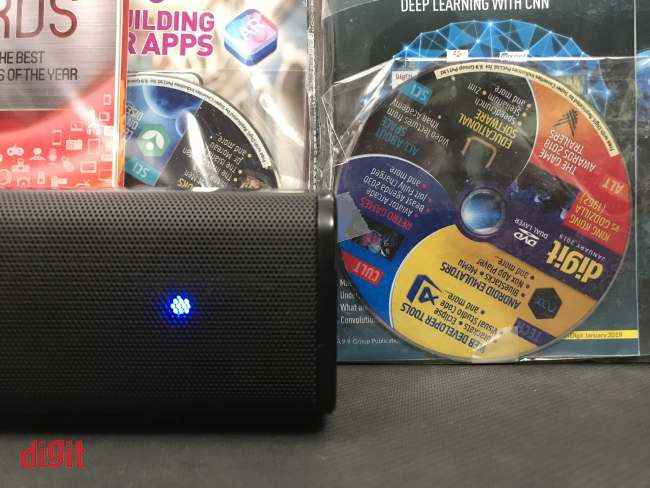 The height of the Creative Stage Air, with adjacent to a Digit DVD for scale
The 3.5mm cable it comes with is laughably short at 450mm. When placed under the monitor, there was no option but to connect it to the keyboard passthrough. It would only make sense if your cabinet was on the right (stage left) with a 3.5mm jack close enough, which is a lot to ask just to accommodate a budget soundbar. You will clearly need a longer 3.5mm connector.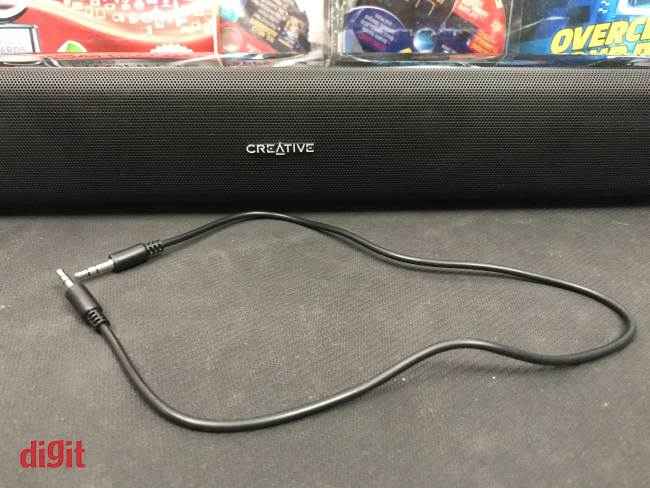 The 3.5mm connector in the box
The Creative Stage Air is a budget device and sports the build of one. The body is mostly plastic with a glossy finish, with the metal grille on the front. The glossy finish makes it a fingerprint magnet and it is also prone to scratches, so you have to be careful with the unit to keep it clean. There are rubber feet that keep it from sliding, and they do that job satisfactorily.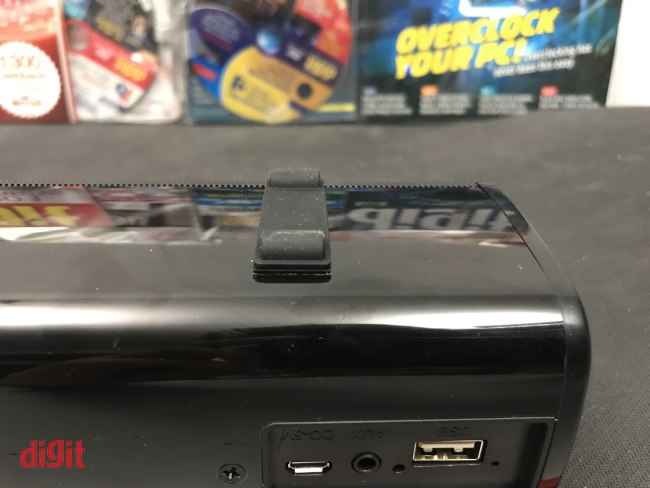 The rubber feet do their job well
The four buttons on the right are hard to press, and we found ourselves pushing the soundbar either downward or horizontally to register a button press. Each press also leads to a very audible click sound. There's no waterproofing on the Stage Air, so you'd better keep it safe from accidental living room spillage.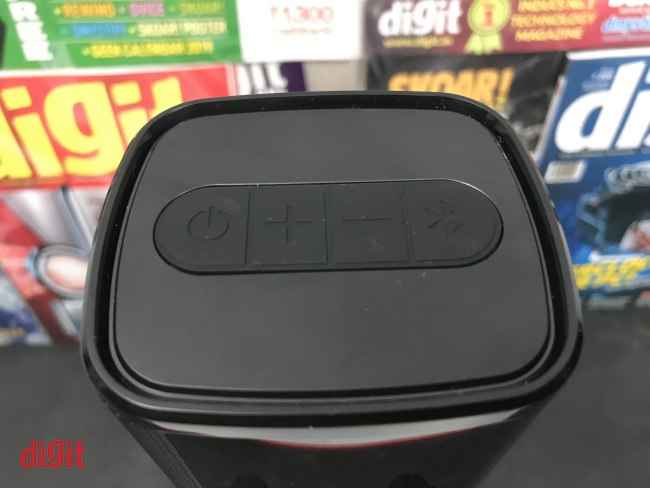 The buttons on the Creative Stage Air are really hard to press
Performance
The Creative Stage Air comes with two drivers at 5W power, and a passive radiator to pump bass. Overall, the sound signature leans heavily towards the lows, with the mids handled satisfactorily and the highs miserably. As long as you're listening to hip-hop and electronic music, it's easy to miss the shortcomings, but switch to tracks that rely on the higher end of the frequency spectrum and the crack start showing.
The stereo separation on the Stage Air is handled quite nicely for its asking price. Tracks like Hunter by Bjork do feel a bit claustrophobic but manage to create the perception of a beat in motion. It can also get really loud, but not necessarily capable at all volumes. We pushed Centuries from Fall Out Boy to the max volume, and what emerged out of the Stage Air was a garbled, cracked mess that couldn't be tolerated after a short while.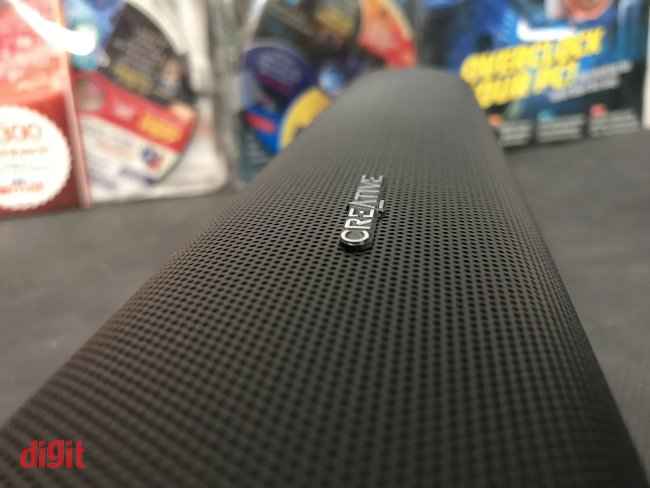 The performance of the Creative Stage Air has its pros and cons but tries its best to make a mark at its price point
While the bass on tracks like I'm an Albatraoz by AronChupa was quite powerful, its lack of precision showed on Uptown Funk by Mark Ronson. We also pushed it through a couple of scenes of John Wick, most notably the disco fight sequence. It was quite disappointing. The beats fell flat, the gunfire lacked any impact at all, and for most of the scene, it was difficult to distinguish one sound effect from another, let alone understand their point of origin. John Wick could be using a Glock 26 at one point and an H&K P30L moments later and you wouldn't even know what changed. Dialogues were handled satisfactorily but lacked depth.
Overall, Stage Air is disappointing if you compare it to high-end soundbars. However, that comparison wouldn't be fair, to begin with, since you're getting a soundbar at this price point. Don't expect the soundbar to fill a room either, instead, it performs well in its intended position - under a monitor with you approximately 3 feet away from it.
Verdict
It is quite easy to find faults in a Soundbar that is cheaper than most half decent Bluetooth speakers. However, the Creative Stage Air isn't meant to upstage (no pun intended) pricier alternatives. Instead, it is targeted to be the perfect way to augment what you get from pre-included speakers in a system. It satisfies three main requirements - it is cheap, it is a soundbar, and it works. Some weird mistakes like the short 3.5mm cable and strangely hard to press buttons, if fixed, can make this much more recommendable. However, even at its current state, the Stage Air is a great way to boost your system audio.