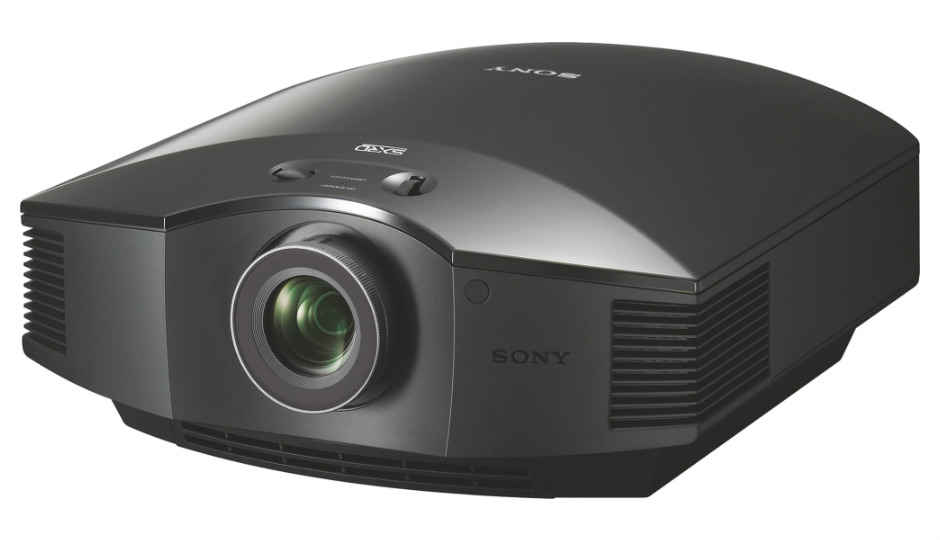 HIGHLIGHTS
Sony launches four new Home Theater Projectors in India with prices starting from Rs. 3,16,700.
Sony has launched four Home Theatre Projector models in India starting with the VPL-HW65ES, which is priced at Rs. 3,16,700 and can project at upto 1080p. Sony has fitted the projector with a long lasting lamp which the company claims will provide 6000 hours of operating life and has brightness of 1800 lumens. Then there are the VPL-VW320ES, VPL-VW520ES and VPL-GTZ1, which are priced at Rs. 7,08,300, Rs. 10,58,300 and Rs. 35,00,000. These three projectors can project in 4K. While the VPL-VW320ES and the VPL-VW520ES work like normal projectors, the VPL-GTZ1 is a powerful short throw projector.
Read the full press release below
Committed in providing breath-taking quality content, Sony India today strengthened its home theatre line-up with the announcement of new projectors. The move is set to beneficially support its dealers and installers with key features. The new Sony Home Theater projectors are packed with the latest innovative technologies, from native 4K to Full HD 3D resolution, making the home theater experience even more enjoyable for end users and the installation friendlier for dealers.
Experience 4K resolution: VPL-VW520ES and VPL-VW320ES
The new projectors include the VPL-VW520ES and VPL-VW320ES, which deliver native 4K resolution for a truly immersive viewing experience. Successors to Sony's hugely popular VPL-VW500ES and VPL-VW300ES projectors, these projectors come with a new long-lasting lamp giving both up to 6,000 hours of performance, with high brightness and high contrast for even more vibrant images.

Sony is unrivalled in its ability to offer breath-taking image quality through native 4K resolution, and the VPL-VW520ES is compatible with HDMI input of HDR (High Dynamic Range) content with a 300,000:1 dynamic contrast ratio. HDR imagery comes closest to the reality our eyes see every day, with higher contrast, deeper blacks, and exceptional dynamic range. Sony is developing HDR support across its portfolio and the VPL-VW520ES gives home cinema enthusiasts the opportunity to experience total immersion in whatever they are watching.

The new VPL-VW520ES and VPL-VW320ES use advanced SXRD panels for a native 4K picture, with no artificial manipulation of pixels. Sony's proprietary TRILUMINOS engine design ensures rich and accurate color while Motionflow picture technology serves to deliver clearer, less blurry images when watching fast-paced, cinematic or sports action.
Both new models allow users to enjoy up-to-date 4K content services through the latest connectivity options using the latest HDMI standard and HDCP 2.2. A built-in RF 3D transmitter provides interface to industry-standard 3D glasses with a strong wireless signal for wider coverage and 3D synchronization stability. Professional calibration features allow operators to expertly adjust the picture to suit the viewers' tastes. These color correction tools allow access to adjust the hue, saturation, and brightness of each color and the color space for red, green, blue respectively, to their desired level.

"Ten years after introducing the world's first 4K projectors for the industry conversion from film-based to digital cinema in neighborhood theaters, Sony is releasing our next generation of 4K projectors for use in home theaters. These latest models continue to expand our support for enthusiasts and dealers with features like HDR and IP control," said Shusuke Oyobe, Marketing Head for projectors at Sony India. "By improving brightness, contrast and lamp life, and providing great calibration tools, we deliver users out-of-the-box optimized picture quality while enabling installation experts to tweak the image to meet the needs of a particular environment or a viewer's taste. Sony's 4K SXRD imaging technology remains the state of the art in home theater projection."

Advanced Reality Creation in Full HD home theater experience: VPL-HW65ES
The new VPL-HW65ES uses full HD SXRD panels while borrowing interface and processing technology from its 4K cousins. The model brings an advanced Reality Creation to the Full HD home theater experience along with higher brightness and longer lamp life of 6,000 hours. It also provides a built in RF 3D transmitter and a USB update function to enable the device's firmware to be updated via a simple download and thumb drive transfer. The added IP control interface gives the projector versatile home automation compatibility, which combines with its compact size and front exhaust for a range of flexible installation solutions.

Sony is combining the best of its projector technologies – 4K, laser light source and ultra-short throw capabilities – into a new model, the VPL-GTZ1.

4K Ultra-Short Throw projector: VPL-GTZ1
The all new VPL-GTZ1's imaging technology combines Sony's proven 4K SXRD with a laser phosphor light source. The result is 2,000 lumens color brightness and superb picture quality. The new projector can throw high-resolution images up to approximately 147 inches (3,7m) diagonal and zoom down to 66 inches (1.7m), achieved by respective 7inch and zero inch 228mm ~ zero) distance from screen, across onto any white plane surface. The ultra-short throw will allow you to stand closer to the screen which will be beneficial for presentation application and also, being able to check details of the 4K image at closer distance without shading off the image.

Its stylish, "blend-in" design fits nearly any installation environment, and a low fan noise ensures quiet operation that won't disrupt user's experience. The new model's flexible installation and operation allows it to be floor-standing, ceiling-mounted or used for rear projection.

Users can blend multiple projectors and a quick turn on/off feature is convenient for a wide range of applications. Like Sony's other laser light source projectors, the VPL-GTZ1 can deliver an expected 20,000 hours of maintenance-free operation without the need for a lamp exchange. This translates to substantial savings in time and money, reducing the costs normally associated with bulb replacement.

PC-based Calibration Tool for 4K and HD models
Now installers can take advantage of Projector Calibration Pro software on HD through 4K Sony home theater models, allowing them to manipulate all of a projector's features from a simple PC interface, including the sophisticated color calibration tools. Setup configurations can be saved to a file to upload to any future installations, making future calibrations that much quicker. Additional adjustments made for a particular client can be saved in a separate file that will allow the installer to easily recall their original calibrations if ever needed to tweak that client's system in the future.
Model Name

Price

Availability

VPL-VW520ES

Rs.10,58,300/-

February 2016

VPL-VW320ES

Rs.7,08,300/-

VPL-HW65ES

Rs.3,16,700/-

VPL-GTZ1

Rs.35,00,000/-