Update; The pictures circulated on Weibo seems to be fake made with an app called XOutOf10 that adds a notch to any Android smartphone. The pictures depicted below could be regular Mi Mix 2 installed with XOutOf10 app.
Xiaomi could become the first smartphone maker to copy Apple's iPhone X design that incorporates a notch at the top. The Mi Mix 2s, a reworked version of Mi Mix 2 is likely to feature a bezel-less design with a top-notch housing the front camera and other sensors.
The images of Mi Mix 2s have appeared on Weibo, China's microblogging platform that confirm the Chinese smartphone maker's plan to adopt that design. At the India launch of Mi Mix 2, Xiaomi's Jai Mani said there is only three ways to tackle the top bezel of a smartphone with thinner bezels. It believes one way is to make the forehead and chin as small as possible like Samsung has done with the Galaxy S8 and Note 8 or add a notch like the iPhone X. Jai added that the company has experimented with a similar design in the past.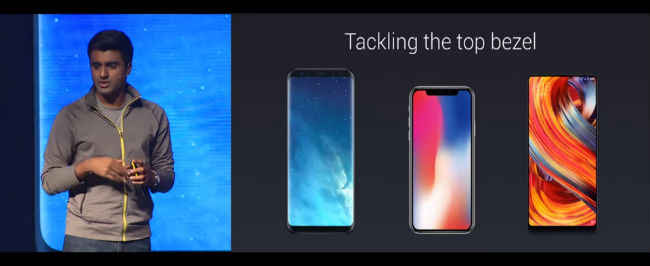 With the Mi Mix 2s, Xiaomi might soon bring to market a device that embraces the iPhone X-esque notch design. With the notch, Xiaomi will move the bottom-placed front camera of the Mi Mix 2 to the top along with all the other sensors. It will also help the company to do away with the bottom bezel but the pictures don't clearly reveal what's happening on the lower end of the device.
Xiaomi's Mix series of devices are designed by French designer Philippe Starck and it is not likely that he would copy Apple's design language. With Xiaomi having nearly perfected the design for a bezel-less smartphone with second-generation Mi Mix, these pictures should be taken with a pinch of salt.