Samsung has confirmed that it will announce its Galaxy S10 lineup at its Galaxy Unpacked event on February 20, five days ahead of the Mobile World Congress 2019.
Highlights:
Samsung has announced the launch date of its Galaxy S10 lineup.
The phones will be launched on February 20, 2019.
The company might also announce its foldable phone at the same event.
The Consumer Electronics Show 2019 is in full swing and while smartphones are not hogging much spotlight at the event, Samsung has announced the dates on which its Galaxy S10 series will be launched. The announcement comes via the company's official social media portals and the next iteration of Samsung Galaxy S series phones will be unveiled at the company's Galaxy Unpacked event on February 20 in San Francisco. The phone manufacturer will be live streaming the event via its newsroom and other official media channels. Wall Street Journal reports that Samsung's foldable phone will also be officially debuted at the same event.
The event is said to commence at 11 AM PT (12:30 AM IST) at the Bill Graham Civic Auditorium in San Francisco. Additionally, Samsung is hosting its Unpacked event five days ahead of the Mobile World Congress 2019 trade show, which is not surprising since it did the same last year. It seems like Samsung doesn't want any other device or company to hog the limelight and going by the reports about the upcoming phone's design and features, the company has a lot invested in the tenth anniversary Galaxy S handsets.
In another announcement, Samsung posted an article about the One UI user interface that will be soon replacing the older Samsung Experience UI, on its newsroom. However, the redditor qgtx claims that the device used to show off the new UI had a punch-hole camera in its display and later, the image was changed. We checked the Internet Archive to verify this but unfortunately, the page was not saved there. While the image posted by the Redditor does hint at the upcoming Galaxy S10 handset's design, we suggest you take it with a pinch of salt since there's a chance that the image could be photoshopped.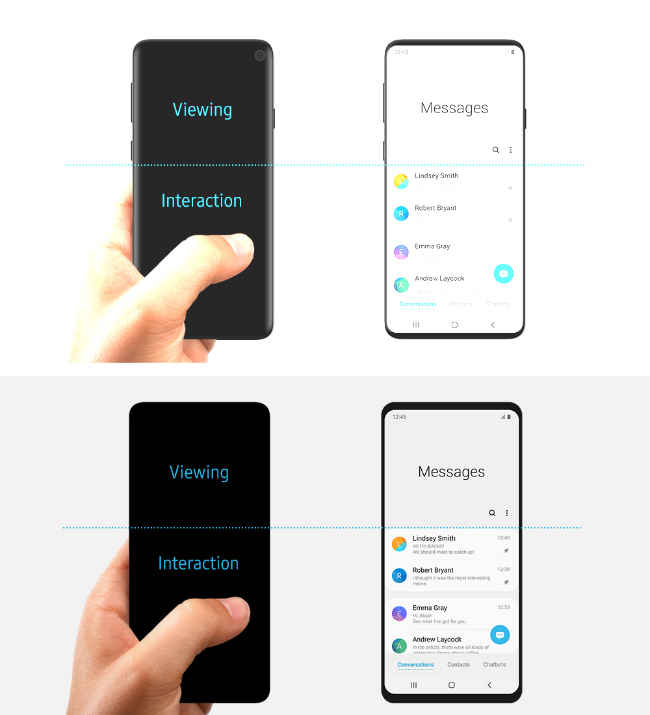 Old image in the Samsung article on top vs new image on the bottom
The company is speculated to launch the Galaxy S10 Lite, a standard Galaxy S10 and an S10 Plus smartphone. The Galaxy S10 Lite is reported to feature dual rear cameras and an Infinity-O display with one punch-hole for the front camera. The standard and the S10 Plus models could feature triple rear cameras, along with single and dual front-facing shooters respectively. There are also reports two more variants in the S10 lineup that could come with 5G capabilities.
Related Reads: Samsung Galaxy S10 line-up battery capacity and display size surface in yet another leak
Samsung Galaxy S10, S10+ might pick up Galaxy A8's animation, gestures for punch-hole front-camera