Rumours and successive coverage of rumours around the Samsung Galaxy Note 9 have not been kind. After the last set of rumours that said that the company will not ship the phone with an in-display fingerprint sensor, there has been a lot of disappointment amongst those who were looking to Samsung's next flagship smartphone. It would seem that in totality, the upcoming Samsung Galaxy Note 9 would not be much different from its predecessor and if rumours like these are to persist, they could severely impact the sales potential of the device. Keeping this in mind, Samsung decided to speak out.
Speaking to The Korea Herald, Gray G. Lee, head of the AI Center Under Samsung Research revealed that the Samsung Galaxy Note 9 will be the first phone to ship with Bixby 2.0. He told the Korean Herald that Bixby 2.0 will be more than just a personal assistant, instead of taking on the role of an "artificial intelligence platform" which enhances the performance and user experience across the phone. The Assistant will also have improved natural language processing, better noise resistance and faster response times.
Bixby has been a feature that Samsung has been pushing hard on its smartphones. The Galaxy S series now ships with a dedicated Bixby button which the company actively blocks from being remapped to useful features. Bixby has a lot of ground to cover before it can become a viable alternative to the Google Assistant or Amazon Alexa. Lee stresses that Samsung is very serious about the AI trend and has more than 1000 people working in its AI division.
While Samsung's official reveal about the Note 9's biggest feature may not be what the fans wanted, Ice Universe, a leaker who has a solid track record when it comes to Samsung devices had something else to share. In his tweet, he says "Note9's UX design and interactive experience are worth the wait. Maybe we can call it Crown UX".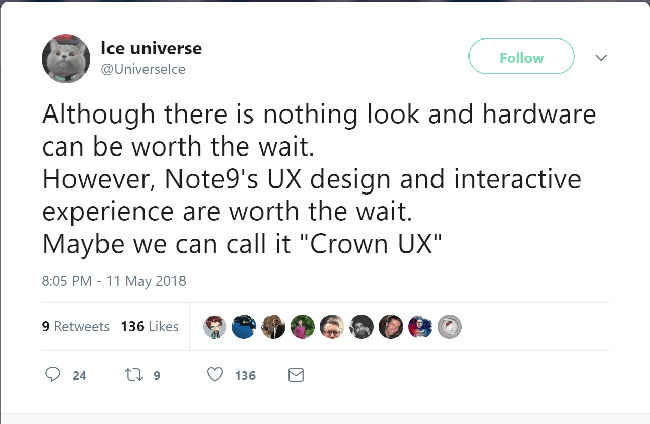 Samsung has a lot riding on the Galaxy Note 9, given that the S9 and the S9+ have faced rapidly slowing sales in the US and other countries. There were rumours that Samsung might be launching the Note 9 earlier that usual, but at this time, there's no telling which way the company would swing. All that we know for sure right now is that the Galaxy Note 9's main highlight is probably going to be Bixby 2.0.