OnePlus 7(₹ 29999 at amazon) Series, which apparently includes both the OnePlus 7 and the OnePlus 7 Pro, may launch on May 14, a tipster has claimed. Ishan Agarwal says that this will be a global launch but he did not say anything about the venue of the launch event. The news comes almost a week after the details of the alleged OnePlus 7 Pro were leaked by the same tipster, however, there were doubts on the legitimacy of the claims. A previous report said that the company could launch three phones this year.
While there have been a lot of rumours about the OnePlus 7, the leaks and reports about the OnePlus 7 Pro surfaced just last week when an image shared on Chinese social media platform Weibo showed the key specifications of the phone. The alleged OnePlus 7 Pro could bear the GM1915 model name and sport a 6.67-inch Super Optic display. It is claimed to be powered by the Qualcomm Snapdragon 855 SoC coupled with 8GB of RAM and 256GB of local storage. The phone is seen running Android 9 with a 9.5.1 GM31CB build number.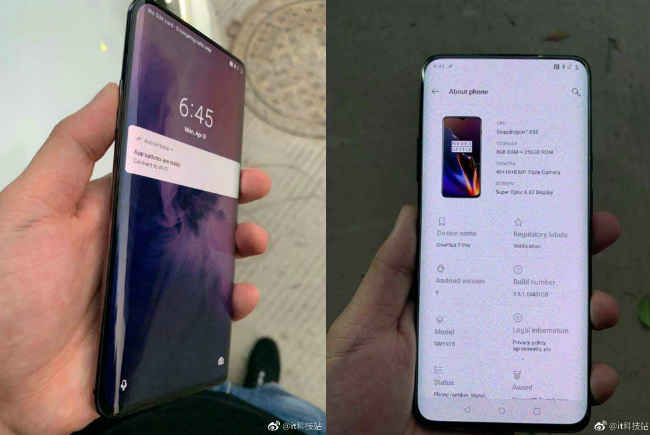 In the camera department, the alleged Pro variant is claimed to feature a triple camera setup with a 48MP main sensor, a 16MP secondary, and an 8MP third sensor. Till now, reports have suggested that the OnePlus 7 might have a 48MP sensor, a 20MP sensor, and a 16MP lens on the back, clearly a better configuration than the OnePlus 7 Pro. Interestingly, Agarwal claimed in his previous tweet that the phones will launch in May, but did not specify any date. He also posted the alleged model numbers of all the variants of the phones.
Recently, OnePlus CEO Pete Lau shared the company's future plans, claiming that the company is not looking to launch a foldable phone anytime soon. He echoed LG's take on foldable phones by saying foldable phones provide no new functionality over existing smartphones. He added that foldable screens have potential but they are not suited to the smartphone space. However, he did say that "the company would get there eventually, but not just yet." He also said that OnePlus is also looking to foray into a "smart display", or the OnePlus TV, which will be powered by AI and would make things more intuitive.