Two images of the alleged OnePlus 7 Pro were leaked, suggesting that the phone has a 6.67-inch Super Optic display and 8GB RAM.
Just when the rumour mill was churning out information about the OnePlus 7, images and specs of new device by the name of OnePlus 7 Pro have surfaced on the internet. The photos were shared on Chinese social media platform Weibo and one of them shows the key specifications of the phone. We do not know how legitimate this leak is but it is possible that this particular device is the 5G variant of the OnePlus 7 that the company said it would launch this year.
As per the spec sheet, the alleged OnePlus 7 Pro bears the GM1915 model name and sports a 6.67-inch Super Optic display. Under the hood, it has the Qualcomm Snapdragon 855 mobile platform coupled with 8GB of RAM and 256GB of local storage. The phone is seen running Android 9 with a 9.5.1 GM31CB build number. Except for the camera, these specs are more or less similar to the ones associated with the rumoured OnePlus 7 device.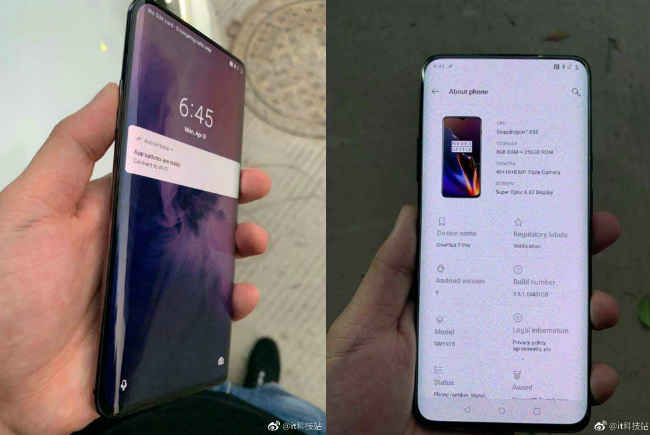 When it comes to the camera, this particular device is seen having a triple camera setup with 48MP main sensor, a 16MP secondary, and third 8MP sensor. Till now, reports have suggested that the OnePlus 7 might have a 48MP sensor, a 20MP sensor, and a 16MP lens on the back, which is a better configuration than the OnePlus 7 Pro. Interestingly, the image in the spec sheet screen shows a OnePlus 6T which, coupled with the difference in camera specs, raises questions on the legitimacy of the leak.
Further, it is also believed that the OnePlus 7 Pro could actually be the 5G variant of the OnePlus 7. The OnePlus 7 hardware seems to be the same as the rumoured OnePlus 7. However, the difference could be in the modem. The 'Pro' variant may have the X50 5G modem along with the Snapdragon 855 processor. The information looks legit but we have to take this with a pinch of salt. We, at Digit, always advise our readers to wait for official announcements.
In related news, a tipster has claimed that the OnePlus 7 might launch in May. Ishan Agarwal also posted the model numbers of the different variants of phone. He claims that the OnePlus 7 will come with model numbers GM1901,GM1903, and GM1905. He adds that GM1911,GM1913,GM1915, and GM1917 will be model numbers of the OnePlus 7 Pro, and the OnePlus 7 Pro 5G is said to bear model number GM1920. The tipster also attached a photo with his tweet, which shows the OnePlus 7 Pro associated with "Go Beyond Speed" tagline. The Chinese firm last changed the tagline with OnePlus 6T to "Unlock The Speed" (from "Never Settle").
Related Read:
OnePlus CEO hints at launch of truly wireless earphones alongside company's upcoming flagship